18 Most Comfortable Dress Shoes for Men
While many workplaces seem to become increasingly casual with every passing year, some remain stubborn in their devotion to professional attire. Of course, some men may work in a place that allows a more casual dress code, but prefer to dress just a little nicer than everyone else.
Unfortunately, men have a tendency to neglect their footwear. They focus so much on their clothing, that they don't realize how dated and unkempt their 10-year old oxfords make them look.
Editor's Pick: The Derby by OAKA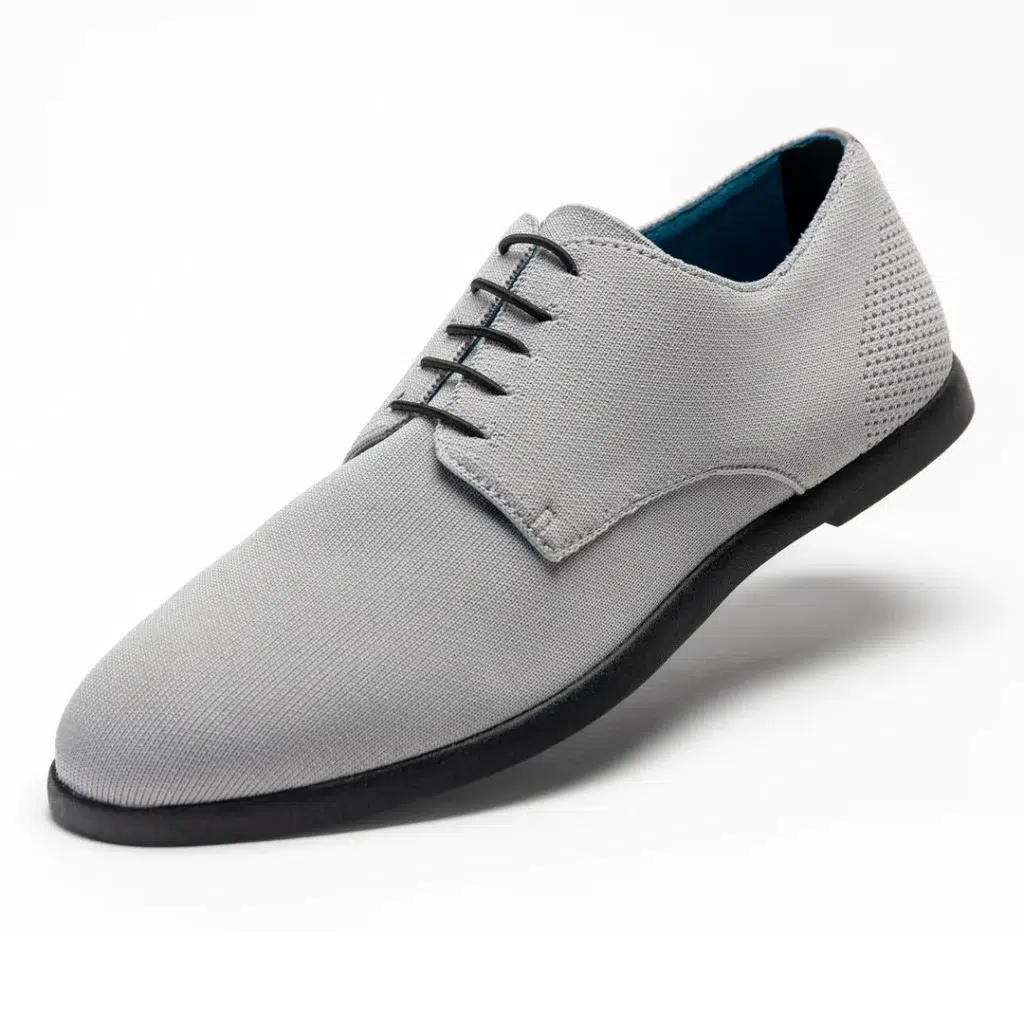 If you're on the hunt for a shoe that effortlessly combines durability, comfort, and a dash of elegance, look no further than Oaka Studio's Derby shoes. Crafted to perfection, these size 8 shoes fit true to size, ensuring a snug yet comfortable experience. The first thing you'll notice is how incredibly comfortable they are. It's like walking on air, thanks to the cushioned insole and supportive arch.
What sets these Derby shoes apart is their durability. Made with premium materials, they are built to last, promising years of reliable wear. The nice heel adds that extra bit of height, subtly elevating your stature and your style. Trust us; these are the shoes you'll reach for time and time again.
Buy it now on oakastudio.com
This is simply a beautifully made shoe that you could wear for a lifetime. Available in elegant colors like black, burnished dark brown and merlot, chances are good that you'll want a pair to go with every professional outfit in your closet. The upper is made entirely from leather and so is the sole. With a cork footbed, you'll find that these shoes comfortably conform to the unique contours of your foot over time. This gives you the ultimate in comfort no matter how much time you spend on your feet. Allen Edmonds uses welted construction to ensure durability over the course of years. An exclusive 212-step process is used in the construction of every shoe. Use the company's proprietary leather lotion to keep these shoes looking like brand new.
Buy it now on Amazon: Allen Edmonds Men's Park Avenue Cap-Toe Oxford
The Jose Real company is basically a legend in the world of men's dress shoes. Initially, the brand was founded some 400 years ago in Spain. The modern-day company is located in Naples, Italy, a noted center for shoe design and manufacturing. Like all Jose Real shoes, this oxford is crafted by hand with elegance. A master artisan dyes the leather and meticulously attends to every detail of every shoe. Only premium materials are ever used, and a total of 150 processes go into the completed product. Jose Real guarantees all of its products for a lifetime, so you know you'll always be satisfied with your purchase.
Buy it now on Amazon: Jose Real Shoes Basoto Collection Men's Oxford
The eye-catching upper on these lace-up oxfords combines deerskin with polished calfskin for a truly unique look. Available in black, burgundy, blue, brown and gray, you could almost have a pair of Mezlans for every day of the workweek. One of the things that makes this product one of the most comfortable mens dress shoes is the insole, which features injected memory foam. No matter how many hours you spend in these shoes, your feet will feel relaxed and happy. The sole is a combination of leather and synthetic material, making this an extremely durable shoe.
Buy it now on Amazon: Mezlan Men's Soka Cap Toe Oxford
If you'd rather have something that goes beyond the classic men's shoe, then you'll want to check out this offering from Ted Baker. The company launched in Glasgow as a specialist in men's shirts, but their product line quickly diversified to include incredibly stylish shoes. Now headquartered in London, Ted Baker manufactures some of the best men's dress footwear. The company's motto is "No Ordinary Designer Label," and that commitment to originality is borne out by the Rovere Uniform dress shoe. Not a lace up, but also not quite a slip on, this distinctive shoe is available in dark blue and tan from Amazon. The suede upper, leather sole and remarkably supportive instep make this shoe an excellent investment.
Buy it now on Amazon: Ted Baker Men's Rovere Uniform Dress Shoe
If you like the Ted Baker company and their commitment to quality, then you won't want to pass up their Granet Oxford model. It's available in a wide range of colors and finishes. Whether you prefer the look of leather or suede, you'll have your choice with this style. The forepart of the sole is constructed of rubber to ensure durability and comfort over those long days. That rubber also is essential if you need a men's dress shoe that has some "grip" on the floor. Plus, you're bound to love Ted Baker's take on the classic oxford shoe. Men whose workplace demands a conservative look will always be satisfied with this purchase, and these shoes are incredibly comfortable.
Buy it now on Amazon: Ted Baker Men's Granet Oxford
Some guys just don't want to spend a fortune on dress shoes. Nonetheless, they recognize the need for a shoe that gives them that polished, professional look when their day demands it, and sometimes that need has to be balanced with incredible functionality. This shoe from Rockport meets all of these requirements. Compared with other items on this list for best mens dress shoes for walking all day, this is an affordable choice. The upper has the classic wingtip styling, and it is available in a wide range of colors and finishes. What really makes this shoe stand out from the rest is its chunky, grippy sole. The EVA outsole is perfect if your dress shoes need to take you from the boardroom to the construction site. There's also a removable EVA footbed that promises relaxing comfort all day long.
Buy it now on Amazon: Rockport Men's Total Motion Fusion Wingtip Shoe
Florsheim Shoe Company has enjoyed a trustworthy reputation for men's shoes since its establishment in 1892. Any company that has been in business for that long certainly must be good at what they do, and the Medfield Cap Toe Oxford is an excellent example. It's available in classic colors like black, brown and cognac. With a leather upper and synthetic sole, this is a shoe that's built to last. Fortunately, it is designed for comfort as well. The lining features a breathable and moisture-wicking material called Suedetec, which is important for guys who are concerned about having sweaty feet. In the sole, you'll find a nice degree of flexibility while the Ortholite X-4 rebound foam in the shoe bed provides you with all of the cushioning your feet will ever need.
Buy it now on Amazon: Florsheim Men's Medfield Cap Toe Oxford Dress Shoe
Any guy who has ever had to deal with a condition like plantar fasciitis while at work will appreciate the inspiration behind this incredibly comfortable pair of shoes. Even if you don't have problems with your feet, you still may want to consider this product from Orthofeet. They are just that comfortable, yet they have the classic good looks that upscale employers demand. This style features a premium orthotic insole that provides anatomical arch support as well as an incredibly well-cushioned heel pad. The entire insole conforms to the unique lines and curves of your feet, which may help you experience pain relief all the way up to your lower back. Additionally, this style features an exclusive lightweight sole that includes cushioning to soften your footfalls. The upper is soft and won't bind your feet, and the interior is seam free to promise even better comfort. For the ultimate in comfort, you can't go wrong with this shoe from Orthofeet.
Buy it now on Amazon: Orthofeet Gramercy Men's Dress Shoes
This one is for the guy who absolutely has to stand out from the crowd. An undoubtedly flashy design, this two-tone shoe is manufactured in many eye-catching color combinations. From black and gold to black and fuchsia, you'll never have to worry about blending in. These shoes also are an excellent choice for any man who loves to add a little touch of vintage style to his wardrobe. The upper is durable and rainproof as it's made from a synthetic material. Accordingly, no special care is required of these shoes, which may be the perfect option for some guys. As this item was designed with dancing in mind, you can bet that these are among the best mens dress shoes for walking all day.
Buy it now on Amazon: Bolano Men's Two-Tone Oxford Dress Shoe
Guys who have a genuinely fashion-forward sensibility will undoubtedly be drawn to this design. It comes in two versions of black and two versions of brown. One version of each has a classic, detailed brogue pattern while the other version is plain. What's really distinctive about the look of this shoe is the white, chunky, rubber sole. It gives this shoe a rugged feel so that you can wear it in the office, on the weekend and beyond. Despite the sole, this shoe is still incredibly lightweight. The upper is constructed of genuine leather, yet the overall shoe has a sporty sensibility. These shoes definitely deserve a spot on this list.
Buy it now on Amazon: Laoks Men's Brogues Oxford Wingtip Genuine Leather Dress Shoes
11.
Florsheim Men's Casablanca Cap Toe Dress Shoe
Available in black or brown, this simple and elegant lace-up shoe is ideal for all occasions. While the sole is synthetic, the upper is genuine leather. The lining of the shoe offers just the right amounts of cushioning and support. With a memory foam insert, you'll be comfortable for hours. An incredibly flexible rubber sole also is lightweight to increase your comfort. This is a classic, straightforward style that is ideal for any event.
Pros:
Cons:
12.
ECCO Men's Helsinki Shoe
Since 1963, Danish footwear manufacturer ECCO has specialized in making some of the most comfortable and durable shoes on the market. They may not be the first brand that you think of in connection with men's dress shoes, but you'll likely change your mind once you see the Helsinki shoe. This product features what the company calls "Freedom Fit." Accordingly, the shoes are wider in the front to allow your toes to naturally spread without feeling like they're being squeezed together. The shoe narrows from the instep to the heel to guarantee a secure fit. Polyurethane soles are incredibly durable as well as being flexible and capable of absorbing tremendous shock. In the instep, you'll find a soft layer of foam that absorbs moisture yet also allows air to circulate. The leather upper ensures that you're always prepared for a board meeting or to meet that important client.
Pros:
Cons:
13.
Lethato Wingtip Brogue Oxford Handcrafted Men's Genuine Leather Lace up Dress Shoes
These dapper shoes are the ideal choice for a man who values his individuality. You can get them in black, brown or gray, but you might want to consider the purple or wine red colors too. These handmade shoes are a bargain for the price. The stitching is intricate and precise while the leather upper and rubber sole give you the kind of durability that you're looking for. With a soft footbed, you'll happily wear these shoes all day long. If you want the quality of a custom shoe, but don't want to pay the typical custom-shoe price, then these are the shoes for you.
Pros:
Cons:
14.
ECCO Men's New Jersey Lace Oxfords
This men's dress shoe features a bicycle toe, which means that the vamp reaches all the way from the top of the shoe down to the sole. Accordingly, this shoe has no toe cap. There are two parallel seams running on the right and left side of the shoe. The upshot is that this shoe has a really different look when compared with all of the other styles on this list. With an all-leather upper that is sturdy and well-made, this item also features a polyurethane outsole for shock absorption, traction and durability. The moisture-absorbent insole is a nice touch for guys with sweaty feet. As usual with other styles manufactured by ECCO, these shoes are widely recognized for their extraordinary comfort.
Pros:
Cons:
15.
Asher Green Men's Dress Shoes, Genuine Calf Leather Cap Toe, Double Monk Strap
The various textures on this handsome shoe make it a smart and stylish choice in any color. While it is available in black or tan, you just might want to go with burgundy or navy blue to mix things up a bit. The brogue detailing on the toe cap is a timeless addition, but you can also choose pierced, perforated leather panels at the middle part of the upper to provided added interest. The closure is a double monk strap, which makes these shoes quicker and easier to get on and off when compared to lace ups. Brass toned and antiqued, these buckles are yet another detail that this manufacturer gets exactly right. These handmade shoes feature top grade calf leather on the upper and a durable rubber outsole. With incredible comfort, you can't go wrong with this offering from Asher Green.
Pros:
Cons:
16.
CLARKS Men's Stratton Way Oxford
Like ECCO, Clarks is a brand that's known for making seriously comfortable shoes. The Stratton Way Oxford is no exception to this tradition. A rugged sole makes this style ideal for taking you way beyond the boardroom. Still, you'll look polished and put-together in a professional setting. The insole has just the right amount of cushioning if you find yourself on your feet for much of your day. You'll want to wear this super comfortable shoe at work and on weekends too.
Pros:
Cons:
17.
Cole Haan Men's Cambridge Wingtip Oxford Shoe
With a history that spans nearly 100 years, Cole Haan has a reputation for making shoes and other products that feature outstanding quality. This shoe is pretty incredible, and it's available in a wide variety of styles, so there's something here for every guy. All of these shoes feature some highly precise broguing for a really classic look. If you go with British tan, black or dark brown, you'll have a straightforward, stylish and elegant look. However, the chestnut woven variety is not only a fantastic color, but also features an incredible leather weave that is really eye-catching. There's also a "piped" version, which appears to be more of a suede look. Of course, even more importantly than the shoes' appearance is the level of comfort that they promise. The cushy insole and the soft leather upper will make your feet happy all day long.
Pros:
Cons:
Judged By Your Shoes
There's an old saying about being able to judge the quality of the man by looking at the quality of his shoes. This saying has fallen a bit by the wayside in recent decades, but there are still plenty of men who adhere to this standard. Many of them are captains of industry, CEOs or wealthy investors. If you want to impress them, then you've got to have the right shoes.
Can You Be Comfortable In Men's Dress Shoes?
Of course, modern men want more than to just look sharp. For them, comfort also is essential. A misconception that men's dress shoes cannot ever be comfortable seems to prevail in American society. This is unfortunate, because there are many men's shoe manufacturers out there, and many of them design shoes that you can wear all day without feeling a twinge of discomfort. Some of these shoes may even rival the comfort of your favorite runners.
What Do You Look for in a Dress Shoe for Men?
If you're looking for a new pair of men's dress shoes, then think of it as an investment. Be willing to spend a little more, and you won't have to look for shoes again for years. Some of these shoes are of such high quality that you'll just want to get them re-soled every few years so that you can wear them forever. Here are some of the characteristics that you'll want to look for.
Quality of Materials
An all-leather upper is the hallmark of a true gentleman's shoe. Leather not only looks great, but also can be incredibly comfortable. It's durable too. A quality leather can last for years, developing interesting wear patterns as it ages. Care for that leather according to manufacturer recommendations, and you just might have a shoe that lasts a lifetime while also promising incredible comfort.
What About the Sole?
Soles can be made out of a variety of materials. Some manufacturers, especially those at the higher end of the marketplace, may choose a leather sole. Others use rubber or polyurethane. The rubber and polyurethane soles tend to be more durable, so you'll get more use out of them. They also are excellent for shock absorption.
Some men's dress shoes on the market today have quite rugged soles that are appropriate for the office and beyond. If your work takes you out into the field, then choose a men's dress shoe that can easily cope with uneven, wet or rocky terrain. You'll look stylish in the office, and get bonus points for all-around functionality.
Lace Up or Slip On?
The classic lace up is a look with which you can't go wrong. It's always in style, and those laces keep your shoes securely on your feet. However, some guys just can't be bothered with all of the tying and untying. For them, a slip on makes more sense. The ones presented in this list of the best mens dress shoes for walking all day feature double monk straps, an elegant look that offers more efficient wear.
To Brogue or Not to Brogue?
Brogue detailing on men's dress shoes is an incredible addition that some guys wouldn't dream of living without. Broguing on shoes essentially refers to a pattern of perforations and perhaps some serrations along the leather upper of the shoe. Some of the designs are quite intricate while others are simple and straightforward.
Some men love broguing on a dress shoe. Others think it is an old-fashioned style whose time has come and gone. Several options on this list feature amazing brogue detail, much of it done by hand. If you prefer something plainer, you'll find those options here too.
Let's Get Comfortable
All of the products on this list have earned their claim to be among the most comfortable mens dress shoes. The soles are designed to absorb shock, the insoles feature plenty of cushioning and many of them are exceptionally breathable. If you spend all day on your feet, then it may be wise to consider these shoes.