15 Best Electric Shavers for Sensitive Skin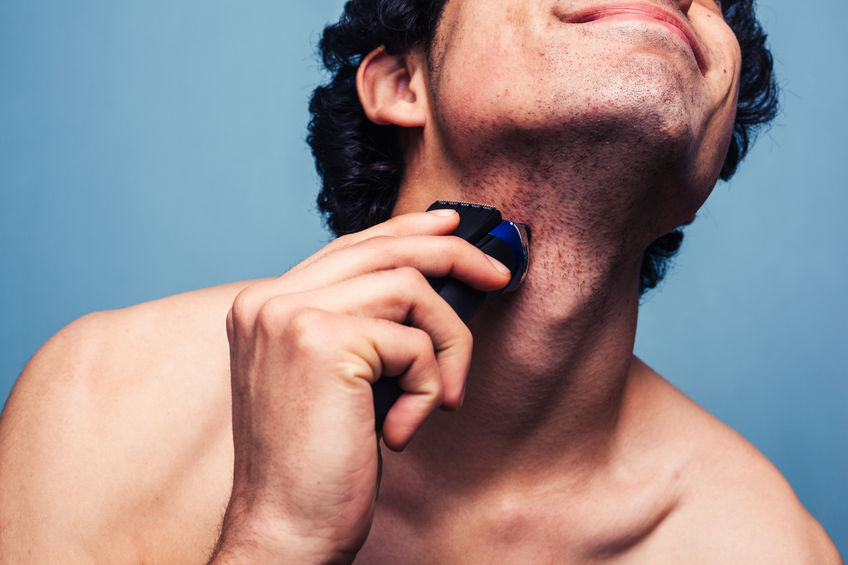 Most guys love the feeling of a fresh shave from a razor. Your skin feels smooth, soft and hair-free. Unless you have sensitive skin. Then, you're left with nicks, cuts, scrapes and red bumps. That just looks bad and feels worse.
Experts often recommend switching to an electric men's razor as an antidote to all of that irritation. However, even the electric variety of shavers can have their drawbacks. Sometimes, their performance just isn't up to par. They pull and tug at the hair because the blades aren't sharp enough. It can be just as irritating as using an old-fashioned razor.
Set Yourself Up for Success
Let's face it: Some razors are just better designed than others. If you are really committed to finding a shaver that won't irritate your sensitive skin, then you have to understand more about shaving. Then, you'll need to find a razor that has sharp blades but is capable of being gentle too.
1. Panasonic ES-LV9N-s Electric Shaver
The impressive five-blade system on this shaver makes for an incredibly close yet also gentle shave. The pivoting head flexes in every direction so that you never miss a spot and enjoy unparalleled comfort against your skin. One of the best features on this model is the "Beard Sensor." The sensor is able to automatically adjust how much power the razor puts out based on the beard density that it encounters. This translates to less irritation for you. Additionally, this electric razor for sensitive skin is equipped with the proprietary ARC5 Skin Comfort Foil System. Included in this system are three incredibly thin and hypoallergenic ARC foils and two skincare rollers. These features not only provide a closer shave, but also one that is incredibly gentle. Using this razor may put an end to skin irritation for good. It comes with a cleaning and charging system so that it is always clean and ready to go. Another plus is the digital readout on the razor's handle, which gives you indications about battery life and other important data.
Buy it now on Amazon: Panasonic ES-LV9N-s Electric Shaver
2. Philips Norelco S9311/87, Shaver 9300
While it doesn't have quite as many bells and whistles as the first item on the list, this is still a solid shaver. It can be used in wet or dry environments, and each of the three shaving heads is capable of moving in eight directions, which means that you get a closer shave. This razor can be set to one of three speed settings: slow, medium and fast. The slow setting is the right choice for a guy with sensitive skin. With its exclusive V-Track precision blades, this razor may be able to cut 30 percent closer to the skin when compared to the competition. The Super Lift & Cut Action feature uses the first blade to raise individual hairs while the second blade cuts just below the skin level. Users love the included SmartClean system, which ensures that this razor is clean, lubricated and ready to shave at all times. The two-year warranty is a nice touch, as are the intuitive icons that tell you when to charge, clean or replace the head on your razor.
Buy it now on Amazon: Philips Norelco S9311/87, Shaver 9300
3. Remington PR1285A R8 Wet & Dry Rotary Shaver
If you are looking for a great electric razor for men that won't break the bank, then this may be the ideal choice for you. It's a straightforward rotary shaver that works wet or dry. A lithium battery delivers powerful, long-lasting performance. It will run for 60 minutes on a five-minute charge. The pivoting neck benefits from the brand's PowerFlex 360degree technology, offering greater precision and a closer shave. Twin track blades and precision cut heads ensure that you never miss a spot. Plus, that continuously close contact with the skin translates to a gentler shave that won't cause irritation. Unlike the previous items on the list, this one doesn't come with a handy stand for charging and cleaning, so you'll have to remember to periodically clean it to ensure the best performance.
Buy it now on Amazon: Remington PR1285A R8 Wet & Dry Rotary Shaver
4. Philips Norelco Shaver 9700, S9721/84
This upgraded Philips Norelco model features a digital interface that provides you with essential information that you need to know, like how much battery life is remaining. This electric shaver for men just looks great. It's sleek and streamlined, like something you'd see on a futuristic movie. More importantly than that, the performance is powerful and consistent. All three shaving heads move in eight directions, providing better coverage and a closer shave. You'll notice that this model is great for sensitive skin because of this feature as well. Philips calls it Contour Detect Technology, and you'll find that it conforms to every line and curve on your face. Use this razor wet or dry, the performance remains the same. This model also comes with the SmartClean System so that you don't have to worry about basic maintenance. Once again, this razor has three different speeds. Choose slow to pamper your skin and avoid irritation.
Buy it now on Amazon: Philips Norelco Shaver 9700, S9721/84
5. Braun Electric Shaver, Series 7 7865cc Men's Razor
Just reading about this shaver tells you that a great deal of research went into its design. For instance, the manufacturer says that this razor is capable of doing in one stroke what other razors need two strokes to do. That is based on a study completed at the IPI Research Institute in 2015. Consequently, you can expect outstanding performance from this model. Even better, a solid design means that it is unlikely to irritate your skin. That's because this shaver "reads" and adapts to your beard. This is possible thanks to a proprietary AutoSensing motor. Additionally, Braun relies on sonic technology to enable this razor to perform 10,000 microvibrations that ensure every hair on your face gets cut. With the touch of a button, you can adjust the speed. Five settings, from turbo to sensitive, ensure that your shave stays comfortable. Use this model wet or dry. You'll also love the high-tech charging and cleaning station.
Buy it now on Amazon: Braun Electric Shaver, Series 7 7865cc Men's Razor
6. Braun Shaver, Series 9 9290cc Men's Electric Razor
This is another one of those sleek, futuristic-looking razors that is a great choice for someone who loves technology or just appreciates pleasing aesthetics. Marketed as "the world's most efficient shaver," the manufacturer boasts that this razor also is incredibly gentle. It relies on five synchronized elements to get more hair in a single stroke, which means you make fewer passes over your sensitive skin. Each head is capable of moving in 10 directions while floating shaving elements are gentle on your skin and also adept at catching every hair. This model includes two specialized trimmers with titanium coating so that even the thickest hairs in the trickiest places can be cut with ease. Additionally, you'll love the SyncroSonic technology that produces 10,000 microvibrations to guarantee a close and complete shave that never misses a spot. This razor also features an AutoSensing motor to improve efficiency and sensitivity. A 100 percent waterproof shaver, you simply place the model back in its clean and charge station so that it feels like new every time you use it.
Buy it now on Amazon: Braun Shaver, Series 9 9290cc Men's Electric Razor
7. Panasonic ES-LA93-K, Arc4 Razor, Men's 4-Blade with Multi-Flex Pivoting Head and Dual Motor
If you're looking for a fast, thorough shave that won't irritate your skin, then this electric shaver for men may be the right choice for you. It's won multiple awards, and in just one use, you'll be able to see why. You'll get the benefit of a four-blade, dual motor razor along with Nanotech blades that offer superior sharpness and durability. These Nanotech blades are hypoallergenic, which is good news for sensitive skin. Plus, this model has a Hyper Performance Dual Motor that produces an average of 14,000 cuts every minute. That is equal to 56,000 cross-cutting motions per minute when you factor in all four blades. The second motor vibrates the shaver head in an up-and-down motion to make certain that every hair gets captured and cut. With an LCD readout on the handle, you'll always know which mode you're in and how much battery life is left. You can use this razor wet or dry, then return it to its cleaning and charging station so that it's ready to go next time.
Buy it now on Amazon: Panasonic Men's 4-Blade Razor
8. Panasonic Arc5 Electric Razor, Men's 5-Blade Cordless with Shave Sensor Technology and Wet/Dry Convenience, ES-LV65-S
Those of you who are looking for even more cutting power and efficiency when compared to the model above may want to upgrade to the Panasonic Arc5. With one additional blade, that 14,000 cuts per minute statistic translates to 70,000 cross-cutting motions per minute. Another upgrade on this model is the shaving sensor. It can detect differences in the density of your beard, and the razor automatically adjusts its power output accordingly. This rechargeable shaver has an incredibly detailed LCD display to keep you in the know throughout your shave while a pop-up trimmer lets you attend to the details. The only thing this particular model doesn't have is a clean and charge station. No worries, though. You can clean it under running water in "sonic vibration cleaning mode."
Buy it now on Amazon: Panasonic Arc5 Electric Razor
9. Braun Electric Razor for Men/Electric Shaver, Series 5 5190cc
One of the reasons to love this offering from Braun is that it's very affordable, yet still comes with a clean and charge station. Of course, it doesn't hurt that this razor is crafted with "skin sensitive technology" to ensure that it won't cause irritation. This model also has an AutoSensing motor that is able to tell when your beard gets denser. The ComfortFlex head moves in eight directions to get those hard-to-reach hairs. Another thing to really like about this model and all of the other razors from Braun is the industry-leading seven-year warranty. If you have a problem with this razor, you're probably covered. This shaver is equipped with two proprietary "SensoFoil" blades, which have nearly 900 unique openings. The manufacturer says that this makes it possible to shave to about 0.058 mm close to the skin.
Buy it now on Amazon: Braun Electric Razor, Series 5 5190cc
10. Philips Norelco SensoTouch Razor 1160X Anti-slip grip with GyroFlex 2D
This model is a purpose-built electric razor for sensitive skin. Those of you who are constantly troubled by skin irritation will definitely want to try this shaver. It is designed to gently adjust to the curves and contours of your face. That means less pressure and less irritation. Additionally, this razor has an exclusive "SkinGlide" surface, which translates to a smooth, soothing shave. Nonetheless, the "DualPrecision" shaving heads will get to even the shortest stubble to give you a smooth finish. You'll love that you can use this shaver either wet or dry so that you get the most comfortable shave for you. A three-minute quick charge is all you need for one shave. With one hour of charging, the battery will be full, giving you nearly an hour of use. Rinse this razor clean to get it ready for tomorrow.
Buy it now on Amazon: Philips Norelco SensoTouch Razor 1160X
11. Braun Series 3 ProSkin 3050cc Men's Electric Foil Shaver
Priced at under $100, it's pretty tough to beat the deal on this Braun Series 3. Even though it is pretty affordable, you still get a clean and charge station as well as that seven-year warranty. This model features three shaving elements with patented SensoFoil technology. This means that the blades are ultra-sharp, but they won't irritate your skin. Additionally, you'll discover the ProSkin Micro Comb, which catches more hair than competitive razors in a single stroke. The result is fewer passes, which means less irritation. What's more, this shaver has pressure-sensitive blades that automatically retract for extra gentleness. The thin head offers greater precision and eases your way into hard-to-reach areas. This model does have a NiMH battery rather than a lithium-ion. That means that the charge doesn't last as long, but it's easily long enough to get a few shaves before having to be charged again.
Buy it now on Amazon: Braun Series 3 Proskin 3050cc Men's Electric Foil Shaver
12. Philips Norelco PT720 Powertouch Razor
A truly affordable and rechargeable, cordless razor, this model has the advantage of a lithium-ion battery for longer running times. That's great for those situations where you need a really thorough shave. You can also use it on the cord if you need to. Eight hours gives you a full charge that can last as long as 14 days or 40 minutes of run time. Just three minutes of charging is enough for a shave. The "ComfortCut" shaving system is gentle on your skin, yet you're guaranteed to get a close shave. With flexing heads, you'll get the sensitivity you're looking for to protect your skin. A quick rinse under the tap cleans the heads, but make certain to replace them once a year so they'll always be sharp.
Buy it now on Amazon: Philips Norelco PT720 Powertouch Razor
13. Panasonic ES-LT41-K Arc3 Wet Dry Razor
This economy shaver still delivers excellent performance, especially for guys with sensitive skin. It features a three-blade system and ultra-sharp Nanotech blades. The 13,000 cpm linear motor drive gives this device effortless power, and the head flexes and pivots for the ultimate in comfort. Use it wet or dry, it is just as effective either way. The blades cut cleanly right at the root for a close shave that doesn't irritate your skin. For a razor at this price point, the LCD display is a fairly deluxe touch.
Buy it now on Amazon: Panasonic ES-LT41-K Arc3 Wet Dry Razor
14. Remington XF8550 Wet & Dry Foil Shaver
Another affordable choice that is unlikely to let you down, this razor from Remington is available in blue or black. It's amazing to get a lithium-ion battery at this price point. A two-hour charge grants you almost an hour of run time while a five-minute quick charge is enough for a single shave. This model features "ActiveHybrid" Technology, which means that it combines rotary and foil shaving mechanics to give you better precision and efficiency. The inner foils get even the shortest hairs so that you can get done with your shave in fewer strokes. That always results in less skin irritation. Additionally, the inner foil is designed to grab hair from every direction to further enhance efficiency.
Buy it now on Amazon: Remington XF8550 Wet & Dry Foil Shaver
15. Electric Shave Club ESC-100 Wet and Dry Razor For Men
If you're on a really tight budget, but still insist on getting a quality, comfortable shave, then this may be the right solution for you. It's the most affordable model on the list, but you'll still get decent workmanship and you're unlikely to suffer a lot of irritation. This model delivers 13,000 cuts per minute, which is not shabby, though certainly not as impressive as other entries on this list. Still, the blades are really sharp. The manufacturer describes them as Japanese stainless steel, which is apparently a remarkably durable and desirable commodity. Replacement blades are incredibly cheap at about $20. As this model seems to work with relatively little in the way of tugging and pulling, it should deliver a gentle shave at an affordable price.
Buy it now on Amazon: Electric Shave Club ESC-100 Wet and Dry Razor for Men
When Is the Best Time to Shave?
Dermatologists recommend shaving either in the shower or just after you get out of the shower. It's at these times that the skin and hair are moist and supple. Plus, you've just gotten rid of oil and dead skin cells, both of which can clog up the blades.
Shave in the direction of hair growth to further minimize irritation. If possible, it's best to go over each area only once, as going over the same place multiple times can cause problems. The razors on this list are designed to work efficiently so that they can cut more hair in just one pass.
Do You Have Skin Issues?
Eczema, acne, general dryness, ingrown hairs and other problems can all affect your ability to shave without irritation. If the problems that you are experiencing are severe, then it may be time to schedule an appointment with a dermatologist. Your doctor can help you address these underlying issues so that shaving is less irritating for you overall.
Work From Within
Some shaving issues and sensitive skin problems don't start at the surface. They can be the result of or at least be exacerbated by the things you put in your body. Following a nutritious diet and drinking plenty of water can help to make your skin healthier and less prone to problems. Smoking is notoriously bad for the skin, and drinking to excess can leave your body dehydrated and your skin thirsty. Drop these bad habits to experience less skin irritation from shaving.
What to Look for in a Shaver
Sharp blades that cut on the first pass are an absolute must if you want to eliminate skin irritation. Also, it's preferable if those blades are moving pretty quickly because they will likely bother your skin less. For some guys, adjustable blade speed will be important. That's because they may experience less irritation at lower speeds.
It's also vital to look for a shaver that is easy to clean. A clean razor has sharp blades that are not obscured by oil, skin cells and hair, which means that it provides a better, more efficient shave. In other words, you can get the job done in fewer passes of the razor over your skin, and that translates to less redness and fewer bumps.
Keep an Eye on Maintenance
The razors on this list offer excellent performance for guys with sensitive skin, but that doesn't mean that you don't have to take care of them. Follow all manufacturer guidelines for changing blades, foils and heads to ensure superior performance over the long run. Many of these models come with cleaning and charging stations. Take advantage of these devices to keep your shaver running like new.