15 Best Electric Shavers for Sensitive Skin in 2023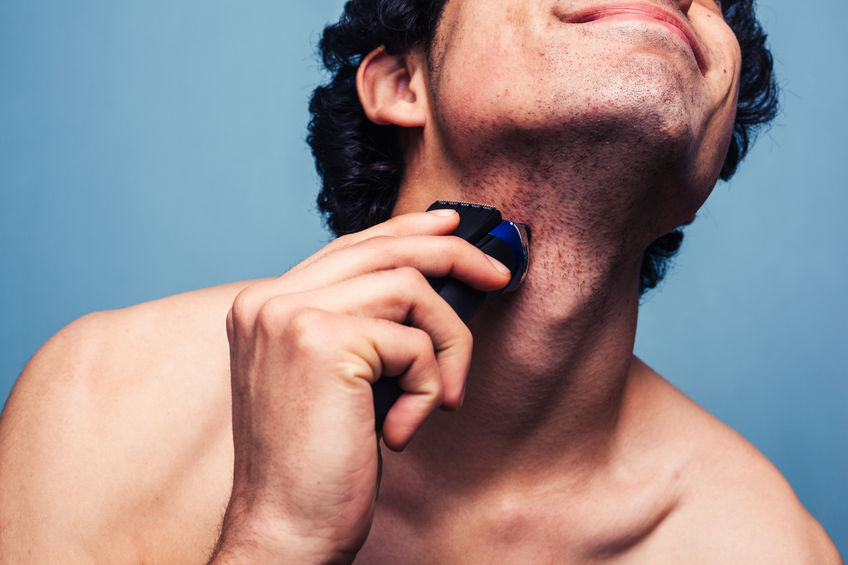 Most guys love the feeling of a fresh shave from a razor. Your skin feels smooth, soft and hair-free. Unless you have sensitive skin. Then, you're left with nicks, cuts, scrapes and red bumps. That just looks bad and feels worse.
Experts often recommend switching to an electric men's razor as an antidote to all of that irritation. However, even the electric variety of shavers can have their drawbacks. Sometimes, their performance just isn't up to par. They pull and tug at the hair because the blades aren't sharp enough. It can be just as irritating as using an old-fashioned razor.
Set Yourself Up for Success
Let's face it: Some razors are just better designed than others. If you are really committed to finding a shaver that won't irritate your sensitive skin, then you have to understand more about shaving. Then, you'll need to find a razor that has sharp blades but is also capable of being gentle.
Key Things To Look For When Buying an Electric Shaver If You Have Sensitive Skin
Blades and Pivot Head 
When shopping for an electric shaver, look for a model with multiple blades and a pivot head. These features will allow the shave to follow the contours of your face, providing a closer cut while reducing irritation. The pivot head will allow the shave to glide easily over your skin, adapting to the shape of your face and avoiding any nicks or cuts. Multiple blades will also help to give you a closer, smoother shave, reducing the need for multiple passes and minimizing irritation.
Adjustable Blade Settings
An electric shave with adjustable blade settings can be a game-changer if you have sensitive skin. This feature allows you to customize the closeness of the shave to your preference, so you can find the perfect balance between a close cut and comfort. Some electric shavers even have multiple speed settings, so you can adjust the shave to your desired intensity. This can be especially helpful if you have particularly sensitive skin, as it allows you to find the perfect setting for your needs.
Built-in Moisturizing Element 
An electric shave with a built-in moisturizing element can be a great choice for men with sensitive skin. As you shave, the moisturizing element will soothe and hydrate your skin, reducing redness and irritation. This can help give you a smoother, more comfortable shave and leave your skin feeling hydrated and refreshed after you're done. Some electric shaves even have various moisturizing options, such as aloe vera or vitamin E, so you can choose the one that works best for your skin.
Hypoallergenic Foil
If you have sensitive skin, an electric shave with a hypoallergenic foil can be a great choice. This type of foil is designed to be gentle on sensitive skin, helping to prevent irritation and razor burn. The hypoallergenic foil will glide over your skin smoothly, providing a close shave without causing any discomfort. This can be especially helpful if you tend to experience irritation or redness after shaving, as it can help minimize these issues.
Pop-up Trimmer
An electric shave with a pop-up trimmer can be great for men with sensitive skin. This feature allows you to easily trim and shape your facial hair, reducing the risk of accidental nicks and cuts. The trimmer can touch up your sideburns, mustache, or beard, giving you precise control over your grooming routine. This can be especially helpful if you have sensitive skin, as it allows you to trim and shape your facial hair without causing irritation or discomfort.
Pre-shave Oil or Balm
Investing in a high-quality, gentle pre-shave oil or balm can be a great way to protect and nourish your skin, reducing irritation and providing a smoother, more comfortable shave. These products create a barrier between your skin and the blade, helping reduce friction and irritation. They can also help moisturize and nourish your skin, leaving it feeling soft and smooth after shaving. If you have sensitive skin, choose a pre-shave oil or balm specifically designed for sensitive skin to get the best results.
Frequently Asked Questions About Electric Shavers
When Is the Best Time to Shave?
Dermatologists recommend shaving either in the shower or just after you get out of the shower. It's at these times that the skin and hair are moist and supple. Plus, you've just gotten rid of oil and dead skin cells, both of which can clog up the blades.
Shave in the direction of hair growth to further minimize irritation. If possible, it's best to go over each area only once, as going over the same place multiple times can cause problems. The razors on this list are designed to work efficiently so that they can cut more hair in just one pass.
Do You Have Skin Issues?
Eczema, acne, general dryness, ingrown hairs and other problems can all affect your ability to shave without irritation. If the problems that you are experiencing are severe, then it may be time to schedule an appointment with a dermatologist. Your doctor can help you address these underlying issues so that shaving is less irritating for you overall.
Work From Within
Some shaving issues and sensitive skin problems don't start at the surface. They can be the result of or at least be exacerbated by the things you put in your body. Following a nutritious diet and drinking plenty of water can help to make your skin healthier and less prone to problems. Smoking is notoriously bad for the skin, and drinking to excess can leave your body dehydrated and your skin thirsty. Drop these bad habits to experience less skin irritation from shaving.
What to Look for in a Shaver
Sharp blades that cut on the first pass are an absolute must if you want to eliminate skin irritation. Also, it's preferable if those blades are moving pretty quickly because they will likely bother your skin less. For some guys, adjustable blade speed will be important. That's because they may experience less irritation at lower speeds.
It's also vital to look for a shaver that is easy to clean. A clean razor has sharp blades that are not obscured by oil, skin cells and hair, which means that it provides a better, more efficient shave. In other words, you can get the job done in fewer passes of the razor over your skin, and that translates to less redness and fewer bumps.
Keep an Eye on Maintenance
The razors on this list offer excellent performance for guys with sensitive skin, but that doesn't mean that you don't have to take care of them. Follow all manufacturer guidelines for changing blades, foils and heads to ensure superior performance over the long run. Many of these models come with cleaning and charging stations. Take advantage of these devices to keep your shaver running like new.