17 Best Supplements for Muscle Gain and Strength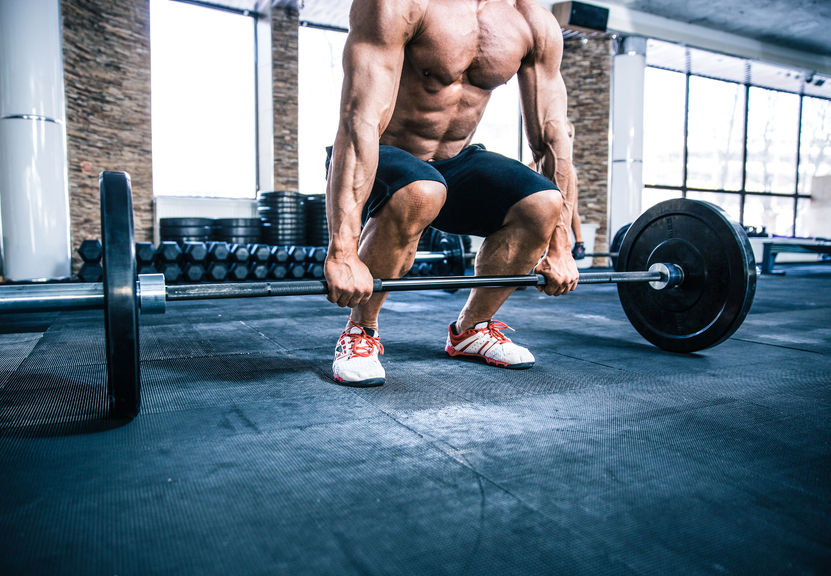 What can you do if you're eating right, working out regularly and still not getting the muscle gains that you want? You could go the illegal steroids route, but that puts you at risk for criminal prosecution and encountering unsafe products that don't belong in your body.
The better alternative is to go with legal supplements for building strength and muscle mass. These products are widely available, and many of them are incredibly effective.
However, there are a lot of products out there that aren't as effective as others. How can you tell whether or not the supplements you buy are the real deal? Here are a few factors to consider.
Top Ingredients for Muscle Gain and Strength
The best supplements for getting stronger and leaner are going to contain well-known ingredients that have been clinically tested for efficacy.
Creatine
One of the most common of these is creatine. This substance is already in your body, but when you supplement with it, your muscles get stronger, allowing you to push around more weight. This leads to growth so that you start seeing the gains you've been chasing.
Protein Isolate
Another common and effective ingredient is additional protein. This can come in the form of whey supplements, or the protein may be isolated from common sources like beef, eggs and chicken. Your muscles need extra protein if they're going to get bigger, so a supplement may be the best answer.
Branched-Chain Amino Acids
Branched-chain amino acids are extremely popular with bodybuilders, and there are plenty of reasons why. These BCAAs, as they are commonly called, are a compound of three amino acids: valine, leucine and isoleucine. BCAAs are a crucial component of growing muscles. They are found in animal proteins like fish, meat, poultry, eggs and dairy products, and your muscles have naturally occurring BCAAs already in them. By supplementing with this ingredient, you're bound to increase your size and get lean.
The amino acid known as L-glutamine is crucial to muscle recovery after workouts. The glutamine that is found naturally in your muscles may get leached for other purposes, such as boosting your immune system. This means that less of the substance is being used to build and sustain muscle tissue. Accordingly, supplementing with glutamine is just a good idea.
Consider Your Goals
Everyone who considers taking a supplement that will give them increased strength and size has a unique goal. After all, not everyone wants to win Mr. Olympia. Some people just want to look leaner, get more toned or are just having trouble gaining size.
Some of the supplements on this list are designed to help you meet a multitude of goals. You'll experience increased energy, an enhanced metabolism, substantial fat loss and explosive muscle growth.
Other supplements have a more specific goal. Perhaps they are designed to ramp up your energy before a workout so that you'll be intense and focused. Maybe they are only meant to assist with helping your muscles to recover more quickly after an exercise session. Still others aim to give you massive amounts of protein or creatine in a meal-replacement package that contains highly specific nutrients.
The point is that there are many different supplements out there. Any one or a combination of two or more supplements may be right to you.
Does Delivery Method Matter?
The products on this list are ingested in a variety of ways. Many of them are powders that can be mixed with water or other liquids. You simply drink them as directed. Others are tablets, and there is even one option that gets spritzed under the tongue.
Take these different delivery methods into account before choosing the right supplement. Some people have to do a lot of trial and error before finding a beverage that tastes good to them while other people aren't concerned about the taste. If you're looking for something more convenient, then tablets or a spray may make more sense.
Talk to Your Doctor
Before beginning any supplement, it's wise to ask for your doctor's advice. They'll let you know if you have any conditions that might make these supplements dangerous for you.
This three-month supply will get you started on the right track with a regimen that is safe and healthy. The manufacturer promises "non-stop muscle size & strength gains" on a continuing basis with these all-natural strength supplements. This program is designed to help you stimulate your muscles to the max during workouts, and then allow them to completely rest and recuperate, which is when the real growth occurs. Of course, cutting fat also is a big part of the formula. That's why these supplements include a product that revs up your metabolism and aids digestion. You can trust that these products are safe to use. They've been manufactured in an FDA-inspected facility for nearly two decades. With a made-in-America guarantee and recognition by many professional bodybuilding organizations, these products are an excellent choice. You'll receive three different products in the "stack." Each is spritzed under your tongue a couple of times per day. Ingredients like amino acid complexes, arnica montana and avena sativa are proven safe and effective.
Buy it now on Amazon: Anabolic Pro Stack by Top Legal Steroids
Testosterone is the primary ingredient that's needed for building muscle, and that's exactly what this straightforward supplement delivers. The manufacturer promises that users will improve strength and stamina in addition to feeling better energy levels and enjoying an enhanced metabolism. This makes it possible to shed fat and build muscle at the same time. Users take two capsules every day, making this a 60-day supply. The capsules are manufactured in the U.S. following Good Manufacturing Practices Compliance. This means that using this product is safe for most men. These supplements for muscle gain and strength just might help you reach your goals, and then create new ones.
Buy it now on Amazon: Testosterone Booster for Men Supplement T-250
This set of five proprietary products is designed to help you maximize calorie burn and develop extraordinary muscle tone. Included in the program is a post-workout recover supplement that is designed to rev up muscle recovery while also promoting lean-muscle synthesis. The second supplement is designed to "Recharge," and it is taken at night. This item helps your muscles continue their recovery throughout the night. At the same time, it will help you experience less post-exercise muscle soreness. The "Hydrate" product ensures that your body has the liquids that it needs to get you through your workout. Additionally, it replaces electrolytes that are lost during exercise routines. With the "Energize" formula, you'll be able to maximize your intensity during exercise while also building your endurance. Finally, the "Creatine" supplement builds muscle strength and gives you the energy you need for high-intensity exercise. You'll find natural vitamins and minerals in each of these products as well as plant extracts and branched-chain amino acids. This 30-day supply will get you started on the right track.
Buy it now on Amazon: Beachbody Ultimate Stack
Branched-chain amino acids are recognized as one of the most important components when it comes to building strength and muscle. This essential component is exactly what this supplement delivers. It's designed to defend your muscles against breakdown while simultaneously preserving lean muscle tissue. You'll notice better energy levels and endurance from almost the first dose. Additionally, the manufacturer advertises that this product reduces fatigue and speeds up the muscle recovery process so that you can start seeing gains with incredible speed. Another important aspect to consider is this product's ability to help your body synthesize protein and retain nitrogen. With a 100 percent money-back guarantee, it's hard to go wrong with this amino acid supplement that contains leucine, valine and isoleucine.
Buy it now on Amazon: BCAA Muscle Enhancement Pills
Containing one bottle each of Mesobolin, Lipotase and Androxybol, these supplements for muscle gain are bound to get your attention. In the manufacturer's literature, they claim that with the right diet, any user can add three pounds of muscle each month while also losing three pounds of fat. Additionally, all products in this stack are legal and safe to use. One of the major effects of using these products is that they dial down the body's ability to receive estrogen. Consequently, the body is forced to produce excess testosterone. The result is increased muscle size and strength coupled with amazing fat loss. Ingredients like calcium, zinc, ginko and nettles ensure that your experience is always safe.
Buy it now on Amazon: Lean Monster Stack
The manufacturer of this product claims that your body will absorb 99 percent of what's in these tablets so that you'll see the maximum effects. An absorption rate that is that high is pretty impressive, and reviewers certainly seem to be enthusiastic about their results. This product relies on an exclusive mix of eight essential amino acids, all of which are critical to building bigger, stronger muscles. Users also may like that the ingredients in this supplement are vegan sourced and all natural. Just as impressive as the ingredients that these tablets have is what's missing from them. You won't find any fat, gluten, soy, yeast, sugar, wheat or rice. There's no dairy in there, either. If you're really careful about what you put in your body, but you still want amazing results, then this offering from BodyHealth may be ideal for you.
Buy it now on Amazon: Perfect Amino Eight Essential Amino Acid Tablets
Primal Muscle is a well-known brand name in the bodybuilding world. Accordingly, you can expect that their supplements for muscle gain and strength are bound to not only be safe, but also effective. That is certainly the case with these bottles of Tridenosen H. Believe it or not, this is actually an oral pill form of an Australian injectable performance enhancer that is used on race horses. The active ingredient is frequently referred to as ATP, which is just an easier way of saying Adenosine Triphosphate. It's a completely natural substance that is found within every living organism on the planet. In fact, it is an incredible source of energy. When muscles contract, they consume ATP, leading to a need for even more of the substance. That is where this Tridenosen H supplement comes in. You're bound to see gains in lean muscle mass with its use.
Buy it now on Amazon: Tridenosen H from Primal Muscle
With a stunning 40 grams of protein in every serving, it's no surprise that this meal replacement shake has the power to help you build muscle and lose fat. It includes ingredients like branched-chain amino acids to give your body the fuel it needs to get bigger. Additionally, it contains glutamine, a substance that is known to aid in quick recovery and to protect muscles from breaking down. The formula also is packed with high-fiber carbohydrates to improve your body's ability to regulate blood sugar and insulin levels more efficiently, leading to increased fat-burning potential and greater energy. With 24 vitamins and minerals, this supplement further is a nutritionally dense addition to your fitness routine.
Buy it now on Amazon: Labrada Nutrition Lean Body Meal Replacement Powder
Brought to you by Force Factor, this product uses a formula for cell hydration that fights muscle breakdown while also increasing volume. This makes it easier to not only build muscle, but also hold on to it. One of the ingredients, L-ornithine, establishes faster recovery times and gives you amazing endurance for workouts and beyond. The manufacturer recommends using this product in the midst of exercise sessions to encourage longer, higher intensity workouts. They go on to claim that the product's name comes from a mixture of "cannibal" and "anabolic." The cannibal refers to the amino acids in the formula being the same ratio as that which occurs in human muscle tissue. The anabolic is a reference to the natural metabolic growth cycle that occurs in the body. Translation: You get muscle growth using natural ingredients. Another plus is that you won't find stimulants, carbs or calories in these strength supplements.
Buy it now on Amazon: Cannabol BCAA Powder
Also called Black Onyx, this formula contains Phosphatidic Acid. A study in which subjects were supplemented with this substance gained an average of just over five pounds in two months. Researchers say that the weight gain was mainly lean muscle, which is exactly what anyone who is looking for bigger, stronger muscles is after. Phosphatidic acid actually is naturally produced by the body during strength training. This acid binds to mTOR, a protein complex that is responsible for many processes at the cellular level, like cell growth and protein synthesis. In the study, mTOR activity was increased six-fold in participants, resulting in amazing muscle growth. This product enables you to experience this too. You'll be astounded by the amount of weight you can push and pull around the gym after a few days on this product.
Buy it now on Amazon: MuscleTech PhosphaGrow SX7
If you're looking to bulk up, then the nutrition that you put into your body is critical to your success. This product acts not only as supplements for weight gain, but also an incredibly nutritious meal replacement. A single serving is packed with 600 or more calories of high-octane nutrition. You get good-for-you fats from EFAs and MCTs and the protein that is essential to building lean muscle mass. The formula contains both slow- and fast-acting carbohydrates to ensure that you have energy now and in the long run. You'll also find plenty of healthy fiber. The main ingredients are whey isolates, a time-tested and trusted supplement for putting on size in a safe and reliable manner.
Buy it now on Amazon: Real Gains Weight Gainer
This six-month supply is more than enough to get you started off on the right foot. Nitric oxide boosting ingredients L-Arginine and L-Citrulline make this a powerful product that's easy to make a part of your routine. The gas known as nitric oxide, or NO, is produced naturally by the body. Its main purpose is to break down the amino acid called arginine. When the body gets an extra dose of NO on a regular basis, blood flow is increased, and so is the delivery of nutrients to muscle cells. People who use this supplement are able to exercise longer and with greater intensity. Additionally, NO puts a cap on lactic acid production during exercise. This means that you can complete more reps with heavier weight. The result is the muscle gains that you've been dreaming about.
Buy it now on Amazon: Premium Nitric Oxide Supplement
This supplement is much like an energy drink. You take it before you begin your workout to dial up your intensity and focus. According to the manufacturer, drinking Savage Roar will enable you to complete more reps and minimize rest time between sets. You'll experience enhanced motivation to stay at the gym, thereby increasing the length of your workouts. Users say they love it because they don't experience jitteriness or queasiness, which is important when you're going after a monster workout. Plus, you could easily use this product with others to get massive results.
Buy it now on Amazon: Savage Roar Pre-Workout Formula
This product contains straightforward taurine, an amino acid that is naturally found in the human body as well as in dairy products, meat and fish. You may appreciate that taurine is an anti-oxidant. Supplementing with it may improve your digestion, regulate your blood pressure, lower your cholesterol numbers and keep your blood sugar on the level. At the same time, your cells will be receiving better hydration, and your body will experience less free-radical damage. Taurine may be able to increase the rate at which the body burns fat and increase energy levels. Accordingly, it is a solid choice for supplements for muscle gain.
Buy it now on Amazon: Bulk Supplements Pure Taurine Powder
If you're looking for a pure source for protein, then this may be the perfect product for you. With a minimum of calories and an amazing 25 grams of protein per serving, this product is formulated to give excellent nutritional value. What's more, the manufacturer says that hydrolyzed whey protein like that contained in this product allows better, faster absorption of amino acids. This means that more nutrition gets to your muscles. Guidelines suggest taking this supplement immediately after a workout to ensure shorter recovery times, leading to more muscle growth. Users love that this product doesn't have a lot of additives or hard-to-pronounce ingredients. It's just fast-absorbing whey protein isolate and hydrolysate, meaning digestion is easy and your muscles get the best possible nutrition.
Buy it now on Amazon: BPI Sports ISO HD Protein Isolate
This is another whey isolate protein powder. However, it is made by Nitro Tech, which is a well-known name in the bodybuilding and extreme sports industries. With this product, you get an amazing 30 grams of protein with each serving. The formula is bulked up with the addition of creatine at three grams per serving, various amino acids at four grams per serving and 100 milligrams of digestive enzymes. With just one gram of carbs per serving, it's easy to see why this protein powder supplement is so popular with fitness enthusiasts. Use this product between meals as a snack, right before workouts or just after an exercise session.
Buy it now on Amazon: Nitro Tech – Whey Isolate Protein Powder
Creatine is a perennially popular supplement for putting on size and muscle mass. With this product, you get a blend of 10 types of creatine. The manufacturer boasts about performing years of research to determine which forms of creatine are the absolute best for modern athletes. They discovered that these 10 types of creatine are the most likely to provide enhanced energy, more intense workouts, bigger muscle gains and extreme fat loss. Taking this supplement first thing in the morning and then again after working out is recommended to maximize results.
Buy it now on Amazon: Decacor Creatine Powder