Best Elderberry Gummies, Supplements, Syrup & Tea on Amazon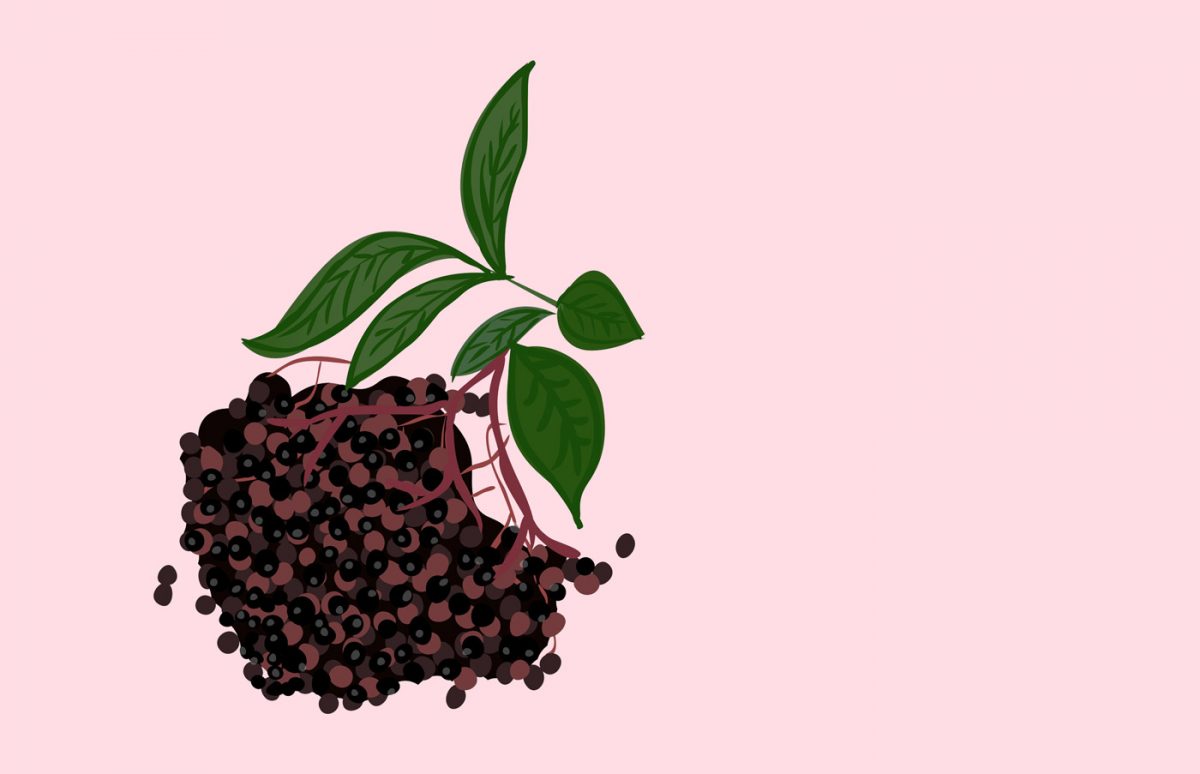 What is Elderberry?
Elderberry is most commonly thought of as the dark purple berry from the European elder tree; however, the term refers to several types of Sambucus trees, which are members of the Adoxaceae family. Although the tree is native to Europe, it grows in other parts of the world with similar climates.
Although several types of flowers and plants also bear the name elderberry, the flowers and berries of the European variety (Sambucus Negra), are the ones most commonly studied and used for herbal formulas. S. nigra grows as tall as 30 feet and produces clusters of small, white- or cream-colored elderflowers, followed by berries that appear in small black or blue bunches. The flowers may be consumed raw or cook, but the berries are tart and must be cooked to be eaten.
What Does Elderberry Do?
Physicians have used elderberry in their treatments since ancient times with the Father of Medicine Hippocrates calling the plant his medicine chest. Elderberry is an antioxidant and contains several vitamins. As such, elderberry can reduce inflammation, ease stress and possibly protect your heart. It may even help prevent and ease colds and the flu. Support for the use of elderberry comes from traditional remedies, but scientific research has been less conclusive.
What is Elderberry Good For?
Elderberry is most commonly used today to help ward off colds and influenza. While there is no scientific evidence that this supplement can prevent illness, many doctors indicate that it's okay to take elderberry supplements in conjunction with a healthy diet includes foods with vitamin B, vitamin B6, and vitamin E to boost your immune system. Historically, several parts of the tree have been used for medicinal purposes that include pain relief swelling, inflammation, to stimulate urine production and to induce sweating. Folk medicine preparations used the berries or juice to treat headaches, dental pain, sciatica, heart pain, and nerve pain. The bark was used as a laxative and to induce vomiting.
Best Elderberry Gummies
Gummies are among the most popular types of supplements because they're pleasant-tasting and easy to take. Note, however, that some gummies are loaded with sugar as well as gelatin, corn starch, water, and added color. Browse this list of gummies to determine which one may be right for you.
Havasu Nutrition Elderberry Gummies 100mg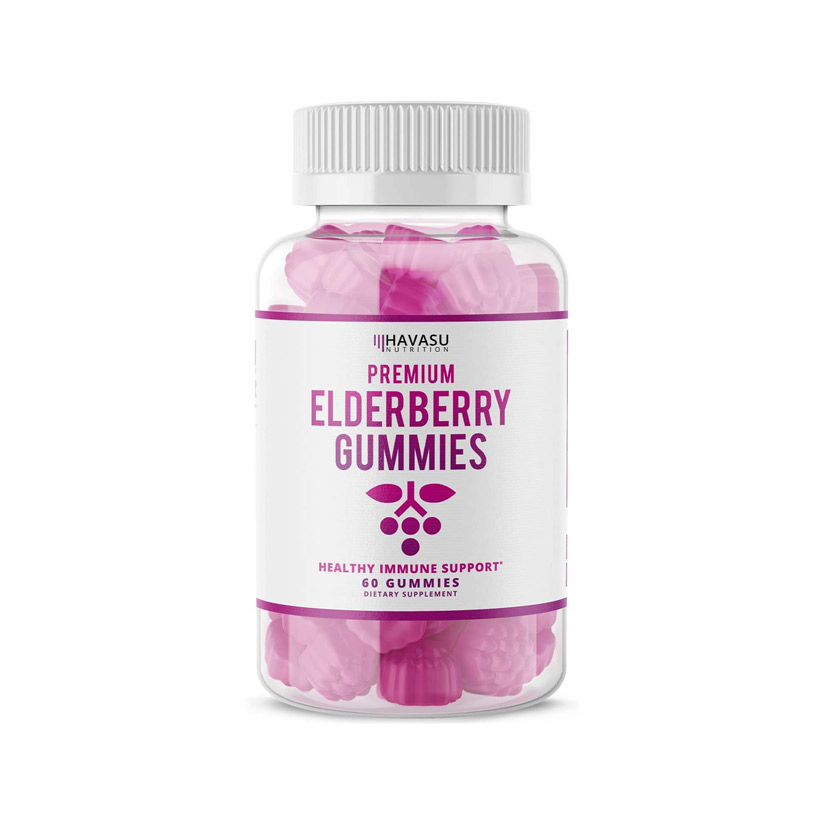 This delicious berry-flavored biofit probiotic supplement is fortified with black elderberry, Vitamin C and Zinc for metabolic and immune function and to give you maximum antioxidant benefits. The manufacturer claims that this formula supports better nutrient absorption that helps maintain a healthy immune system, healthy grown and wound healing. It also contains coconut oil, which also aids in the absorption of vitamins and minerals. This formula contains no preservatives or artificial colors or flavorings. Havasu has put the formulation through a stringent third-party testing process to ensure the quality of its ingredients.
Buy it here: Havasu Nutrition Elderberry Gummies
Sambucol Black Elderberry Gummies, 30 Gummies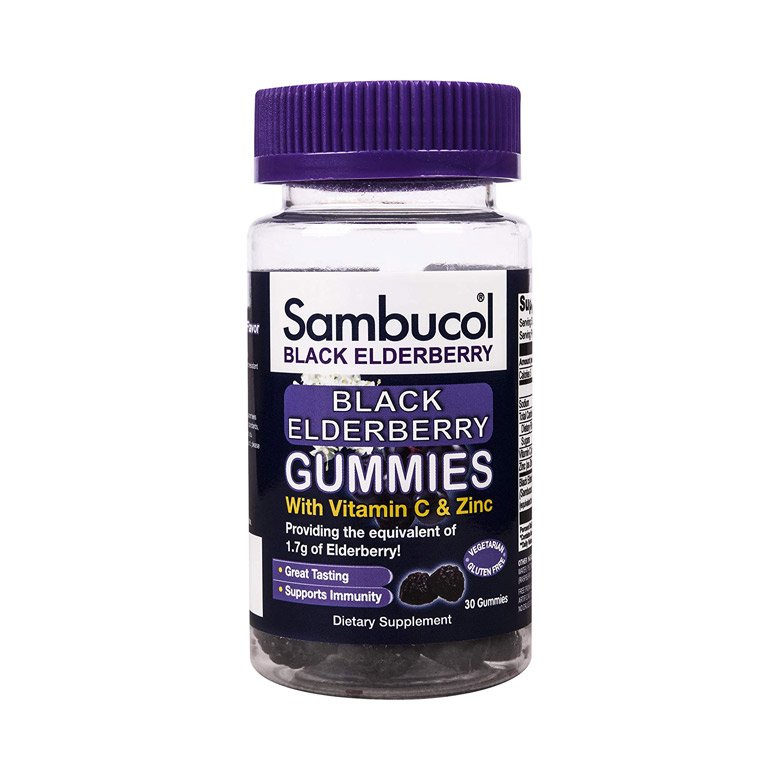 Sambucol Black Elderberry gummies contain the equivalent of more than 3g of black elderberry per serving and are appropriate for children as well as adults. Sourced from premium Haschberg variety elderberries grown in Eastern Europe, this supplement is rich in flavonoids called anthocyanins, which are responsible for the deep color of the berries as well as this supplement. A world-renowned virologist developed Sambucol's proprietary formulation and extraction process in 1991 after years of research to provide consistent immune properties in every bottle.
Buy it here: Sambucol Black Elderberry Gummies
Boost Premium Elderberry Gummies for Adults & Kids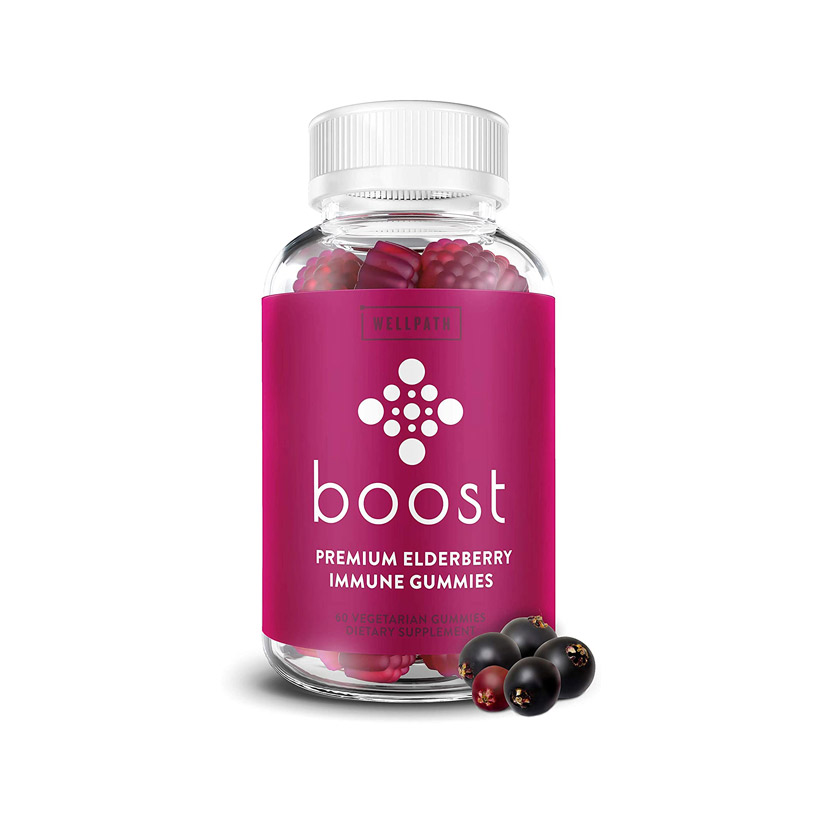 WellPath prides itself on delivering elderberry supplements that all types of consumers can safely use. ich in antioxidants such as anthocyanins these tasty gummies will help keep your immune system strong and resilient. These supplements are entirely non-GMO and gluten-free using only organic tapioca syrup and other natural flavorings. All supplements are made in a GMP-certified and FDA-registered facility. WellPath stands by the quality of its BOOST elderberry supplement with a money-back guarantee.
Buy it here: Boost Premium Elderberry Gummies
Orphic Nutrition Natural Elderberry & Vitamin C Gummies, 100 mg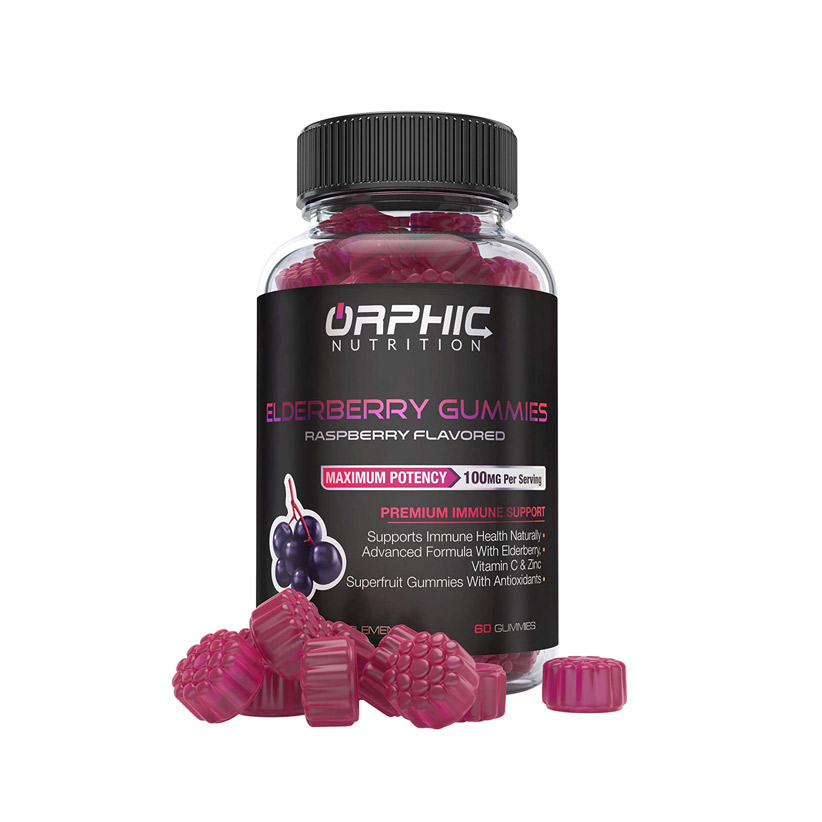 If you're tired of bland-tasting supplements, Orphic Nutrition claims that it has the best-tasting elderberry gummies on the market. Each 100 mg serving provides you with 150 percent of recommended daily vitamin C in addition to elderberry extract and is loaded with antioxidants that neutralize free radicals. These gummies are doctor-formulated to maximize nutrients to provide you with the highest potency on the market.
Buy it here: Orphic Nutrition Natural Elderberry Gummies
Kaya Naturals Immune Support Vegetarian Vitamin Gummy, 60 Count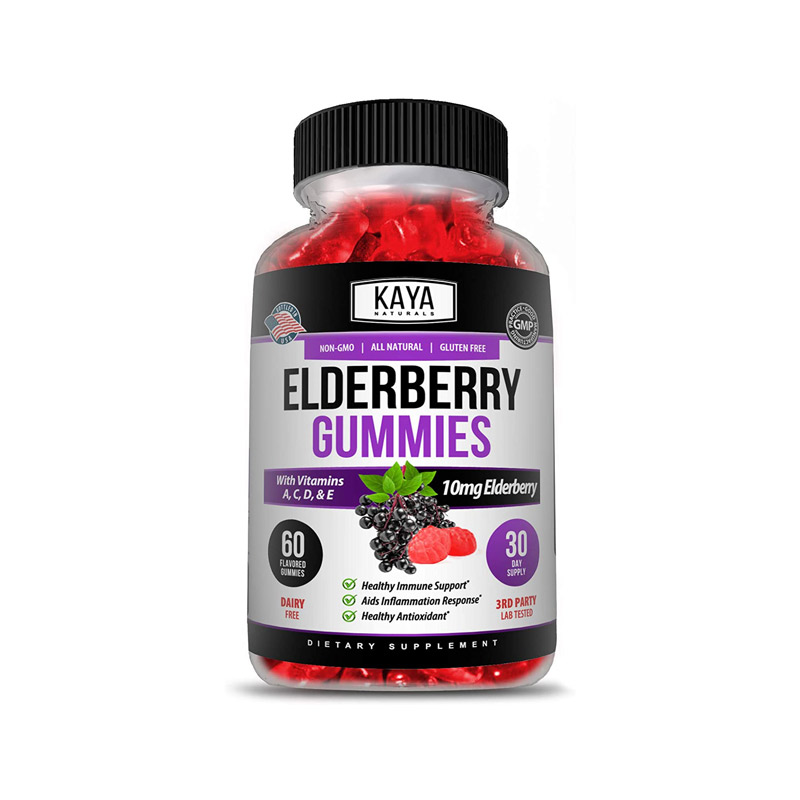 These premium elderberry gummies are made to the high standards set by Kaya Naturals. Packed with additional nutrients that include zinc, vitamin C and vitamin E, these gummies also have a pleasing lemon flavor that makes taking this non-GMO, all-natural supplement enjoyable.
Buy it here: Kaya Naturals Immune Support Vitamin Gummy
Sunergetic Premium Black Elderberry Gummies with Vitamin C & Zinc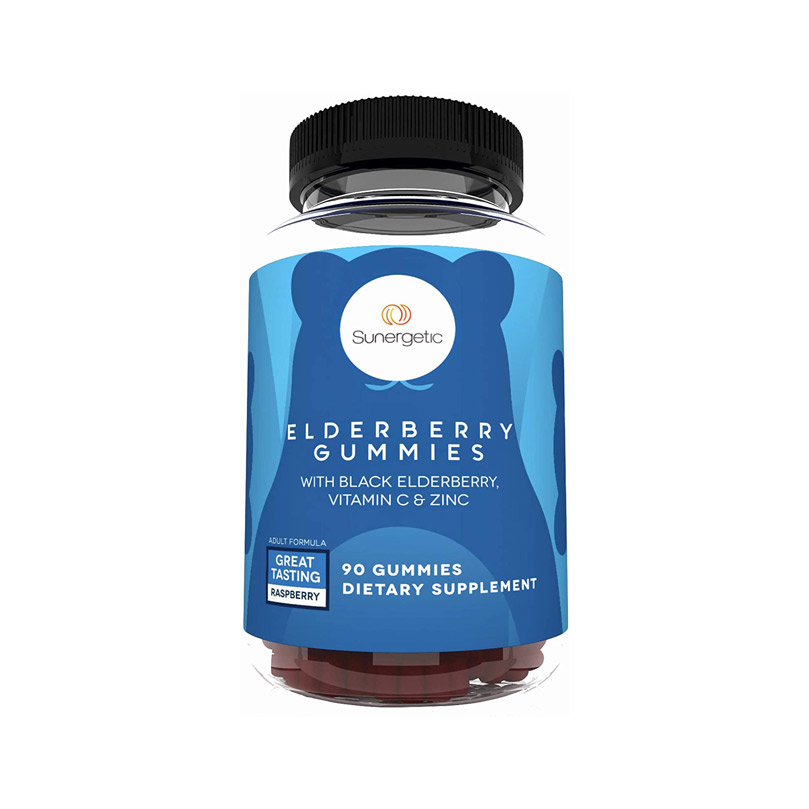 Sunergetic Premium Black Elderberry Gummies give you a powerful blend of elderberry, vitamin C and zinc to support your immune base. Unlike some other brands of gummies, Suneregetic makes its pectin instead of gelatine or high fructose corn syrup. By taking just two raspberry-flavored gummies, you'll get 100 mg of elderberry without any artificial preservatives. Every bottle comes with a 365-day money-back guarantee.
Buy it here: Sunergetic Premium Black Elderberry Gummies
Lunaki Elderberry Gummies Immune Support for Adults and Kids with Zinc and Vitamin C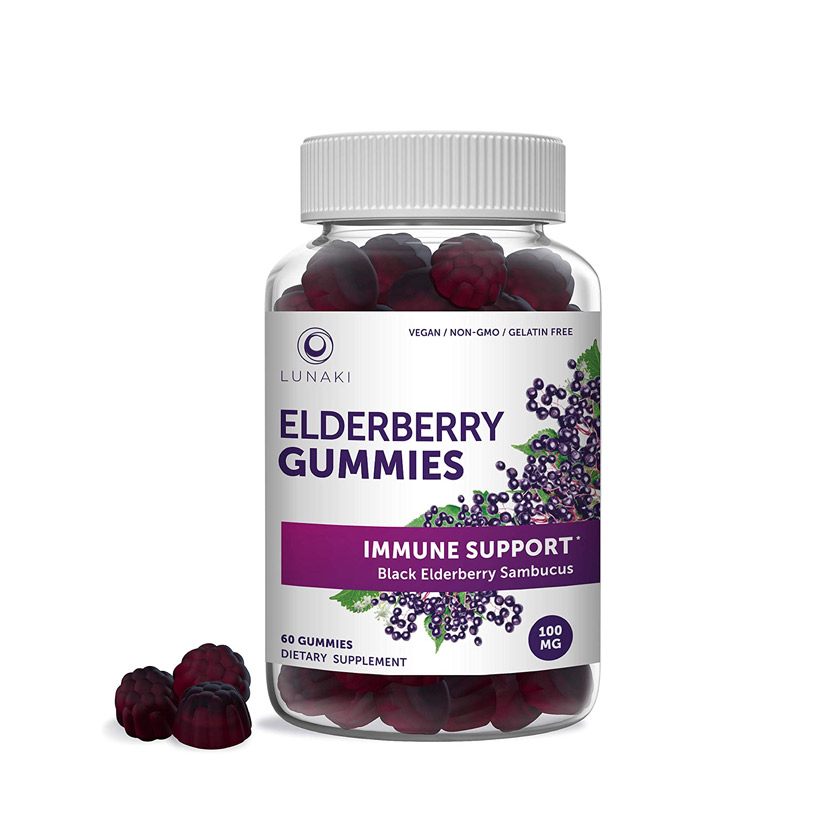 Made from juicy hand-picked elderberries from Australia, Lunaki gummies are packed with purity, containing only the finest ingredients and made with a unique, high-yield extraction process. Each gummy has 100 mg of elderberry along with 90 mg of vitamin C and 7.5 mg of zinc. They're vegan-friendly, non-GMO and gluten-free. This high-potency, concentrated formula is rich in purifying antioxidants and anthocyanin.
Buy it here: Lunaki Elderberry Gummies
Best Elderberry Supplements
Some people prefer to take elderberry supplements in capsule or pill form instead of gummies to avoid unnecessary flavorings. These products also contain concentrated forms of elderberry in a vitamin-like form.
Horbaach Black Elderberry Capsules 2000mg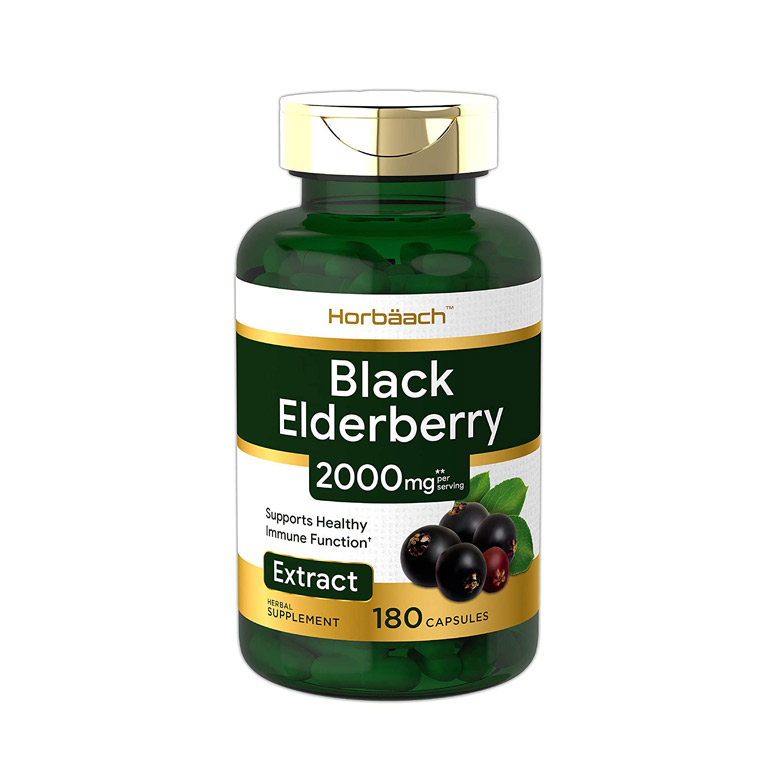 Give your body's immune system maximum support with these Horbaach Black elderberry Capsules. Each potent 2000 mg capsule is packed with immune system boosters, such as antioxidants, that can help you fight off illness. This supplement is free of gluten, lactose, milk, yeast, wheat, artificial sweeteners, and flavors and preservatives. Other ingredients include rice powder, gelatin, beetroot, vegetable magnesium stearate, and silica. Take one capsule daily.
Buy it here: Horbaach Black Elderberry Capsules
Nature's Truth Black Elderberry Capsules 1000mg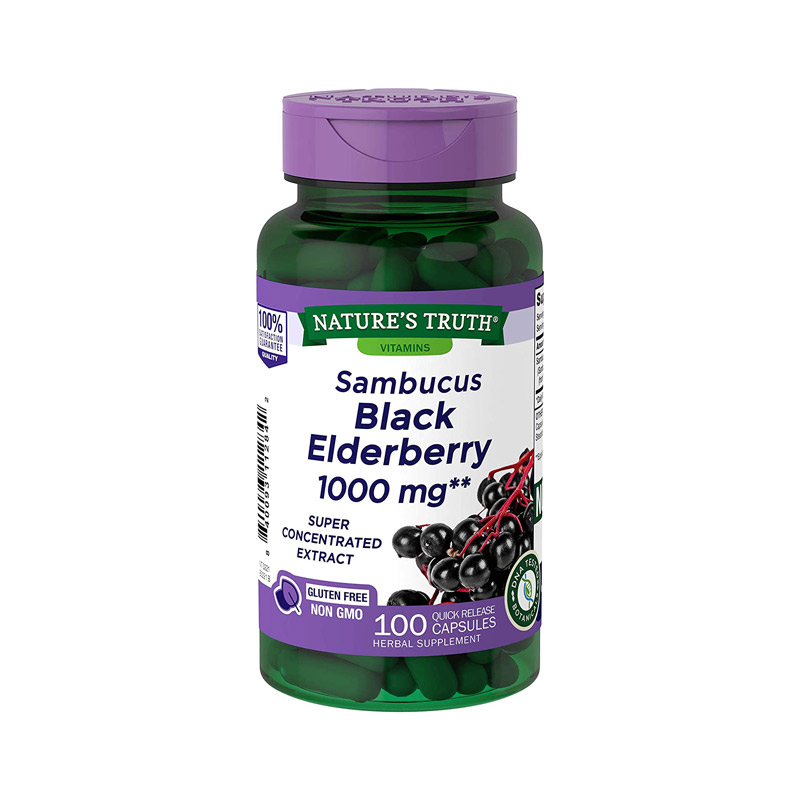 Manufactured with a formula that uses a potent elderberry extract, these Nature's Truth 1000 mg capsule gives you an easy way to boost your immunity. Just take one capsule two to three times per day, preferably with meals. These non-GMO, gluten-free capsules also have no lactose, milk, yeast or wheat and are lab tested in the United States for quality.
Buy it here: Nature's Truth Black Elderberry Capsules
Havasu Nutrition Elderberry Capsules with Sambucus Nigra and Antioxidants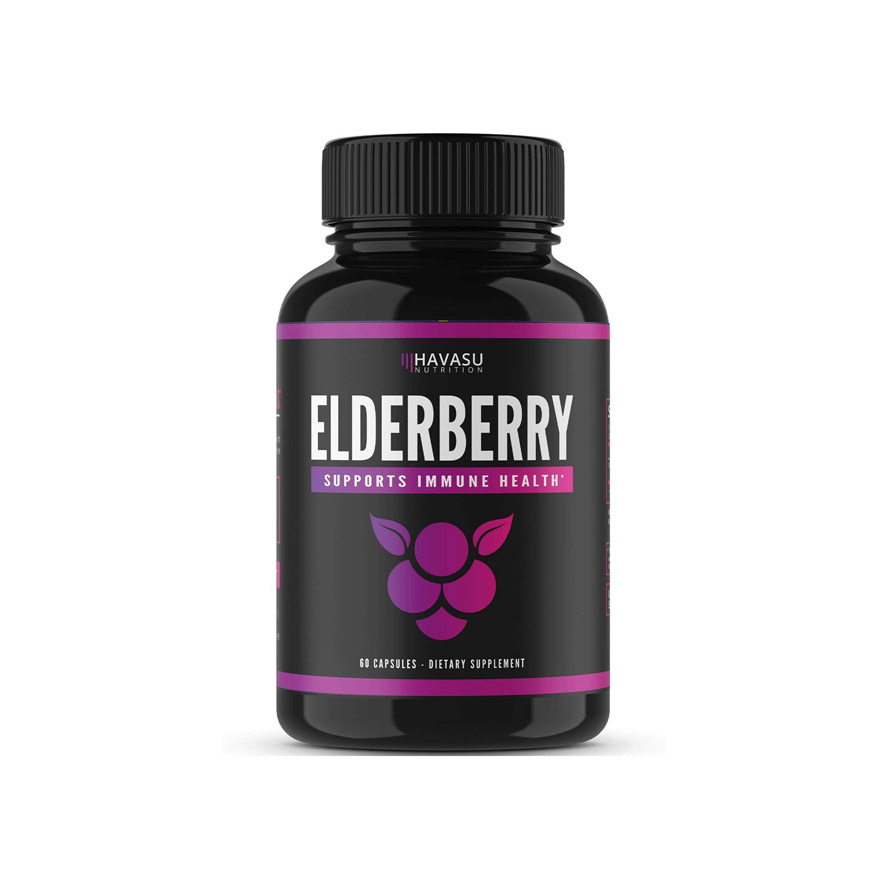 These vegan elderberry capsules deliver the equivalent of about one-half cup of freshly picked berries that contain protective antioxidant properties. Havasu formulates its capsules with premium ingredients that include echinacea and anthocyanins to give you a convenient, flavorless and easy-to-swallow supplement. Magnesium stearate helps with consistency and better nutrient absorption by helping to delay the breakdown of the capsules to ensure it's absorbed in the correct area of the bowel. They're ideal for those looking to limit their sugar intake. Havasu manufactures its supplements under strict quality controls and ensures that its products do not contain artificial flavoring, fillers or other questionable ingredients.
Buy it here: Havasu Nutrition Elderberry Capsules
Futurebiotics Elderberry Extract 500 mg USDA Certified Organic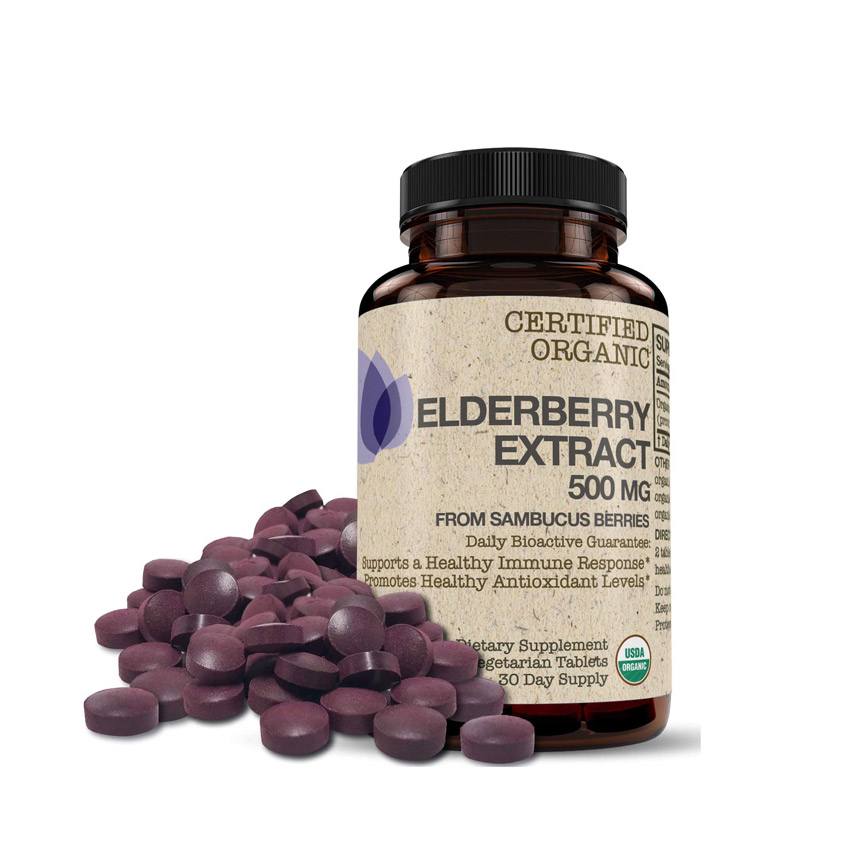 Futurebiotics Organic Elderberry Extract supports your immune system in a formula the includes pure elderberry with beneficial anthocyanins and polyphenols. This formulation is made with ingredients grown without chemical pesticides, fertilizers or preservatives. This product is certified to USDA NOP (National Organic Program) standards is lab-tested by a third party for purity and potency. Take two tablets daily with meals.
Buy it here: Futurebiotics Elderberry Extract
Best Elderberry Syrup for Kids and Adults
In some instances, getting your daily boost of immunity from elderberry syrup can be preferable to taking gummies or capsules. Elderberry syrup is an ideal way to introduce kids to this healthy supplement.
Organic Elderberry Syrup (Extra Strength) Liquid Sambucol Extract by Mary Ruth's for Kids and Adults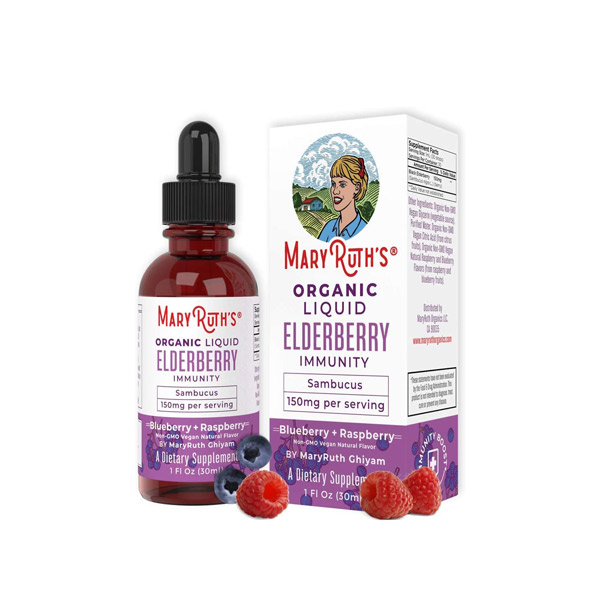 You'll love how easily you can get your daily dose of elderberry with Mary Ruth's Organic Elderberry Syrup. Take this liquid elderberry as a tincture, add it to your favorite fruit smoothie or mix it in with food. Culinary chef, nutritional consultant, and certified health educator Mary Ruth Ghiyam formulated the delicious raspberry/blueberry flavored drops. These drops are vegan-friendly, non-GMO, water-soluble and have no soy, dairy, gluten or sugar. The daily dosage is 1ml for adults and 0.5ml for children.
Buy it here: Organic Elderberry Syrup by Mary Ruth's
Nature's Way Sambucus for Kids Syrup, 8 Ounces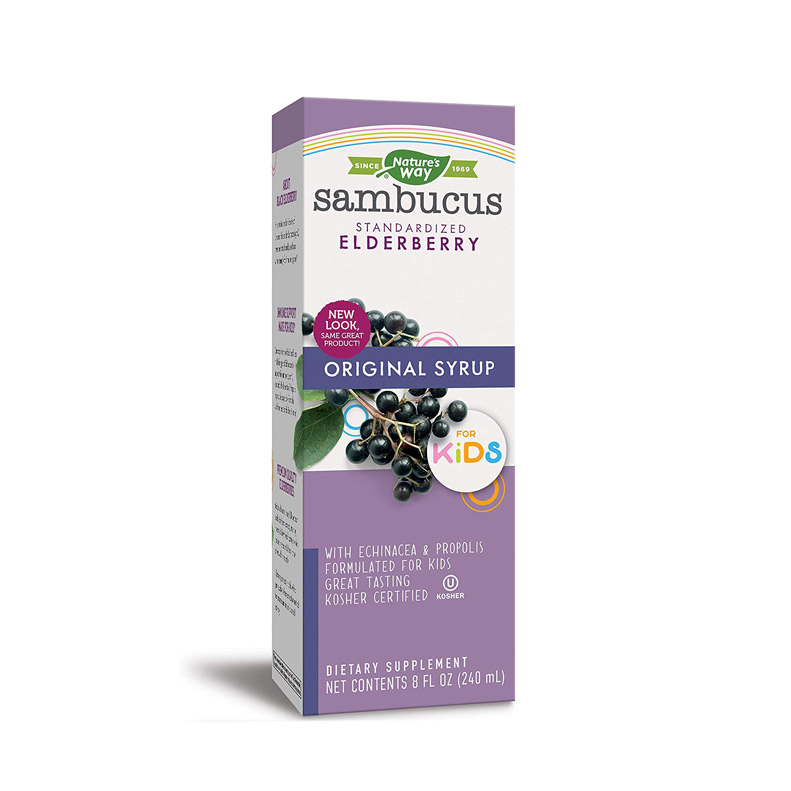 This proprietary herbal blend uses several types of echinacea along with propolis in addition to elderberry to create a formula to meet the needs of children. Nature's Way sources its elderberries directly from the Graz and Viennese regions of Austria, working with farmers who have grown them for generations, tapping into their expertise to produce a superior supplement. This unique cultivation of black elderberries provides a higher level of naturally-occurring flavonoids. Each serving contains 150ml of elderberry extract.
Buy it here: Nature's Way Sambucus for Kids
Zarbee's Naturals Children's Black Elderberry Syrup for Immune Support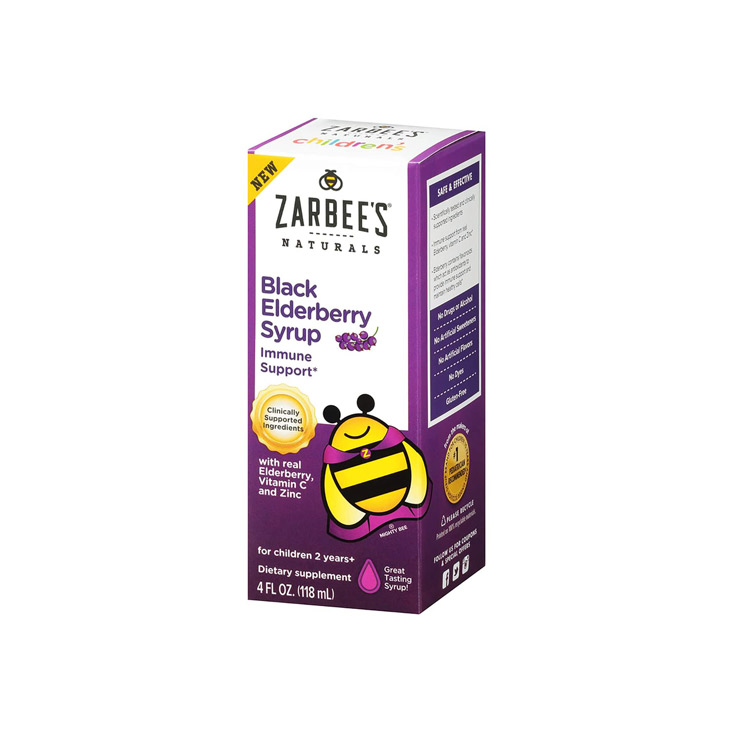 Zarbee's Naturals uses wholesome ingredients, extract and nutrients in its elderberry syrup formulation along with flavonoids for immune support and maintenance of healthy cells. Created by pediatrician Zak Zarbock, this formulation also includes vitamin C and zinc. This syrup is free of unwanted additives and has no artificial colors or sweeteners.
Buy it here: Zarbee's Naturals Children's Black Elderberry Syrup
Nature's Way Sambucus for Kids, Organic Elderberry Syrup, 4 oz.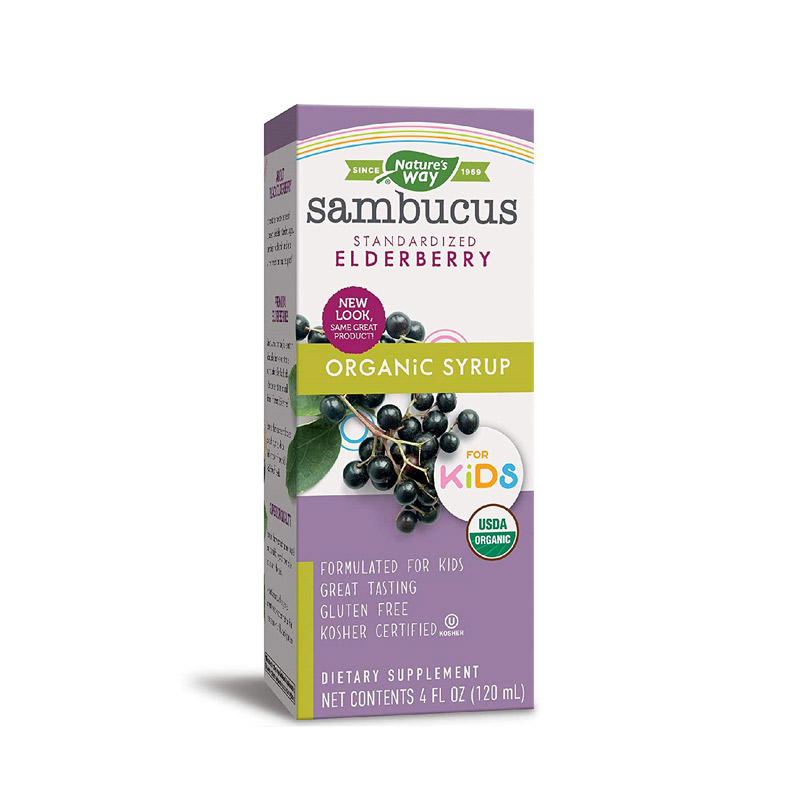 This organic formulation is made from a cultivar of black elderberries with a higher level of naturally-occurring flavonoids. Kids love the delicious berry flavor of this formulation that is sweetened with agave and is also gluten-free and Kosher certified. Nature's Way manufactures this syrup through a gentle, solvent-free extraction method that ensures maximum flavonoid potency. Dosages range from 1 teaspoon daily for children ages one through six to two to three teaspoons for children ages seven through 12.
Buy it here: Nature's Way Sambucus for Kids
Nature's Truth Black Elderberry Extract 4250mg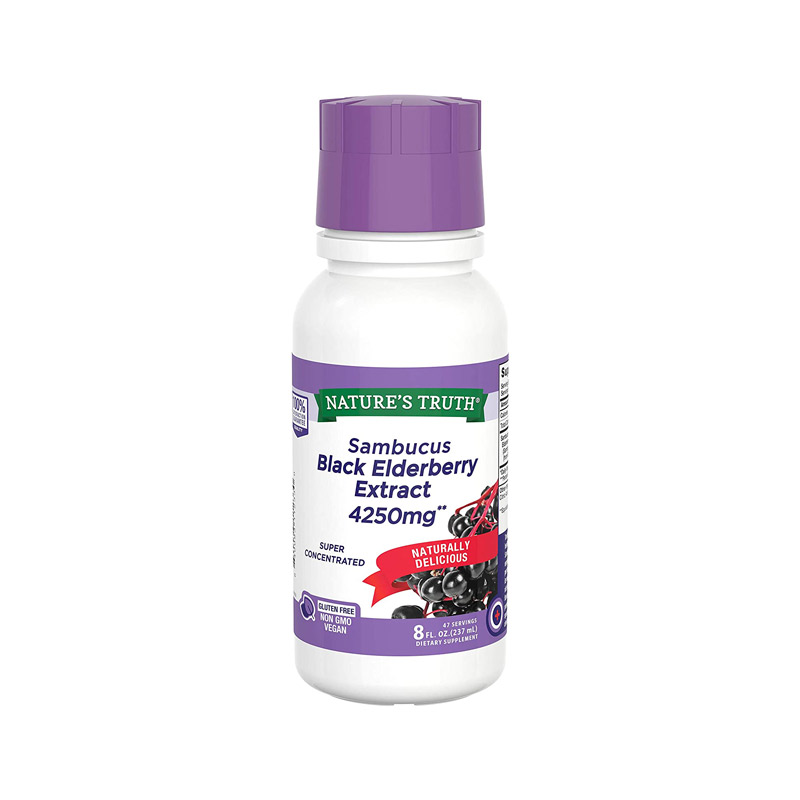 Nature's Truth Black Elderberry Extract is a concentrated extract providing 4,250mg of potent immune-boosting protein that is free of allergens such as gluten, milk lactose, yeast, wheat, artificial sweeteners, and flavors. Before use, gently shake the bottle to distribute contents. Adults should take 5ml daily with a meal. The manufacturer advises customers to clean the bottleneck and cap after each use to avoid accidental dripping.
Buy it here: Nature's Truth Black Elderberry Extract
Sambucol Black Elderberry Syrup for Kids, 7.8 Fluid Ounce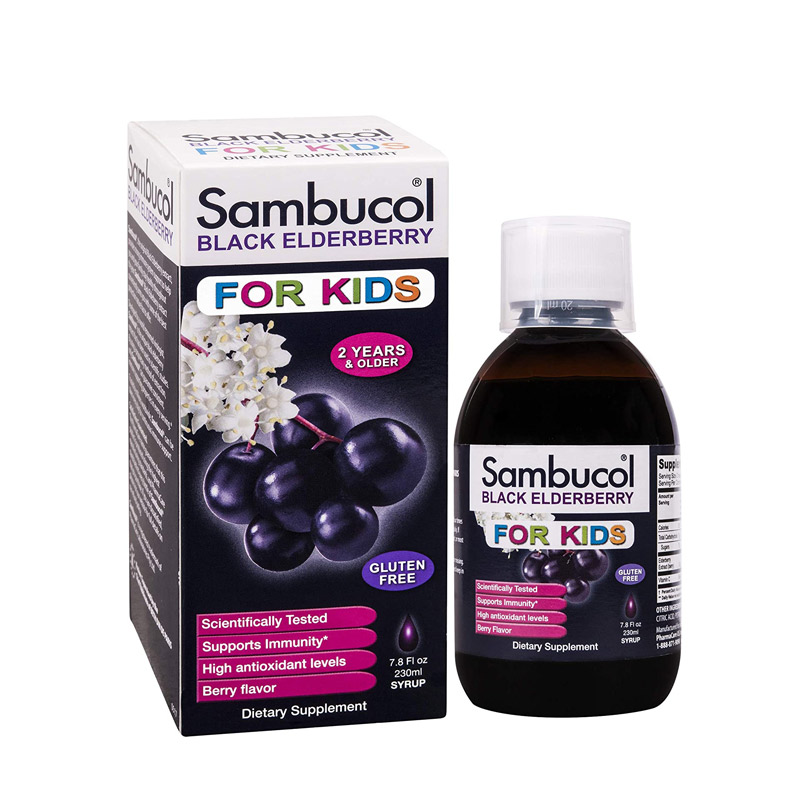 This Kosher, gluten-free and dairy-free supplement is formulated for kids ages two through 12. Safet to take daily, its supplement is simply made from elderberry fruit sourced from the premium Haschberg variety of European black elderberries that are grown in the nutrient-rich soil of Eastern Europe. This means that Sambucol's elderberry syrup is high in the antioxidant flavonoid compounds called anthocyanins. Sambucol's elderberry supplements provide an extremely high level of antioxidants to support the immune system. Sambucol claims that its syrup was used in some of the original scientific studies on this supplement as it was developed in 1991 by a world-renowned virologist after years of research.
Buy it here: Sambucol Black Elderberry Syrup for Kids
Organic Elderberry Syrup for Kids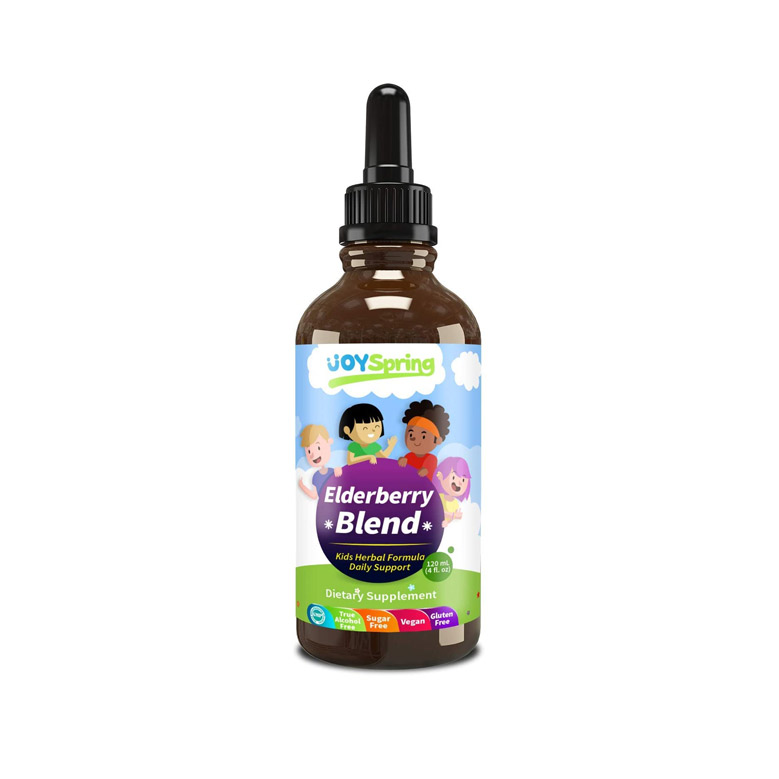 Coughs and cold can become a distant memory when you use this organic elderberry supplement from Best Natural. this vegan and sugar-free formula will naturally boost your children's immune system to help them stay healthy. The company stands behind this product with a 100 percent money-back guarantee. Mix it in with many different foods to give your kids a tasteless boost of immunity.
Buy it here: Organic Elderberry Syrup for Kids
Best Elderberry Powder
Powdered supplements are ideal for people who travel a lot or have a difficult time swallowing capsules or flavored syrup.
Microingredients Certified Organic Elderberry Juice Powder, 4 Ounces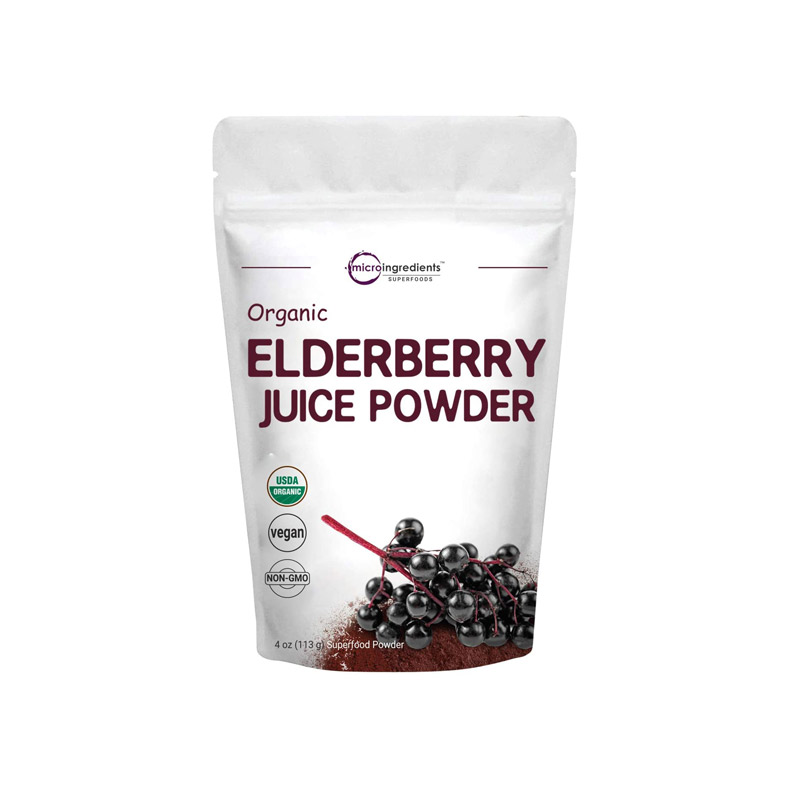 This non-GMO organic powder is vegan-friendly and is rich in a variety of other ingredients such as magnesium, zinc, potassium, calcium, vitamin B2, vitamin B1, vitamin C, vitamin D, vitamin K along with amino acids, polyphenols, flavonoids, enzymes, and fiber. Take it naturally in powder form for higher concentration and quicker absorption or mix it into drinks, smoothies and baked goods. Microingredients make this supplement without GMOs, additives, preservatives, artificial colors, soy or gluten.
Buy it here: Microingredients Certified Organic Elderberry Juice Powder
New Chapter Elderberry Powder On The Go Sticks, 15 Servings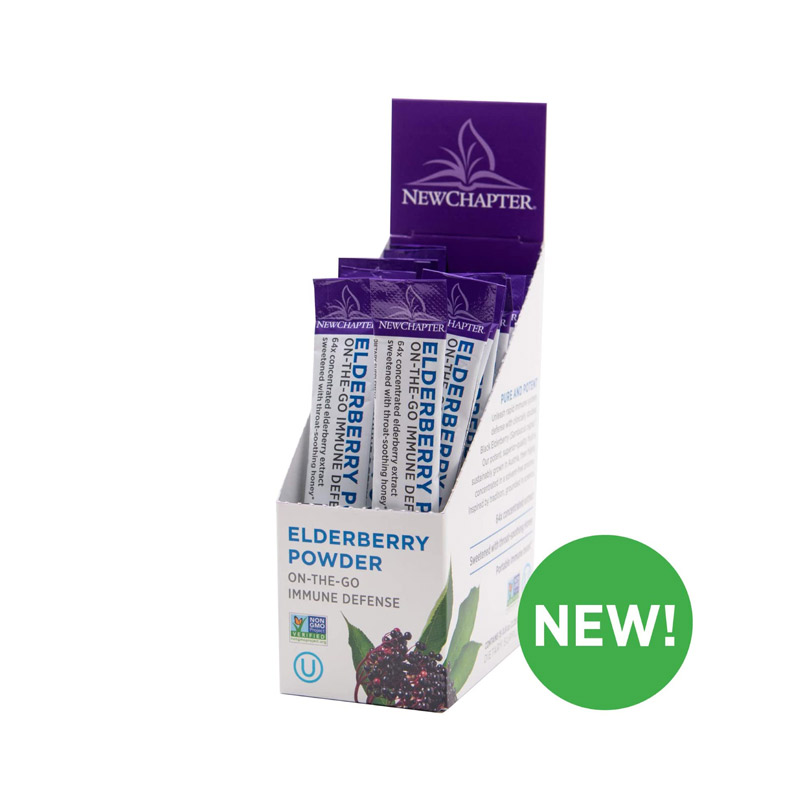 Boost your immune system on the go with these convenient powder sticks. New Chapter's quick-mixing non-GMO powder is sweetened with honey for a great taste. Just mix it with water and go! The company manufactures its powder via a propriety process whereby elderberries are pushed through an ultra-fine filter that captures the fruit's phytonutrients and puts it into a highly concentrated form. New Chapter sustainably sources its elderberries while also testing for purity, potency, and identity with independent third-party labs.
Buy it here: New Chapter Elderberry Powder Sticks
Best Elderberry Tea
Taking elderberry tea is a delicious way to enjoy this supplement. You can mix it with other supportive herbs such as echinacea or simmer it with a cinnamon stick or a few slices of ginger. If you're brewing elderberry tea when ill with a cold or influenza, the hot liquid will feel good on your throat.
Buddha Teas Organic Elderberry Tea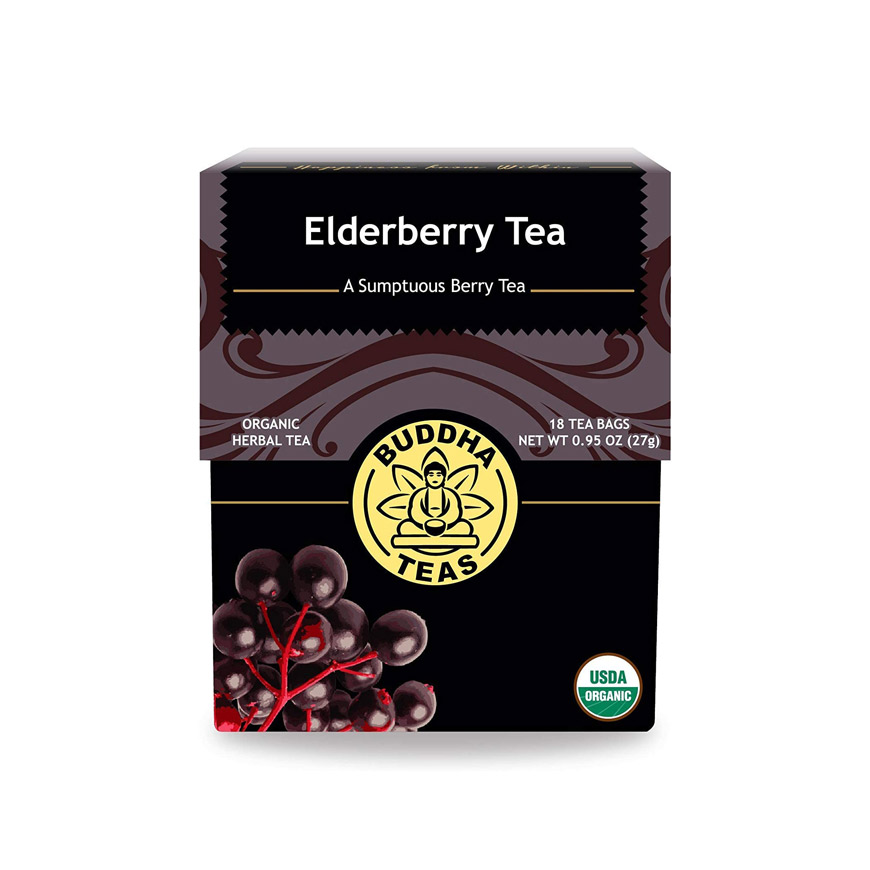 Sourced from organic elderberries and packed in bleach-free bags, Buddha Teas' elderberry tea is an excellent source of antioxidants, and vitamins A, C, and B, phosphorus, potassium, copper, and zinc. After boiling water, steep the tea for up to six minutes in a covered cup to extract the tea's full flavor and benefits.
Buy it here: Buddha Teas Organic Elderberry Tea
Wild Bliss Organics Elderflower Tea
Wild Bliss sources its organic dried elderflower tea from the sub-alpine meadows of the Carpathian Mountains, which are immediately dried and packed in airtight containers at the source to preserve freshness and potency. The flowers are picked at the end of May during their height of bloom. This tea is 100 percent natural, vegan-friendly, gluten-free and has no GMOs or added flavors, harmful additives or preservatives. Elderflower tea has a fruity scent that begins with a naturally sweet taste, followed by slightly salty notes. Packed with powerful bioflavonoids such as quercetin, elderflower infusion is ideal for drinking in the cold season to promote bronchial and respiratory health.
Buy it here: Wild Bliss Organic Elderflower Tea
Green Hill Elderberry Fruit Herbal Tea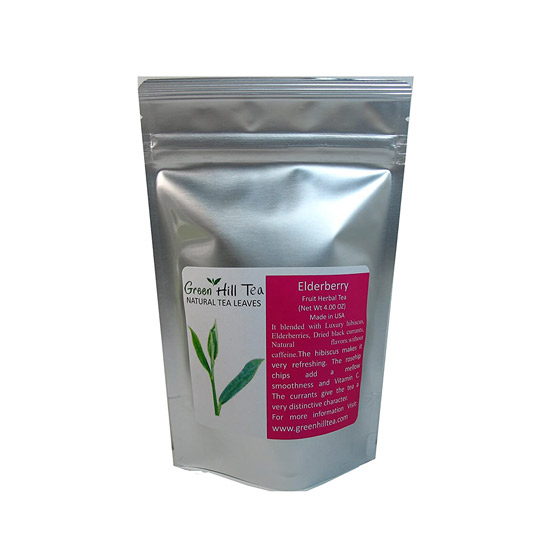 This elderberry tea from Green Hill also contains organic hibiscus and dried currants along with other natural flavors that give it a fruity taste. It's an ideal tea to relax with before bedtime as it contains no caffeine. Green Hill touts this herbal tea to help treat sinus, back and leg pain, along with nerve pain and chronic fatigue syndrome, while also reducing inflammation and boosting and immune system and improving heart health. It comes with a 100 percent money-back guarantee.
Buy it here: Green Hill Elderberry Fruit Herbal Tea
Elderberry Health Benefits
Naturally High in Nutrients
Elderberries contain many different nutrients that can improve your health. They're low in calories too as one cup has only 106 calories and just under 27 grams of carbohydrate. One cup also has substantial amounts of Vitamin A, potassium, Vitamin C, folate, calcium, and iron.
May Shorten the Duration of Colds and Flu
Folk medicine has long recommended taking elderberry to treat colds and flu. Taking elderberry syrup appears to reduce the length of the flu when taken within 48 hours of the onset of symptoms. Relief appears within two to four days of beginning treatment and seems to work in a way similar to the prescription drug Tamiflu. When it comes to the common cold, some research shows that taking elderberry does not prevent the common cold from developing. However, it does seem to shorten the symptoms.
Packed With Antioxidants
Elderberries are a superfood that has high levels of antioxidants. This fruit is high in compounds called phenolic acids, which help reduce the damage resulting from various kinds of stress in the body. Three flavonols are present in elderberries: quercetin, kaempferol, and isorhamnetin. Quercetin has unique metaphysical properties that reduce inflammation. It is believed to be able to fight viruses and cancer. Kaempferol may reduce the risk of chronic diseases. Isorhamnetin is a possible anti-diabetic.
Boosts Heart Health
The jury is still out on how effective elderberries are for heart disease. Nevertheless, preliminary research indicates that taking it may have a positive effect on some markers of heart and blood vessel health. Elderberry juice could reduce the level of fat in the blood, thereby decreasing cholesterol. Diets high in flavonoids such as those found in the fruit have been found to reduce the risk of heart disease.
Cancer-Fighting Features
Several compounds in elderberry have cancer-fighting properties. These include amygdalin, which researchers believe is good for cancer prevention. Elderberry's flavonoids, which stimulate the immune system and have antioxidant properties, may also play a role.
Clearing Up Acne
Since ancient times, elderberry has been used to improve skin tone. Its anti-inflammatory and antiviral properties make it a great fighter against acne. Taking it can help keep breakouts, boils, and stars at bay. Elderberries also have antiseptic properties, so they make a great face wash. Those with acne-prone skin will benefit from its immune-boosting properties.
Possible Wrinkle Reducer
Anti-inflammatory and anti-aging properties in elderberry and elderflower can delay the onset of aging skin and could help prevent wrinkles from forming. Elderflower also has antioxidants that protect your skin from the sun and is packed with vitamins that help make the skin firmer, reduce the size of pores and make your complexion look and feel smoother and fresher.
Relief for Constipation
Studies have shown that elderberry tea can help ease constipation by increasing the number of stools that users pass. More research is needed on the subject.
Pain-Relieving Properties
The anthocyanins in elderberry are known to reduce inflammation, which causes pain in joints. Elderberry's anthocyanins inhibit the production of nitric oxides, which is a signaling molecule that triggers inflammation in the body. Topical elderberry has been used in folk medicine to treat dental pain, cuts, bruises, and burns. Some people believe it can treat sciatica and other forms of neuropathic pain.
Suppresses Harmful Bacteria
A study by the National Center for Biotechnology Information (NCBI) found that elderberry is effective in inhibiting respiratory pathogens in influenza A and B viruses. Standardized elderberry liquid extract is effective against Streptococcus and Branhamella bacteria.
Overall Immune System Support
Elderberry supplements of all types are believed to support the immune system by supplying the body with antioxidants and boosting its natural immune response. It may not prevent you from getting ill, but elderberries may mitigate symptoms that do appear.
Possible Protection From the Sun
The ancient Egyptians were the first ones to use elderberries for protection from the sun. They also used elderberry extract to soothe sunburn. Although elderberry has an SPF factor of 9.88, you're still better off using your favorite sunscreen to protect your skin from ultraviolet radiation.
It's a Natural Antidepressant
An NCBI test showed that male Swiss albino mice who wee fed elderberries exhibited better mental markers. Elderberry has also been associated with improved mood and may treat some of the symptoms of anxiety and depression.
Elderberry Side Effects
You should always exercise caution when taking any supplement for health reasons, and elderberry is no exception. Processed elderberry appears to be safer than raw elderberries as the raw berries, bark and leaves are poisonous and can cause stomach problems when ingested in small amounts. Larger amounts can cause more severe problems. Supplements are safe for children over age 12, but not enough evidence exists for younger children.
Generally, doctors recommend avoiding taking elderberry if you are pregnant or breastfeeding or have an autoimmune disease such as multiple sclerosis, lupus, rheumatoid arthritis. Because elderberry stimulates the immune system, it could cause increased symptoms if you have one of these diseases. People with organ transplants should also avoid elderberry supplements. Note that elderberry is a diuretic. You should be careful about when you take it if you are on medications that make you pee more.
Frequently Asked Questions About Elderberry
Does Elderberry Support Your Immune System?
Although studies vary, the elderberry has been used as an immune system booster for centuries. Even the world-renowned Cleveland Clinic considers it a natural immune booster for cold and flu.
Does Elderberry Interact with Medications?
If you are on any medications, check with your doctor before choosing an elderberry supplement. Drugs that suppress the immune system, such as cyclosporin and prednisone, as well as corticosteroids, are just a few of the drugs that interact unfavorably with elderberry. Consult your doctor if you are taking diuretics, diabetes medications, are on chemotherapy, take laxatives or use an asthma drug that contains theophylline. Elderberry can interfere with the effectiveness of all of these drugs.
What Does Elderberry Taste Like?
Fresh elderberries can be tart, tangy and even bitter, which is why many people find them too astringent to eat on their own. Because of this tart taste, they are most often cooked and used in jellies, jams, pies, and beverages. They are less sweet than blackberries and raspberries, however, with their bright tart taste, they mix well with other berries in recipes. Elderberry supplements usually have some type of sweeteners such as honey or another flavoring, like raspberry, to offset the tart taste.