RuPaul's Drag Race All Stars 4 EP 5: Roast in Peace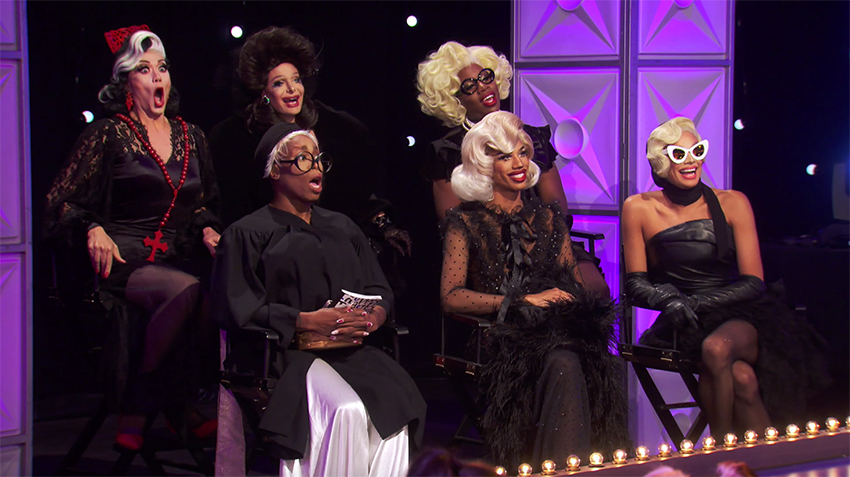 Legends Only: Lady Bunny, Stacy Layne Matthews, Latrice Royale and More…
Tonight's Drag Race featured more special appearances than a RuPaul's Drag Race Reunion that's not season 10's with RuTurns from past episodes, past seasons and just straight up the past in general – there's a lot of age jokes in this episode, so we promise that will be our only one.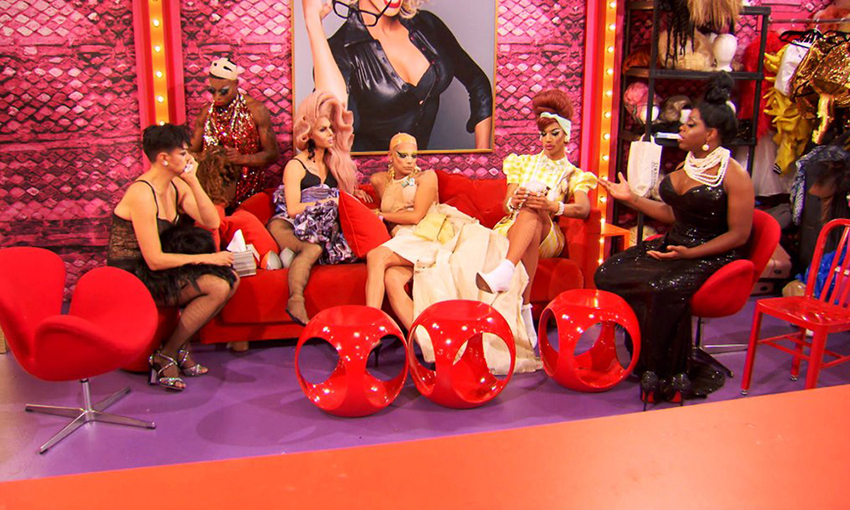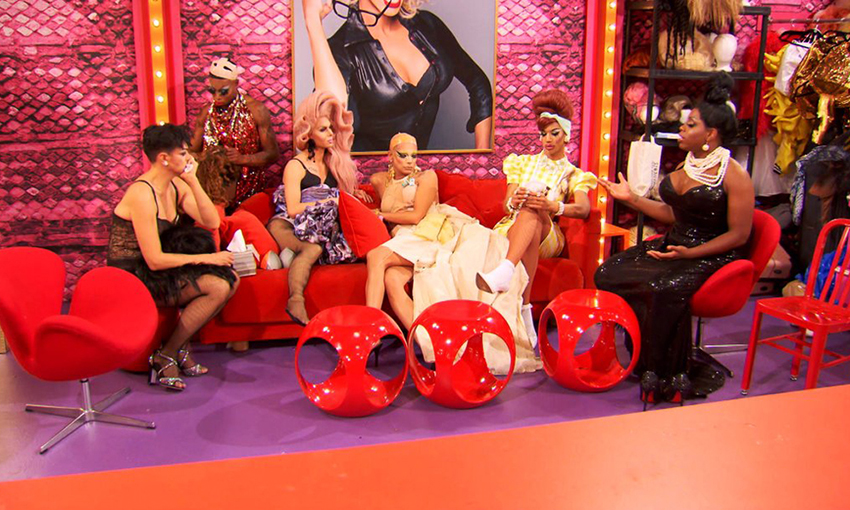 RuTurn to the Workroom:
After the shock elimination of fan favorite, large and in charge, chunky yet funky, bold and beautiful Latrice Royale at the hands of pastor's kid and apparent farming icon Monique Heart, the Queens RuTurn to the work room.
Manila Luzon, close friend and All Stars 1 partner of Latrice is devastated that she didn't save her friend (though she could have tried harder in the lip sync which leaves us somewhat suspicious about whether this is uh-uh-acting or not). Despite Manila having clear intentions to save Latrice, Monét X Change is shocked by this development. It's another eyebrow raising moment that makes us question whether everyone's playing up for the cameras or if delusion is the scent du jour. There's a weird tense moment when Manila stands up and looks intensely at the other girls. Apparently this is all the drama we have left now that Gia Gunn has been eliminated from the show.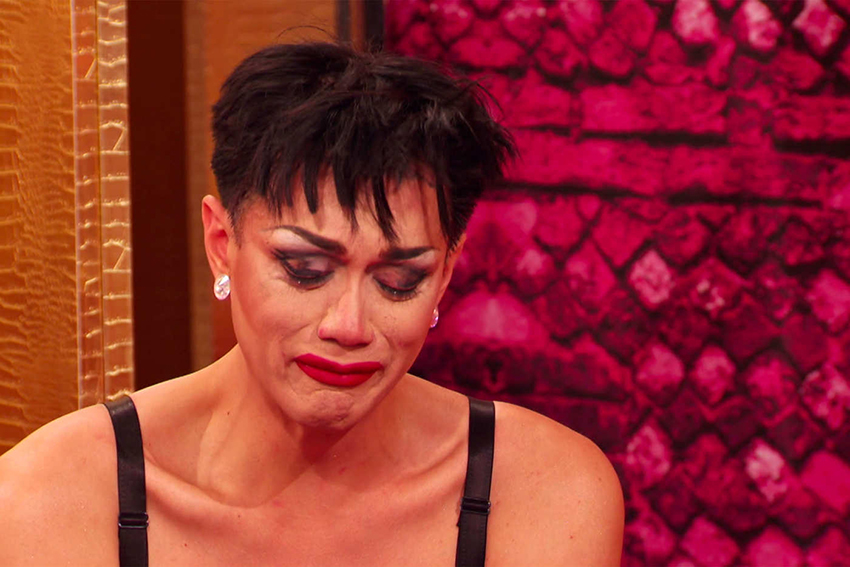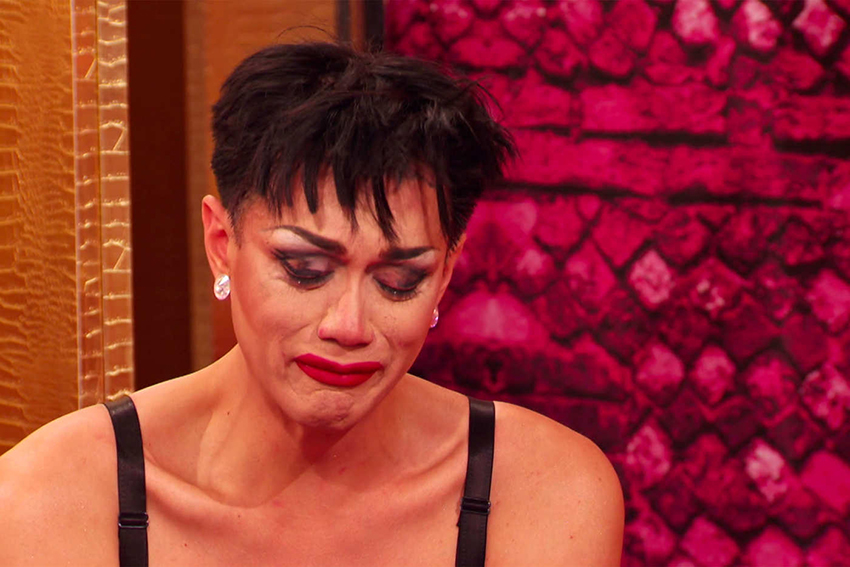 For long-time Drag Race fans, it's a bit of a surreal moment seeing Manila, who was a Cool Kid Heather on season 3, now as the outcast of the group. Is this another Henny Hex courtesy of artist-in-residence, Stacy Layne Matthews who continues to serve as this season's guru and inspiration? We love seeing her, but we'd also love more interaction with her.
The girls are pressed harder than Ru's season 10 wig-lines (which are substantially improved this season, work, Delta).
RuTurn to the Roast:
There's once again no mini-challenge, so we're unable to determine which girls are the fun ones, and it's straight onto the challenge. RuPaul continues to try to make her suits happen, and RuVeals the challenge to be once again a RuOast (too much?). But, not just any roast, a funeral-themed one for the legendary Drag Queen, Lady Bunny.
A quick montage and explanation is given to those newer to Drag. Lady Bunny is basically RuPaul's drag sister and their careers have gone hand in hand. See also, Ivy Winters and Alaska's depictions of her in season 5. Bunny's crude sense of humor has made her one of the most famous Drag Queens in the world. Some hardcore readers might remember her stint as a judge on Drag U, may it rest in peace. Queens have their work cut out for them as they have to match the outrageous and twisted humor of BunBun.
Monét talks about crashing funerals which is a good time to remind everyone of this video:
…and it's onto the challenge performance order set by last episode winner, Monique.
Monique does it Shangela-style to put Manila at a disadvantage. It seems Manila has finally worked out how to translate her camp into comedy and has been slaying these comedy challenges, Monique decides the order to be: Monét-Trinity-Monique-Naomi-Valentina-Manila hoping to mess Manila up.
Ru actually DOES do a walkthrough this episode, and praise the high heavens, Cecily Strong appears to masterclass the Queens in a way where Michelle Visage can't pull the strings. It's something deeply missing from recent seasons, professional and expert advice in challenges really does allow the playing field to even out and allows performances to be of better quality. We hope this is a continuing trend. It's getting exhausting watching Michelle/Carson/Ross provide decent help to some Queens, and poor advice to others, and then proceed to blame the Queens for doing what they were told.
Ru's walkthrough however, is less notable and she really is going through the motions at this point. Valentina and Trinity are set up with RuDemption storylines from their dreadful (in Trinity's case) and kind of iconic but kind of messy (in Valentina's case) performances in the season 9 Michelle Visage's… Breasts Roast. Without Sharon Needles to write jokes for her this time, Trinity looks like her "pageant-queen-who-does-comedy" storyline may fall apart.
Manila's walkthrough gets a massive over-exaggeration from RuPaul in a spectacularly ham-fisted edit. It's already clear Manila is winning this episode and the editors really are going to hold the audience's hands on this one to make sure we understand this.
Manila starts up a discussion again about the eliminations which is a risky move as this is what got Morgan McMichaels the chop last season when she found her elimination metrics at odds with BenDeLaCreme's, but it's assured screentime, so we get it.
RuTurn to the Main Challenge: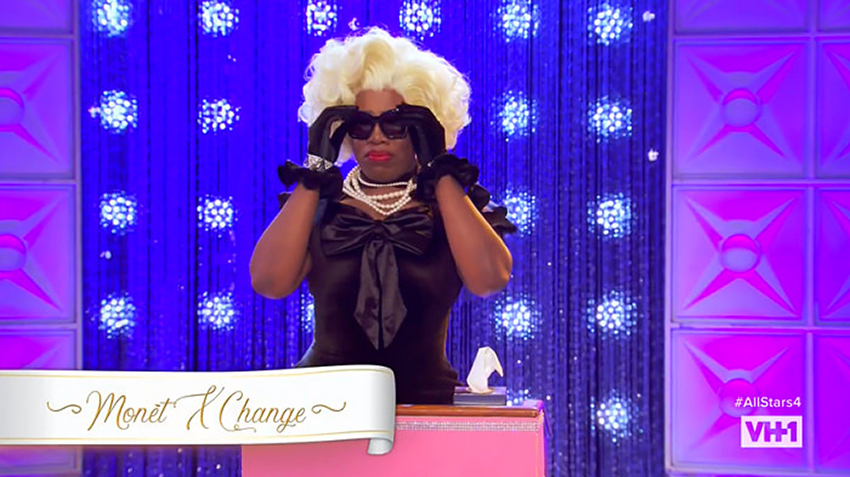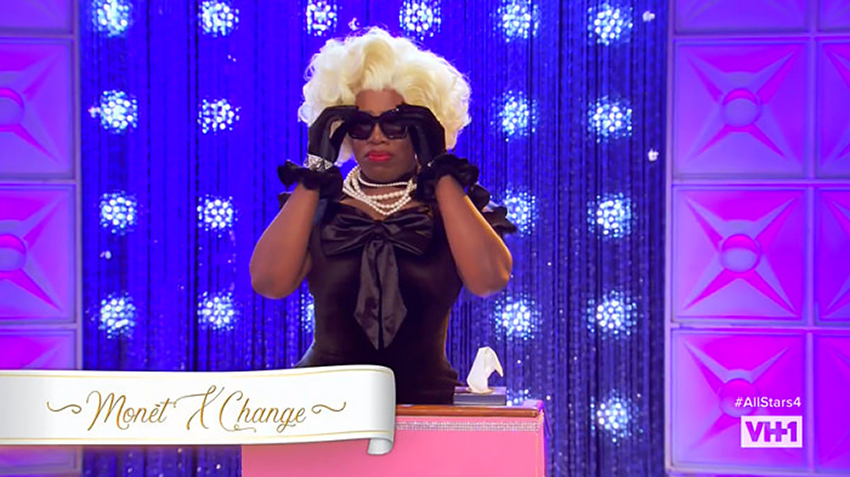 Monét starts us off with a rapidfire series of jokes. To an old Drag fan, these jokes really are bog-standard Drag reads and it's a bit of a disappointment, but halfway through she turns into some Bunbun-specific jokes that left us laughing and even caused the sleeping Lady Bunny on stage to crack, and got the mood of the Roast off to a good start.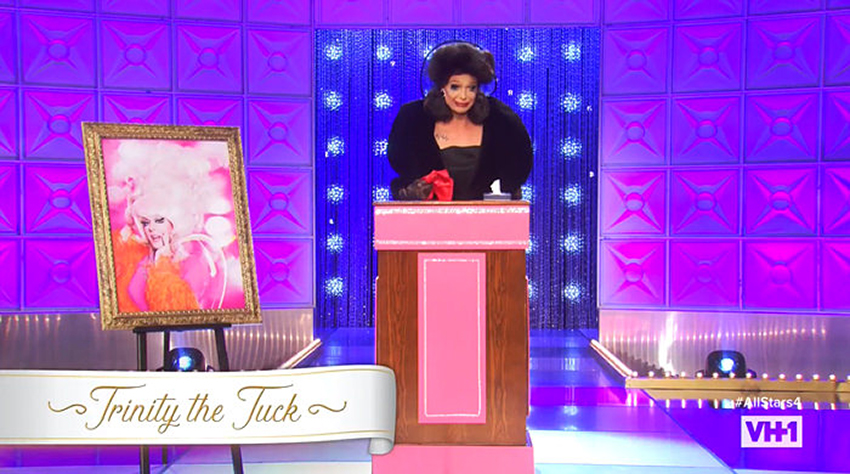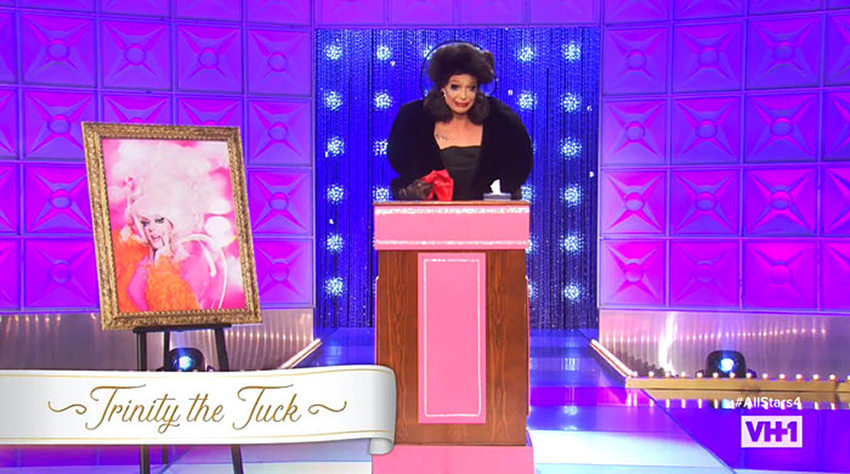 Trinity the Tuck goes next to a series of over-thought confusing "jokes" that left the first half of Monét's set looking much better by comparison. This is somehow worse than her Mueee Bee En from season 9.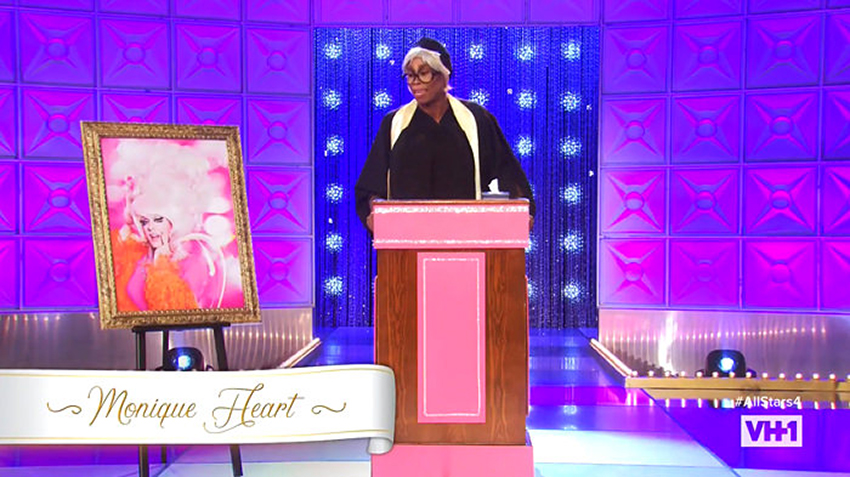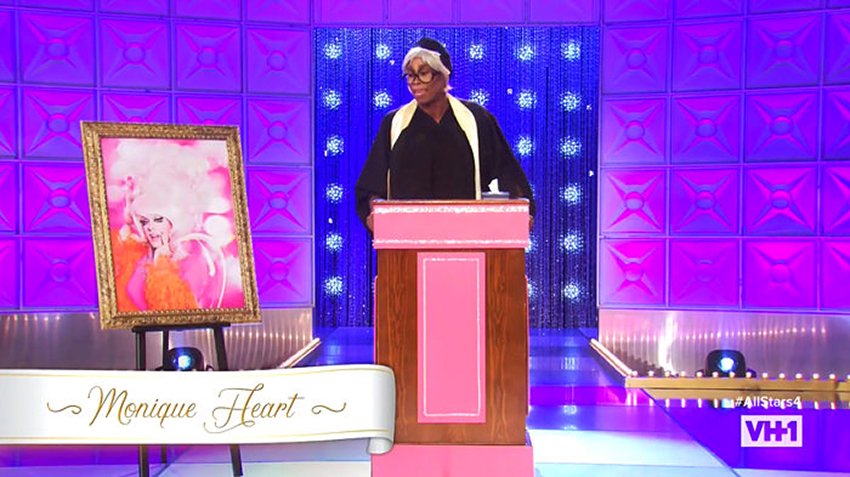 Monique unlocks maximum preacher's kid mode and goes into a full church eulogy. It's a unique character twist that we haven't seen before and it's clever and on-brand without having to mention brown cows that may or may not be stunning. Monique's set is hilarious, but lacks few punchline jokes, it harkens back to older comedy styles like French and Saunders where humor didn't stop at punchlines. However, it doesn't look like this translated well to a Roast setting which is more structured.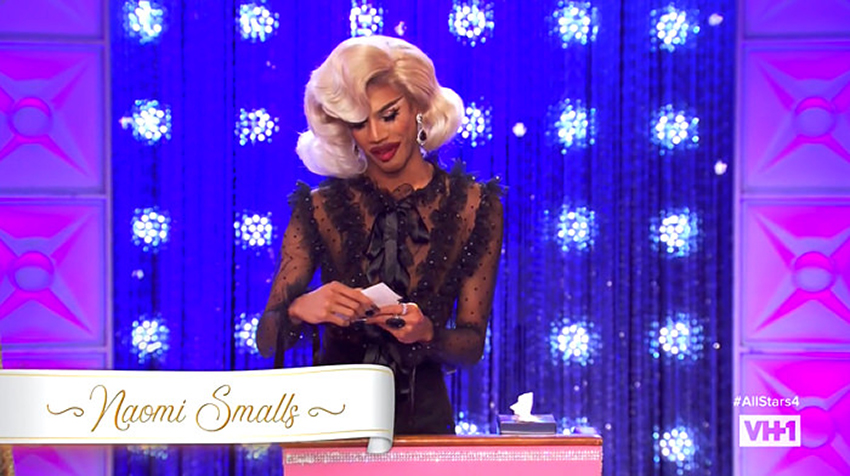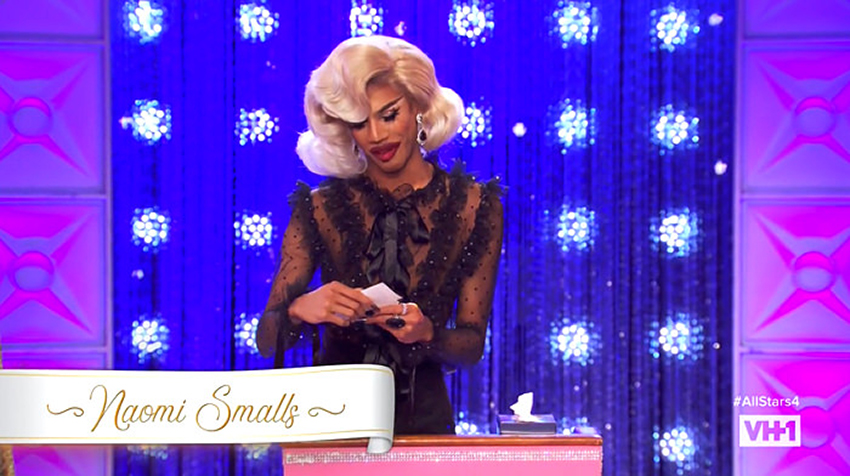 Naomi's was confusing, no idea what she was talking about and her awkward laughs didn't help. Boot it, or gladiator sandal it, whichever. Nothing else to say here, Naomi is even less of a non-event this episode than usual which is a real shame because she really is fierce. Until now, Naomi was the only girl to perform well in every episode, despite having no wins. It all comes crashing down here.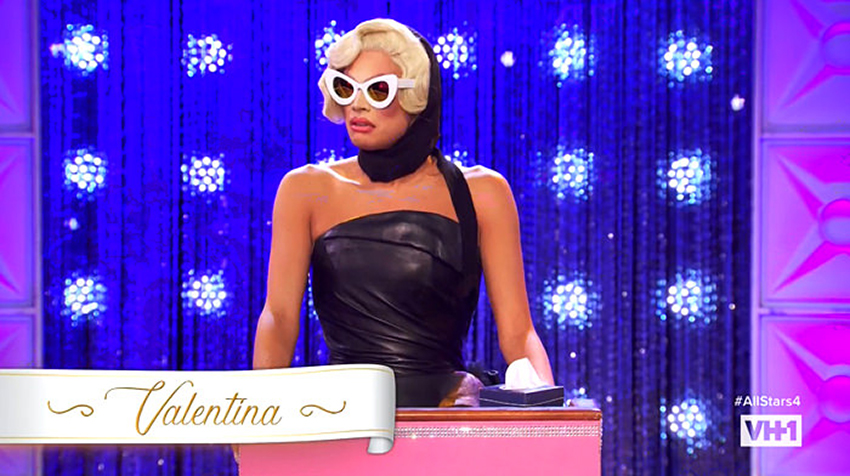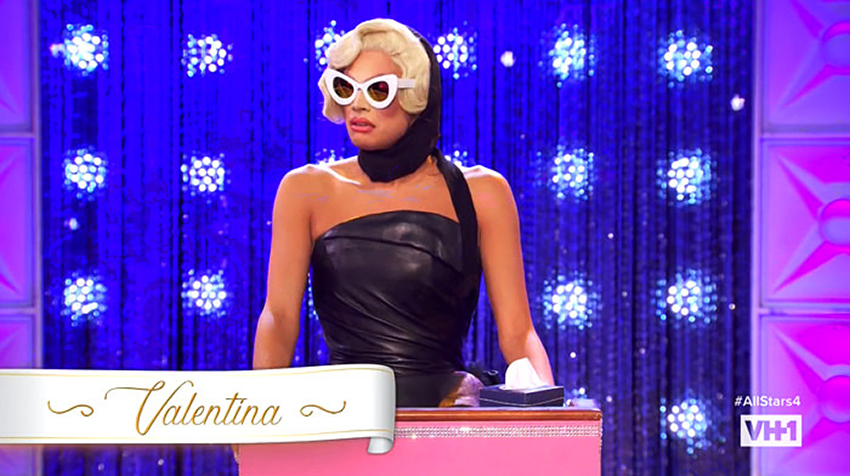 Valentina's was similar to her season 9 one, but this time we were sure that it was just her beauty we were enchanted with, not her jokes. She starts off well, but it's pretty flat. The most interesting thing to occur here is Trinity gets a confessional shading Valentina's performance though Trinity's performance was far worse than Val's.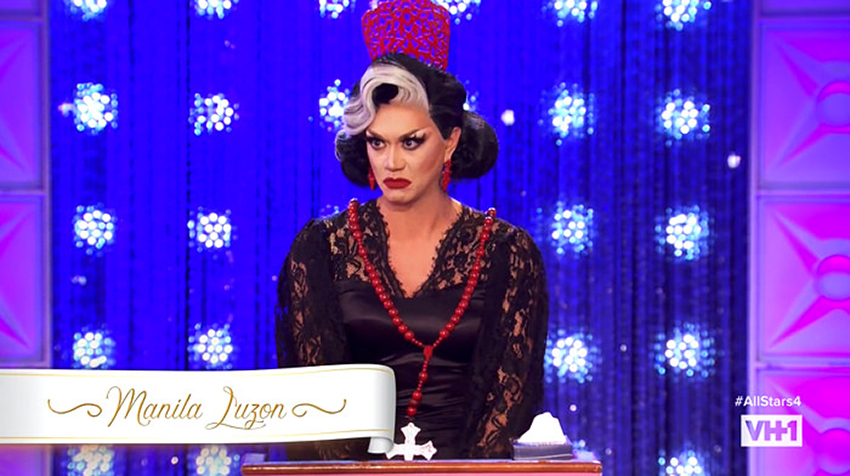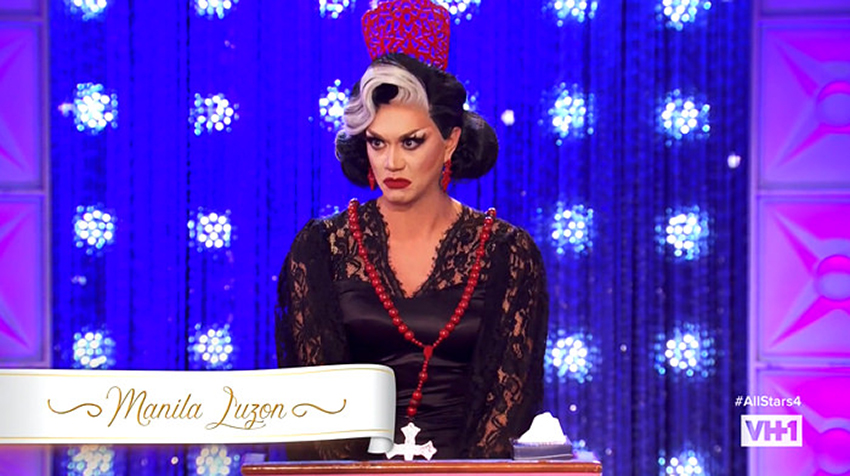 Manila goes last with a very well-prepared, well-structured set. She's played a clever game by using tried and true joke structures where she can just insert a funny word or two. It's funny, but not /that/ funny or revolutionary. Notably, her set is far longer than the others, so we have to credit her for having less crap to cut. The intense sound effects from earlier in the episode RuTurn to punch you in the face and remind you that Manila is winning this episode.
Note to self: Yvette Nicole Brown is so beautiful that I can't handle it.
Lady Bunny gives us a Miss Vanjie (x3) imitation which is cute, and gives us "inappropriate but funky Grandmom finds meme months too late". It's probably the most wholesome thing Bunny's ever done. We imagine she rolled around inside someone's asshole afterwards to cancel out the effects.
Overall, Monét, Monique and Manila are the only ones to do well, and even then we'd still have to give the best performance of the night to Lady Bunny.
RuTurn to the Runway:
It's Angelic White today and it wasn't the most inspiring category. Trinity's in a Valkyrie look, Valentina is a netted white bird, Manila as a Greek Goddess-Gladiator fresco look. Monét in a saint look that's the best of the night. This doesn't say much since it's really a swimsuit-with-attachments. We encourage Producers to end these over-specific runways to show off how clever they are. An Angelic Runway or a White Runway would have been more conducive to Queen's creativity and been more exciting. Forcing both together was limiting.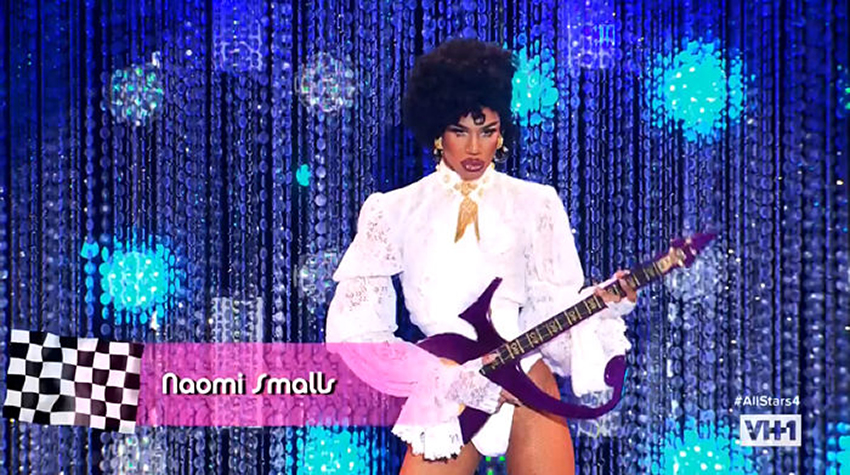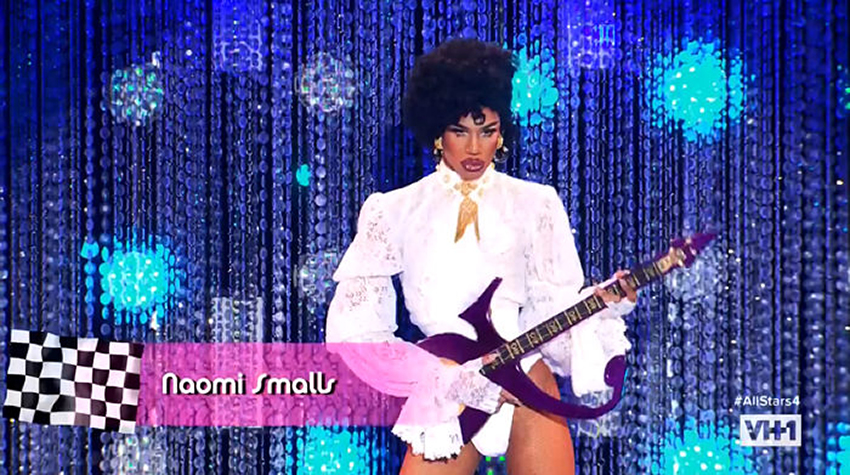 Naomi does manage to twist the theme enough and give us a Prince-look, but even then it's a bit of a stretch.
We spend a massive amount of time on Runway Critiques today which is refreshing. The recent treatment of just declared winners and losers without explanation has been getting a bit irritating.
Monét and Manila(!) are declared winners (shock!), and in a surprise twist we receive a bottom 4 for everyone who was not a winner – Naomi, Valentina, Trinity and Monique – though Monique really didn't deserve it.
RuTurn to the Deliberations:
The Deliberations are once again tired, these are the segments they should be cutting time on, but luckily they did so on this episode which explains the masterclass and extended critiques. That's progress, folks. I can't bring myself to drag (drag joke) this section out for much longer so I'm just going to say that Alexis Mateo and Yara Sofia are among the greatest Queens in the show's herstory and deserves an All Stars second chance, and she and Yara Sofia should have won the Girl Group episode, not been eliminated on it.
RuTurn to the Lip-Sync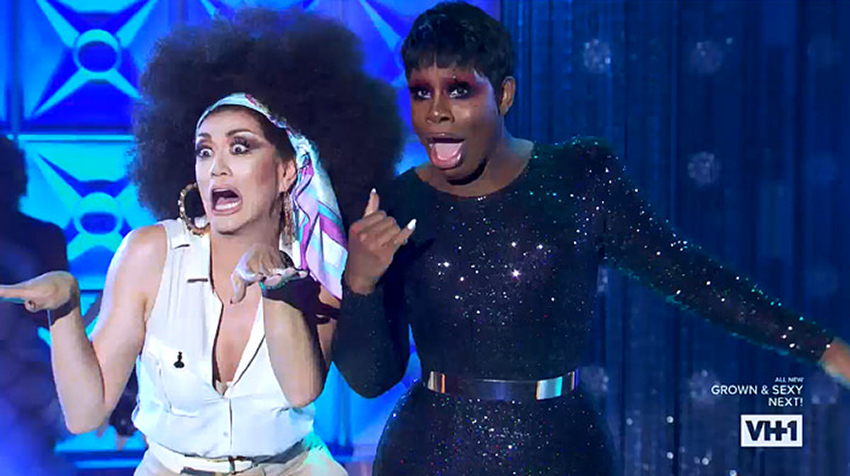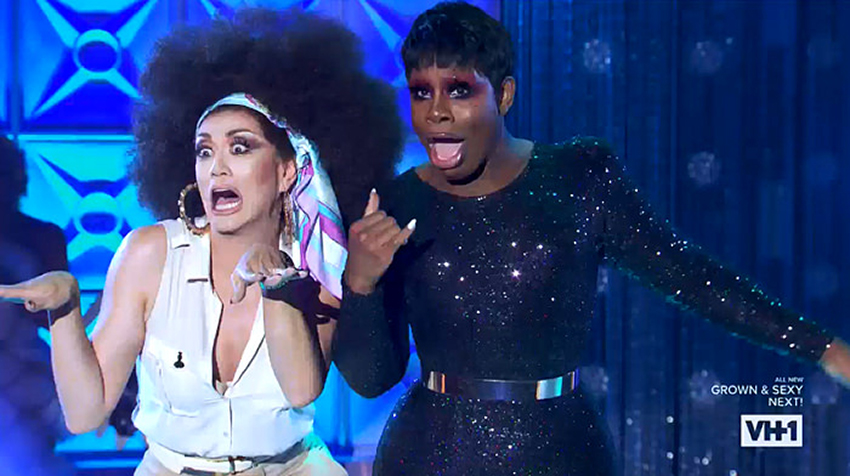 To spite Latrice apparently, it's "Jump to It" by Aretha Franklin, an absolutely perfect song for Manila and Monét to glamp it up to.
The lip sync is… a'ight. It's good, but nothing gobsmacking, almost like the Queens didn't want to win. Monét sells it pretty well with some hilarious facial expressions and moves, but surprisingly Manila only barely keeps up and feels like she's simply giving an inferior version of the same performance Monét is giving.
In a shocking twist, RuPaul declares All Stars rules suspended and that there will be no elimination.
The Queens walk back to the workroom (Monique sprints), and find a lipstick message from none other than one of the show's interns (though it's signed RuPaul) telling the Queens to prepare to lip sync for their lives – lives – lives -lives. That's right, Lip Sync for your Legacy found dead and tired and hopefully not returning for All Stars 5… or maybe just suspended for one episode. A girl can dream.
Lady Bunny facecracks the mirror and surprises the Queens and tells them to turn around to reveal Jasmine Masters, Gia Gunn, Latrice Royale and a not-color-coordinated Farrah Moan waiting to RuTurn for their RuVenge. It's getting gaggy up in here.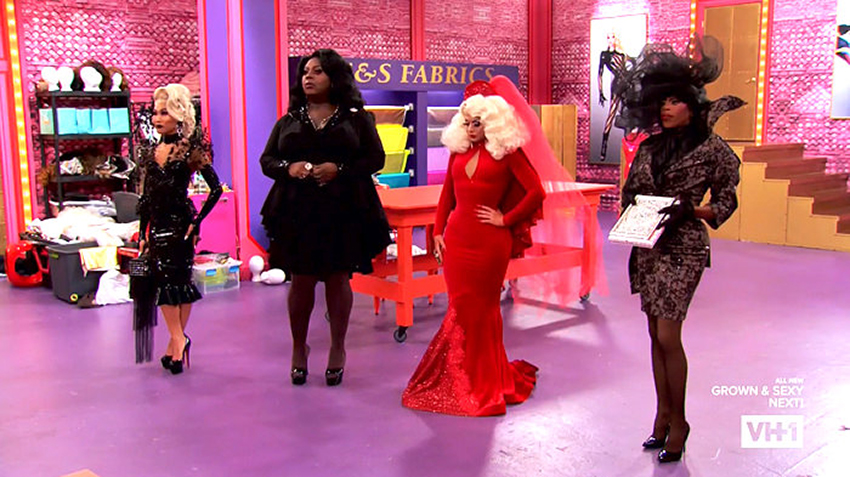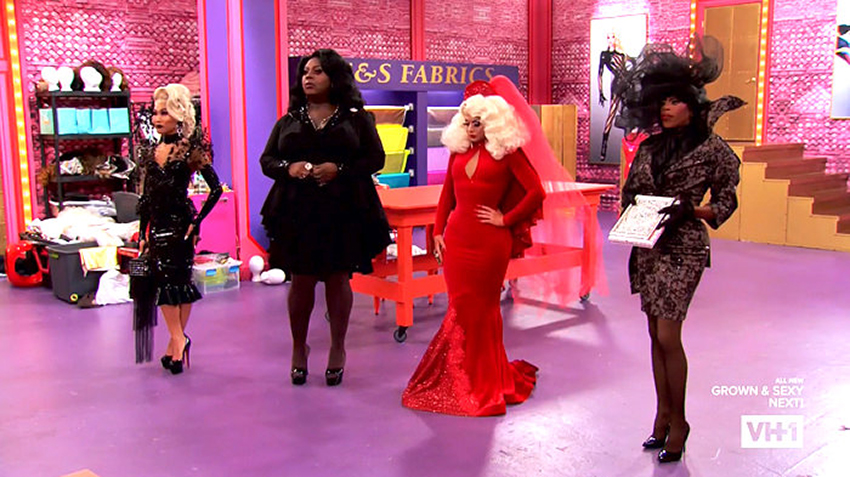 Ruturn to the ConclRusion:
This episode was pretty decent, but there have now been three Comedy challenges in a row, and the truth is that the Queens of this season aren't all that funny. Everyone's performing pretty well, but there aren't any performances we'll remember by All Stars 5.
It's also a bit of a worry that all the Queens were upstaged by Lady Bunny and Stacy's few cameos. Naomi Smalls continues to have enough screen time to match her name, and the editors seem to be turning the shady sound effects up to the max whenever they think we're not paying attention.
That said, this is the first time in a while a twist in Drag Race has felt exciting and fresh. The fake-out with Bunny in the mirror to the shot of the Queens returning, and the confusing preview got us all in a tizzy wanting to find out what will happen next week. A lip-synch tournament is risky as RuPaul's Drag Race has a tendency to turn into RuVeal's Drag Race when a gauntlet of lip syncs occur, but we're definitely going to tune in next week if not just to see what Gia Gunn will do.
We feel satisfied, but we might not come back for a second viewing any time soon.
8/10
Tune in next week for LaLaPaRUza, a lip sync tournament featuring the Ruturning Queens and find out which Queen Manila and Monét selected to go home and join the legendary roster of free-pass Queens that includes Carmen Carrera, Kenya Michaels, Eureka, and Trixie Mattel when her make-up was busted. 
This article was written by our fabulous contributing editor, James Pearbutter.
All images courtesy of VH1.