My 5-Step Skincare Routine with Perricone MD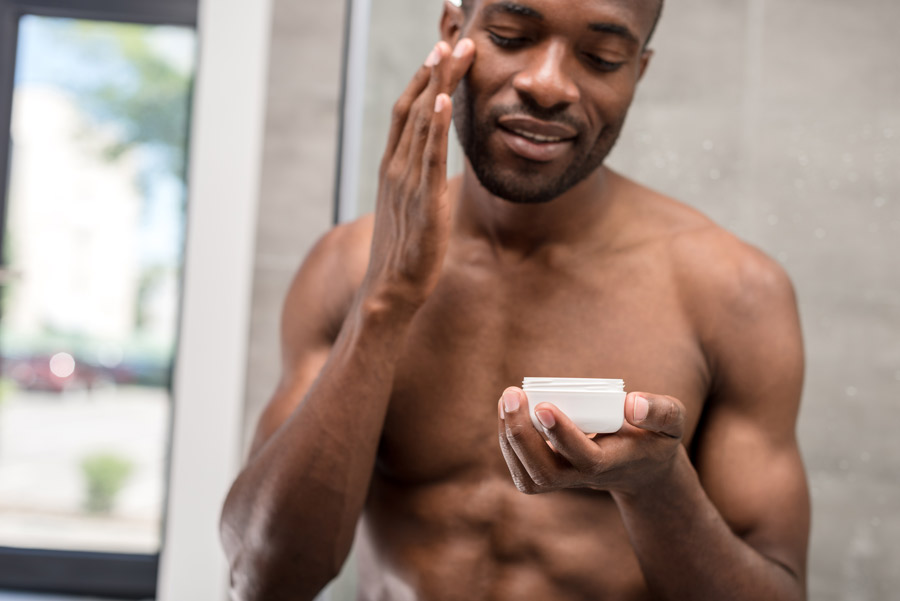 As a 32-year old man, I've become increasingly aware of how important it is for me to take excellent care of my skin. I've also learned that SPF is the holy grail of skincare, especially having endured years of sun exposure living in Los Angeles and San Diego. While I love trying new products, I've been enamored with the idea of maintaining a consistent routine that I can use to produce glowing results. While I will continue to try new products, the Perricone MD line has worked beautifully for me and my #skincaregoals.
To give you some context, I have sensitive, combination skin that's also acne-prone. Lucky me! I know. It can definitely be a tall order to find the perfect routine. However, I'm learning how to effectively treat the issues from the inside out and I have Perricone MD to thank for that.
Just to give you some background before we dive right in, Perricone MD is a skincare company that is considered to be a global leader in anti-aging solutions. The Perricone line contains a full suite of premium products designed for a multitude of skin types and conditions, all of which contain body-safe, dermatologist-approved ingredients. Both my partner and I are obsessed with these products, using everything from their cleansers to their overnight intensive moisturizers. However, his skin type is far different from mine (he suffers more from dryness while mine is naturally more oily), so his Perricone products of choice differ slightly from mine.
Before I dive into my skincare routine using my favorite Perricone products, I thought it would be worthwhile to walk you through some basic information about the brand, and how they came to be recognized as a global leader in skincare.
Fast Facts About Perricone MD
In 1998, Perricone MD emerged on the scene as Dr. Perricone launched his first product, the Face Firming Activator.
In 1999, Dr. Perricone was recognized as the first doctor to have a brand launch at Sephora.
In 2001, Perricone MD was the first brand to have a successful e-commerce site that was solely dedicated to skincare.
In 2003, its wildly successful Neuropeptide line was launched. It was eventually coined as "liquid gold" to those who used it. Through the years, Perricone MD has been a brand that also launched books.
In 2002, The Perricone Prescription was published and soared to the top of the charts as a #1 New York Times best-selling book.
In 2014, the No Makeup collection launched and successfully provided makeup that was infused with skincare properties. Perricone MD continues to withstand the test of time as a brand that provides products that care for needs like fine lines, wrinkles, and hyperpigmentation.
Who is Dr. Perricone?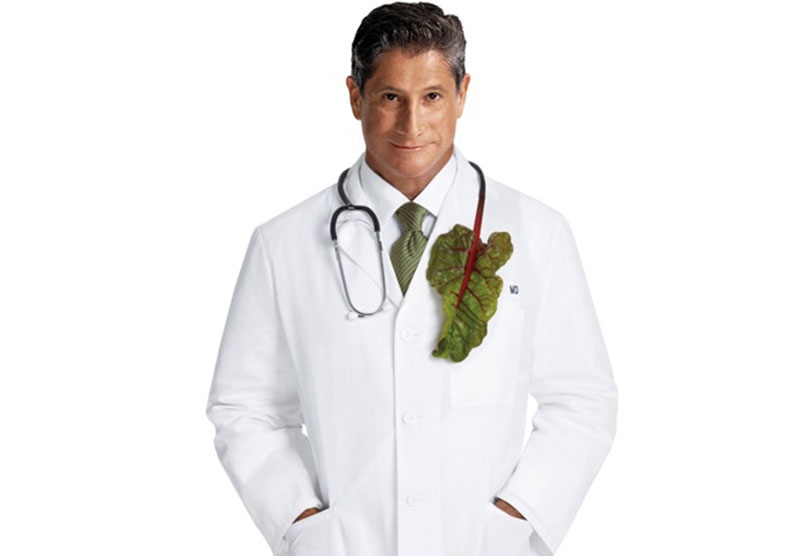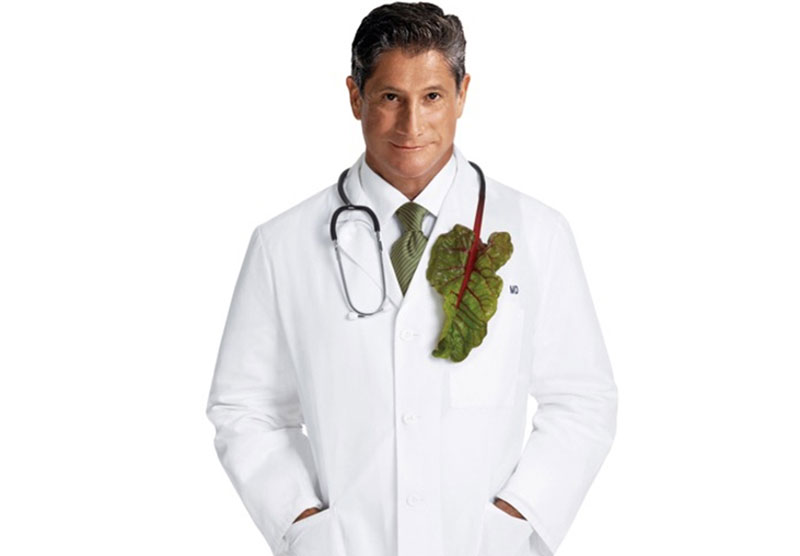 For starters, Dr. Perricone is the creator of the Perricone MD enterprise. He's an expert in the field of skincare and healthy aging and has committed his life's work to uncover the science behind aging gracefully. He has developed a holistic approach to skincare and overall wellness that has truly been revolutionary. Oh and he's also a board-certified dermatologist and certified nutrition specialist – talk about credibility!
Since the launch of Perricone MD in 1997, he created supplements and skincare products that have healed countless customers from the inside out. Inflammation is one of the key factors which negatively impacts the skin. Because of his groundbreaking research into inflammation, he's been able to prevent and reverse a lot of the conditions his patients were facing due to his development of the Perricone MD Three-Tier Philosophy. Dr. Perricone fascinates me because I love the fact that his products are totally science-based.
Perricone MD's 3-Tier Philosophy
1. Anti-inflammatory Diet
Glowing skin starts from the inside. You can actually heal your skin by making sure you're consuming the right foods. Lean sources of protein like chicken and salmon are great options. Dr. Perricone also encourages the consumption of fresh vegetables and berries like strawberries and blueberries. Fiber-rich foods like old-fashioned oats are excellent. Don't forget about the healthy fats found in foods like avocados and nuts.
2. Nutritional Supplements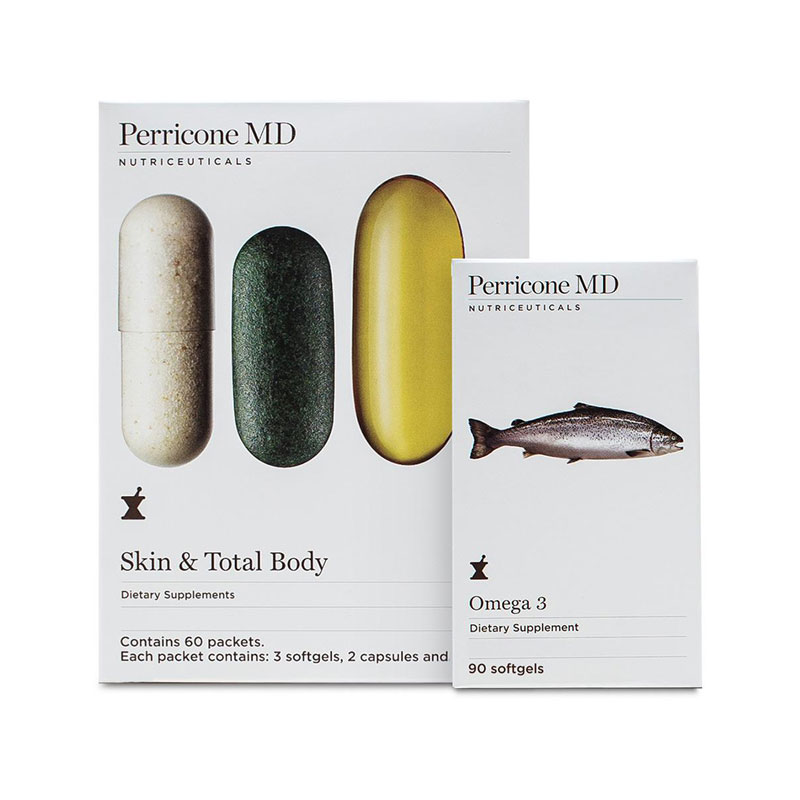 To make sure you're receiving optimal nutrition from an internal perspective, there are nutritional supplements provided by Perricone MD. Even with eating the right foods and maintaining a great diet, it can be hard to get everything you need. The supplements ensure you're getting the ideal amounts of vitamins and minerals to support your skincare goals.
3. Advanced Topical Skincare
Of course, the final part of the 3 tiers involves skincare products. What you put on your skin really matters. With the science-backed products from Perricone MD, you can depend on the amazing results you'll get from serums, night creams and more. When you have "performing ingredients, patented sciences and powerful results" on your side with the Perricone MD 3-Tier system, you won't have to worry about inflammatory skin problems.
My 5-Step Skincare Routine
I know a lot of you have been asking about my skincare routine, so here it is… When it pertains to my skincare routine, I really like to keep things simple. There are some products that I switch out based on whether I'm using them in the morning or at night. However, the following products have worked really well for a great skin-care regimen in my thirties.
Step 1: Gentle Cleanser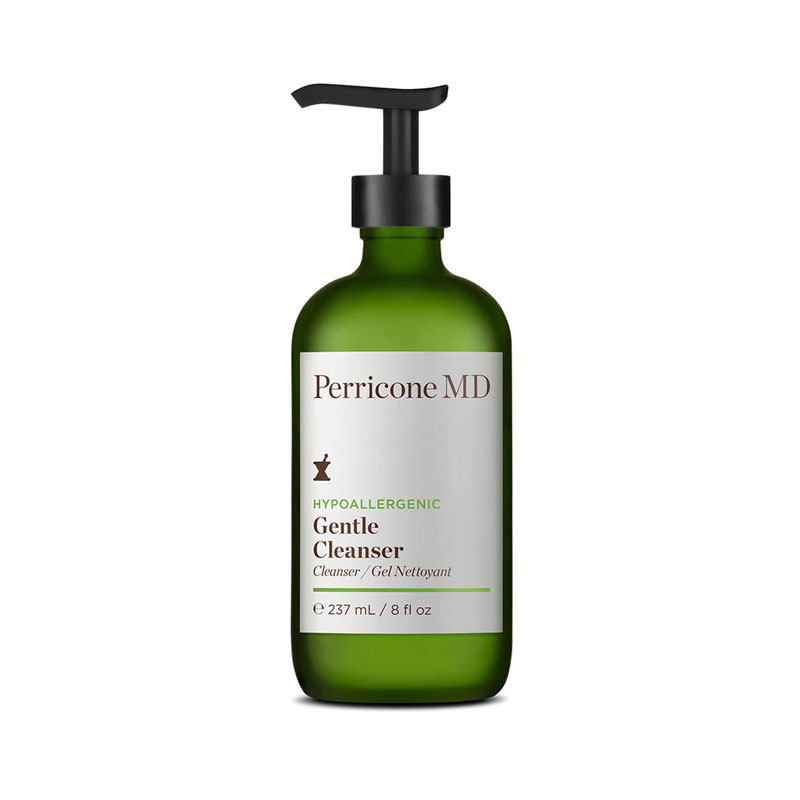 Gone are the days when I used harsh exfoliants and scrubs on my skin. Nowadays, I treat my skin with the utmost (and gentle) care. This is why the Perricone MD Gentle Cleanser is such a great option for me. If I'm dealing with some stress or hormonal acne breakouts, I'll switch it up to use the oil-free daily foaming cleanser. I'll also add the Super Clean Face Wash to the mix at times. It all depends on what my skin needs at the moment. My skin is incredibly temperamental and sensitive. With combination skin, I get really oily around my t-zone area. The gentle cleanser works so well for me because it will remove the dirt without stripping my skin.
You can find it here.
Step 2: Intensive Pore Minimizing Toner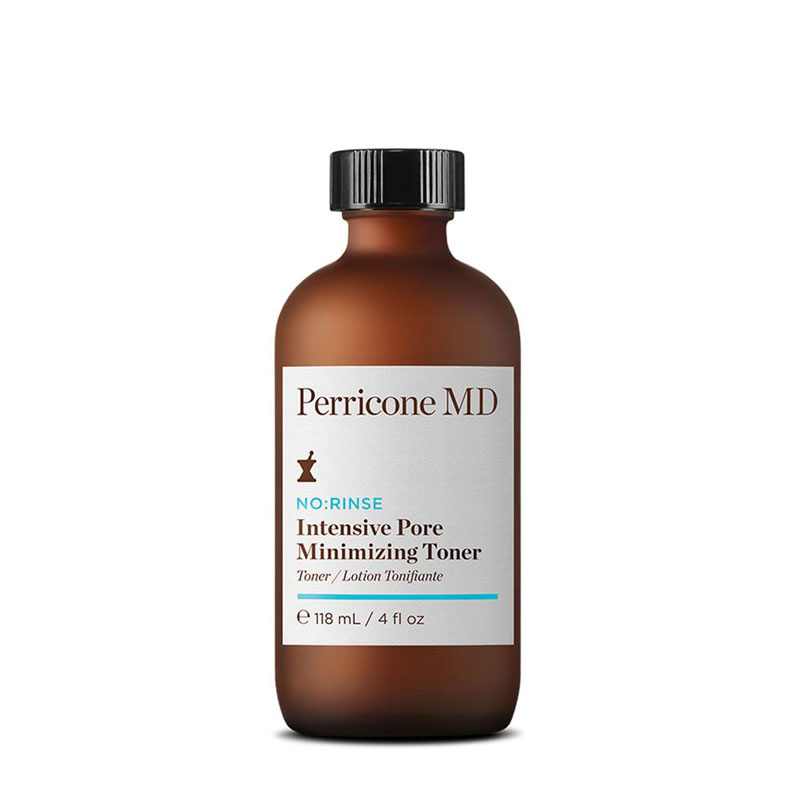 Many people might dry to discredit the need for toner in a skincare regimen. I'm not one of those people. I actually love the fresh, clean feeling I get once I've used a good toner. I especially love that feeling once I've washed my face. My pores tend to be on the larger side, so toners work well for me because they can minimize my pores. My favorite option is the Perricone MD Intensive Pore Minimizing Toner. When my pores look smaller and my skin looks brighter, my tinted moisturizer goes on a lot smoother. I get more of a flawless, airbrushed look. If you want to achieve similar results, definitely don't skip on using a toner. You should also use a toner because it's great for balancing the pH of the skin by adding moisture and hydration. The key is to use the right toner for your skin type.
Toner is also excellent for anyone with oily skin. When you have oil that's building up on your skin, it can get tough to thoroughly remove it without stripping your skin of the vital oils. With a proper cleansing routine and this toner, you can maintain a fresh, clean and matte appearance throughout the day. This toner also serves as a gentle exfoliant!
You can find it here.
Step 3 Daytime: Face Firming Serum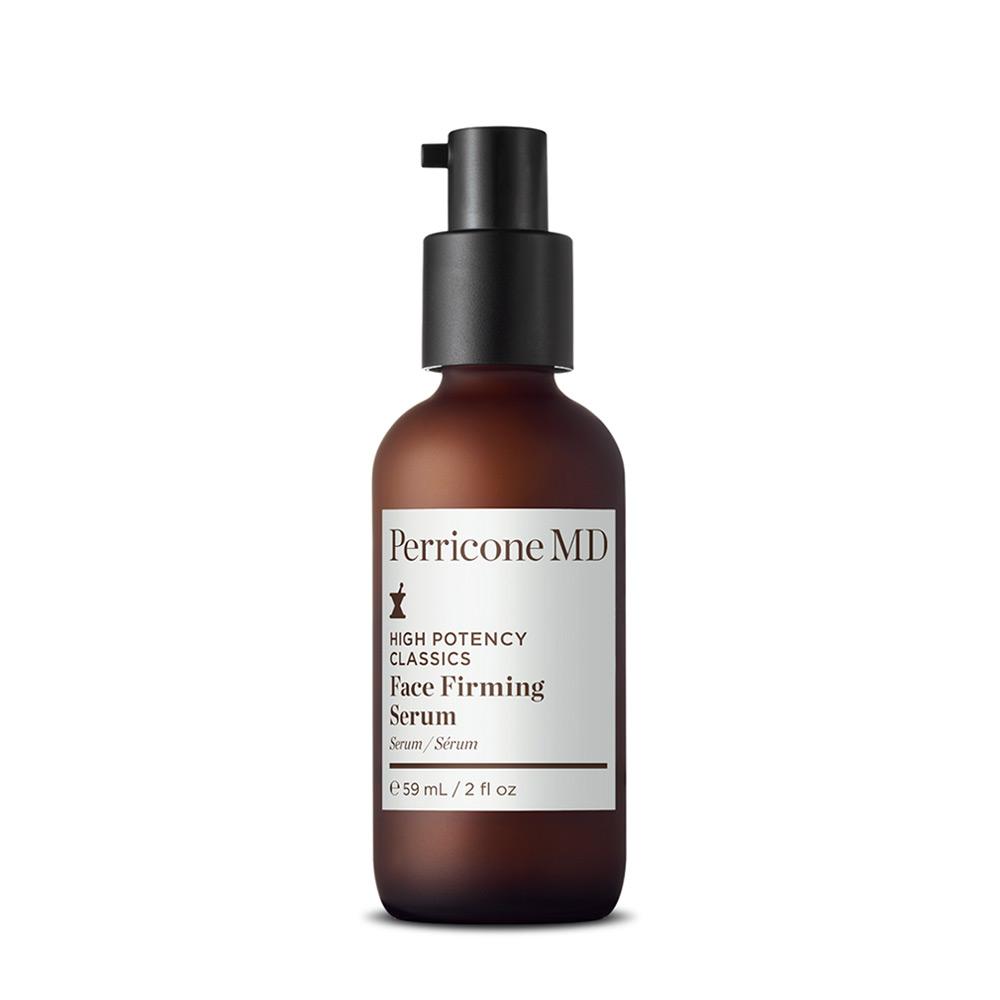 During the winter months, my skin can get really dry. The cold air literally sucks out the moisture from my face, especially after a hot shower. Thankfully, the Face Firming Serum works like magic during the day for me. It does an amazing job of keeping my skin hydrated and plump. One of the main reasons why it's such a powerful part of my routine is because it contains hyaluronic acid.
Hyaluronic acid is more than just a buzzword in skincare. Hyaluronic acid is perfect for anyone who wants to make sure their skin doesn't look dehydrated and stale. Out of all the skincare ingredients you can use, hyaluronic acid is the perfect one to make sure your skin remains visibly hydrated and moisturized. Due to its low molecular weight, it's able to quickly and easily push through the skin's epidermis. As it absorbs through the skin, it's able to provide the barrier of protection against the dry air of the winter. The serum can smooth and plump the skin with just a couple of pumps.
It works really well for anyone with sensitive skin, combination skin or anything in between. As soon as those temperatures begin to dip, pull out this serum to keep your skin hydrated, dewy and supple as though the summer never ended.
You can find it here.
Step 3 Evening: Cold Plasma Plus+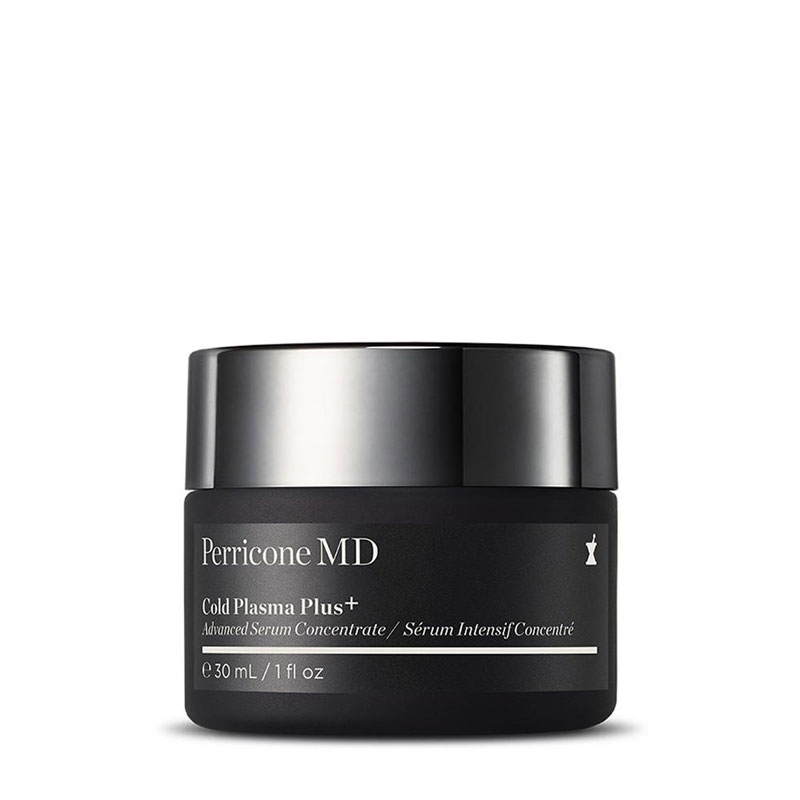 One of the main reasons why it's so important to have a separate serum for nighttime use is because you'll want to use one that won't negatively respond to sunlight. The star ingredient in any nighttime serum that's worth the hype should contain Vitamin C. Vitamin C is essential because of its ability to encourage cell regeneration and a rapid turnover rate. When the skin is constantly producing new skin cells, you'll increase your chances of getting rid of dark marks and scars from acne, hyperpigmentation and other skin issues. Never use a skincare product that contains Vitamin C and head outdoors. The sun and Vitamin C don't mix well together, and your skin will negatively react to it. I've made that mistake before!
As part of your nighttime skincare routine, the Perricone Cold Plasma Plus+ is an excellent serum to use because of its Vitamin C Ester. It powerfully reduces the look of discoloration. It also contains Omega-3 fatty acids, which are excellent for providing a youthful glow and supple skin. It's truly a miracle serum for me. Plus, I love the feeling I get when I use it on my skin after a long day. Once I cleanse my skin and apply my toner, this serum provides such a calming and cooling sensation on my skin. Protip: trying refrigerating it! Your face will thank me later!
Whenever I'm suffering from issues like discoloration, redness or an uneven look, this serum helps to fade everything away. If my eyes look tired and puffy, I'll add a bit of this at night. By the morning, I look fresh and dewy. For those times when my skin is healing from breakouts and the texture looks a bit rough and bumpy, this serum tends to smooth everything out. The best part is that it has no distinct fragrance to it. It also absorbs very quickly. When I'm dealing with serums, I'm always intentional about lightly dabbing it on my skin and always in an upward motion. After a long day, the feeling is sensational.
You can find it here.
Step 4 Daytime: Face Finishing & Firming Tinted Moisturizer Broad Spectrum SPF 30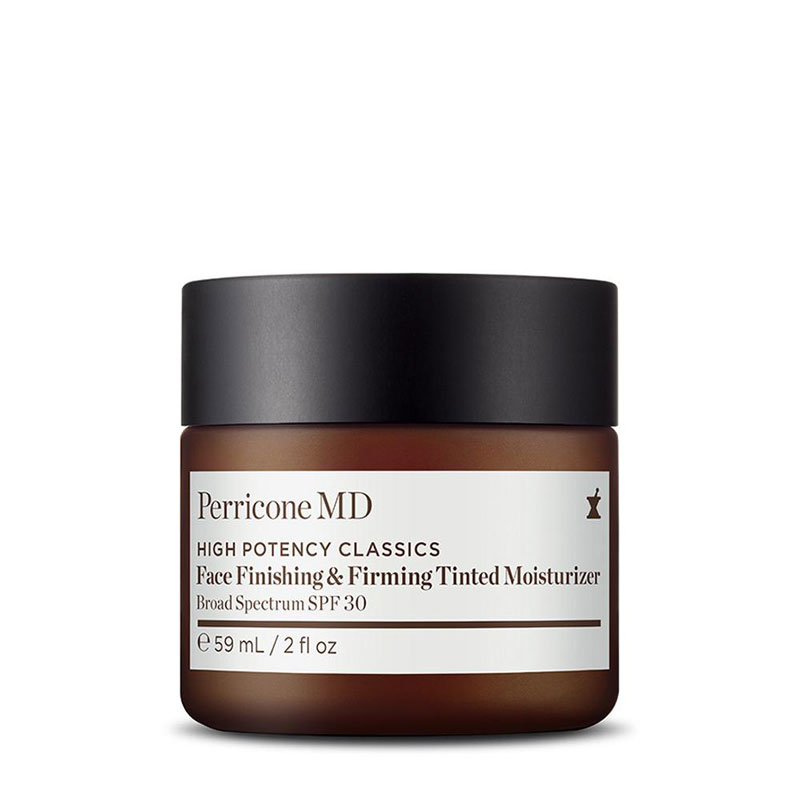 When you're preparing to head to work and start your day, SPF is so vital. Even on a cloudy day, the sun can cause damage to your skin when you don't protect it. When I was in my twenties, I didn't really think about SPF or really care about it. It always seemed annoying to apply because of that off-white cast it left on my skin. I would never apply SPF, even when I'm laying out! Oy vey! When the sun does damage to the skin, you'll probably end up looking older than you are. And while you can reverse some of the damage, it's definitely better to take preventative measures.
So when I started looking for a moisturizer for my daytime needs, I knew I needed one with at least SPF 30. Thankfully, the Perricone MD Face Finishing & Firming Tinted Moisturizer contains a mineral-based SPF 30 that will provide my face with the necessary coverage. The moisturizer is also great for hiding any blemishes or dark spots because it is tinted. If I have a scar from an old acne breakout, it'll help to cover it up. I love that I have a product that can do so many things with one application. I don't need to apply any concealer when I wear this moisturizer because of its awesome tinted coverage. I can easily look polished and refreshed without all the effort!
The moisturizer is also great because it absorbs quickly. If I want to add some concealer, my final look doesn't feel like it's caked on top of the moisturizer. It's a lightweight option that provides hydration perfectly. The moisturizer also contains alpha-lipoic acid, which is known for its ability to reduce the look of fine lines, large pores, and wrinkles.
Since I do have combination skin, I can experience some oiliness at times. Thankfully, this moisturizer is oil-free. I can get the moisture I need without the worry of additional oil production.
You can find it here.
Step 4 Evening: Intensive Overnight Moisturizer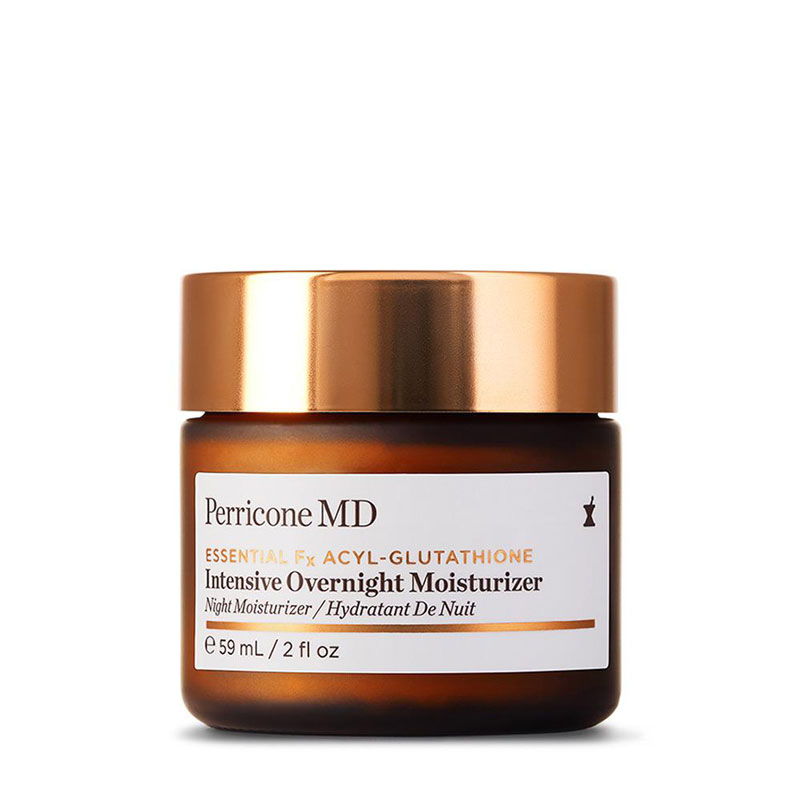 When you have true combination skin like me, some parts are oily while other areas are dry. Additionally, my evening skincare routine is a bit different than my morning skincare routine because of the dryness I experience through the night, especially during the winter months. It's so important for me to have a moisturizer that will work overtime throughout the night. After all, there's nothing worse than waking up to extremely dry, flaky skin in the morning. Sure, it's great to have a humidifier, but it's even better to have a moisturizer that actually does its job.
In this case, the Perricone MD Intensive Overnight Moisturizer does an excellent job of keeping my skin hydrated throughout the entire night. In fact, it's been the ONLY moisturizer that's done an excellent job at this. This moisturizer is actually specifically encouraged for use in the evening. It's designed to be an overnight treatment that contains time-released nutrition for the skin. This means that while you're sleeping, this night cream is doing the work to improve your skin.
This night cream contains the Vitamin F blend and the Acyl-Glutathione antioxidant which will leave your skin feeling soft and supple by the morning. Many people who've used this night cream have shared that it made them look less fatigued the next day. If you've had a long night out with one too many vodka sodas and minimal sleep, this cream will help you look great while feeling terrible. It's also excellent for improving the skin's elasticity and tightness.
Once you've finished the other steps in your skincare routine, remember to apply this night cream to your face and neck. Do not forget the neck! The neck is oftentimes an area that so many people skip. I'm not sure why since it can show shines of aging as well. I've said it before but I'll say it again, when you're applying the cream on your face and neck, be sure to do it in an upward motion. As you apply it upward, you'll also help to prolong the damage that gravity does to bring the skin to a sagging position.
You can find it here.
Step 5: Smoothing & Brightening Under-Eye Cream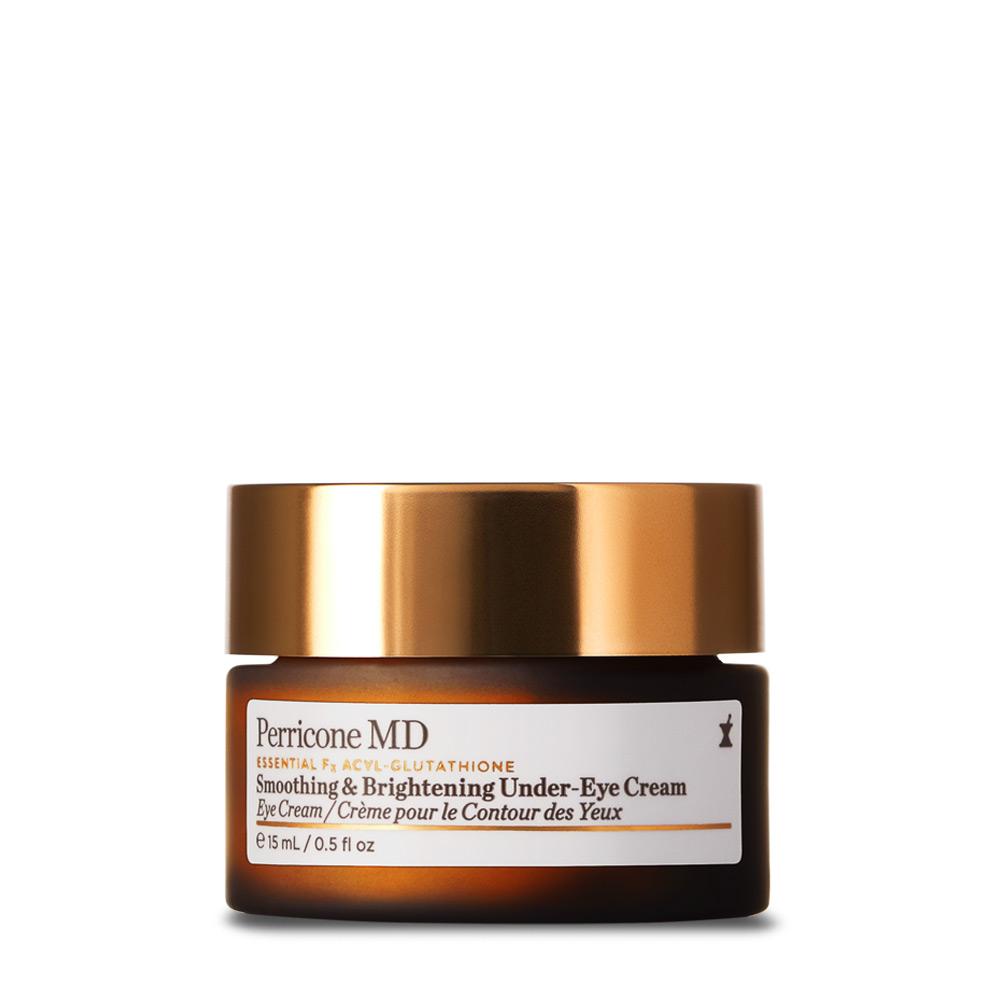 When you're in your thirties, there's definitely a shift. You're not as energetic as you were in your twenties. Hangovers tend to last a little bit longer than before. You tend to be more mindful of how much sleep you need. It also starts to become more apparent when you're not getting enough rest. One of the ways lack of sleep shows up is through the dark circles and puffiness underneath the eyes. This is one of the reasons why I'm absolutely in love with the Perricone MD Smoothing & Brightening Under-Eye Cream.
This eye cream is formulated to decrease the appearance of wrinkles, fine lines, and dark circles. It's like getting an instant look of alertness. This cream is really smooth to the touch and melts right into your skin. If you'd like to put concealer on top, you won't have to worry about a cakey build-up. For me, personally, moisture is a necessary ingredient in any cream that I use. Don't just take my word for it; 90% of consumers said they felt like their eye area was intensely moisturized after using this eye cream. Where there's moisture, the specific area will tend to have fewer lines and wrinkles.
There are several stand-out ingredients that make this eye cream magical. Acyl-glutathione is a powerhouse antioxidant that is really proactive in decreasing the look of lines and wrinkles. It's also excellent for repairing and protecting the skin. In addition to Acyl-glutathione, there's a Vitamin F blend that provides an incredible layer of moisture. The Vitamin F blend is comprised of flaxseed oil, chia seed oil, and macadamia seed oil. In addition to providing moisture, they're also responsible for the glow you'll see that makes the eye area look alert and awake.
I love this cream because it provides my skin with the power-house ingredients to preserve its youthfulness, even when I've had some late nights. While I know that sleep is imperative, I'm not always able to get adequate amounts. In turn, this negatively impacts my skin. So I'm super #blessed for products like this one because it's the skin-saving gem I needed.
When it's time to actually use it, be mindful of your application process. Gather a small amount to place on your ring finger and gently dab it onto your skin until it's absorbed. The skin under the eye is sensitive so treat it with care.
You can find it here.