RuPaul's Drag Race All Stars Season 2, Ep 3: The "Crystal-Queer" Recap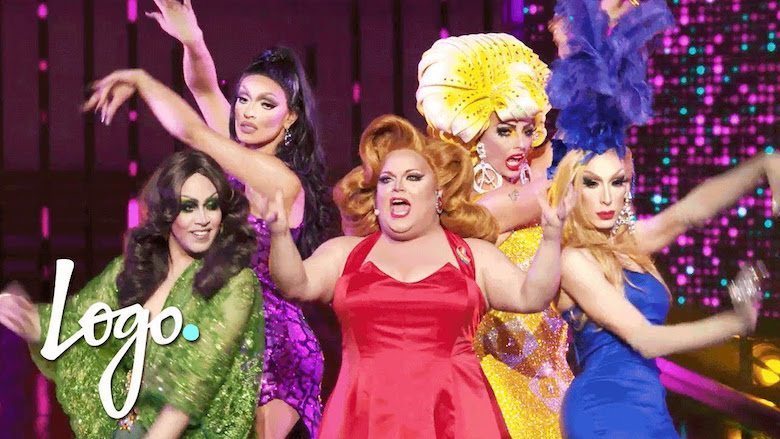 Hey Lovers!
I hope everyone has had a great week bathing in anything pumpkin spice in anticipation for the fall. I sure know I am! Say, that's not a bad drag dame: Pumpkin Spice. We'll save that for another day.
The Ladies Enter The Workroom
This week's episode began like all others, with the ladies entering the workroom after Tatianna's elimination. Alaska's choice to vote her off was based on the fact that she thought Roxxxy's latex runway look was better than Tati's.
Katya reveals she also had Tatianna as her choice to vote off. It seems as though the producers are still on the editing train to make Phi Phi out to be the show's villain, now pitting her against Alyssa Edwards, saying she is all the extraness at times.
The Following Day
The next day, RuPaul joins the girls to announce that this week's maxi challenge will be a lip sync competition celebrating some of the world's strongest women in history.
Alaska will be the biblical Eve,
Phi Phi O'Hara will portray Helen of Troy,
Ginger Minj will play Catherine the Great,
Detox is Marie Antoinette,
Alyssa Edwards is Annie Oakley,
Roxxxy Andrews is handed Eva Peron (which made me intrigued because my FAVORITE musical is Evita),
and Katya gets Princess Diana.
Sorry, Katya
Honestly, when I heard Katya was to play Princess Diana, I kind of cringed. Princess Di is a relatively recent historical figure and she died in such a tragic way, I struggled to see where you could find the humor in her story for a comedy lip synch. Katya also struggled with her inherited costume, which was a cheap representation of Princess Di's wedding dress, full train and all. Her first thought was to cut off the train because it could prove to be a challenge to perform with, but to me, that's one of the elements that makes the dress so iconic.
Phi Phi Dramaa
Now, here we go again with the Phi Phi/Alyssa drama stew. Phi Phi thinks Alyssa is more focused on being the center of attention and getting her next GIF-worthy moment (which apparently is pronounced G.I.F. This was news to me). The choreographers for the number are Ant and Ash from The Square Division. The only two who seem to struggle with dance moves and choreography were Ginger and Detox, which is a breath of fresh air, because on previous seasons of Drag Race there is always that one queen during a dance challenge who claims to have two left feet.
Aaand More Drama…Really, Girl?
While some of the girls are taking a break during others' rehearsal, Phi Phi tries to stir up more shit by saying Ginger's costume is huge and that it's going to be difficult to maneuver in, among other comments. At this point, it leads me to ponder if it's actually editing, or is she is really that bitchy. Perhaps it's her insecurity talking.
In the workroom, she talks about how challenging it has been to overcome her reputation as the "bad girl" from Season 4, and that Detox really attacked her via social media. Listen, even though I'm a social media junkie, I still feel that anything I would write online I would tell a bitch to her face.
The Main Event
The main event begins, with RuPaul looking dazzling in a royal blue, nude illusion gown. The guest judge this week is Jeremy Scott. I was a little disappointed in Alaska not really knowing her lyrics, Katya's odd splice of the song (but I expected that), and Roxxxy as Eva Peron. Listen, if you ain't Patti Lupone, go home (and don't even utter Madonna and Evita in the same sentence around me; that's a moment in time I'd like erased). I thought the highlights of the challenge were Detox's Marie Antoinette and Alyssa Edwards as Annie Oakley. Her sharpshooting song was fucking hysterical and the girl can obviously dance.
Runway Lewks
The ladies were then given the theme Future of Drag for their runway looks, with the highs being Phi Phi O'Hara in a gold and blue lady robot fantasy, and Detox, looking like she materialized out of a magnesium puddle.
Also…Katya, where the hell did you get that hair, because it looks VERY similar to the locks my mama (Mrs. Kasha Davis) likes to sport….
The Judges' Critiques
None of the judges seemed to like Ginger's runway look, which was more like Jetsons of Drag. RuPaul praises Detox, causing her to tear up, and Ru warns her not to cry because she might rust herself. Zing!
Michelle Visage comments that Katya would have benefitted as Princess Diana with bigger sleeves and a huge train (HELLO! Duh!).
RuPaul announces that our Top 2 are Detox and Alyssa Edwards, each winning a trip to Palm Springs, and the Bottom 2 are Ginger and Katya.
During the winners' deliberations, I was surprised and impressed with how hard hitting Alyssa's questions were, including "If I win, why should I choose you?" That really leaves a person to expose how they feel about themselves and the competition thus far. I am very interested in the fact that this season, the girls have the opportunity to change looks if they so desire prior to the lip synch. Wouldn't that have been nice for some of the previous season's ladies who just couldn't comprehend that they would not only be walking a runway, but potentially performing a song?
The Lipsync
The ladies return to the mainstage and the Top 2 perform Taylor Dayne's "Tell It To My Heart" (my go to turn the club number), and Alyssa Edwards wins! She reveals that she has chosen Ginger Minj to exit the competition. Once again, during Ginger's final confessional, RuPaul appears saying that she may have an opportunity to return. WTF?! When is this cryptic craziness going to be revealed? It better blow the birdseed titties off my body.
Well, I'll be coming to you guys next week from Philadelphia, PA, my new permanent home! Have a fabulous week and be sure to go on whatever music platform you use and download the song from tonight's episode "Herstory of the World," Detox's "Superstition," and Tatianna's "Same Parts" from Episode 1.
Kisses,
Crystal
About our guest queen: Crystal Lite hails from the wintery tundra of Rochester, NY. The drag daughter of Mrs. Kasha Davis (RuPaul's Drag Race Season 7), she now resides in Philadelphia. Crystal enjoys brisk walks down alleys, water-based lubricants, and cake pops. You can usually find her enjoying a good book in your local coffee shop, or rigging ATM machines for identity theft. She truly believes that as long as you work hard, are attractive and manipulative, anything is possible. 
Image Source