RuPaul's Drag Race Season 9, Episode 1 Recap: Gaga Invades!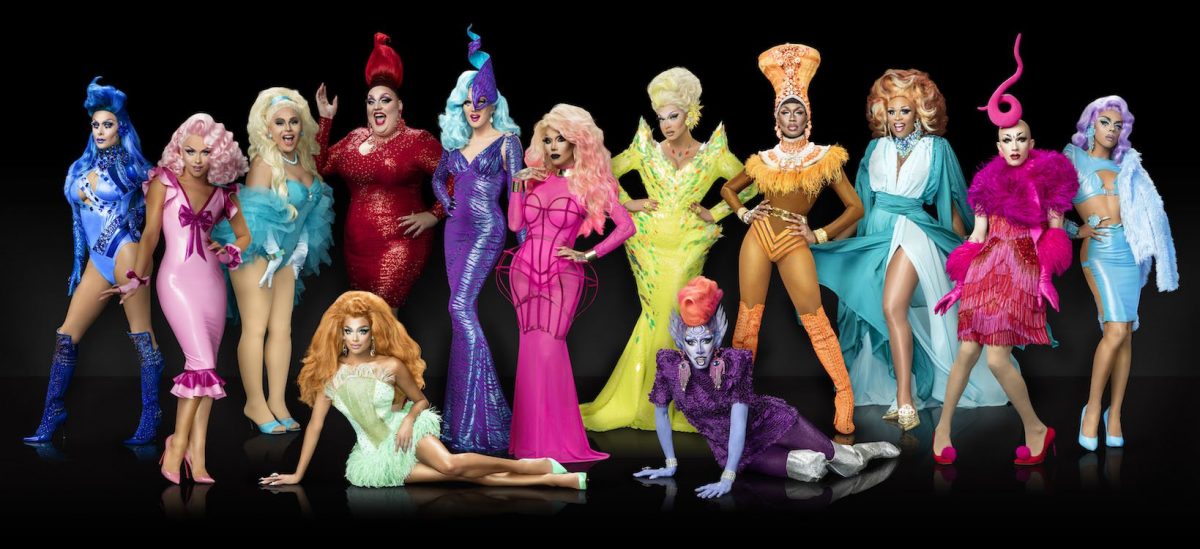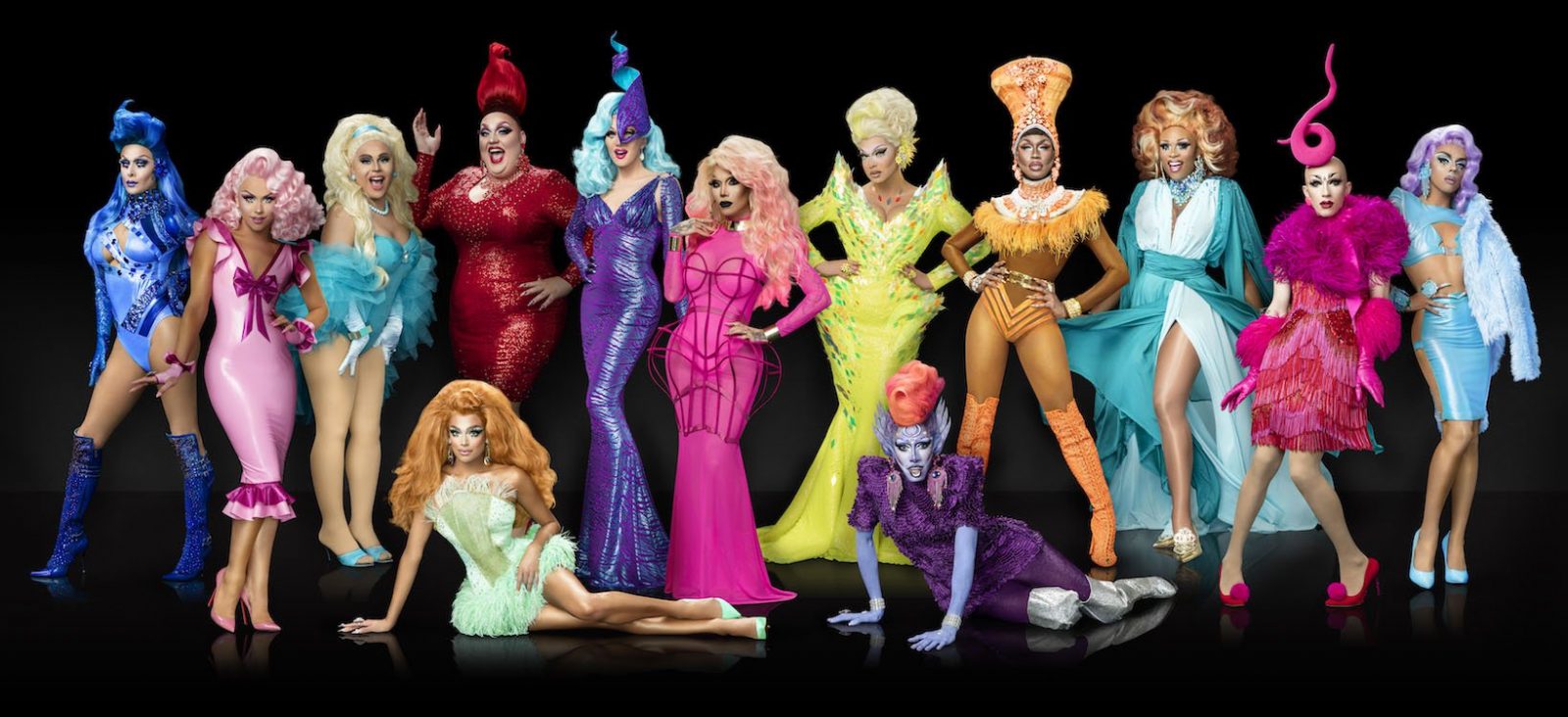 Hallelu! Season 9 of RuPaul's Drag Race is live, ladies! As far as season premieres go, this could be my favorite. It was a low pressure non-elimination episode that was blessed with Gaga's presence. What's not to love? As always, we got to meet the thirteen new queens to the Drag Race family tree. There's a queen for everyone this season- pageant queens, on-a-budget queens, fishy young queens, the oldest queen in RPDR "herstory" (not shade… just tea), "cuter-outta-drag" queens, and (my personal favorite) "haute couture" queens.
The New Talent
After 9 seasons, it's already clear that the pool of talent in the drag world is deep and diverse. I just hope all these girls have (at least) a few more tricks hidden up their sleeves, because the final moment of the premiere is a former queen walking up to the stage to join the girls in the competition to be the next drag Superstar. Who is it? I think I know!
Enter Lady Gaga
I loved the formula of this opening episode.
We got to get to know all the girls a little bit.
We have Lady Gaga. Can we start a petition to retain her as a permanent judge? She's a masterclass in being a star. She even took the time to workshop all the girls INDIVIDUALLY during Untucked.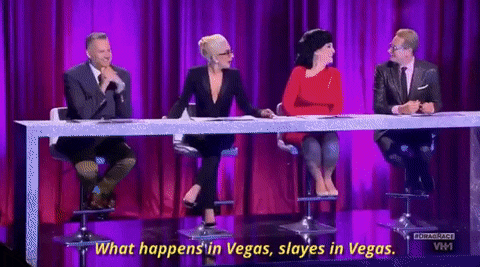 The Returning Judges
All the judges also all stepped up their pussy game. The only thing I recognized is that RuPaul was not once in drag. I hope we get a chance to see her in HD, mama. Even, Michelle Visage looked glamorously understated in red, while Carson Kressley, Ross Matthews, RuPaul and Lady Gaga donned killer blazers. They looked like a UN caucus.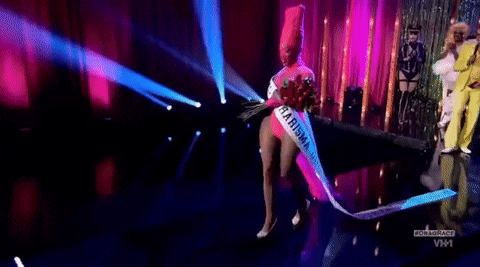 The First Challenge
We have a fashion challenge. The girls competed in the Miss Creativity Uniqueness Nerve and Talent Pageant where they presented two looks. Look one represented their hometown, and Look two was a recreation of one of Lady Gaga's iconic looks. I will say- all these girls have some nice clothes!
Then, of course, there were two RuPaul bombshell moments. Early on, he reveals that no one would be eliminated. #OhMyGaga It raises a lot of questions. Is it going to be this way every episode? It can't be, right? I can all ready tell you that I'm ready for some people to go… Then, at the very end of the episode, he reveals the 14th queen. I'm pretty sure I know who that queen is. Scroll to the bottom for evidence!!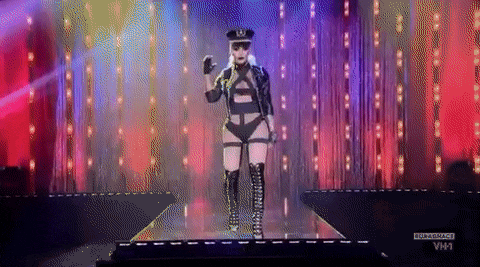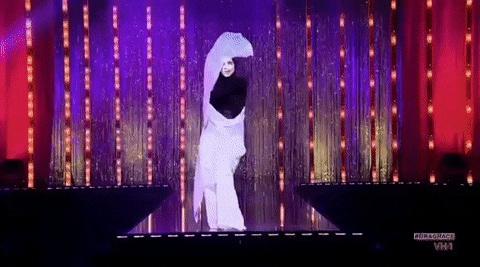 First Impressions
There was no plot this episode. It was 50% interviews, 50% challenge with no elimination. So there's not a lot to recap… But here are my hasty first impressions of this season's queens (NOT in order of appearance, but tops, middles, and bottoms):
Things I considered before compiling this list: Promo look, Pageant looks, interviews, and my biases and tastes.
A post shared by Pierre (@nina_bonina_brown) on Mar 1, 2017 at 5:03pm PST
Nina Bo'nina Brown
What an artist. Her strong shouldered fish promo look gave me Drag "blue balls." I was immediately interested, though I'm not the biggest fan of prosthetics. Then, her story evokes a possible Tyra Sanchez Cinderella Story. Except, hopefully, less bitchy. Now, I'm bitchy, so I'm skeptical because her intro look, pinup mouse realness. I'm not quite sure what to think. But, then… BAM! Her challenge looks were clear conceptually, wonderfully executed, and hilarious. Her tribute to Lady Gaga is instantly recognizable from the 2009 VMAs, and her deranged peach ensemble was so unique, and smart. I'm happy she won, but I hope she can keep up with herself.
A post shared by Valentina? (@allaboutvalentina) on Feb 6, 2017 at 8:45pm PST
Valentina
Wow. For someone that's a "Drag baby" with only 10 months in drag, she seems far from amateur. Opening Dolce & Gabbana- esque look? 10. Mariachi pageant drag? 10. Lady Gaga's CFDA Awards look… Good enough! I just wasn't big on the fact that everyone did red carpet looks. But, Lady Gaga said she was the best model. So, kudos, Valentina! I wonder what other secrets she's got, because 10 months of experience is… lacking in experience. But, here's to hoping she's a Shangela 2.0. Also, love his beret bedecked boy drag.
Charlie Hides
Prior to this season, I had only heard of two of the queens, Farrah Moan and Charlie Hides. The transatlantic queen looks like Chad Michaels and reminds me of Jinkx. I hope her humor translates into the challenges because she seems like she could be the dark horse of the season. Out of her three episode looks, my favorite was her intro electric pink miniShe's also the oldest queen in drag race herstory, at 52.
Those are my tops. We'll see what happens… What will episode two and the edition of Cynthia Lee Fontaine do to the chemistry? ?
Continuing… just FYI, other than the top 5, the rest are listed in order of appearance as they appeared on the show. They're not ranked by any means!
A post shared by ?Farrah Moan ? (@farrahrized) on Mar 25, 2017 at 12:33pm PDT
Farrah Moan
I'm just not as charmed as I should be. I feel like I've seen her before in Violet Chachki, and Naomi Smalls, and Courtney Act, and Roxy Andrews, and … What else besides cutesy beauty and bleach blonde boy hair does she offer? The voice of an angel? Bomb sewing skills? I did not like her Lady Gaga Alejandro look. It was a boxer's robe, and she didn't do her tear away where we could've gotten a glimpse of that boy body-ody-ody. Which is a shame. The look underneath is a dominatrix leather body suit complete with spiked nipples. Very Russian. She was concerned it deviated from the Lady Gaga theme, but it could've worked.
A post shared by ??Shea Couleé?? (@sheacoulee) on Jan 5, 2017 at 9:41pm PST
Shea Coulee
Her interview commentary is great. Represented Chicago well with a hilarious mascot hot dog head piece. "Bitch, I'm from Chicago," But, she was clocked for a simplified version of Lady Gaga's Jim Henson origami dress. I think it looked fine. But, it was a bit sloppy comparatively.
A post shared by Kimora Blac (@kimorablac) on Mar 19, 2017 at 2:16pm PDT
Kimora Blac
An Asian queen! She's the most handsome of all the queens out of drag. Cheek bones that make me want to get botox immediately. It obviously translates to a beautiful woman, but her looks in the opening episode seemed cheaper than the rest. However, that ass.
A post shared by Sasha Velour (@sashavelour) on Feb 27, 2017 at 7:54am PST
Sasha Velour
I'm just a sucker for a high fashion art queen. Then, you give me a high fashion bald queen? Be still, my heart. She gained an immediate fan with her hot pink promotional photo look. Also, I love that she's weird. Who walks into a room of strangers and screams? Confident weirdos. Living for it. You should be, too. Her Brooklyn pageant look is a lesson in "more is more, and more is better"… however, I'm not sure how she'd actually perform with both hands occupied with props. Lady Gaga loved her Applause look which is good enough for me.
A post shared by Eureka! The Elephant Queen! (@eurekaohara) on Mar 25, 2017 at 1:35am PDT
Eureka
OK. So, I'm a Southern queen, so I'm in love with this Southern beauty. "I'll eat you." She seems like she's a great spirit for the show. She started that group cry session with Mother Monster. She also has the sassiness of the big girls from the past, and the makeup is great so I'm rooting she does well. She's checking all my boxes, so far! Her Lady Gaga Telephone recreation was the best of the night. Jaw dropping attention to detail. I sincerely hope that there's not too much drama, or focus on her pre-existing rivalry with Trinity Taylor. Didn't we just get that twice with Alyssa and Coco?
A post shared by Miss Peppermint (@peppermint247) on Feb 14, 2017 at 11:36pm PST
Peppermint
I love her backstory. She's the first transgendered woman on the show! She seems like she'll be the resident sweetheart but, I just feel like we've met her before. I wonder what else she brings to the table. In Untucked, Lady Gaga advised her to pay closer attention to detail… So now, that's what I want to.
A post shared by Alexis Michelle (@alexislives) on Mar 16, 2017 at 6:32pm PDT
Alexis Michelle
Hot boy. Musical theatre queen. I hope she gets to stay to show off that talent? But, I don't always get boy singing in drag… It can be a jarring visual, right? A gorgeous looking woman with a man voice **cough cough** Adore. But, maybe he can pull out Courtney Act sounds. We'll just have to see. But, he can be the resident eye candy for now.
A post shared by Trinity "The Tuck" Taylor (@trinitythetuck) on Mar 9, 2017 at 4:00pm PST
Trinity Taylor
I think she's the most beautiful this year. She has a swan neck that was perfectly accentuated in her Lady Gaga AHS Hotel drag. I don't love her promo or intro looks. She says she's a pageant queen (But not in those terms, of course, due to the astigmatism it causes), but it's not similar to the other pageant queen aesthetics RuPaul has featured on the show in the past. I admit I am ignorant to the drag pageant world, but I don't see how this fits with what Alyssa, Coco, Roxy etc. have taught me. So, I honestly have no idea what to expect from her.
A post shared by Jaymes Mansfield (@jaymesmansfield) on Feb 11, 2017 at 5:58pm PST
Jaymes Mansfield
Again, not really charmed by her get up. Maybe it's an acquired taste, like Trixie Mattel, but it's not working for me. Let's see what else she can interpret.
A post shared by AJA (@ajathekween) on Mar 3, 2017 at 11:51am PST
Aja
I love a NY high fashion queen. She photographs like Naomi Smalls. Some queens clocked her for her "messy" makeup, but her style's en pointe. Her plastic-y 3-d black mini-dress for the opener is obviously charming. But, what can she bring besides designer/high fashion?
It's just episode one, and they all get one episode to get comfortable, so I don't want to hate too much. But, a few story lines I already see developing that I hope to dissipate.
The pre-existing rivalry between Eureka and Trinity. Been there, done that… twice.
The elephant in the room… mediocrity. Aka "relying on pretty." It's a real issue, gays. But, I don't want to be hateful… Ugh, let me just say there are a few queens that, as Tyra would say, are just damn lucky to be there. I'm sure one of them will be top 3. But, in the presence of some of the artistic and innovative queens this season. But, like I said, it's just episode one…
The episode ended with a cliffhanger. RuPaul reveals a 14th queen will be introduced next week.
Guest Author: Ryan Frenk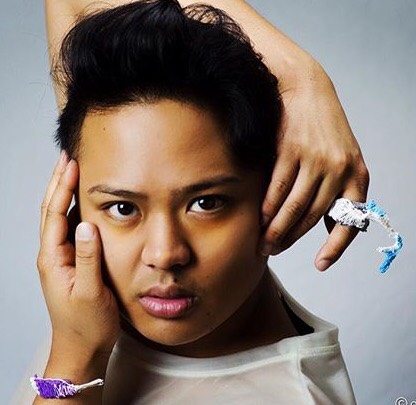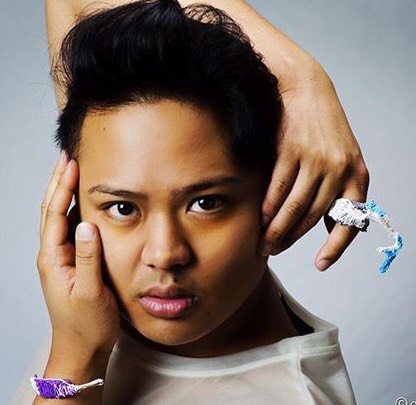 Ryan Frenk
RuPaul's Drag Race Correspondent
Ryan is currently based out of a zoo in Houston, TX. Penchant for high fashion and musical theatre (original). He will not sign autographs. Instagram: @petiteplussizedmalesupermodel