RuPaul's Drag Race Season 9, EP 5 Recap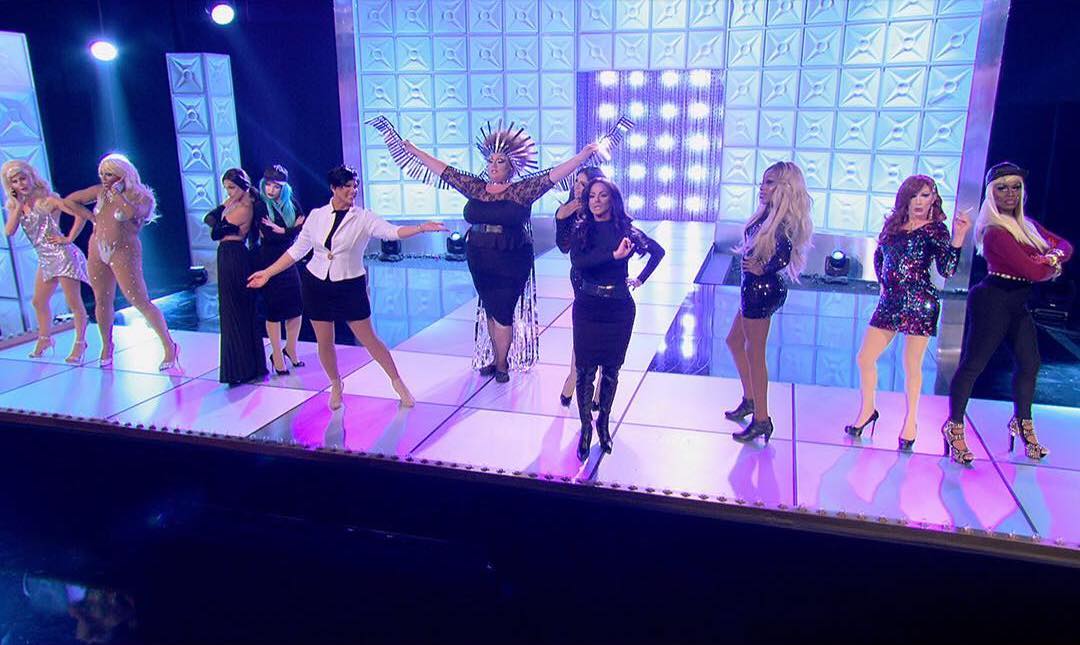 Hello hello hello, ladies and gays!
This episode was a doozy at the very last second. I literally ugly cried. But, there was a whole lotta episode first. Back in the work room after last week's elimination, Trinity wastes no time erasing Charlie's lipstick message.
Trinity asks something that I think has been on everybody's mind: "Why didn't charlie put up a fight?"
Does anyone know? Basic Google research finds: she had a broken rib. Ooh.
When asked what it was like to be thrown under the bus by her teammates. Trinity responds: "I was the team captain. And, that's the reason why I should be in the bottom, and not for other reasons…"
But, I think she misses the whole reason why she was in the bottom. She was the leader of her group… so there's a bullseye on her head. And, her team did poorly. Whatever other reasons her teammates found… she should've just kept her mouth shut. It's a little crazy and paranoid. Am I missing something?
Alexis laments being safe all the time: "It's now time for me to turn up the volume. I have to rise to the top."
Nina also shows her paranoid self-conscious side: "I wouldn't mind seeing certain people struggle a little bit."
Other than that though, I think these girls are nicer to one another. Haha!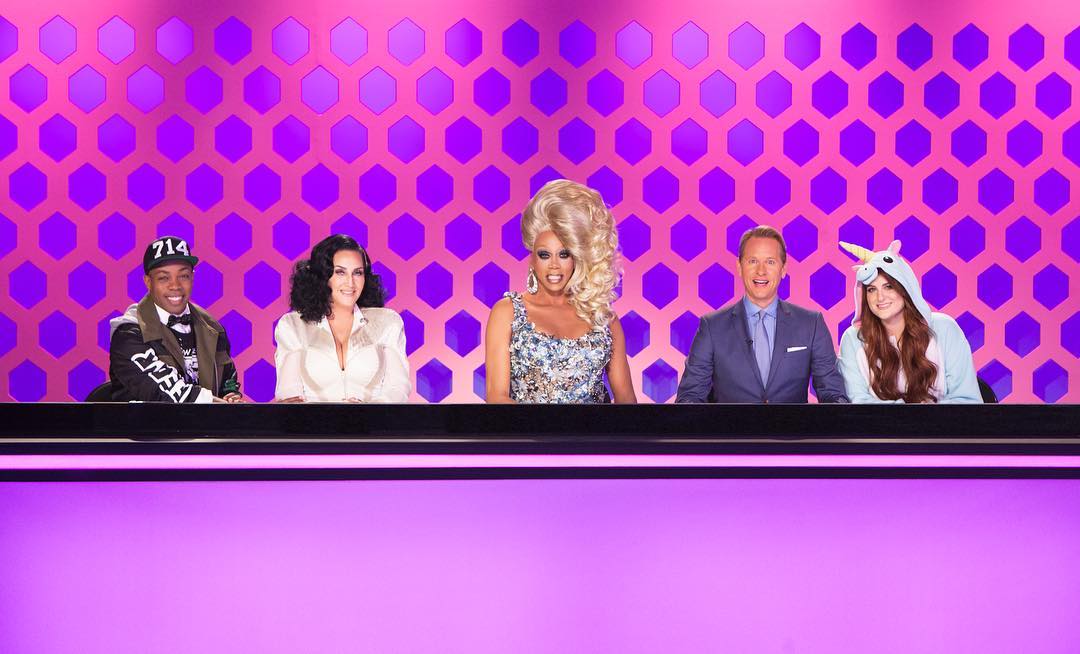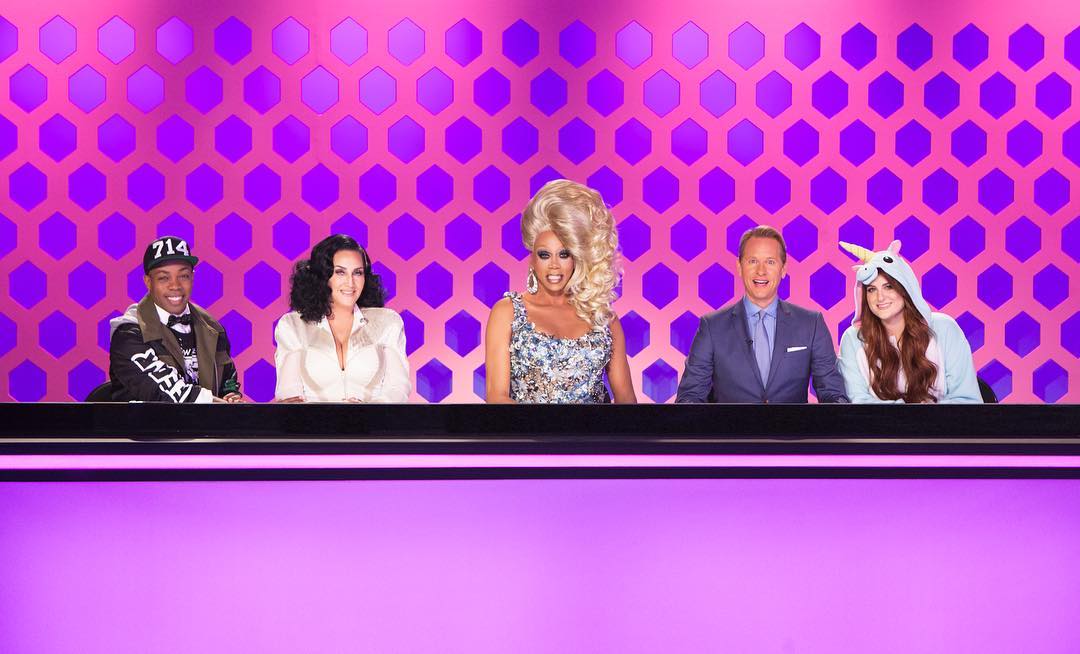 … Enter Ru and…
The Mini Challenge is back!! I am so happy! I have been waiting for these. They require quick bursts of creativity. And, it's even better because it's "Featuring hot bulging mens-es-es." They have to take a sexy selfie with a selfie stick in "quick drag". These go fast though, so I didn't have a lot of time to jot things down.
Quick notes:
Alexis looks older in drag than when out. At some angles like Amy Schumer.
Cucu: not so good. Her photo is blurry!
Valentina: adorably asks Ru to introduce her as Ms. Venezuela. She's always living in full fantasy mode. Why is she so beautiful? She's a cholo homeboy, too.
Winner: Alexis "Sorry that my swimsuit selfie game is so strong… Not sorry."
Ok…
The Maxi Challenge
Broadway's Newest Mega Sensation: #KardashianTheMusical
The roles are picked by Mini Challenge winner, Alexis, and her casting is pretty good but doesn't please all:
The premiere cast is:
Kris Jenner…………………Alexis Michelle– OK Musical Theatre Queen. Whatchu Got??
Kim Kardashian………..Cynthia Lee Fontaine
Khloe Kardashian……..Nina Bo'Nina Brown– Shaking her head and giving bitch face: "I don't see it for me…" She seems pissed right away. She wanted Blac Chyna and she seems closed off. What is happening? Nina is getting caught UP in this drama. I am sad about the attitude. He feels that he's being ganged up on. But, Peppermint puts it best: "There's only one black Chyna and three black girls…"
Kortney Kardashian….Aja
Britney Spears……………Peppermint– "I don't even get a Jenner! My black ass is playing Britney Motherfucking Spears" Fair enough.
Lindsay Lohan…………….Sasha Velour
Paris Hilton………………….Trinity Mattel
Kendall Jenner……………..Valentina
Kylie Jenner………………….Farrah Moan– Haha!
Northwest…………………….Eureka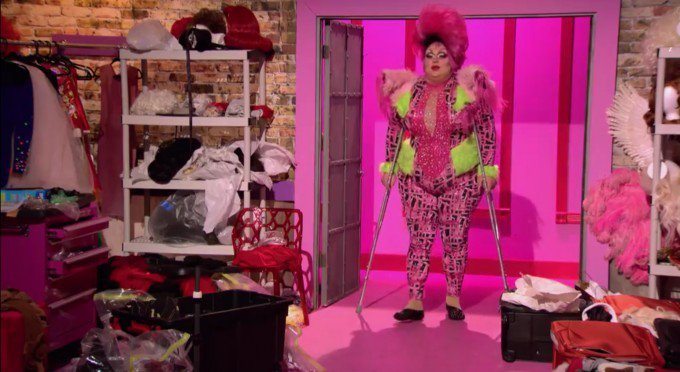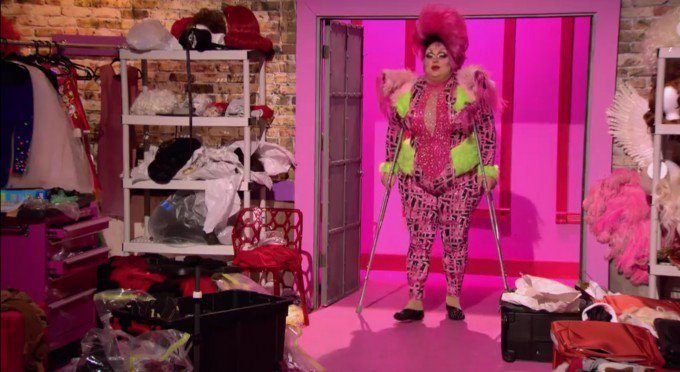 Eureka Aka Kerri Strug
It's been weeks since the cheerleading challenge. But, she really did pull a Kerri Strug bopping onto her bussy the other week. She gave it all that week but didn't even know it. He needs crutches to walks. He has a beautiful, positive, "can do" spirit. I want her to win!
"When life gives you lemons… You take rhinestones and cover up that lemon."
Todrick Hall Choreo Session Quick Notes:
He works Eureka's disability. All upper body and face.
Shea rocks out some old school 90's moves. Looks hot doing it.
Nina: "I was kind of hoping for her trip a little bit… but, she didn't trip… so, what can I say?" Nothing, gurl.
Cynthia, Aja and Nina are struggling. Nina with her bad attitude, Cucu with her crazy-but-cute cluelessness, and Aja with her bad dancing. "You're killing cockroaches!"
Todrick is not having it with Nina's bitchiness. "Tomorrow, I'm gonna need all that gone."
Farrah and Valentina struggle with basic clapping patty cake choreography. But it's mostly Farrah.
A post shared by RuPaul's Drag Race (@rupaulsdragrace) on Apr 20, 2017 at 12:04pm PDT
 "RuPaul's Best Group Therapy"
Eureka apologized to Sasha and Valentina about her attitude in the previous episode, and her mocking eating disorders. They take it gracefully and open up about their struggles, past and ongoing with anorexia. Shea also reveals her past struggles with bulimia. I'm glad they did. They appear and give off such positive and self-confident personas… to know they struggle humanizes them. I love this show so damn much.
The Runway
Judges
The best look from Ru yet! So good. Breath stolen. Legs and mouth agape. Eyes shut.
Toddrick Hall and Meghan Trainor guest judge.
A post shared by RuPaul's Drag Race (@rupaulsdragrace) on Apr 21, 2017 at 12:00pm PDT
Execution of Kardashian, The Musical
I am a vocal anti-Kardashian gay. Sorry not sorry. So, the musical is pointless herstory lesson. But…. it's a long lip sync to a Hamilton-esque soundtrack. So, my body's ready.
Quick notes: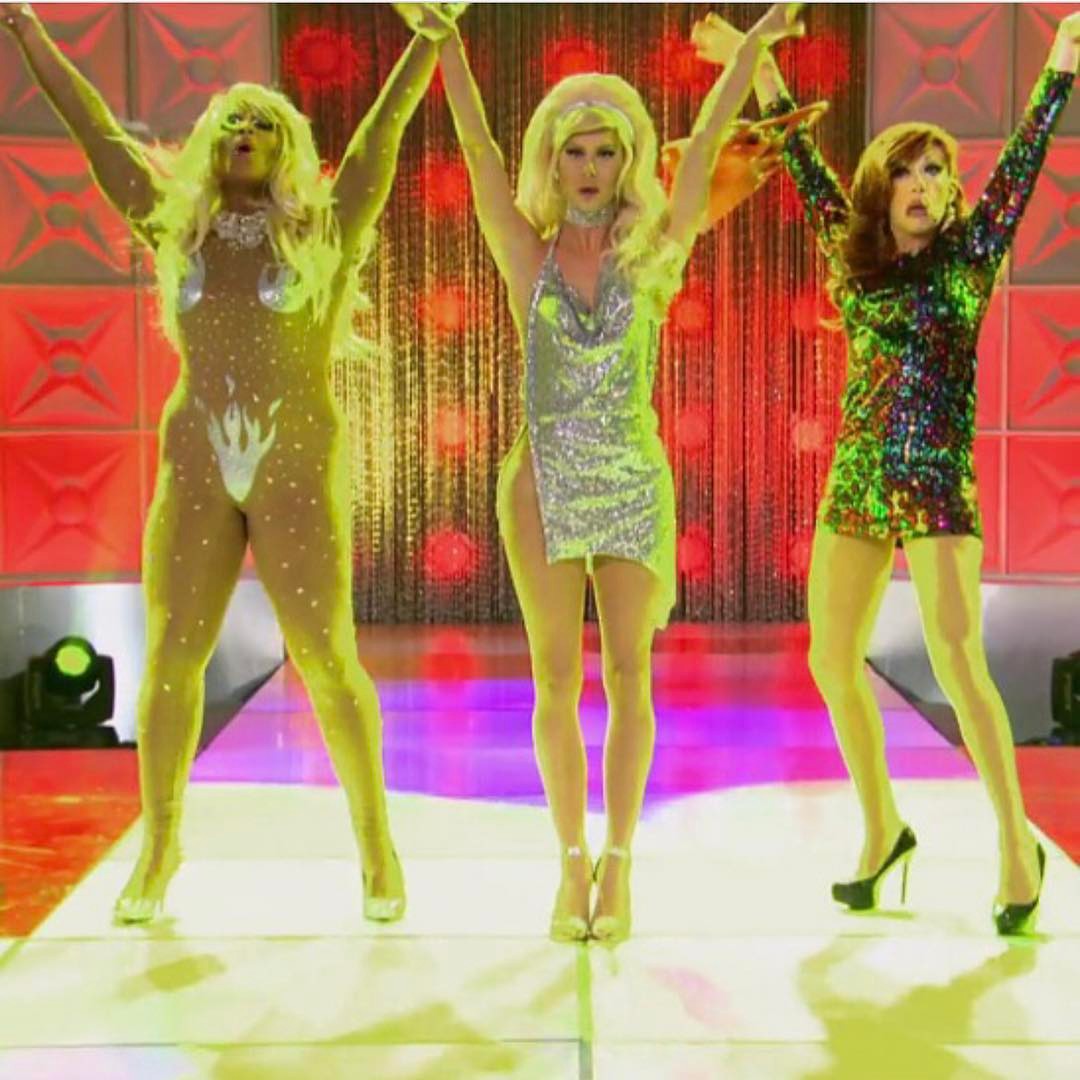 Peppermint is hilarious as Britney. She doesn't look like her but she's embodying her crazy! I especially love her costume. Paris (Trinity) and Lindsay (Sasha) are just not like the most exciting characters to play next to her crazy ass. So they're "safe" but they're not doing bad.
Cucu as Kim does not know her words…
Alexis as Kris has great stage presence. Which I am EXPECTING from a musical theatre queen.
Nina shook off whatever was wrong with her and delivers. Aja as Kortney is fine. But Cucu is just clueless still.
Kendall and Kylie are held UP by Valentina and Kris's side reactions. Farrah seems to be trying, though. It's just not great?
Shea as Black Chyna is amazing. She'd win an actual Tony for her small part. She has the energy of an explosion then just walks off. Incredible. I laughed through the whole damn segment. She can dance AND she knows her speed rap.
I do NOT know what I was expecting from Eureka as Northwest. Not that. But, I was howling. But I did see how she was glued in one place.
I LOVED THE BACKUP SINGERS lip syncing but why was everything singing AH and Farrah an OOh.
Alexis is really amazing! She's giving it. It's too bad she gave Shea such a good surprising role.
Runway Theme: Faux Fur
Peppermint: Pink puffies and boring skirt. Eh…
Trinity: Savage realness. Beaver and pelts.
Sasha: Russian. Again. Meh…
Alexis: I like the coat. But the overall look is pedestrian.
Cucu: Her fur maxi dress swallows her
Nina: Great! Very 90's. I love what she does with her boobs. Her boobwork is en pointe.
Aja: She clocked Valentina for a souped up bikini a few episodes ago. And she's wearing a bikini and white fur.
Valentina is perfect: Like a 40's starlet in snake print, brown fur draped off her arms and big helmet hair.
Farrah: Lol. "Fraggle Rock Fashion." Lime green look with heavy gold fringe armor type thing and bright cartoon red hair.
Shea: Expensive. Pink Di$count Universe. Dress has monster eyes on it.
Eureka: "Stop relying on those… crutches." But the look is good. A bright pink body suit with fur shoulder pads.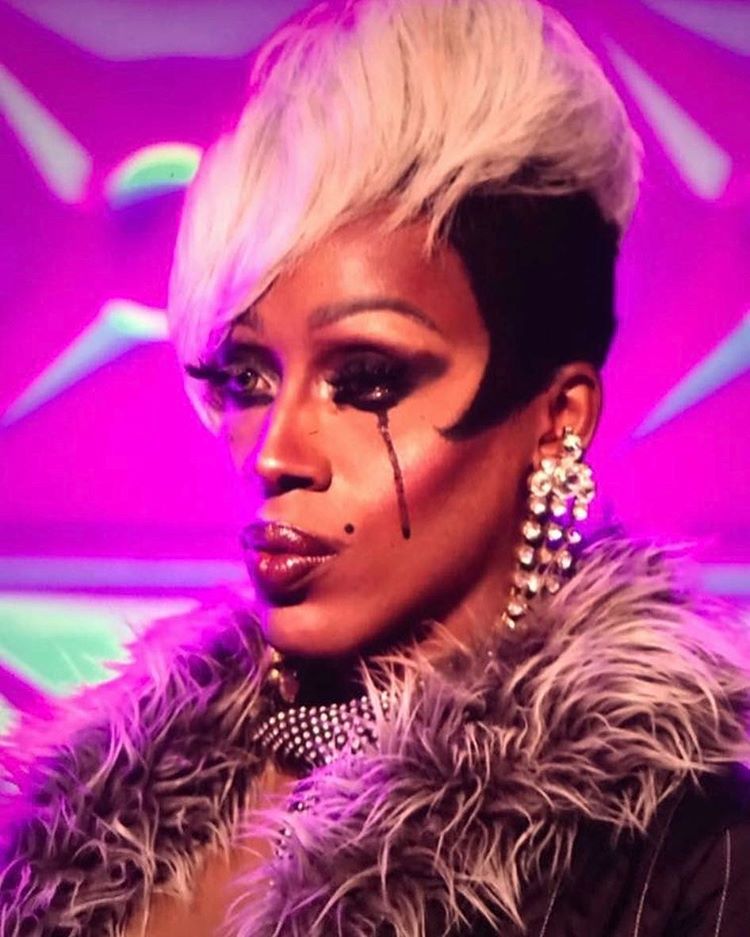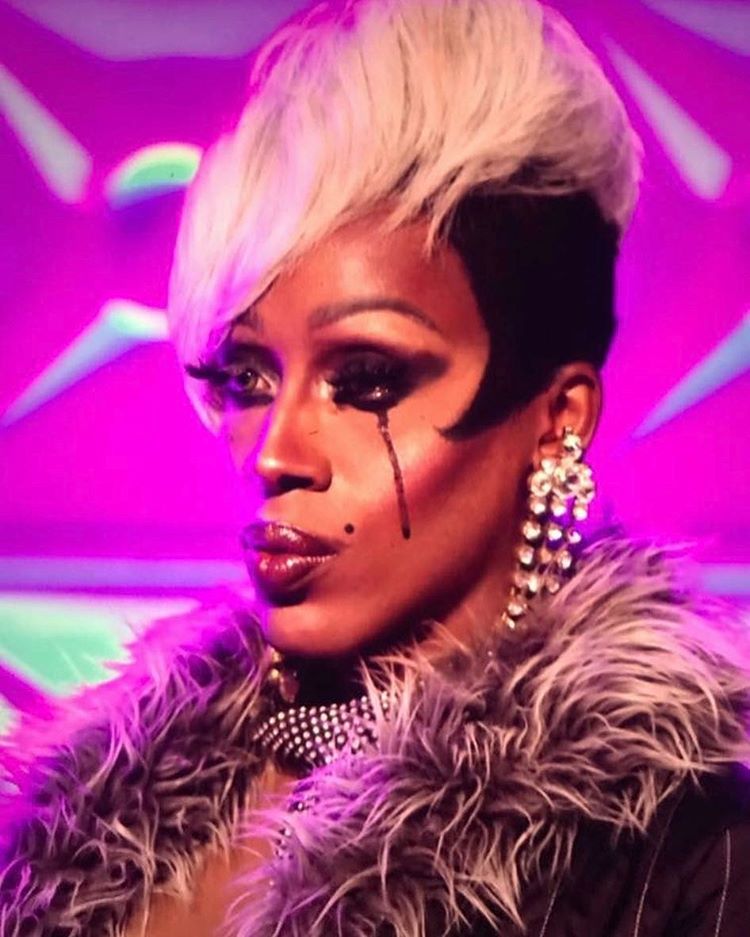 Judges Deliberations
Pepper: Carson "Totally nailed it" but Michelle clocks the skirt as an afterthought.
Alexis: Michelle sums it up pretty well "Bitch you turned it out… (as Kris) but hated your look today. Step it up because that Kris Jenner is the business."
Cucu: Both her look and her performance were bad… 
 Sorry, Cucu.
Nina: Carson: "Mary J. Blige going to get milk." But Todrick calls her out for her bad attitude. Nina admits that she feels that she was set up by the other girls to fail. Ru asks if her paranoia is an ongoing theme. Oh my… Red flags. But damn her for her singular mascara stained tear dripping down her face. Be still, my heart!
Farrah Moan: Michelle: too much highlighter. Meghan says that even with her turquoise hair, she couldn't find her in the musical. Toddrick "Disappointing"
Shea: They lived for her this week. I did, too. Obviously the top of the week.
After deliberations, Ru calls the girls back out to the stage. The Winner is Shea! It could've been Alexis but her Faux Fur was a faux pas. Shea speaks to Ru like a person: "You look so good tonight it's damn near sinful." I love her confidence, bitch!
Peppermint and Alexis are safe.
The bottom three are Nina, Farrah and Cucu. I was gripping my seat. I was sure Nina was lip syncing because of the attitude. It's kinda scary. But, the judges did it right! The bottom two are Farrah and Cucu.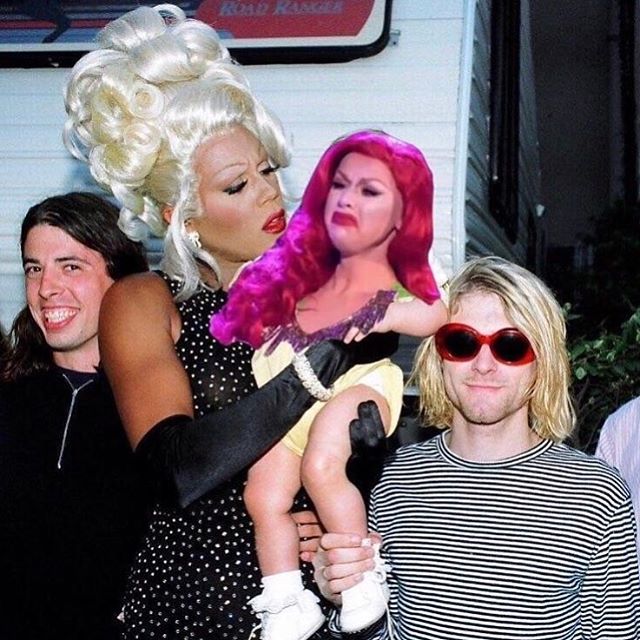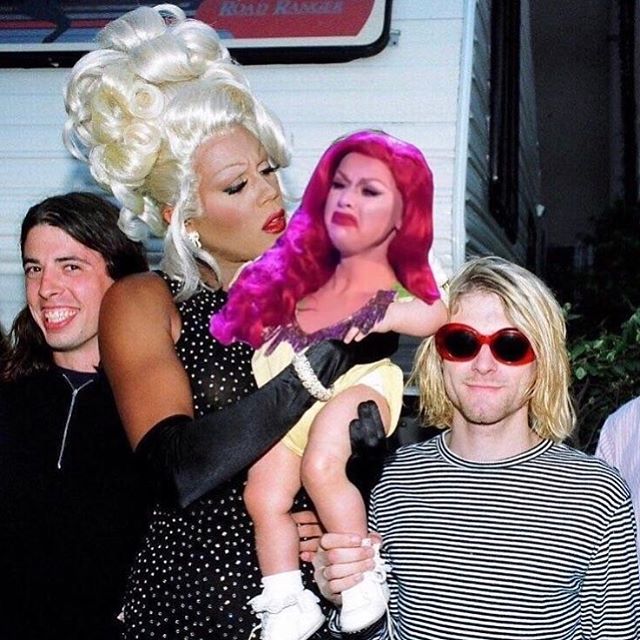 The Lip Sync
Passionate performance by both the girls of Meghan Trainor's "Woman Up." But, now that I've seen Farrah lip sync, I only have one thing to say: Nope. Not that Cucu is Alyssa Edwards but Farrah dances like she's about to have jizz poured all over her.
The song ends, and I'm sure Farrah is going to be called forward. But, Ru is called off set by a producer. When she returns, Eureka is called forward. Because of her knee injury, Ru cannot let her continue in the competition. Farrah has just become the luckiest contestant ever.
"You are loved here."
Ru assures Eureka that she has a standing invitation to come back for Season 10!
I think Drag Race just wasn't ready for a big girl to win.
Next!
Ryan is currently based out of a zoo in Houston, TX. Penchant for high fashion and musical theatre (original). He will not sign autographs. Instagram: @petiteplussizedmalesupermodel