Hello hello hello, ladies and gays!
A little RuCap: We've lost two queens so far. Last episode, we lost Kimora Blac, the Las Vegas beauty queen who bravely bore both her soul and her ass.
I think the other queens are starting to sense that Aja, who survived last week's lip sync, isn't actually self-confident. She's self-conscious. And, in an attempt to portray the former, she's started to take out her insecurities on the other queens. Mostly she takes it out on my love, Valentina…
I always look for Shea. She seems to be the voice of the workroom, and her eyes rolling when Aja talks to her tells me all I need to know. She's over it! Valentina, playing the game, doesn't respond to the negativity and vows to keep tunnel vision focus to make it to the further in the competition. You do you, Valentina!!
Maxi Challenge
Ru is not allowing the girls anytime to warm up. Last week, they conceptualized and designed a fairy tale. The week before, they had to tumble and dance and be cheerleaders. So, the challenges this season are en pointe. And, difficult. This week, Ru split the girls up into two teams that host competing morning talk shows. Amazing. #GoodMorningBitches
Ru emphasizes that a big part of this challenge is that the footage and takes are going to be live. Mistakes must be embraced and the hosts relatable… which is a tall order of even the most veteran actors I'm sure. I'd love to see a full unedited segment!
The team leaders are last week's winner, Trinity and last week's lip sync survivor, Aja. Interesting! So, this is how the producers got rid of the Mini Challenge… Pick the top and the bottom in charge and see what happens.
Picking Teams
Or course, even selecting team members is a mind game for the contestants.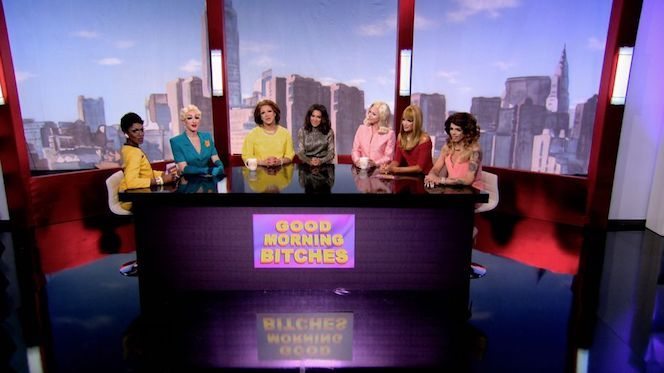 The cast of Not On Today, however, is more… haphazard… right off the bat. The leader-dictator is Trinity who chose Peppermint, Charlie, Cynthia, Eureka and Nina. What gets me is that Nina was picked last. She's been consistently a judge favorite, even when she's not on top. The only thing I can think of is that she gives off a bad energy as a teammate. It's like the girls sense her low self esteem and want her to feel out-of-place. Trinity assures her that even though she's picked last, she likes her work. Justifiably, Nina wonders if that's true. And, if it's true… what's so wrong with her to be overlooked?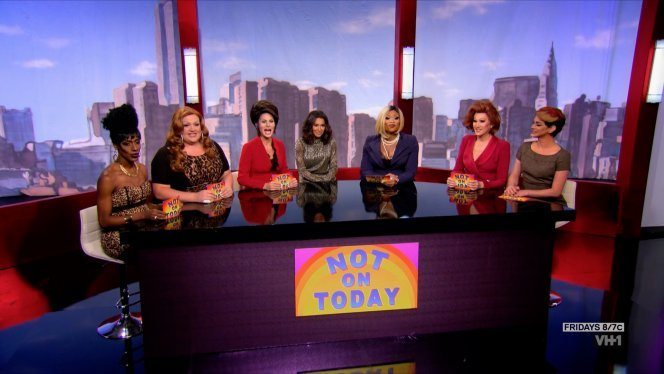 The cast of Not On Today, however, is more… haphazard… right off the bat. The leader-dictator is Trinity who chose Peppermint, Charlie, Cynthia, Eureka and Nina. What gets me is that Nina was picked last. She's been consistently a judge favorite, even when she's not on top. The only thing I can think of is that she gives off a bad energy as a teammate. It's like the girls sense her low self esteem and want her to feel out-of-place. Trinity assures her that even though she's picked last, she likes her work. Justifiably, Nina wonders if that's true. And, if it's true… what's so wrong with her to be overlooked?
The Reign (or Wrath) of Trinity
While I'm sensing that Eureka may have an attitude problem in general (keep reading), I do think she's a good competitor and team player. Trinity doesn't seem to enjoy having to collaborate. The best team results are found through open discussion and honesty. This is not one of those teams it seems. She has rules: "I don't want anybody to talk over each other. Raise your hands," while talking over the other girls. And, she picks what portions of the show each queen will do. Pretty cutthroat… Eureka put it best: "[She] wasn't a leader. [She] was a dictator."
And, there are other controlling personalities in this team: We see Charlie Hides being "very strict," as Cynthia says, with their dialogue. Correcting the CuCu's pronunciation, jokes, and reactions. Cynthia is a better person than I. I would've punched Charlie's face. Instead, she is taking the unsolicited advice with aplomb. We know, anyway, that Cucu will do what she wants when the cameras roll.
CHALLENGE EXECUTION
Judge Ross Matthews is on set to play director/coach for the girls and guide them through the live taping.
First up on set is team Good Morning Bitches.
Alexis and Farrah are charming co-anchors, and open the show well. They're pretty, and have a good enough energy. Farrah is growing on me! She's not as afraid to be silly as I originally thought, and I actually laughed out loud when she showed her acrylic toenails on the round table. And, she's really pretty. Alexis was forgettable to me, but Farrah's cute in this role. Segment ends.
Entertaintment Reporters, Aja and Valentina are more awkward however. Valentina was not charming. She seemed glued to her cue cards. The "fun" game they played- a version of "Who Wore It Better?" was very rehearsed. What saved the segment was Aja. WHAT? She hammed it up to make up for Valentina's stiff ass. Shea puts it best: "They got chemistry. But, sometimes things can bust in the chemistry lab." HAHA!
I loved Sasha and Shea's sexy food segment: How to get more chocolate in your diet. Being funny, they made smart use of food sex puns and jokes. They literally tossed a salad, and chomped on a two-headed chocolate-adorned broccoli dildo. And, best of all, they relished in the mistakes and the jokes.
The final segment is the Celebrity Interview with everyone at the round table. Their guest is this week's guest judge, Naya Rivera plugging her book, Sorry Not Sorry. The girls make her feel very welcome, and she advises that her key to TV success was that she always "got that camera on [her]." And gives Good Morning Bitches a cute toot calling it the "Best show in television."
Director Ross wraps up the filming, and looks pleased!
Before walking on set, we know that Not On Today has a lot to live up to. Never good news in Reality TV Land. But, I was rooting for them. Then filming started. Peppermint and Trinity have come up with this weird backstory, and are playing their co-anchors as shady ladies that hate one another. There's a joke about Peppermint having slept with Trinity's husband. I understand the humor they're trying to convey. But, it doesn't work. Their segment's just painfully awkward… I would say Peppermint is the better of the two, but she is very self-conscious and flubs multiple lines. Ross looks relieved when he finally moves on to the next segment.
His relief does not last long. Charlie Hides is trying to give Joy Behar- kinda rough, tough, and bossy. She even has a red feathery wig. But, she would not veer from what was on her cue cards. And, when she would look up, she messed up her lines- "Bob… I'm sorry! Thorgy Thor" and "Hoscus Poscus" being some glaring flubs. Out of this mess, however, Cynthia and her CuCu looked like stars. She took stale line delivery after stale line delivery from Charlie, and answer with brilliantly funny nonsense. It's her brand of humor, and she didn't let Charlie squash it. Go Cynthia!
The next segment "Drag On A Dime", headed by Eureka and Nina, KILLED. They had jokes and great chemistry, gurl. They did a compare and contrast type of segment, where they juxtaposed expensive drag essentials next to cheap alternatives. Instead of a lace front for $7300, they suggest a yellow ramen noodle wig for only $6. Don't buy butt pads for $00 a piece, invest in ham, mama. "Edible. She looks good, AND she tastes good, gurl."
This is where it completely collapsed for Team Not On Today.
It even feels forced. Charlie asks questions then rambles over Naya's answered. And, the format of the conversation just doesn't work either (understanding that editing must play a big part.) I feel terrible because Charlie seems to be trying HARD. She is the eldest after all. When the prompter is scrolling and the program should be wrapped up, she asks herself, "What would Joy Behar do?" because it seems the anchors aren't going to wrap it up. But, by doing so, it causes major confusion. Ross breaks the silence, "We're off the air. But nobody said goodbye…"And, Naya is confused- "Do I leave now?" Oh, no…
"This is bad, bad. That's all I'm thinking is bad bad bad."- Trinity
Elimination Day:
Aja Vs. Valentina
Prepping for the runway show, Aja tells Alexis: "You know what I'm capable of. It's not my 100%. But I don't feel like I'm under pressure. I feel I think I'm over-confident." But Valentina chides in from across the workroom "You're making a really bad first impression with me. Maybe some advice: Don't focus on me. Don't focus on other girls. Just, focus on YOU." Yas, Valentina. Truer words have ne'er been spoken. Aja admits that Valentina is a friend, and that she's been taking her anger out in the worst way. Aw, resolution!
The AIDS Crisis
We learn more about Charlie: "I've buried all of my best friends- most of my best friends" from the beginning of the AIDS crisis, before the disease even had a name. He tells the girls his mantra: "You're worth it you're special you're beautiful and you were taking care of yourself." All the girls express respect. I do, too. Thank you for being brave in the midst of that terrible time.
Eating Disorders:
So, this is why I think Eureka may have an attitude problem. She makes what she calls a lighthearted joke about eating disorders, and Sasha asks her to stay away from the subject. I don't know where I stand. I understand that it's just a joke. But, jokes and words mean different things to different people. Throughout just the few episodes that we've had so far, Eureka has been portrayed as extremely abrasive and confrontational with the other queens. So, while I think this particular instance was actually a scene of people ganging up on her, I'm not sure I can blame them…
Overall, it was a light workroom…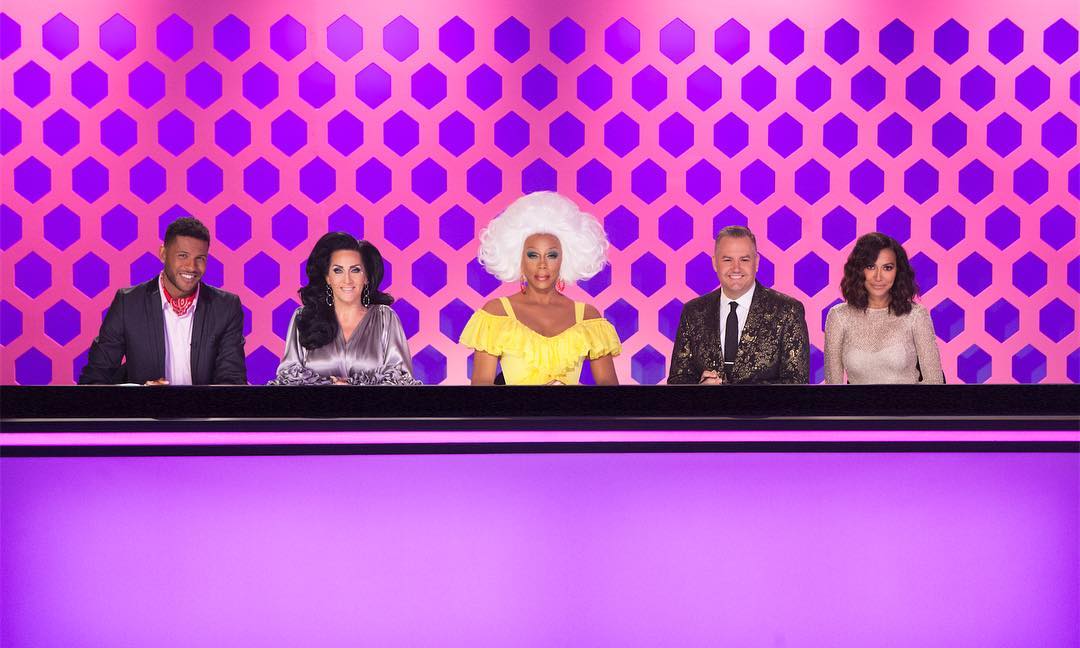 The Runway
I didn't love Ru's look this week. Benjamin Franklin in platinum blonde and a banana yellow gown. No Carson Kressley this week. But Michelle looks amazing in a more "natural" beat. Guest Judges are Unreal's Jeffrey Bowyer-Chapman, and yesterday's celebrity, Naya Rivera.
The theme is Naughty Nighties
Farrah Moan: Baby Pink negligee and baby pink lace robe with feathers to trim the sleeves. She's growing on me!
Alexis Michelle: Basic, JC Penney floral robe. I'm just not a fan.
Aja: Red! They spent a total of 3 seconds on her. So, that's what I wrote down.
Valentina: HOT lederhosen, red wig, red lip, big eyes, legs fo' days and it's a black negligee
Shea: Platinum wig, and black & gold lewks. I love her eye makeup. Gorgeous.
Sasha: Cream on cream. Corset and robe. There's a prop, a candelabra and she has nipple tassels in matching cream. Decent look.
Trinity: Black lace negligee. It's okay. Face en pointe.
Peppermint: Looks a mess. You can see her pantyhose line.
Charlie Hides: Beautiful look. She's got gorgeous clothing!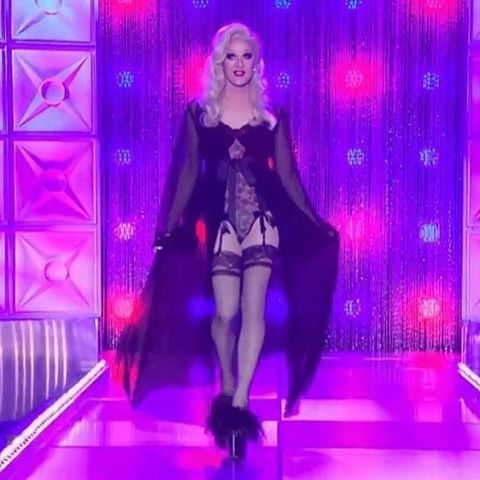 Cynthia: Giving bargain basement Victoria's Secret realness. It's cute.
Eureka: Dominatrix nighty with a whip
Nina: Full on skeletal nude slut with corset and taped Xs on her exposed boobs.
Judging:
Tops: The entire Good Morning, Bitches Team comes out on top, and Shae and Sasha win the Maxi Challenge together! The whole team is safe. Valentina should feel very lucky.
Bottoms: The entire Not On Today team
Trinity: Michelle: You were "Uptight and mean." Jeffrey: "If I were flipping through channels, I would have kept flipping" Ru offers that the gags that she and Peppermint were trying to do were the reason it kept falling flat.
Peppermint: Michelle: "I hate the outfit." But, she escapes a lot of intense criticism.
Charlie: Michelle: "Love the [runway] look." But they all complain that she was married to her cue cards.
Cynthia: Michelle: "This does not read as nightie" but she is funny. Jeffrey: "You are a star!" As she is looking at the looks left to right, Michelle remarks: "This end is really 90's, and this end is… whores."
Eureka: The look reads as dominatrix.
Nina: They liked her performance, but she breaks down and ugly cries while letting the judges know that these are tears of happiness. Ru, trying to keep things positive, jokes: "If those are tears of joy, I'd hate to see you when you're upset." Ross isn't so enthused, he loves her "But you're gonna need a thicker skin to get through this competition" Ru asks the worst of all reality TV questions: "Who deserves to go home tonight?"
Trinity: Charlie
Peppermint: Charlie Charlie: Peppermint
Cynthia: Peppermint
Eureka: Trinity (she was too focused on herself) Trinity butts in: "I call "SHADE"… DONT TELL ME I DIDNT DO MY JOB AS A LEADER BECAUSE I DID"
Nina: Trinity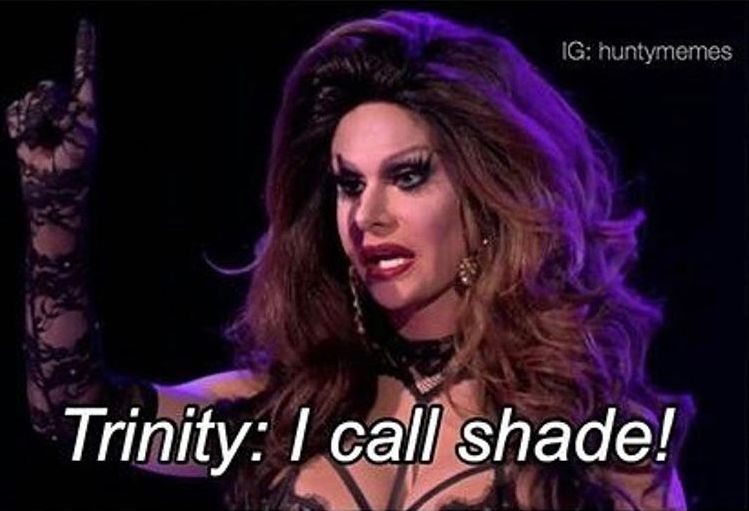 Lip Sync to Britney Spears' I Wanna Go:
Trinity Vs. Charlie
OOH. This upset me. Why make RuPaul spend all that royalty money if you ain't going to lip sync. Trinity, turned it out. She stunted, crawled, death dropped, and tumbled all while lip-syncing. At the other side of the stage, stuck in one spot, Charlie looks like she's given up. You can actually hear the other queens shouting at Charlie to pick up the pace and energy. "Charlie let's go!" "Charlie, c'mon!" But she still "looks like she's telling children to get off her lawn." I've heard that a rib was broken. So… that sucks. But, based on what happened on the show, she says London queens only sing live – they don't lip sync… She was hoping to be like Bianca and never have to lip sync. "I just need Ru to say it: Sashay away"
Wish granted…
NEXT
David Cusick
David is a born-and-bread North Carolinian who currently lives in the Triangle area. When he's not at his 9-5 or writing, he's usually hanging out with his dog, generally considered his pride and joy.