26 Workout Gifts for Fitness Lovers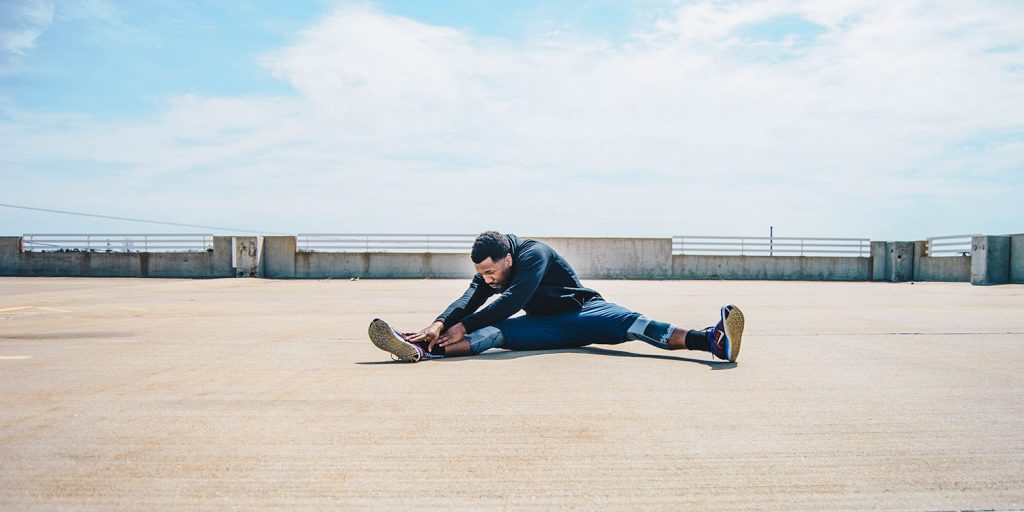 As a guy who spends about an hour or more every day at the gym, I find it important to make my personal fitness rituals as enjoyable as possible. Let's face it – dedicating that much time out of your day to put your body through grueling physical tests of strength must indicate that you either enjoy physical pain, or your personal fitness is as ingrained into your being as your daily coffee. In my case I'll admit it's a bit of both. However, like most fitness lovers, the healthy habits that I try to follow reach beyond just my time at the gym, but are deeply rooted in what I eat, how I dress, what I wear on my feet, and so on. Why not take pride in habits that make you healthier? If you've worked hard for your body, why not show it off?
Chances are that if you're reading this, you either know a fitness freak who fits the above description, or YOU are that guy who gets up every day at 5am to split his cardio from his afternoon lifting session, followed by an abdominal routine before bed. Excessive? I think not. Perhaps you are in a relationship with another fitness lover who motivates you to reach your fitness goals. Lucky you! Whether you're shopping for yourself, your fitness fanatic gym partner, or your significant other, I've found that buying gifts for fitness lovers to be more than easy. Who wouldn't appreciate a gift that further helps them to achieve their fitness goals? Even when shopping for yourself, making fitness gift purchases is easy to validate because they are contributing to your health, either directly or indirectly. Right?
Although having the latest gear or flashiest workout clothing shouldn't be primary motivating factors to get your ass in the gym, sometimes they provide that extra push you need to finish that late night workout or early morning spin class. For me, investing in my personal fitness is totally worth it, granted what I'm buying or receiving as a gift doesn't fall apart after only two gym sessions. Anything that makes my workouts more effective, enjoyable, or fun falls into this category. If you're the one giving a workout gift, go ahead and think outside the box! Fitness gifts can include more than just the newest kicks or breathable hoodies, but also involve quality headphones, nutrition products, and more. Here are 26 creative workout gifts for fitness lovers to inspire this season of healthy gift-giving!
If there was ever a shoe I could sincerely call "handsome," this would be it. The Adidas tubular line are some of the sharpest, highest quality, and best value shoes I have ever owned. Although they probably aren't ideal if you're looking for a shoe to do hours on the treadmill or long-distance running, these are a personal favorite to wear both in and out of the gym. They provide extreme comfort, arch support, last a long time, and can also be worn out of the gym with a nice pair of jeans, making these an ideal gift for gym lovers and beyond.
Buy it now: Adidas Tubular Instinct
These are so comfy I feel like I've adopted them into my everyday attire. Perfect for throwing on after a hard workout as you're leaving the gym to prevent chill from the sweat you've worked up. They are rather form-fitting, which is great both for comfort and showing off definition (just being honest).
Buy it now: Men's Workout Compression Hoodie
The first time I saw someone wearing one of these I'll admit that I was quite startled. Not only do they make you look menacing when worn, but the sound it makes as it restricts your breathing is akin to Darth Vader. That being said, they actually serve a serious fitness-related purpose – they are designed to simulate what it's like breathing in a place of high elevation, controlling the amount of oxygen your lungs are able to take in. When you wear them while doing cardio or other high-intensity training, they help teach your body to take deeper breaths and absorb oxygen more efficiently.
Buy it now: Elevation Training Mask
These are totally fun – a great small stocking gift for any fitness lover.
Buy it now: Dumbbell Cufflinks
It's not only annoying, but potentially dangerous when loose clothing gets in the way of my lifting or squatting sets, which is why I always opt for form-fitting workout shorts. However, I usually don't buy compression shorts because I still prefer pocked for my phone and keys. These ones not only look great, but are super functional and have pockets.
Buy it now: Fitted Bodybuilding Shorts
So, I also have a pair of the new cordless Apple headphones, but the reason I am listing this one here instead is for two reasons. First, the Apple headphones don't always stay in when I am running, doing push-up sets or abs, or any other activity which requires my body to be either parallel to the floor or upside down. These ones, on the other hand, do a much better job of staying in place. The second reason is that I care less if these get damaged, lost, or stolen, which is more likely to happen in a gym environment than using your wireless headphones for work or at home. Since I tend to leave my workout headphones in my bag at all times and use my wireless Apple ones for all other purposes, I also make it impossible to forget my headphones at home when I'm headed to the gym. Oh, and they sound great too. An essential gift for music-savvy fitness lovers.
Buy it now: Bluetooth Earphones
Ah, the classic fitness tracker. Although there are plenty of brands out there that offer similar products designed to track your physical activity, Fitbit has probably been in the business the longest and has one of the most reliable solutions out there. Not only do these track your heart rate, use GPS to tell you how far you've walked each day, and are completely waterproof, they also keep a detailed account of your sleeping cycles in stages. Totally cool, and a must-have gift for gym lovers.
Buy it now: Fitbit Fitness Tracker
These were all the rage when they first emerged on the scene, designed specifically to keep beverages cold for a full 24 hours and hot for 12. Instead of using BPA-free plastic, they are made out of stainless steel, and look pretty awesome. Chances are that your gym-loving gift receiver carries around a water bottle with them at work, on the go, and at the gym to stay hydrated. These provide a chic and functional alternative to the age-old Nalgene bottle.
Buy it now: Swell Water Bottle
This is pretty awesome because it attached to a blender that blends your protein, ice, fruit, and whatever else for you, but detaches and can be used as a standalone bottle as well. Super useful and intuitive for any gym lover who consumed protein or shakes after working out.
Buy it now: Take-Along Personal Blender
If the fitness lover you're buying a gift for isn't into meditating, maybe this one isn't for you. But really – who can't benefit from a little inner peace? Meditation is actually used by many bodybuilders and athletes as a way to visualize and focus on goals. If you haven't already tried it, I highly recommend.
Buy it now: Zafu Meditation Cushion
This might seem like a random choice for a gift, but it will prove to be one of the most functional and enjoyed, by far. Not only do I use it to carry around my gym stuff like my shaker bottle, lifting gloves, and whatever else, but I take it on hikes, on walks with the dogs, to the beach, and more.
Buy it now: Gonex Lightweight Backpack
I only suggest getting this as a gift for someone who doesn't have a belly like this. I think these are hilarious gifts for fitness lovers, especially for super fit people who are likely to wear it around as a prank. The funniest part is that they come in different "styles" – some are hairy and flaccid, while others are fake abs. Totally a win.
Buy it now: Dad Fake Belly Waist Pack
I run out of workout tanks so quickly that I feel like I'm constantly doing laundry to avoid wearing ugly tanks to the gym. I don't know any gym lover who wouldn't enjoy receiving more cool workout clothing as a gift.
Buy it now: Y-Fit 3-Pack Dry Fit Tanks
Chances are either you or the one you're buying a fitness gift for is already dedicated to a preferred pre-workout. These, however, serve a different function. They are designed to be consumed DURING your workout, and contains delicious flavoring, potassium to help replenish the muscles, and caffeine to keep the body going through the second half of the workout.
Buy it now: Clif Energy Gel
This Synchronicity Hemp Oil literally works wonders and feels fantastic to apply to the muscle groups you're targeting during your workouts. A great "unexpected" gift as it is somewhat out of the ordinary, but perfect for builders and regular gym-goers who need something to soothe their muscles post-workout.
Buy it now: Hemp Oil
Again, I'm not going to recommend a protein powder or pre-workout as a gift because I'm going to assume that the recipient is probably already informed and savvy on that end. However, I feel like amino acid supplements are probably among the most under-utilized products on the market that yield serious results. Definitely a thoughtful workout gift, and it's more than likely that he isn't already using one.
Buy it now: BSN Amino Acid Powder
If you don't know what these are or haven't heard of how effective they are at sucking up moisture, look it up. They are commonly used by divers to quickly and efficiently "sham" off excess water, while also finding use detailing cars. I prefer to use these as my preferred sweat towels when I'm at the gym. Seriously absorbent, very effective, and inexpensive.
Buy it now: Chamois Towel
Definitely a cheeky gift for anyone who wears hats to the gym, or just in general.
Buy it now: Gym Hat
Although having no sleeves kind of defeats the purpose of wearing a hoodie, these are super comfortable and look pretty cool too. A "classic" addition to any gym lover's wardrobe.
Buy it now: H2H Fitted Sleeveless Hoodie
It can also be used as a slow cooker, rice cooker, and so much more. Chances are that if your fitness fanatic meal-preps, they spend hours each week cooking and making enough food to last a full week. This saves those hours of work and makes some of the tastiest (and healthiest) stew I've ever had, all in under an hour.
Buy it now: Instant Pot Pressure Cooker
I use this every single day to mix my pre-workout and post-workout protein. I also lose these all the time, so having more than one is never a bad idea. Why not give it as a fun gift? Here are Justice League blender bottles as inspiration.
Buy it now: Justice League Blender Bottle
This is one of my favorite ways to heal tired muscles quickly and effectively. Cupping came into the limelight more recently during the last Olympic season, with major athletes like Michael Phelps displaying residual cupping marks all over his body. The idea is that by bringing localized blood to the surface of the skin in specific areas of the body, it forces blood through capillaries in sore muscles to help them heal faster. This is definitely a more "unexpected" workout gift. It feels pretty great too.
Buy it now: Cupping Therapy Kit
Who doesn't love pancakes? The best part about these is that they pack a good 14 grams of protein into every serving!
Buy it now: Protein Pancake Mix
These really are the best – they are designed to be worn both in and out of the gym, and can fit comfortably underneath dress pants to work. They allow you the flexibility of continuing your training even when you're out of the gym.
Buy it now: Ankle and Wrist Weights
Maybe you're already familiar with the work of Timothy Ferriss and have read his Four Hour Work Week book on location independence, becoming your own boss, and increasing efficiency. He repurposes this approach to fitness in this non-traditional, innovative work on weight loss and health. A must-read if you haven't already.
Buy it now: The 4 Hour Body
You will never think the same way about cookbooks again after reading this one. It is by far the funniest, most ridiculous cooking manual out there. As the subtitle says – eat like you give a f*ck!
Buy it now: Thug Kitchen