Best Men's Skincare Routine – Morning, Evening, Post Gym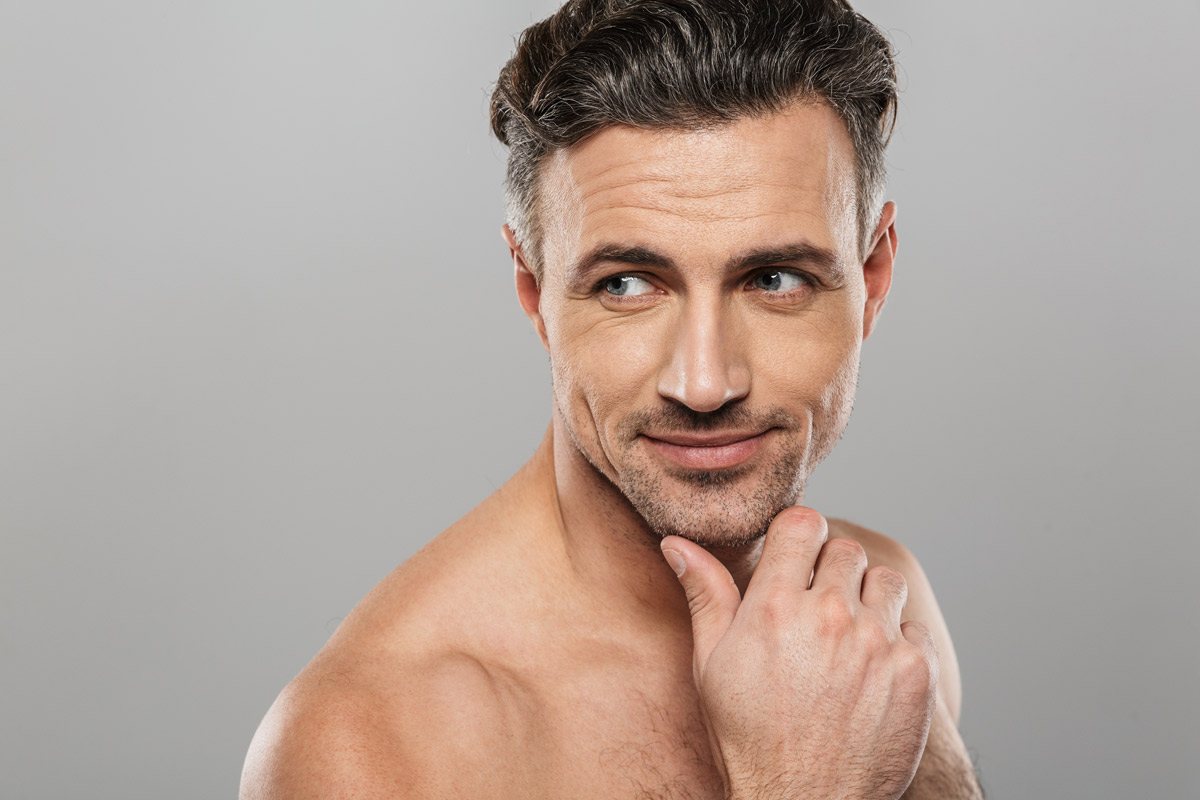 Developing an Easy Men's Skin Care Routine
Proper skincare should be a priority in your life and a part of your daily regimen. Skincare matters because your face is the first thing that people notice about you, so why not take a few extra minutes for yourself to develop a daily men's skincare routine?
As men, we are lucky in that our skin ages more slowly than it does for our female friends. That's because our facial structure is different. It contains more elastin and collagen, in part as underlying support for facial hair. Our skin is about 25 percent thicker. However, that's not a reason to ignore your skin as eventually, it will show signs of age, starting around your eyes with dark circles, bags, and wrinkles.
Establishing an easy skincare routine for men is not as complicated as you may think. The breadth of products on the market can be overwhelming and daunting, leading you to procrastinate and leave the task for another day. Maybe you think that using a one-size-fits-all skincare product is good enough. Of course, it's not. The time is now to begin a regiment and carefully select products to use daily. Like anything else, it takes a little research to find the projects that are best for you, but once you do, stick with them. Sticking with the same products gives you the best benefits whereas when you change to a new one, your skin's biome needs time to adjust.
Establishing an excellent men's skincare regimen also involves different routines for morning, evening and even after a workout as your skin has different needs at these times of the day. Once your routine becomes a habit, and you see how great your skin looks, you'll wonder what took you so long!
Your Morning Men's Skin Care Routine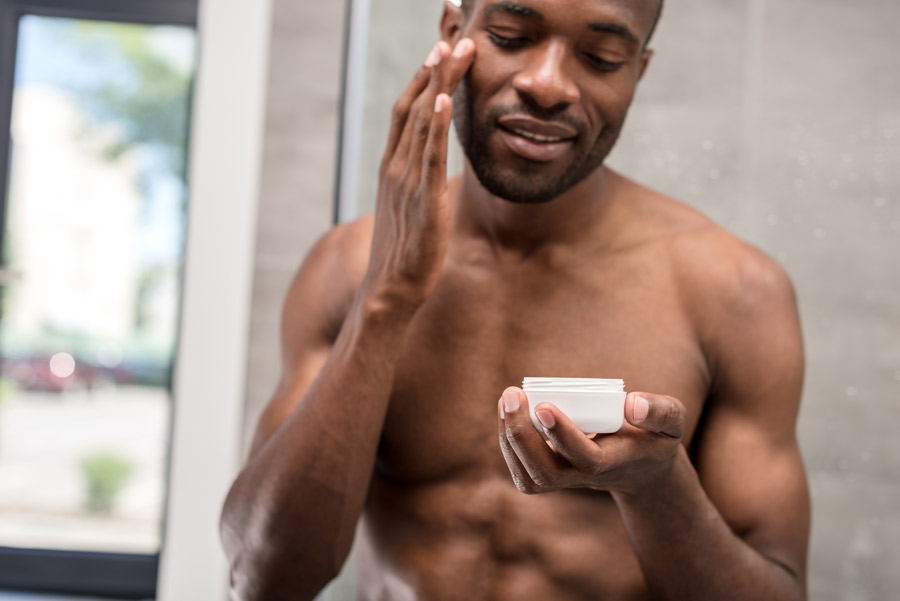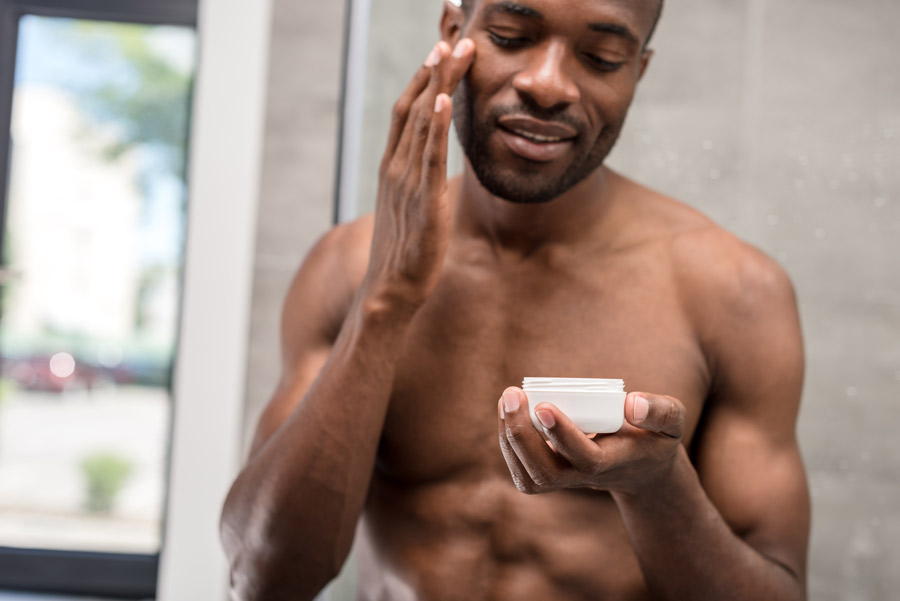 Your morning skin routine is essential because it prepares your skin for the hard day ahead. If you're worried about the amount of time your morning routine will take, don't be. You'll only need a few minutes to protect your face from the ravages of dust, pollutants, the sun and everything else you come into contact with when you are outside, and even in some interior environments. Include these following steps in your morning routine.
Cleaning Your Face
Sure, you wash your face in the shower, but if you simply use soap and water or a men's body wash, it's time to get real and move up to a product that will do much more than take away dirt. Cleansing your skin in the morning is essential because as you sleep, it secretes oils and toxins from the previous day. Another reason to thoroughly wash your face is to remove nighttime facial products that include retinol and exfoliating acids, which are not appropriate for daytime use.
While that squeaky-clean feeling may feel good on the rest of your body, you don't want that same feeling on your face because it means you have stripped your skin's protective barrier. You'll want a facial cleanser that moisturizes but also has healthy doses of ingredients that will clean it and gently control oil.
Perricone MD Hypoallergenic Gentle Cleanser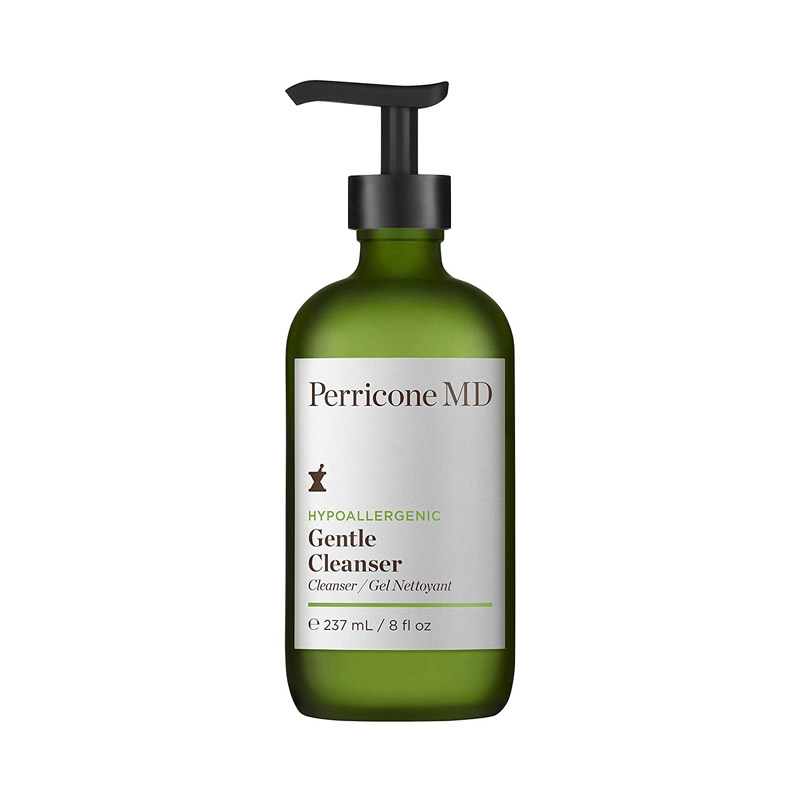 Try this non-comedogenic, hypoallergenic, and dermatologist-tested gel face was to remove debris and excess oil. Its gentle ingredients are ideal for all skin types, as well as sensitive skin, as it will help balance tone and improve texture while cleaning your face in this important step of your daily men's skincare routine. After just one use, your skin will feel smooth and refreshed thanks to its anti-oxidant ingredients.
Buy it here: Perricone MD Gentle Cleanser
Apply a Brightening Serum
Yes, your skin can quickly become dull. The culprit is the sun, even though we tend to think that the sun provides a healthy glow. A brightening serum will help you achieve that even skin tone that you desire and will help return your skin tone to normal levels if you experience freckling and other skin discolorations.
Perricone MD Vitamin C Ester Brightening Serum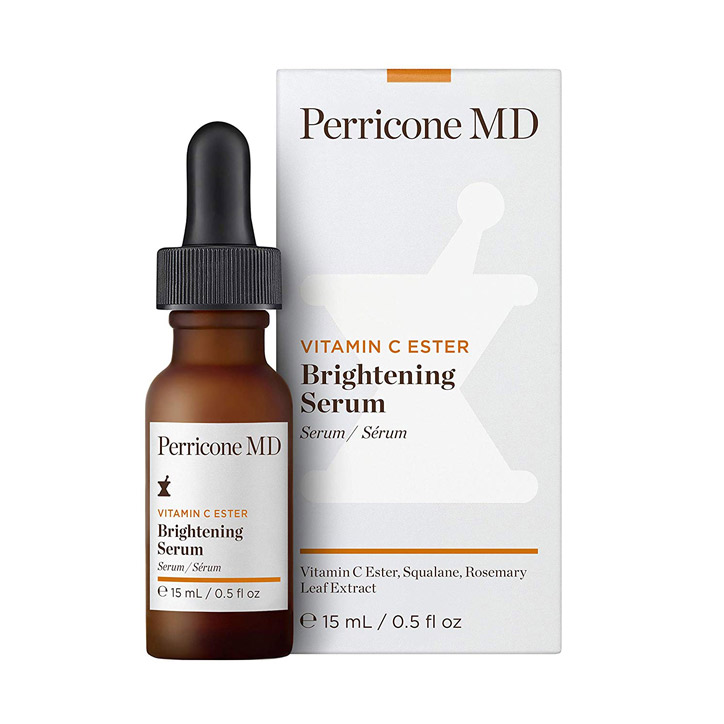 Applying this brightening serum will give you a more radiant complexion, improved clarity, and an even skin tone. Infused with Vitamin C Ester, this serum has a light, refreshing citrus scent. This potent and less irritating form of Vitamin C promotes collagen production. It also contains squalene and rosemary leaf extract to boost hydration, tighten skin and reduce the appearance of fine lines. Apply before using a moisturizer.
Buy it here: Perricone MD Vitamin C Serum
Boost Skin With a Rejuvenating Moisturizer
Following cleansing and brightening with a cream infused with hyaluronic acid that reduces visible fine lines and wrinkles while also helping the skin retain moisture. When your skin is hydrated, it's also protected and ultimately helps with increased skin cell production. In turn, this leads to smoother and plumper skin cells to make you look younger.
Perricone MD Essential Fx Acyl-Glutathione Rejuvenating Moisturizer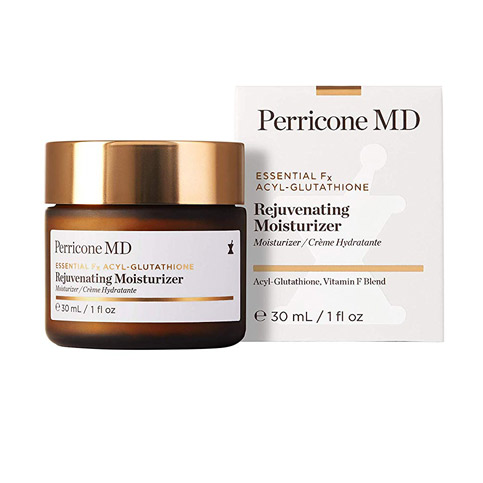 This product delivers optimal nourishment to strengthen and replenish your skin's moisture barrier while also addressing that dry, tight feeling. Use it after cleansing by massaging it into your face and neck using a gentle upward motion. Your skin will absorb this rejuvenator quickly, leaving it feeling rich and velvety and without residual greasiness.
Buy it here: Perricone MD Essential Rejuvenating Moisturizer
Alternate if you're going outside:
Perricone MD High-Potency Classics Face Finishing & Firming Tinted Moisturizer (SPF30)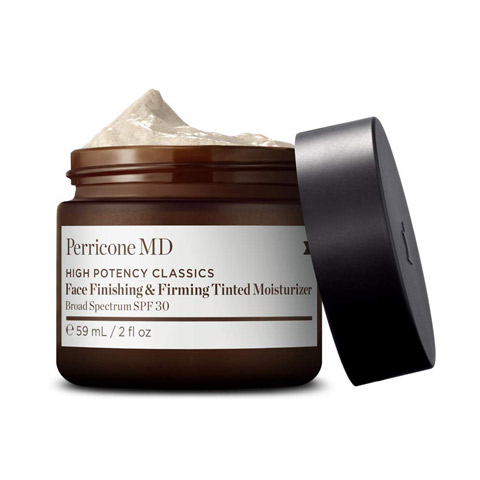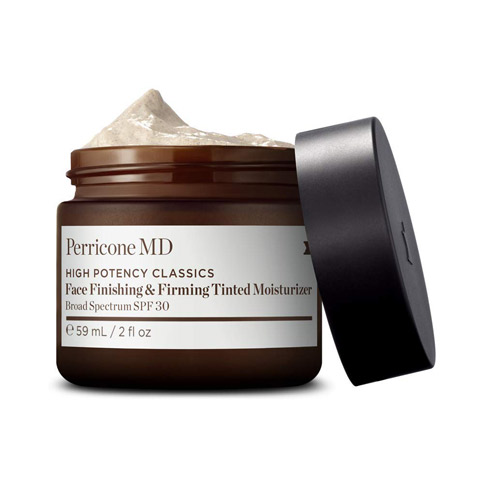 If you spend most of your day outdoors, especially in the summer, consider replacing your rejuvenating moisturizer with a tinted moisturizer containing SPF30 sunscreen. Tinted moisturizers are lightweight and excellent at evening out your skin tone. A tinted moisturizer containing SPF30 will give you some level of protection against the sun's rays, however, if you intend to spend a significant amount of time outside in direct sunlight, the American Academy of Dermatology recommends that you also apply a separate sunscreen.
Buy it here: Perricone MD Tinted Moisturizer (SPF 30)
What about Eye Cream?
No matter what you think, don't skip it. Even if you don't see those tell-tale lines beginning to form, they're waiting to create havoc with your looks, so you need to nip them in the bud before they start to surface. Add an eye cream to your regimen now to help fight the signs of aging in this delicate area, as here is where you will first see the signings of aging.
This is the final step in your morning routine, yet many guys think, "Do I really need this?" Of course, you do. Otherwise, why would we recommend it? The time to start using an eye cream is in your 20s before fine lines start to develop; however, even if you're older, it's never too late to start. Regular use of eye cream over time will help maintain the health and thickness of the eyelid skin. By applying eye cream in the proper order, after cleansing, using a serum and moisturizing, you'll get the maximum benefit for this delicate facial area.
Perricone MD Cold Plasma Plus+ Advanced Eye Cream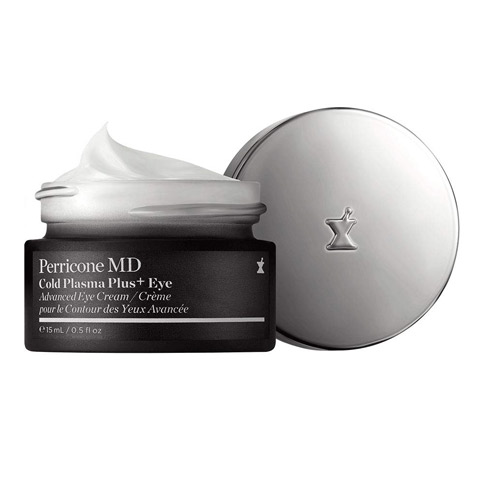 Pat on this product with your fingertips to address dark circles, puffiness, loss of firmness, fine lines and crow's feet. You'll see a visible lift in the eye area with regular use.
Buy it here: Perricone MD Cold Plasma Plus+ Eye Cream
Best Men's Skin Care for Post Workout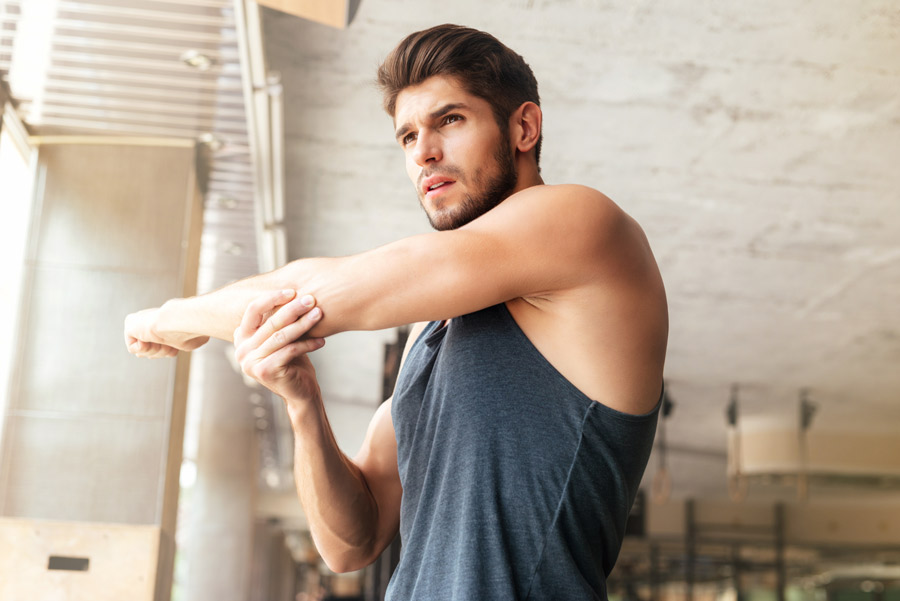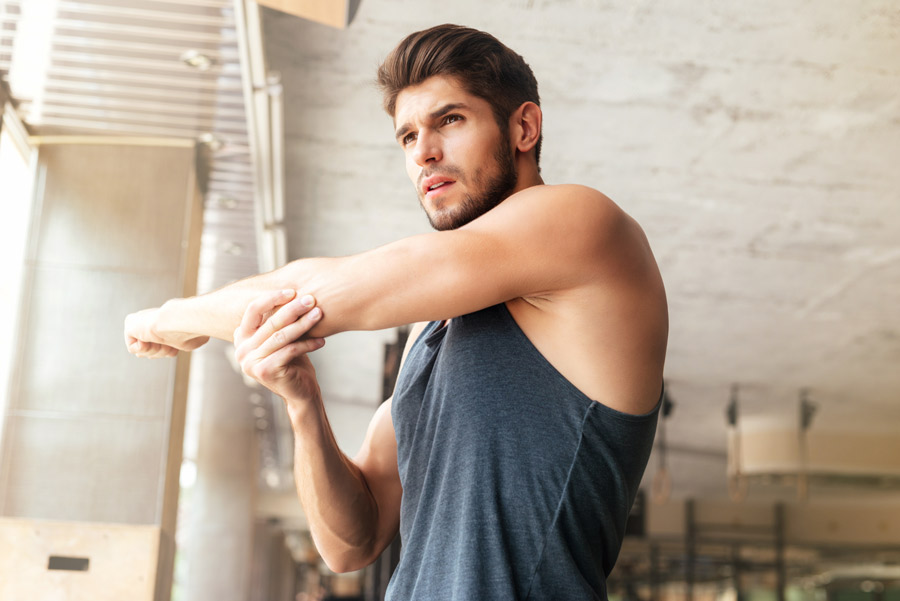 Exercise gives you a myriad of benefits, but if you don't take care of your skin after that stint in the gym, sweat and dirt can cause breakouts and cause the collagen in your skin to break down, leading to wrinkles and sagging. That's why it's vital to carry skincare products in your gym bag and use them exclusively after your exercise session.
Use a Gentle Purifying Cleanser
Exercise causes the pores in your facial skin to open so you can sweat. Anything that could be on the surface, such as dirt and other pollutants, can clog your pores and cause breakouts, which is why you need to wash your face immediately after your workout. The gym is full of other people's germs and sweat too, which is another reason why you'll want to clean your face as soon as possible. Use a gentle purifying cleanser to help keep your pores clear.
Tata Harper Purifying Cleanser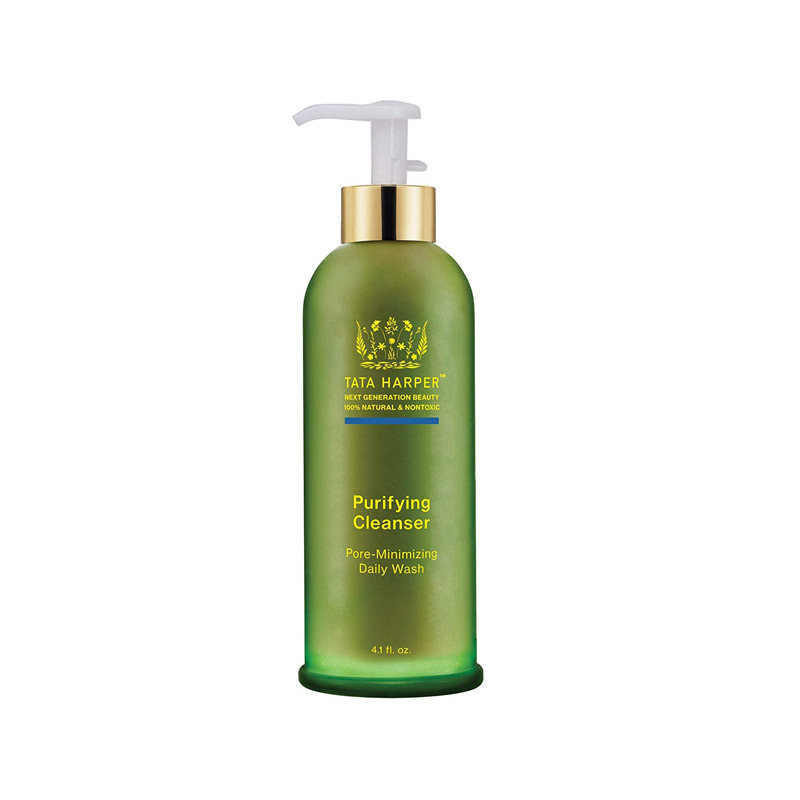 This detoxifying cleanser will rid your pores of pollutants and impurities to give your face a fresh look. Made with 100 percent natural and non-toxic ingredients such as purple clay complex and broccoli extract, and is free of fillers, artificial colors, and fragrance. It's ideal for those with blocked pores or oily skin. Massage directly into your skin and rinse thoroughly with cold water.
Buy it here: Tata Harper Purifying Cleanser
Follow With Moisturizing Hyaluronic Acid
Using a cream with hyaluronic acid after cleansing is a great way to combat the handful of adverse effects that exercise has on your looks. This amino acid works hard to moisturize skin, helps eliminate wrinkles and gives volume to your face.
Tata Harper Repairative Moisturizer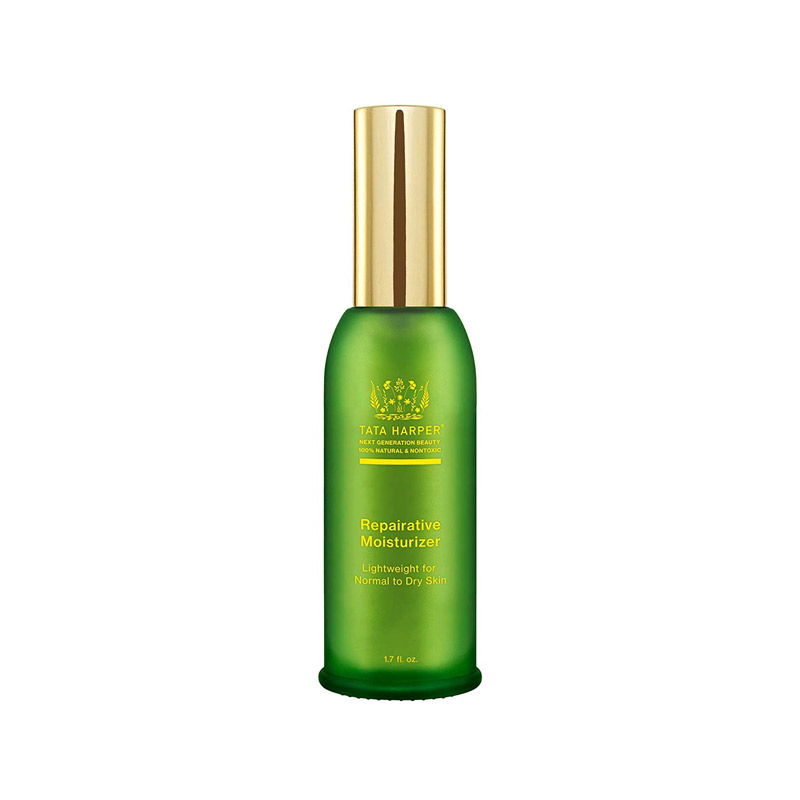 This silky formula with 22 botanicals that include vitamins and minerals locks in hydration with hyaluronic acid and leaves skin with a gorgeous, youthful finish. This lightweight formula is 100 percent natural. Use one or two pumps to cover your face and neck.
Buy it here: Tata Harper Repairative Moisturizer
Don't Forget the Eye Cream
Although exercise boosts the flow in your lymphatic system, the area around your eyes may still look puffy. Help move toxins out of the area with a firming eye cream. Even if you have applied eye cream in the morning, it won't last throughout the day, so giving that delicate skin a few extra dabs of product will help slow signs of aging.
Perricone MD Hypoallergenic Firming Eye Cream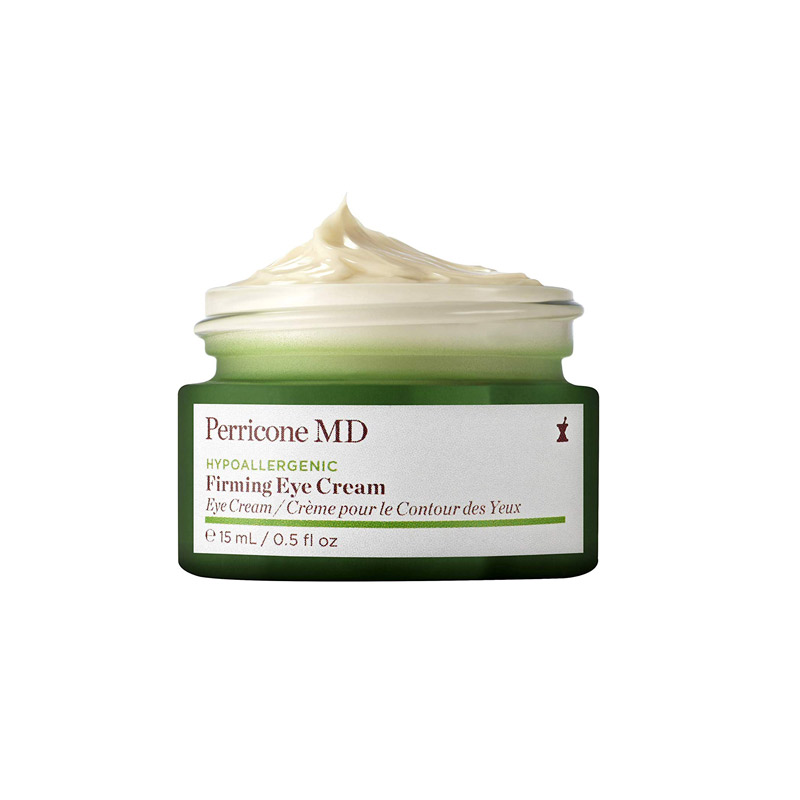 Give your eyes essential hydration after working out with this non-greasy cream that contains hyaluronic acid and squalane to help plump the skin and minimize fine lines and discoloration. Olive polyphenols also help hydration while also address firmness. This dermatologist-tested formula is non-comedogenic, meaning it won't clog open pores.
Buy it here: Perricone MD Hypoallergenic Firming Eye Cream
Develop an Evening Men's Skin Care Routine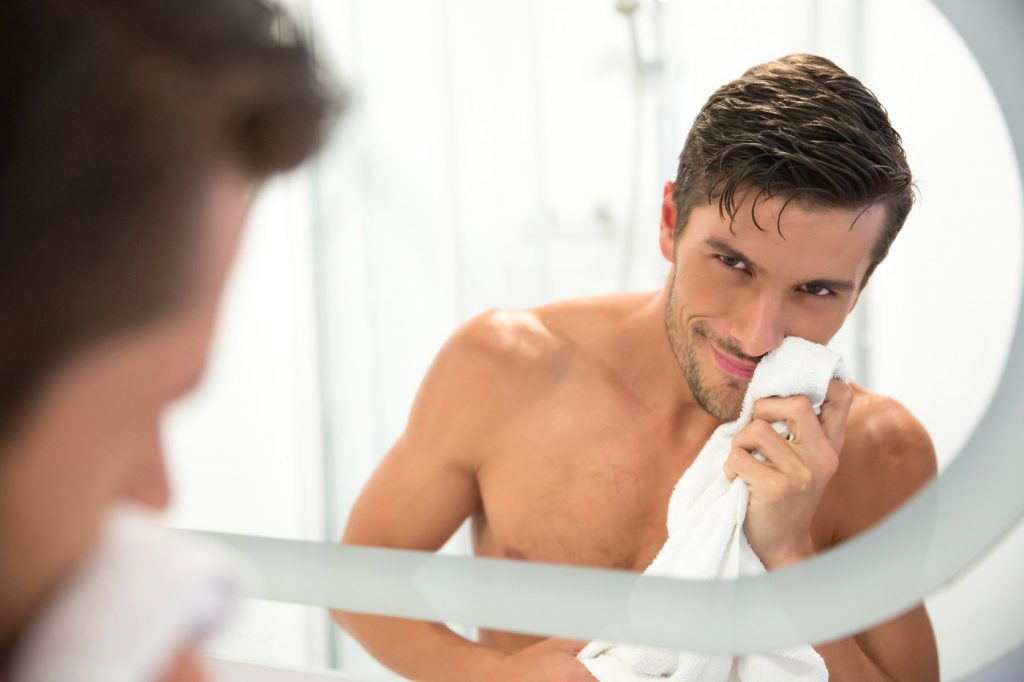 Your skin has different needs in the morning and evening, so you need a regimen in the evening too. Daytime is all bout protecting your face from dirt, the environment, and the sun. Devote our evening daily men's skincare routine to give your skin nourishment as well as what it needs to repair itself. Best of all, you'll have more time for every step. Neither must you wait until right before bed to perform your regiment. Start the process as soon as you're in and settled for the night to give the products you use the time to sink into your skin before you begin the regenerative process of sleep.
Why You Must Clean Your Face Again
After a long day at work, you probably can find many other things you would rather do, such as watch your favorite television show, listen to music or read a book. Don't be tempted to skip this step. Evening cleansing not only washes away the dirt and grime of the day, but it also preps your skin for the products you'll apply afterward. A thorough cleansing also reduces acne and helps prevent wrinkles.
ELEMIS Gentle Foaming Facial Wash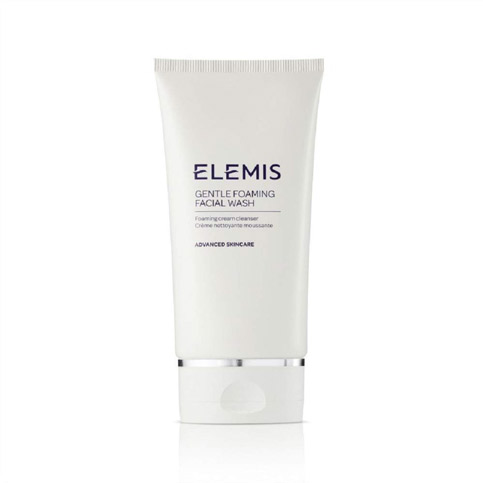 Start your evening routine with a gentle foaming face wash that will thoroughly remove dirt and other impurities to deeply clean your face while also soothing and softening your skin. Apply this cleanser by massaging it into dry skin with your finger times and then adding warm water to create a luxurious lather. Rinse completely with warm water and pat dry to prepare your skin to receive additional products.
Buy it here: ELEMIS Gentle Foaming Facial Wash
Apply a Super Hydrating Facial Serum
Think of this step as the first round of injecting essential moisture and nutrients into your skin. After cleansing, your skin is ready to accept the nutrients that it needs to repair itself overnight. A nourishing serum does just that and should be applied before your nighttime moisturizer so you can get the best possible benefit.
Fresh Rose Deep Hydration Face Cream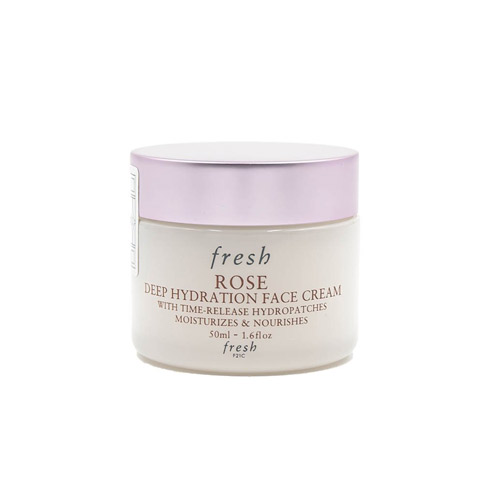 Give your skin intense 24-hour moisture with this lightweight cream that contains time-released hydro patches to form a protective veil that helps your face attract and retain moisture. This cream features a combination of hyaluronic acids along with angelica leaf, rosewater to soothe the skin surface, rose flower oil for nourishment and plum seed oil to maintain your best possible complexion.
Buy it here: Fresh Rose Deep Hydration Face Cream
Apply an Intensive Moisturizer
Your nighttime moisturizer absolutely needs to be different than the one you use in the daytime. Night moisturizers are slow-absorbing to support your skin during the time that you sleep. They're packed with ingredients that aid regeneration and trigger collagen production along with a variety of vitamins that help skin function optimally. You'll also want a more substantial moisturizer because transepidermal water loss in your skin increases during the night. This essentially means that your skin loses moisture while you sleep if you don't protect it.
Perricone MD Essential Fx Acyl-Glutathione Intensive Overnight Moisturizer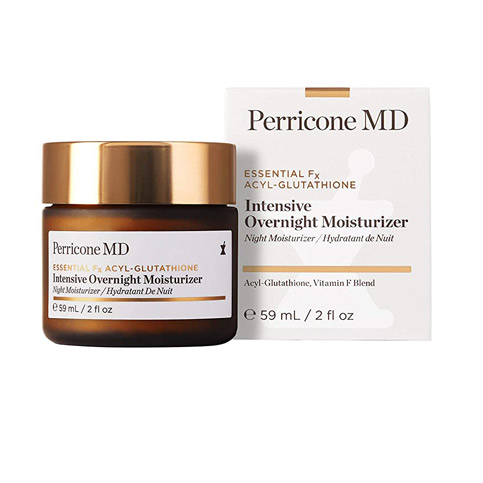 Deliver optimal nourishment to your skin with this intense moisturizing night cream that has time-released properties to retexture skin, relax expression lines and improve skin elasticity. Working throughout the night, this cream includes Acyl-Glutathione to reduce wrinkles and a Vitamin F blend to restore suppleness and make your skin feel softer, smoother and firmer. Pat on your face and smooth it in using a gentle upward motion.
Buy it here: Perricone MD Intensive Overnight Moisturizer
Your Eyes Also Need an Ultra-Rich Product
Just as you want your facial skin to have an overall intense product, so should you have one for your eyes. You use the muscles around your eyes all day long when you squint, blink and the like. These actions cause the delicate skin around your eyes to form lines. Try to perform this last step in your men's skincare routine at least an hour before you sleep to allow it to penetrate your skin before you lie down to sleep. An intensive eye cream will address dark circles and crow's feet and also help protect this sensitive area from other potent ingredients, which can potentially irritate.
Dermalogica Intensive Eye Repair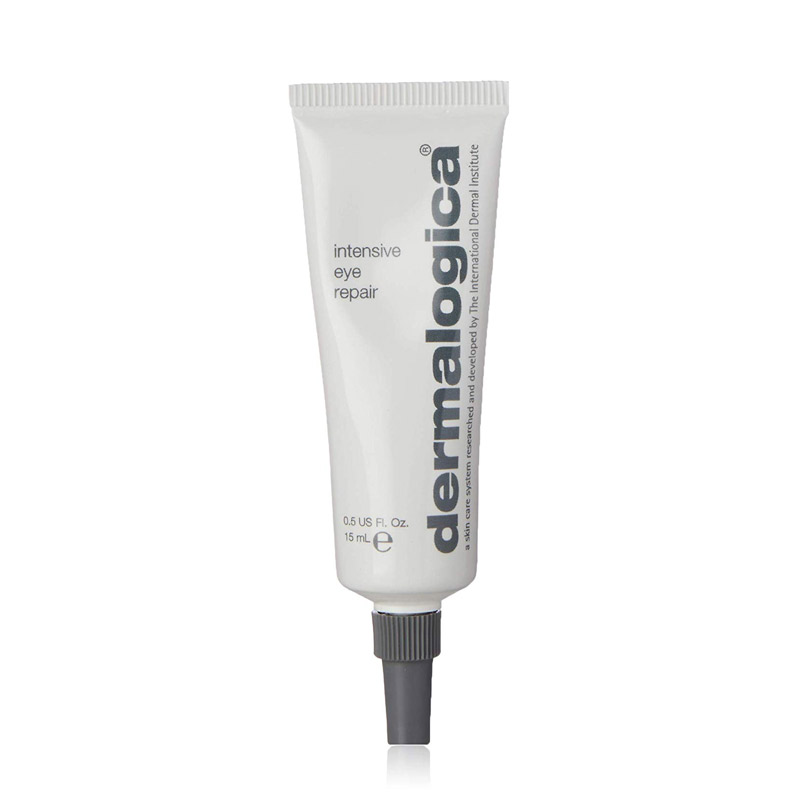 Target dehydration lines with this ultra-rich eye repair. Ingredients include Vitamin A, Wild Yam Extract and Pro-Vitamin B5 to repair premature aging and damage. Phytonutrients and cucumber and arnica botanicals help increase resilience and smooth skin texture, while grape seed extract helps shield the delicate eye area from further environmental damage. Apply this product by gently patting product around the eye area and blending inward from the outer corner to combat signs of photoaging.
Buy it here: Dermalogica Intensive Eye Repair
Less Frequent Skin Care Tasks
Some skincare tasks, such as exfoliation and microdermabrasion, are also important elements in an easy skincare routine for men, yet you should incorporate them less frequently. These additional steps will also help keep your face bright and young-looking, but be careful with how often and how deeply you perform them to avoid irritation.
Exfoliation
The mere fact of washing your skin exfoliates it on a superficial level. Exfoliation means the sloughing off of old, dead skin cells to reveal younger-looking skin. However, as we age, our bodies are less efficient as this task, leading to discoloration and a dull complexion. You can perform exfoliation just after cleansing in the morning or the evening, depending on your preferences. Many experts recommend that you exfoliate two to three times per week if your skin can handle it. If you have sensitive skin, you'll need to decrease the frequency.
Kiehl's Since 1851 Rare Earth Deep Pore Daily Cleanser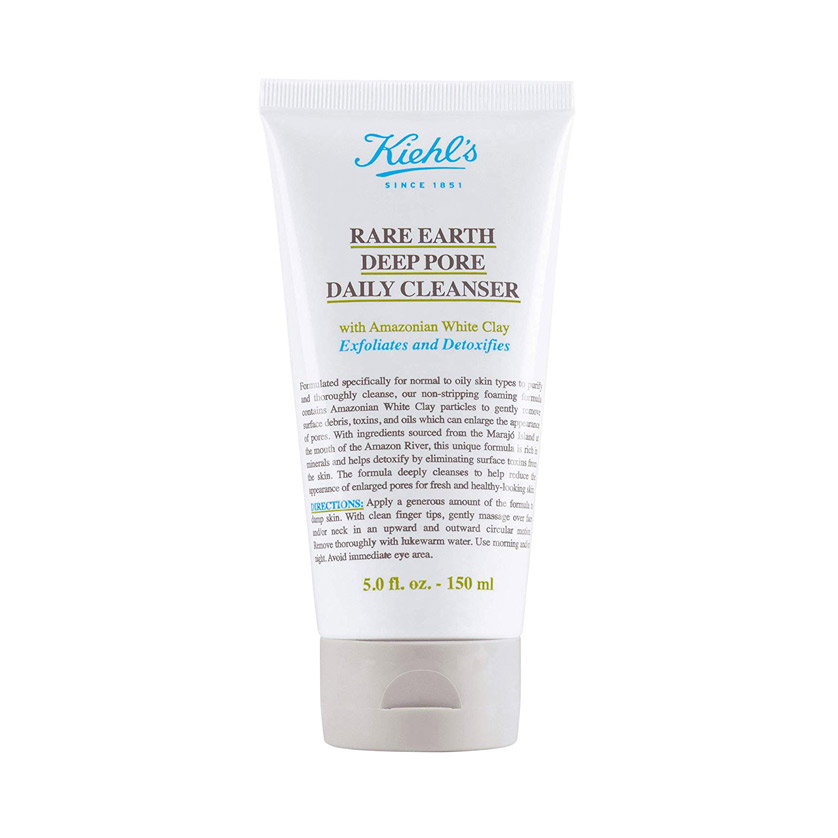 Try this deep cleanser to get the benefits of deep cleaning and a clay mask at the same time. Use a small dollop of the product and work it into a lather in your hands before applying it to your face in a circular motion. Once you rinse it, you'll see rosy and shiny skin appear.
Buy it here: Kiehl's Rare Earth Deep Pore Cleanser
Microdermabrasion
Microdermabrasion is another popular skin-exfoliating treatment that removes old skin cells to reveal fresher and younger-looking cells underneath. It's useful for those who have dull skin and mild acne problems, ranging from discoloration, pick marks and superficial scars. The at-home treatment uses a pump with a handpiece and a vacuum that uses the roughened surface of a diamond tip to abrade and remove old skin. You can perform microdermabrasion weekly, especially when you first begin the process, and then drop down to monthly treatments once you achieve your desired look. Note that light bruising and redness can occur after all treatments but should subside within 36 hours.
Microderm GLO MINI Premium Skincare Bundle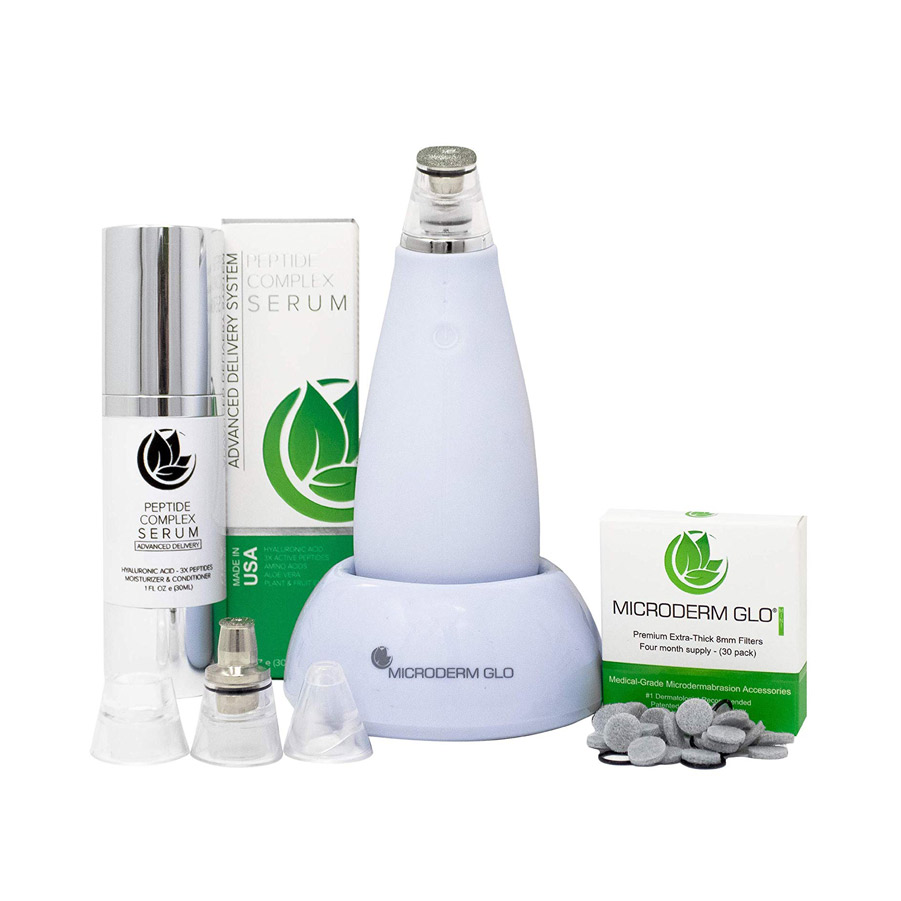 With the Microderm GLO MINI, you can unlock the secret of your skin's radiance and youthful firmness. Each treatment will decrease pores, help rebuild collagen and elastin and reduce wrinkle depth by encouraging the growth of new skin cells. The system is safe en gentle enough for use with all skin types. The GLO MINI gently buffs away unhealthy layers of old skin to invigorate your complexion. Performing occasional microdermabrasion has another benefit too. It increases the absorption of your skincare products by as much as 50 percent. That means you'll make your best men's skincare even better as the products you use won't just sit on your outer layer of skin.
Buy it here: Microderm GLO MINI Skincare Bundle
Microneedling
Of course, you have heard about the "Vampire Facial." That's the popular term given to a treatment called microneedling that involves puncturing the skin with tiny needles to cause physical trauma that prompts the derma to help rebuilt the top layer of skin. Microneedling is effective to address a variety of issues such as wrinkles, scarring, acne, skin pigmentation issues, and rosacea. This treatment helps improve the production of collagen, which tends to decrease as we age and ultimately contributes to wrinkles and sagging.
When it comes to microneedling, patience is a virtue as you won't see results right away. In fact, they usually take several months. Microneedling is another to help the products you use on your skin be more effective. You can perform home microneedling as frequently as every other day, but it's wise to start slowly with many days in between treatments to see how your skin reacts.
Derma Roller Cosmetic Microdermabrasion Instrument for Face, 540 Titanium Micro Needle, .25mm Depth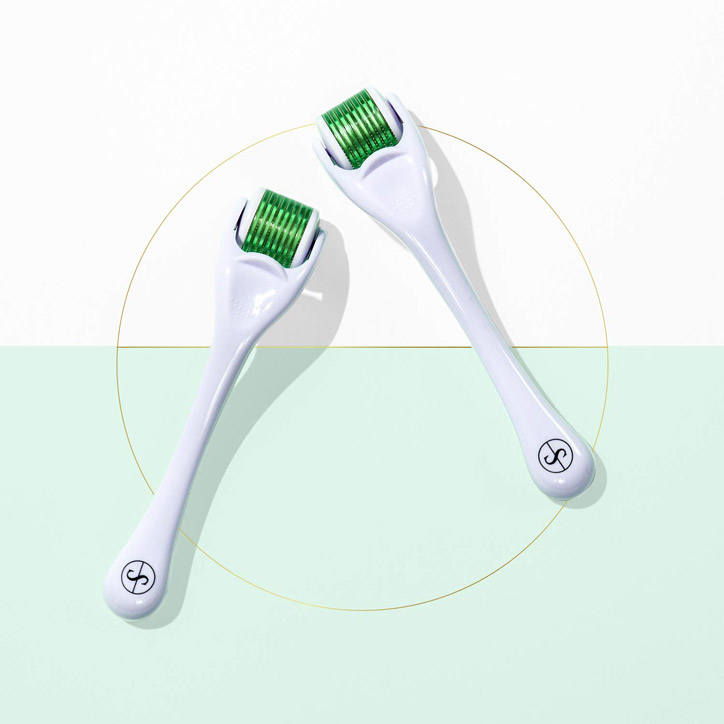 This microneedling roller creates tiny injuries to the skin that prompts the epidermis to heal itself. When you combine using this dermaroller with high-quality topical products, you'll promote a luminous, healthy-looking complexion that will keep you looking younger for years to come.
Buy it here: Derma Roller Cosmetic Instrument
It's never too late to create an easy skincare routine for men. The sooner you begin one, the sooner you'll have healthier and more youthful-looking skin. You only need a few moments each day to keep you looking your best. Don't be afraid to try different products if you aren't getting the results you desire. Aren't you worth it? You bet you are!