12 Best Scales that Measure Body Fat, Muscle Mass, and Water Percentage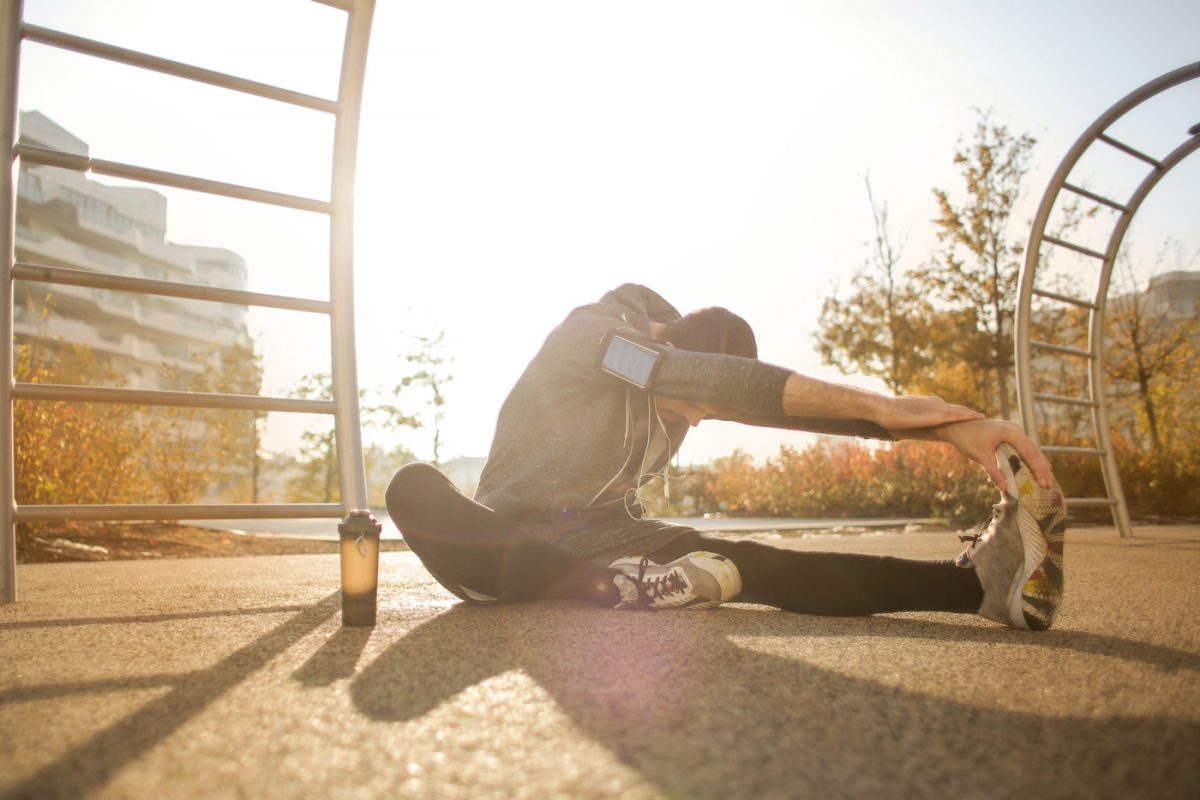 Health encompasses much more than ideal weight, which is why smart bathroom scales have become commonplace in homes over the last decade. Technologically advanced scales give you an entire set of body parameters that give you an overall picture of your health. Smart scales aren't only fun to use, but they also make you more likely to stay on track with your health goals according to a clinical study published in 2017.
Smart scales can keep you on track because of the additional information they give you. Often, people become discouraged when trying to lose weight because their weight isn't budging. The reason for that is muscle is denser than fat. It takes up less room, so you lose inches. Smart scales give you that information, along with information such as body fat percentage, body mass index (BMI), and other indicators that show how much lean muscle mass you have.
A certain amount of fat is essential for the operation of many metabolic processes within the body. Sufficient water, which is present in blood and most body tissues is also necessary, which is why health experts recommend that you always keep yourself sufficiently hydrated. On average, about 60 percent of the average adult's body is composed of water, with women having less water than men. When the amount of water in your body drops too low, you become dehydrated, which can lead to many different problems.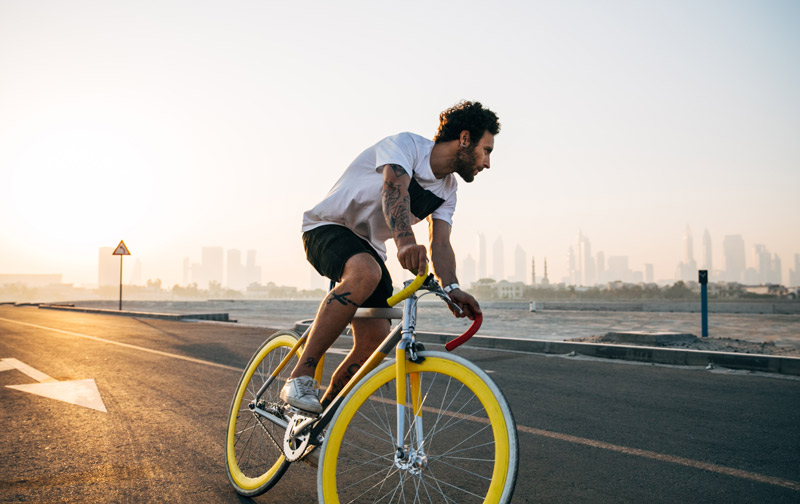 How Smart Scales Work
Smart scales work via a technology called bioelectrical impedance analysis (BIA), which sends small electrical currents through your feet as you stand on the scale. The information sent back through BIA is used to estimate the various body composition parameters. Note that the readings are called estimates, so users should consider them as general indicators of what your actual numbers would be when taken by a professional medical device instead of hard and fast figures.
Find the Best Scale for Your Needs
Now that you know the importance of other body parameters you can find the one that meets your specific needs. Most smart scales will have many of the same characteristics, but some have unique features.
Triomph Precision Body Fat Scale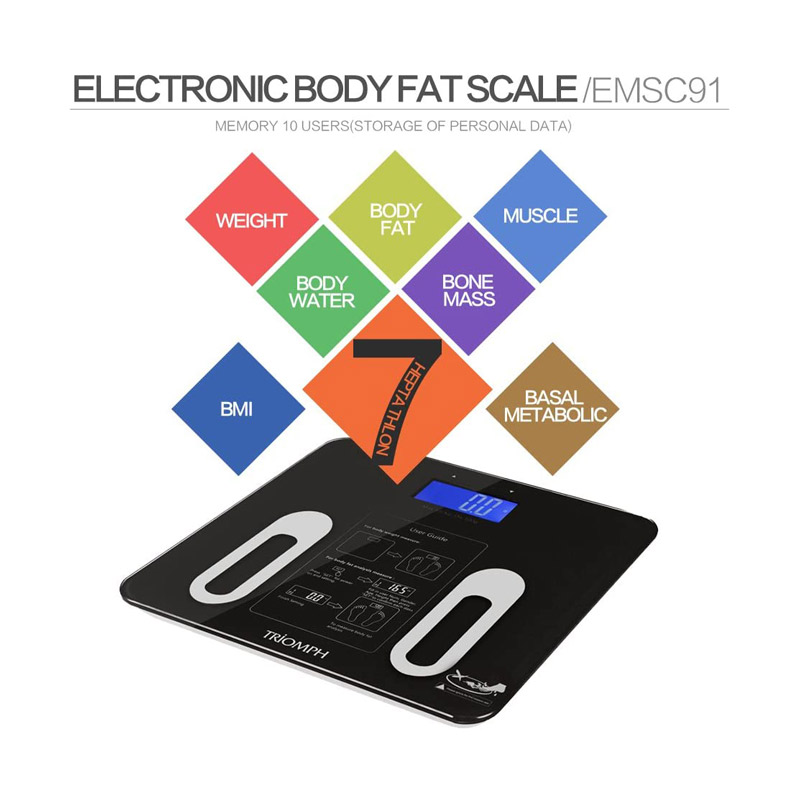 This state-of-the-art scale with bioelectrical impedance analysis technology measures weight, body fat, water, muscle, calories, and bone mass percentages. It easily allows users to see small changes in daily weight that helps to keep food intake low and exercise high. Smart step-on technology gives you instant and accurate readings via and LCD with a cool-blue LED backlight. The scale top is made of high-quality 6mm impact-resistant tempered glass and comes with a one-year guarantee and lifetime service.
Four high-precision load sensors provide accurate weight to within 0.2 lb. Up to 10 users can store personal profiles. ABS plastic slip guards help keep the scale firmly in place. Users love the LCD readout that easy to see, even in the dark. It also comes with a booklet that details recommended health parameters, so it's ideal for those who don't want to use an app.
Buy it here: Triomph Precision Body Fat Scale
GreaterGoods Digital Body Fat Weight Scale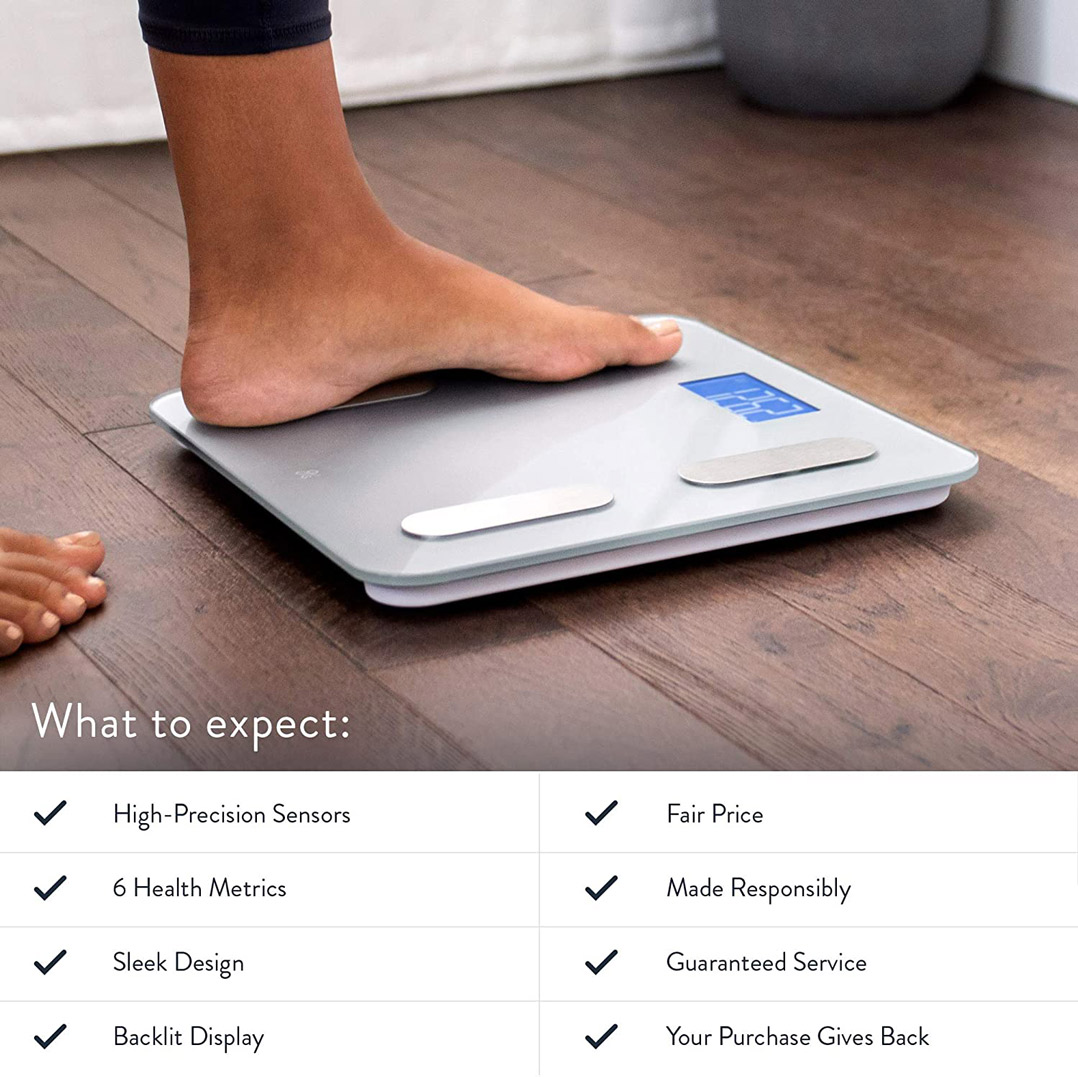 Thoughtful design makes this GreaterGoods smart scale the one you'll want in your bathroom. You'll get the data in an easy-to-use device that gives you multiple body composition metrics every time you step on it, including weight, BMI, muscle mass, water weight, and bone density. The GreaterGoods scale calibrates itself every time you use it. Up to eight users can weigh themselves and retrieve data. Equipped with a durable tempered glass platform that supports up to 400 lbs., this scale is accurate to within 0.1 lb. You'll also get the Weight Gurus app to help you set, monitor, and reach your fitness goals using Resurge. The app comes with free cloud backup, so you'll never lose your data, and is compatible with other popular fitness apps.
A portion of profits from the purchase of this scale goes toward Love 146 to help end child trafficking and care for survivors, which is attractive to many potential buyers. Users like its easy-to-use format and its ability to store in an upright position.
Buy it here: GreaterGoods Digital Body Fat Weight Scale
Runcobo Digital Scale with Wi-Fi and Bluetooth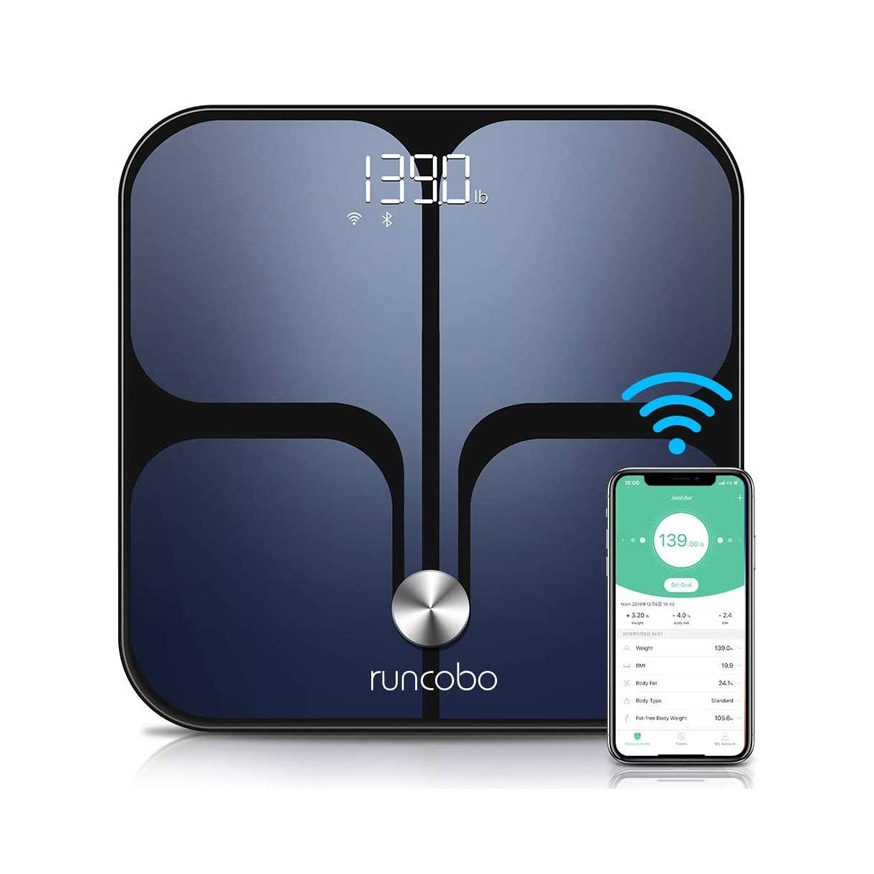 Anyone who cares about body shape goes to the gym regularly and is health-oriented knows that measuring weight is not enough. The Runcobo smart scale gives you 14 essential measurements of body composition, such as body fat percentage, water percentage, muscle and bone mass, BMI, BMR, protein, skeletal muscle, and more. Equipped with Wi-Fi and Bluetooth, this device will also allow you to easily monitor every minor change in your body. It supports most smartphones and can also sync with Google Fit, Apple Health, and FitBit.
Because this scale saves information for unlimited users, so it's great for gyms and sports complexes. The Runcobo Smart Scale can intelligently identify and match each user, sending information confidentially to individual profiles.
You'll love that you'll be up and running within five minutes after programming the scale. It also gives you a wide selection of health parameters that are usually only available on professional devices, such as weight trends in the morning or afternoon.
Buy it here: Runcobo Digital Scale with Wifi and Bluetooth
GreaterGoods Bluetooth Connected Body Weight Bathroom Scale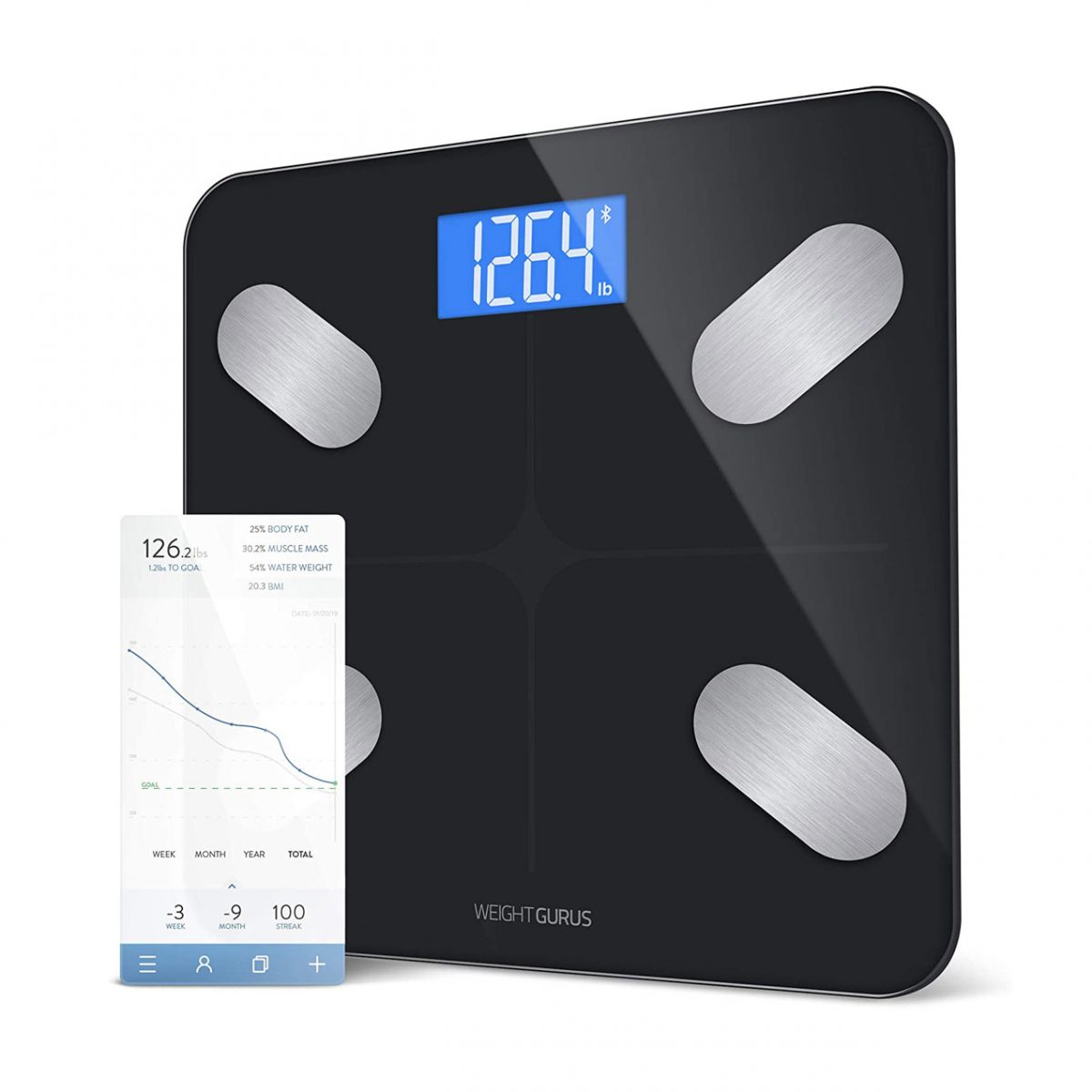 Here's another thoughtfully designed scale from GreaterGoods, as this device eliminates the pairing process that many users find difficult. Thanks to the Weight Gurus app, all you need to do is download it and step on the scale to get all of your information. Sync your data with FitBit, Google Fit, Apple Health, and other popular fitness apps, get free cloud backup, and share your results. Your device must be open and in range of the scale to use the app. Users love the ease with which the app pairs with the scale. Measure your weight, BMI, body fat, and muscle mass by simply stepping on the tempered glass platform that can hold up to 400 lbs. Four sensors give you resolution to with 0.1 lbs.
Avoid using this device if you are pregnant or have a pacemaker or another implanted medical instrument. This scale also comes with GreaterGoods' outstanding customer service along with access to educational videos. A portion of the profits from each purchase also supports Love 146, a non-profit that helps end child trafficking and provides care for survivors.
Buy it here: GreaterGoods Bluetooth Connected Body Weight Bathroom Scale
Measurik Bluetooth Smart Body Scale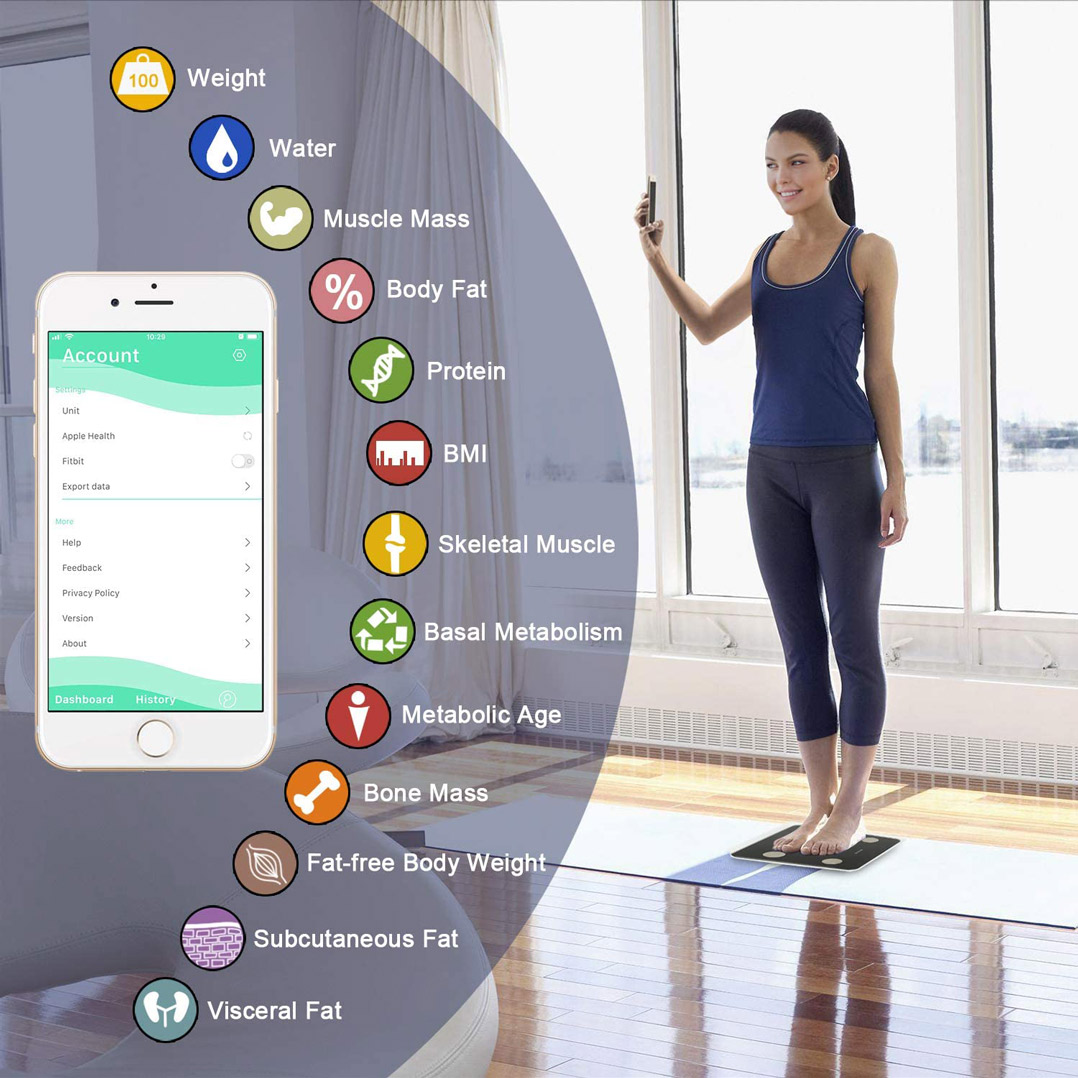 The Measurik Bluetooth Smart Body Scale measures 14 body parameters, including weight, BMR, BMI, body fat, water percentage, muscle mass, calories, bone mass, and protein. Equipped with the Moving Life smartphone app, this scale is not only functional but also beautifully designed. Embedded Bluetooth allows you to sync with Apple Health and Fitbit. The backlit LED fits seamlessly in the design and displays clear numbers that are easy to read. You'll be able to review historical data along with line chart analysis. An unlimited number of users, even without a smartphone nearby, makes this scale perfect for use in health clubs. Four highly sensitive electrodes provide accuracy to within 0.2 lb.
Users have found this accompanying app easy to download and use. They also like the scale's sleek, black design as well as its ability to help manage weight goals.
Buy it here: Measurik Bluetooth Smart Body Scale
Healthkeep Wireless BMI Body Composition Monitor Health Analyzer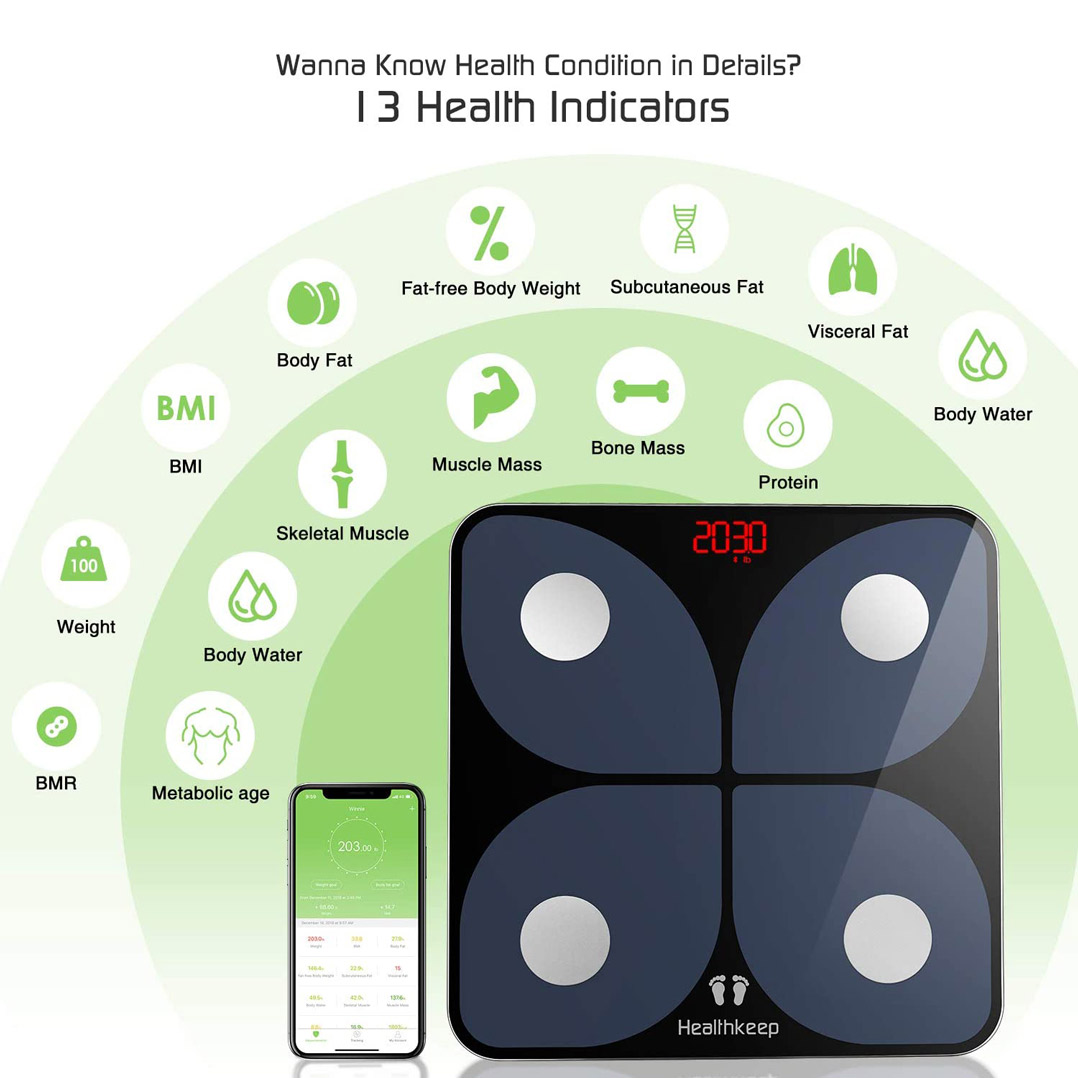 This Healthkeep scale provides 13 essential body measurements, including weight and composition data such as BMI, body fat percentage, and more. This scale also has wireless integration and can work with the Apple Watch App. The included free app allows individual users to keep track of their body metrics on their smartphones. Equipped with auto-calibration, this scale has high-precision sensors that measure in increments of 0.2 lb. or 0.05 kg. It's also convenient for heavier individuals as the Healthkeep scale has a 396 lb./180 kg. weight limit. This scale has a rounded glass top plate, along with a low, anti-slip design that ensures stability.
Users indicate that online ratings are accurate and that the device's readings are close to what you would find in a more expensive device at the gym. Each user must set up a separate account for data.
Buy it here: Healthkeep Wireless BMI Body Composition Monitor Health Analyzer
REDOVER Bluetooth Body Fat Scale
Get 13 essential body measurements with the REDOVER smart scale. By downloading the accompanying app, you'll connect with Bluetooth and sync your scale with FitBit, Apple Health or Google Fit to keep track of weight, BMI, BMR, body fat, water percentage, skeletal muscle, fat-free body weight, subcutaneous and visceral fat, muscle mass, bone mass, protein, and metabolic age. Unlimited users can use one device. You'll see your weight as soon as you step on the scale, BIA technology that uses four high-precision sensors provides accurate readings to within 0.2 lb. The tempered glass platform can hold as much as 400 lbs. You'll also enjoy a bright LED display, along with a five-year warranty and free lifetime support.
You'll love the visible history of your weight loss progress along with the ability to set personal fitness goals. Users indicate that the metabolic age parameter is particularly helpful for those who are dedicated workout athletes, as is the athlete mode.
Buy it here: REDOVER Bluetooth Body Fat Scale
1 By One Scales Digital Weight and Body Fat Scale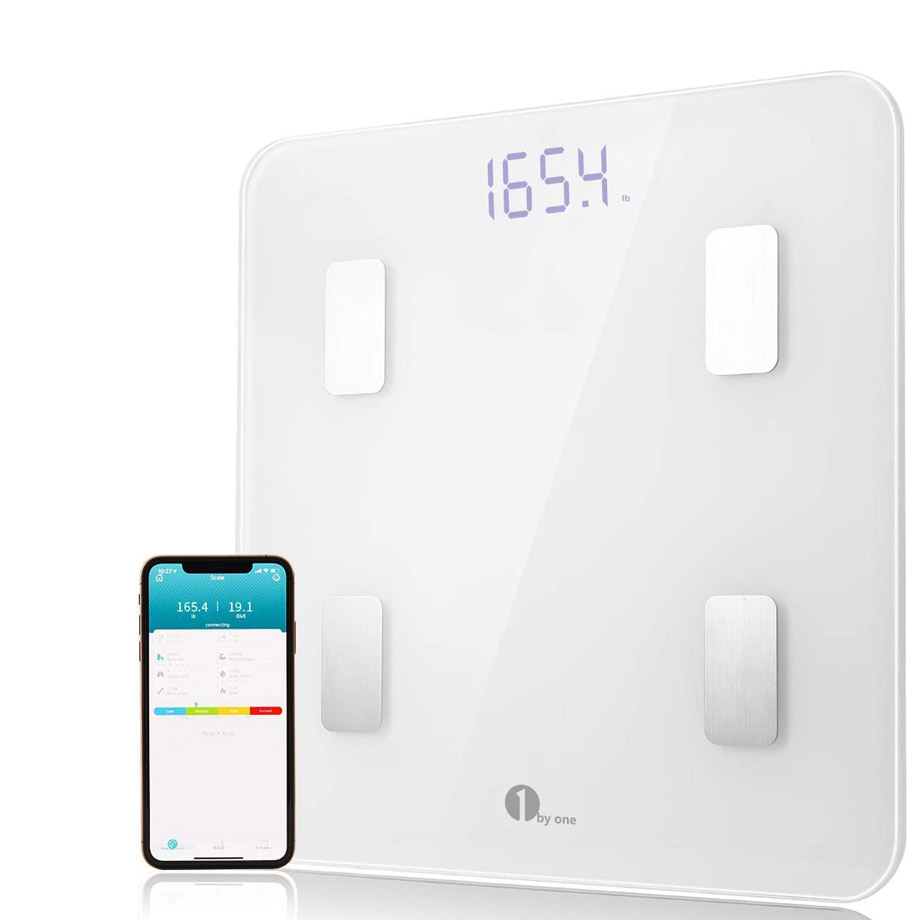 Total health is more important than weight, and that's what the 1 By One smart scale helps promote through its full body composition analyzer. You'll get information on weight, BMI, BMR, bone mass, body fat, body water percentage, muscle mass, and visceral fat. Pair the app with your smartphone to instantly sync all stats. You can also share them with Apple Health, Google Fit, and FitBit. The smart app will also track your efforts over weeks, months, and years as well as automatically generate detailed graphs to give you a view of your progress. The cloud storage function saves your lifetime data, so you don't have to worry about losing it when you change phones.
According to users, the company stands behind its products and is quick to make amends when something goes wrong. They also indicate that the device is more accurate than those of a similar price, and it's fun to use.
Buy it here: 1 By One Scales Digital Weight and Body Fat Scale
INEVIFIT Body-Analyzer Scale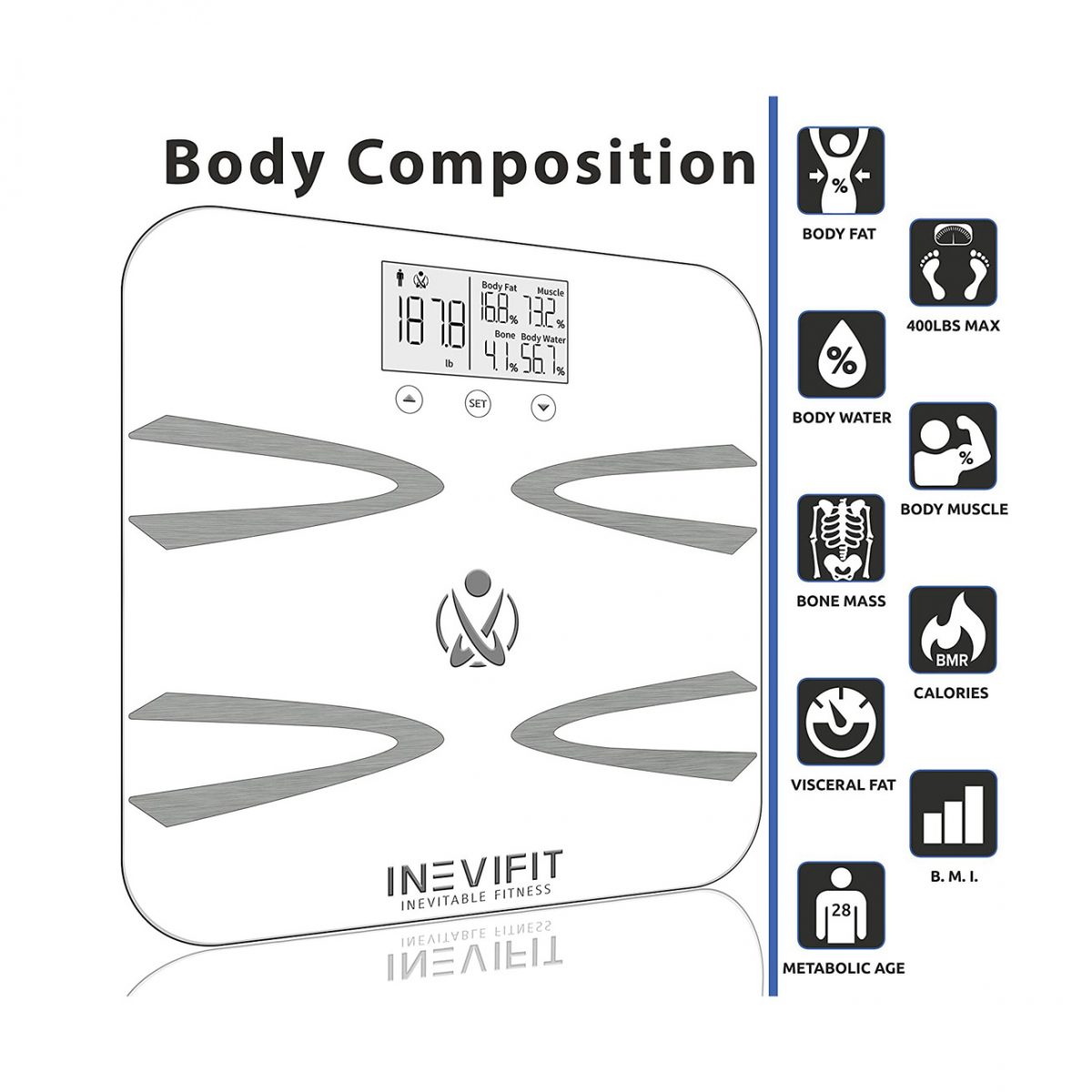 Getting and staying fit has never been easier than when you use this Inevifit scale. You'll meet your goals fast when you monitor body composition values like fat percentage, visceral fat, body water, muscle mass percentage, BMI, MBR, and metabolic age. This device's simple, hassle-free use allows it to automatically recognize the user as soon as you step on it. Auto-on and auto-off sensing technology helps save battery life, while an advanced user profile provides you with more accurate composition readings based on your activity level. Save up to 10 unique users so everyone in your family can monitor their progress.
All Inevifit scales have been thoroughly tested and certified for proper operation. Users indicate that the scale is well built and comes with an easy-to-read manual that is well written.
Buy it here: INEVIFIT Body-Analyzer Scale
Ozeri Touch Total Body Bath Scale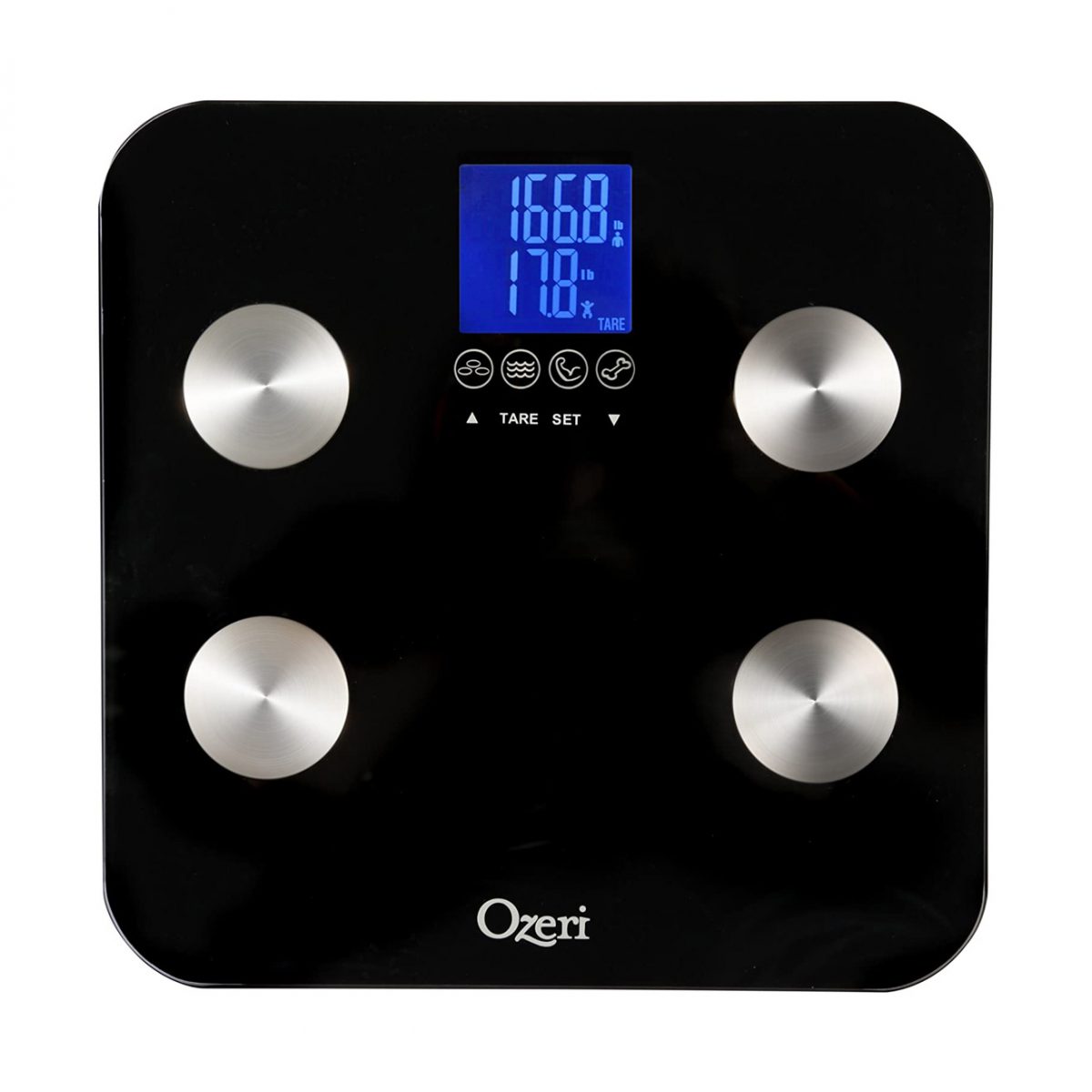 If you need a smart scale that can accommodate an infant or small child, look no further than this device by Ozeri. It's equipped with a tare button that allows for quick and easy weighing of your infant, pet, or luggage while in your arms. Four touch-sensitive buttons make operation easy with an auto-recognition feature that lets you input eight personal profiles. Four high-precision GX sensors can weigh individuals up to 440 lbs./200 kg., while the advanced algorithm instantly calculates weight, body fat, hydration, muscle, and bone mass. Its elegant, reflective surface is made of high-quality, impact-resistant tempered glass. The scale automatically powers on as soon as you step on it.
Users enjoy the option of not having to set up profiles if they don't wish to do so. To obtain the other body parameters, simply stand on the scale and wait for the information to appear on the LCD screen.
Buy it here: Ozeri Touch Total Body Bath Scale
Taylor Precision Products Body Composition Scale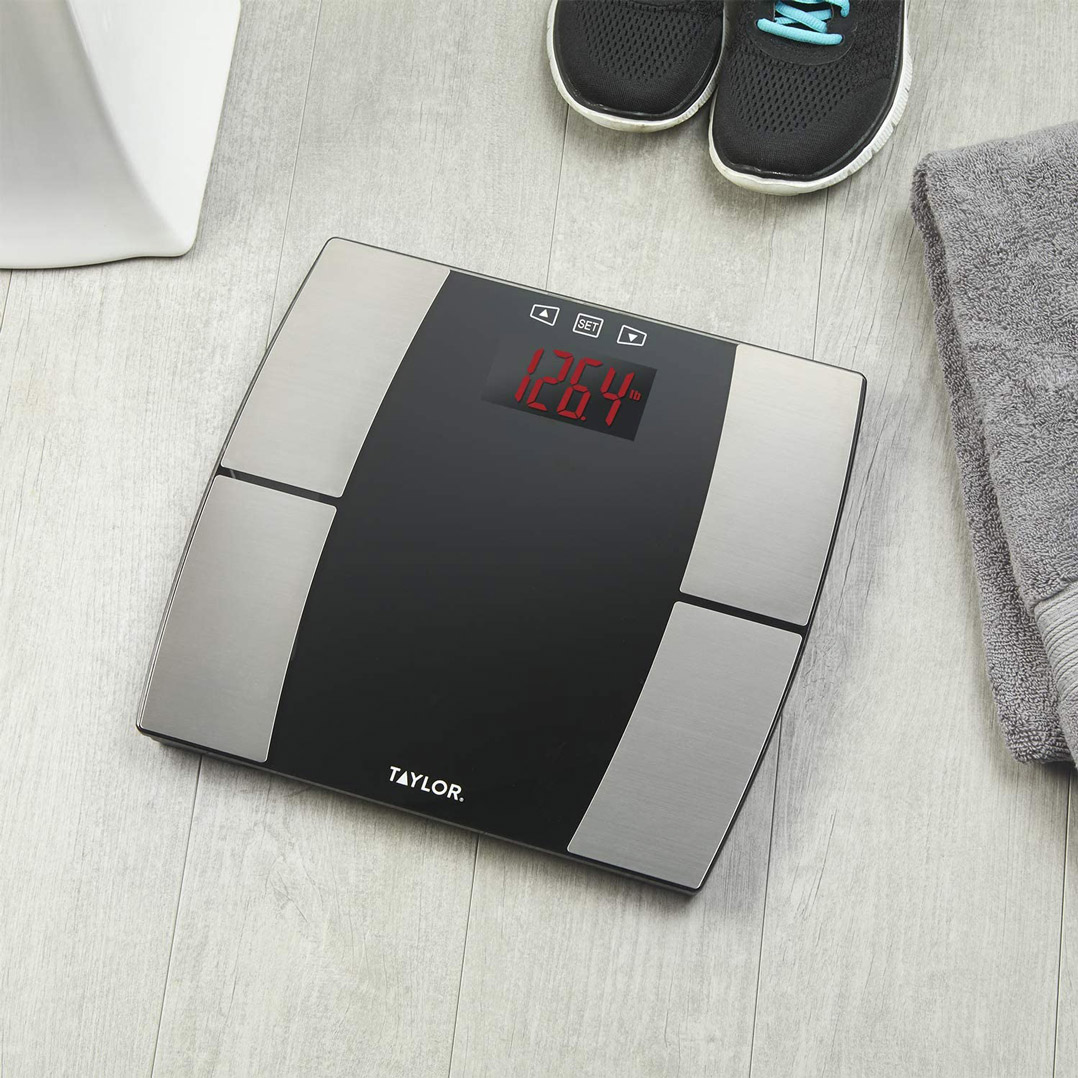 This Taylor Products body composition scale is full of features, making it the ideal companion for your fitness journey. You'll get data on body fat, water percentage, muscle mass, and bone mass as well as calculations on Bmi and daily caloric intake goals. As many as 12 users can track and store their information as the scale automatically identifies the user each time someone steps on it. This device even includes an athlete mode that considers the workout routines of elite athletes to estimate body fat accordingly. The large black tempered glass platform has a sleek design with metal accents and a large readout with red digits. You'll enjoy a capacity of 440 lbs. with accuracy to within 0.2 lb. Those who have bought the scale love its slim design, ease of use, and its large display, which makes readouts readily visible.
Buy it here: Taylor Precision Products Body Composition Scale
Withings Smart Body Composition Wi-Fi Digital Scale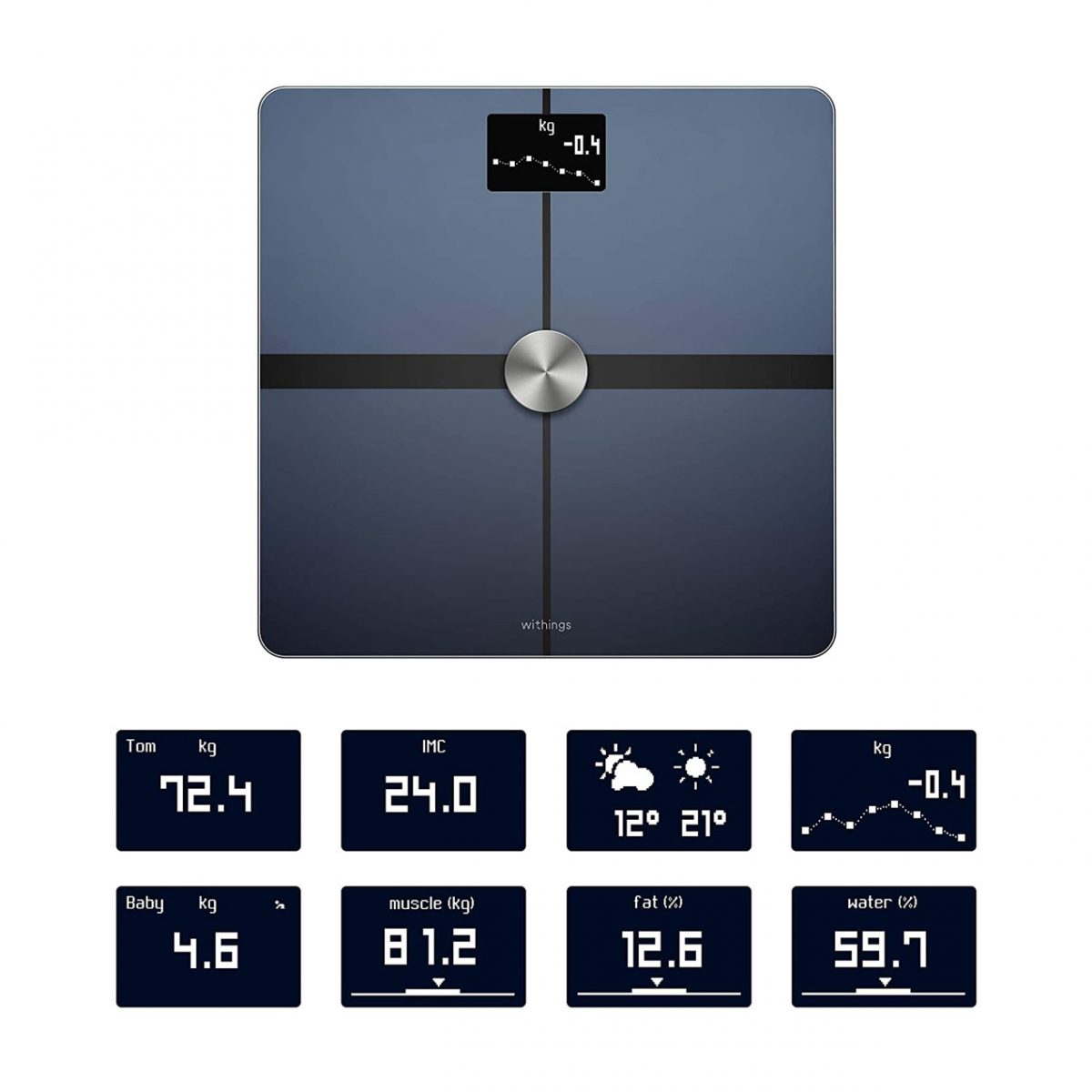 Do you ask Alexa questions often? If you do, you can also ask her about your body composition when you use the Withings Wi-Fi digital scale. This highly accurate scale works with Alexa when using the company's Health Mate app or with more than 100 other different health apps to record your body parameters and trends by the day, week, or year. You'll get the common health measures such as weight to within 0.1 lb. , body fat, muscle and bone mass, and water percentage along with other unique features. This scale also comes with a pregnancy tracker that details healthy weight gain and obstetrician-reviewed advice and a baby mode to track the weight of young family members. You can also set a weight goal and manage your daily calorie budget with the nutrition tracker. It also has position control technology that guides you to the best position on the scale platform to get the most accurate weight. The Withings scale stores data for up to eight users.
Buy it here: Withings Smart Body Composition Wi-Fi Digital Scale