22 Best Gay Chatting Sites & Apps in 2023: The Ultimate Guide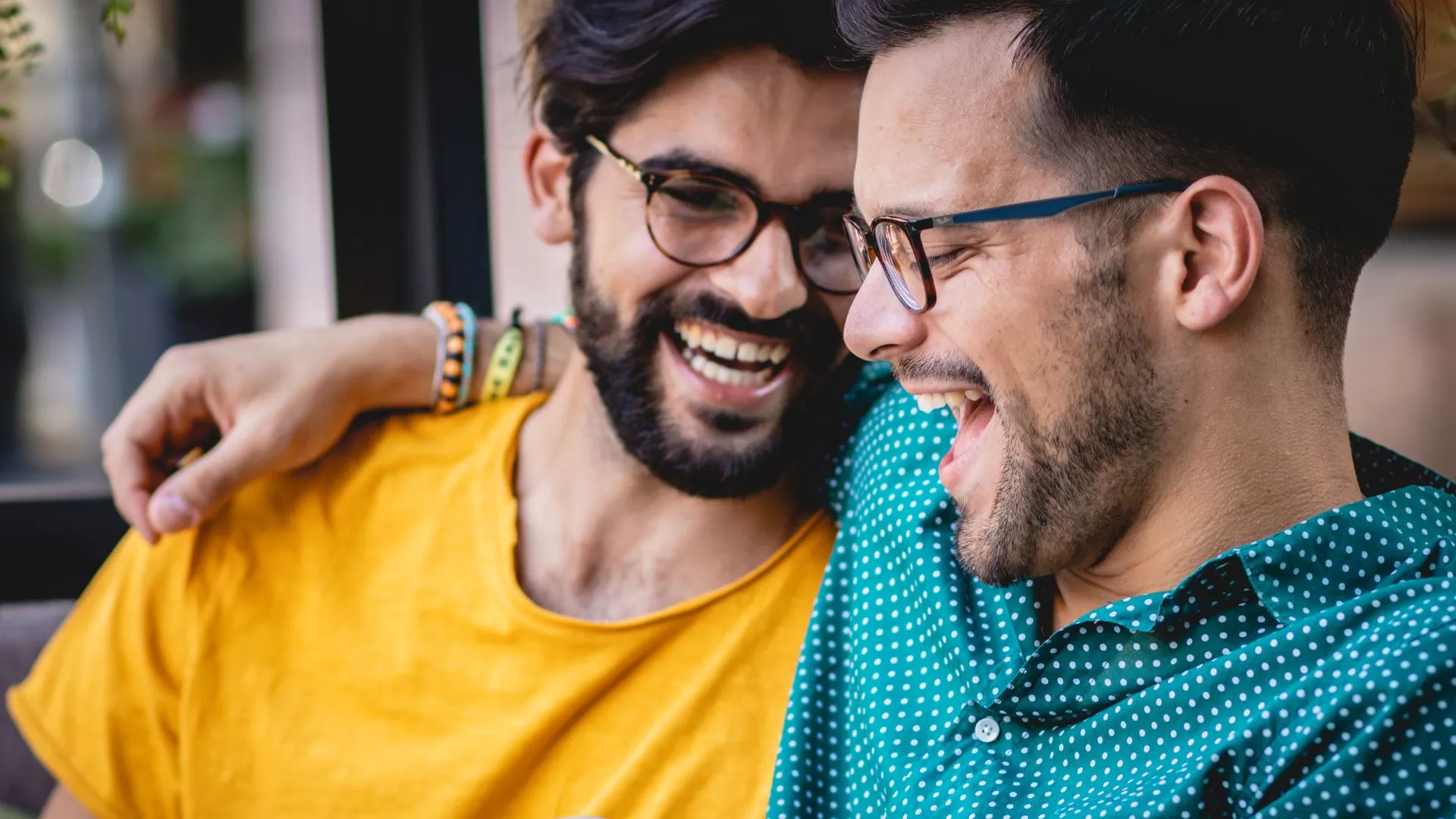 Looking for a place to connect and chat with like-minded gay men? Look no further! With the rise of technology, it's never been easier to find a community of fellow queer individuals. From video chat rooms to dating apps, there are countless options for you to find your perfect match and start chatting. So why waste your time scrolling through endless profiles on generic dating sites? Get ready to find your gay tribe and join the conversation with the best gay chatting sites and apps on the market!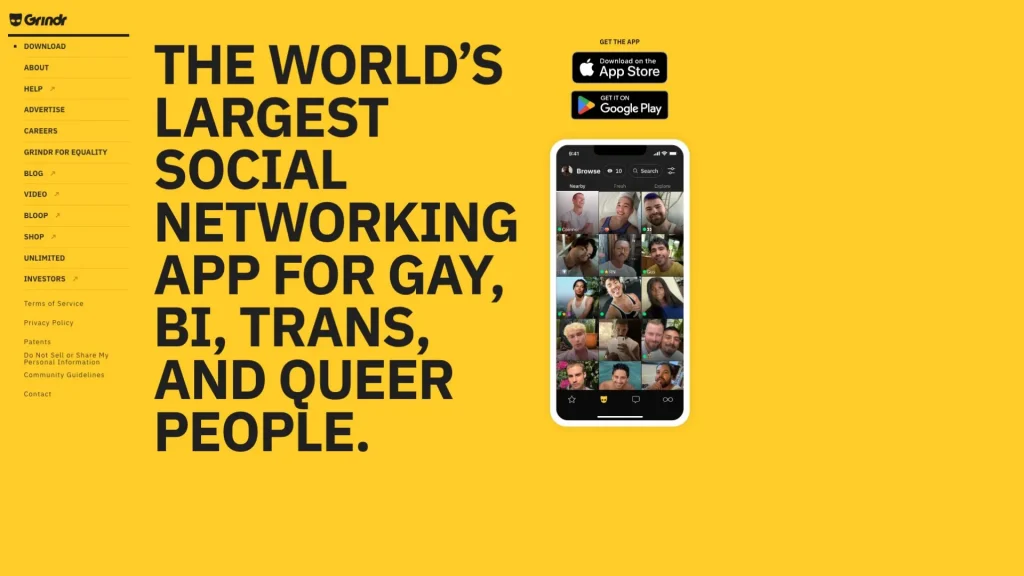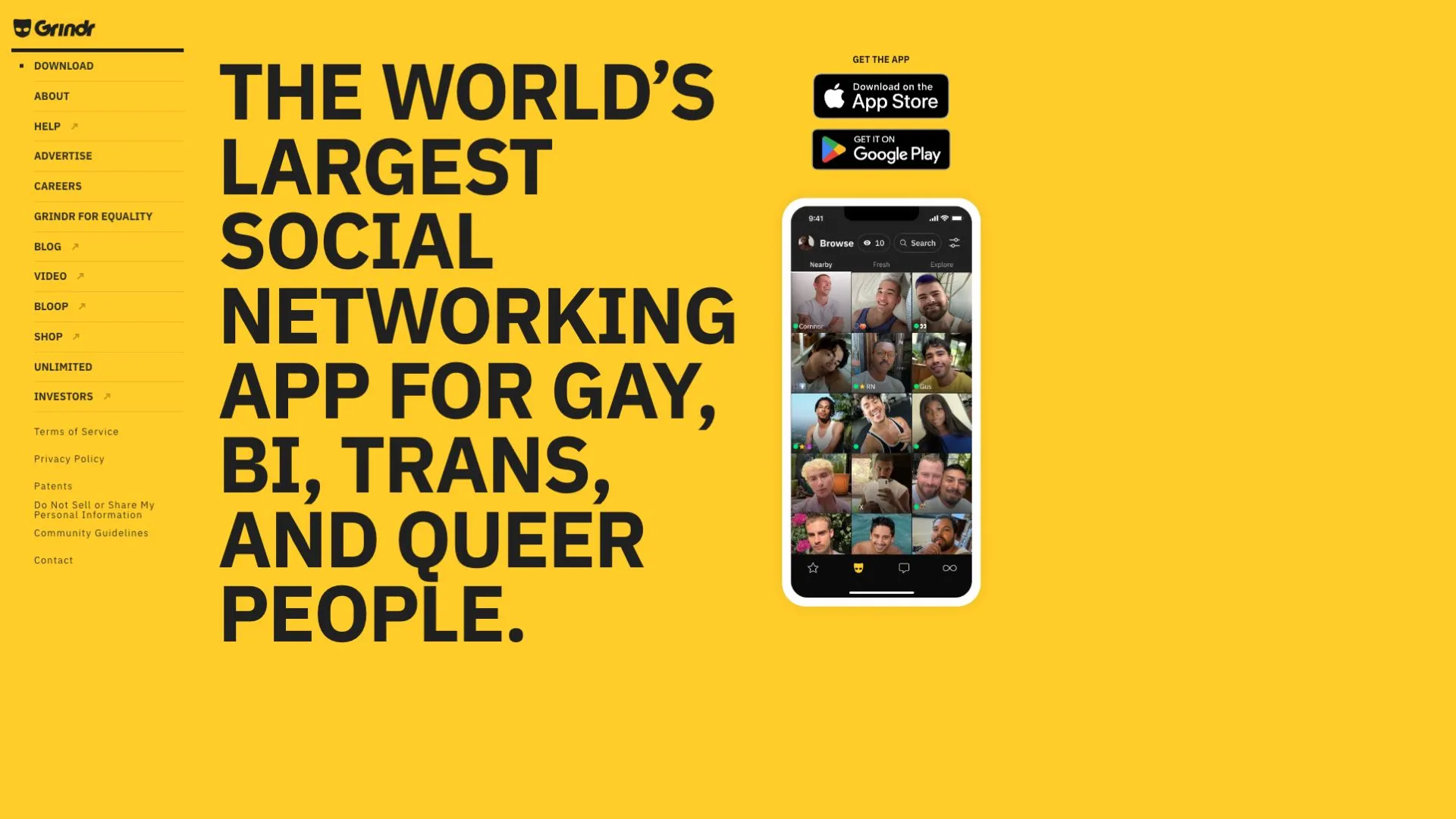 Grindr is one of the most popular LGBTQ dating apps and has single-handedly transformed the way gay, bi, trans, and queer people connect with each other. It's never been easier to find new friends, hookups, dates, or anything in between thanks to its fast and efficient platform. Grindr and its iconic sound alert are also an essential networking tool for any LGBTQ traveler. The app connects them with locals and provides recommendations for the best bars, restaurants, events, and more.
It's super easy to create a profile, and you can share as much or as little information about yourself as you want. You can start chatting and meeting new people in your area in minutes. Grindr's advanced features make it faster and better than ever before. You can see people nearby based on your location, chat and share private photos, add tags to share your interests, and even search tags to find others with similar interests.
For those who want even more from Grindr, the app offers an XTRA experience with even more control, features, and fun. Say goodbye to third-party ads and enjoy the ability to see up to 600 profiles at once and filter by position, relationship status, and more. And for the ultimate Grindr experience, upgrade to Grindr Unlimited for unlimited profiles, full access to your viewed me list, incognito mode, the ability to unsend messages and photos, and all the XTRA features.
Grindr is the perfect platform for those looking for meaningful connections, casual hookups, or just a fun night out. Grindr has become the go-to app for the LGBTQ community thanks to its user-friendly interface and innovative features.
Download the app here: iOS and Android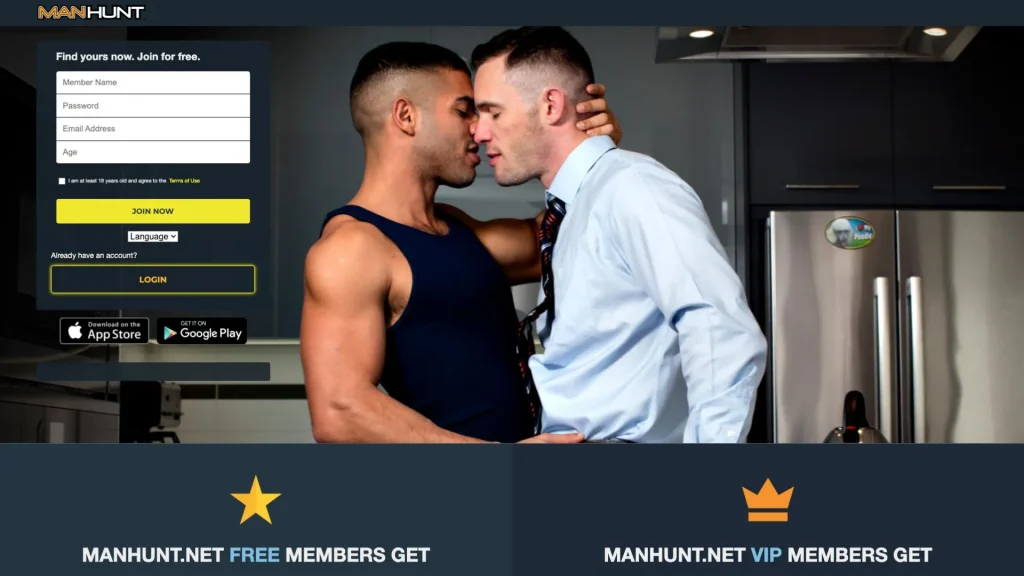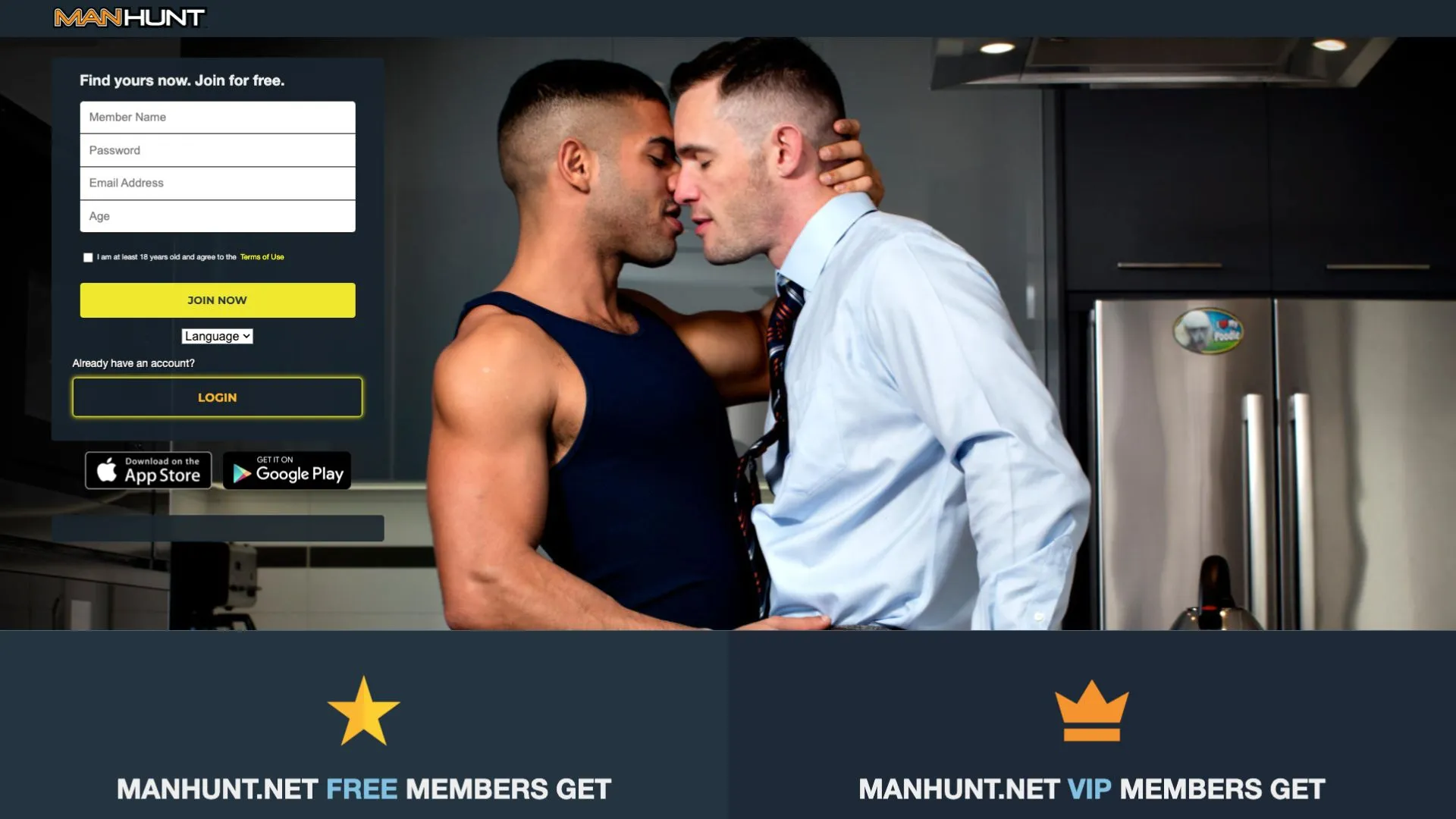 Manhunt is not just another gay dating app, it's an icon in the gay community. The app was launched in 2001 and has established itself as a reputable and trusted platform for gay men to meet other gay men. It meets a variety of needs for gay men, from casual hookups to committed relationships.  
Manhunt offers a unique feature that allows you to see who's checking out your profile, with millions of men to choose from at your fingertips. You can say goodbye to endlessly scrolling through headless profiles. The app makes it easy for you to find exactly what you're looking for. You're allowed up to a generous 16 photos per profile and location sharing features.
If you prefer a little extra something-something, Manhunt VIP offers an ad-free experience with unlimited full-profile views and photo views. Not to mention unlimited conversations, starred conversations, and a complete conversation history. It also has the ability to un-send unread messages again and has additional photo editing tools, taking your Manhunt experience to the next level.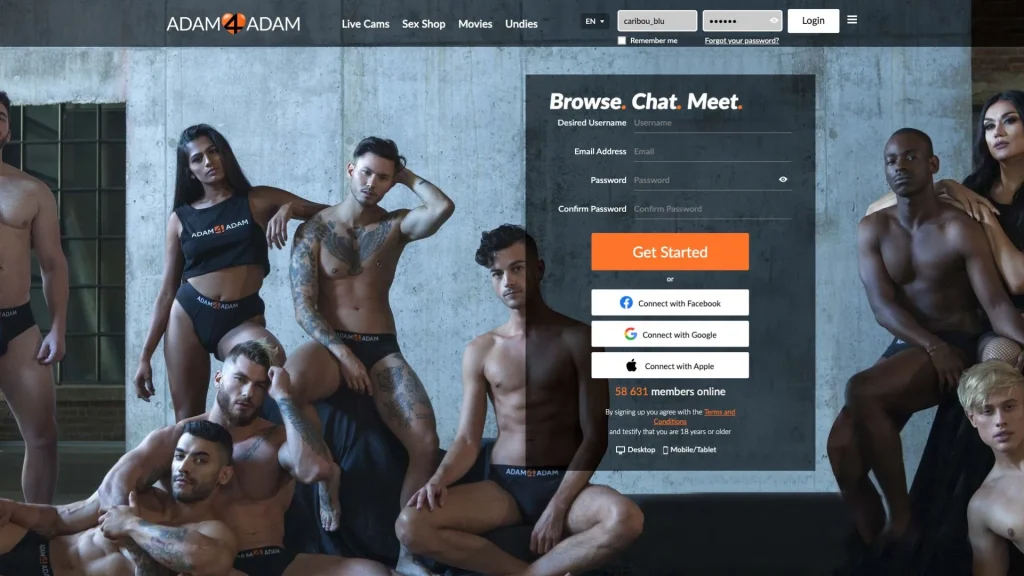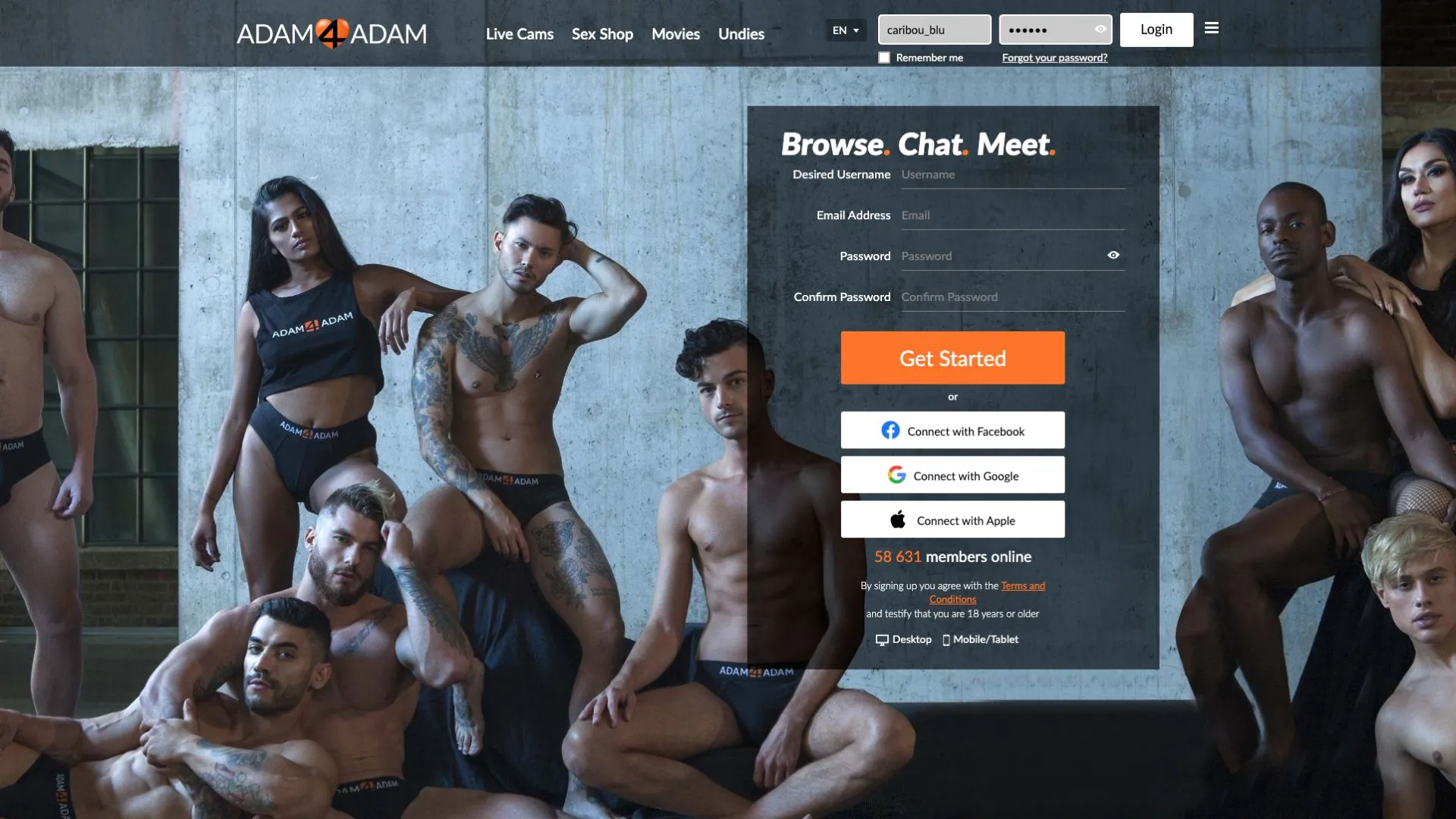 Adam4Adam is the OG gay dating app to beat. With over 15 years of experience and 10 million users, they have established themselves as one of the reigning Kweens of gay social networks. And the best part? It's 100% free. They've even been nicknamed "A4A" by their loyal Adams, get it?
What sets Adam4Adam apart from other gay dating apps is the range of features they offer for free. You can browse unlimited profiles, view users in other cities if you plan to travel, use over 20 filters to find your perfect match, send and receive unlimited messages and photos, and customize your profile to represent your true self. And that's just the beginning.
But if you're looking for even more, they also offer a VIP membership subscription. For a small fee, you can turn off publicity, browse discreetly, get listed in the Featured Members grid, and enjoy unlimited conversation history, favorites, and blocks. If you do decide to buy the VIP subscription, payments will be charged to your iTunes account, and you can cancel at any time.
Adam4Adam is the ultimate gay dating app, with endless options for browsing, chatting, and meeting, a customizable profile, and a VIP membership for those who want even more. It's no surprise that they're the industry's leading gay social network with all of these features.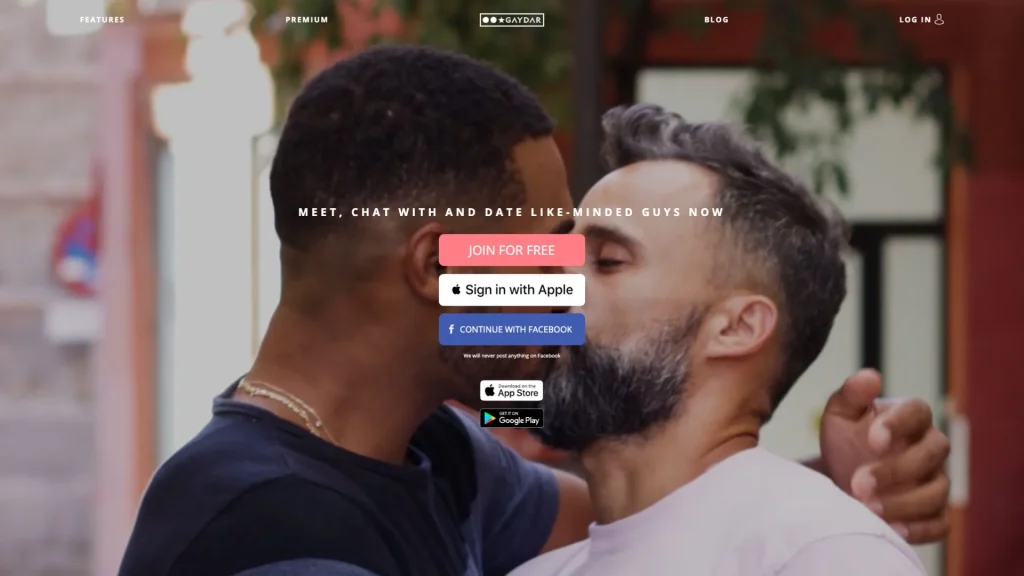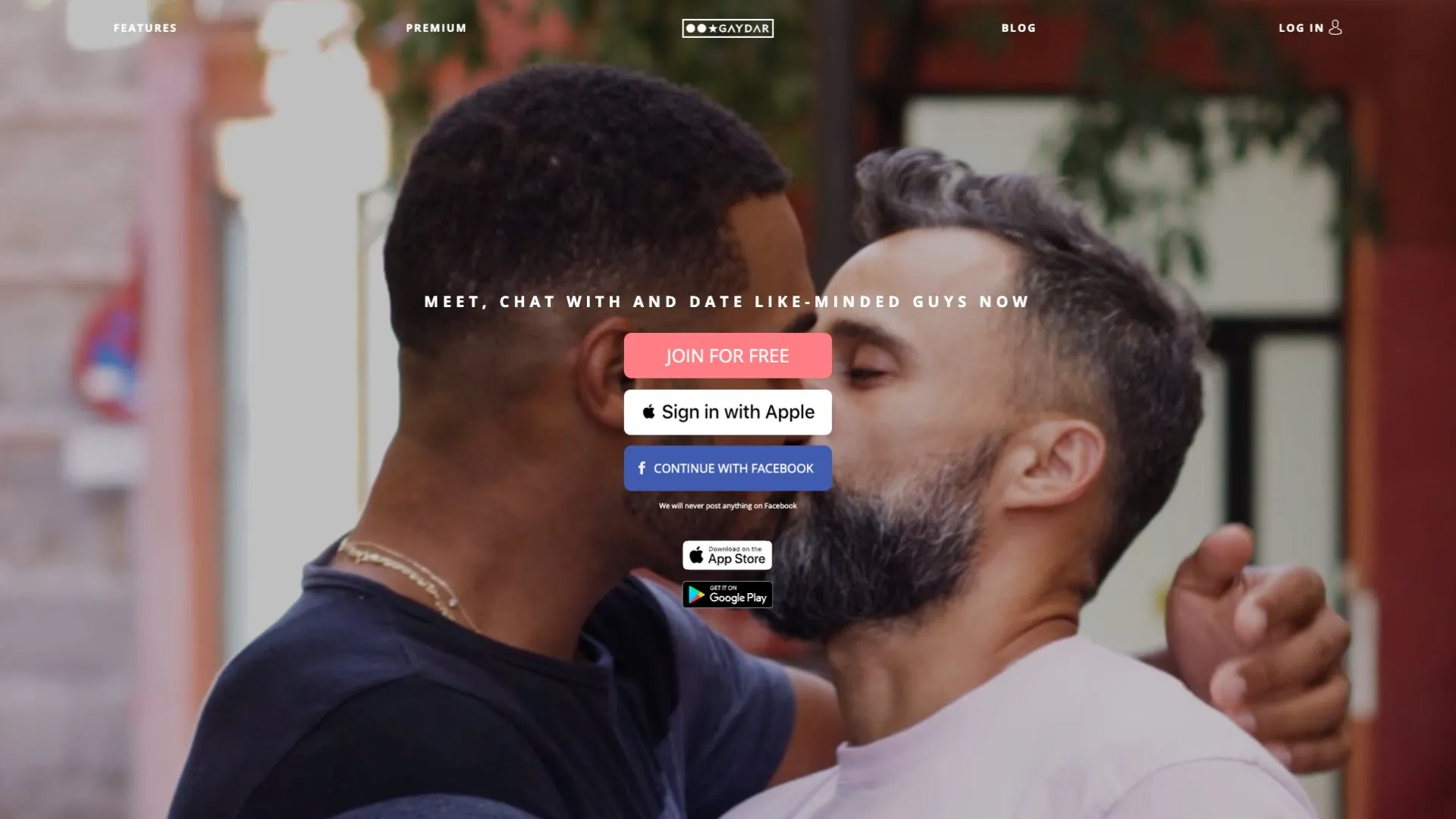 Gaydar is the ultimate gay social network and dating platform, serving the LGBTQ+ community for over 20 years. It's the perfect place for guys to chat, make new friends, and find romantic connections. With millions of users around the world, Gaydar offers a free app for iPhone, iPad, and iPod touch with all the features you need to find your perfect match. You can send as many messages as you want, use your current location to see who's around you, and swipe left or right to move from profile to profile.
Chatting on Gaydar is easy and fun. You can send HD-quality photos, 'wink' at the guys you like to break the ice, save favorites, and filter users by age without leaving the main page. If you're looking to travel, the travel tab on the app connects you with guys worldwide. And, if you're already a member of the site, you can use your login details on all platforms, including mobile, tablet, and web.
For those who want even more options, Gaydar offers VIP membership plans with exclusive features such as unlimited browsing, no ads, and the ability to see who's viewed your profile. You can also unlock advanced filters, find guys who are online right now, browse anonymously using incognito mode, and add up to 50 photos to your public gallery. VIP membership also gives you access to a private gallery where you can add up to 100 photos. Plus, with read receipts, you'll never miss a message again.
Gaydar is the perfect platform for guys looking for love, friendship, and fun. Whether you're interested in meeting someone new or just looking for some chat, Gaydar has everything you need to make connections that matter.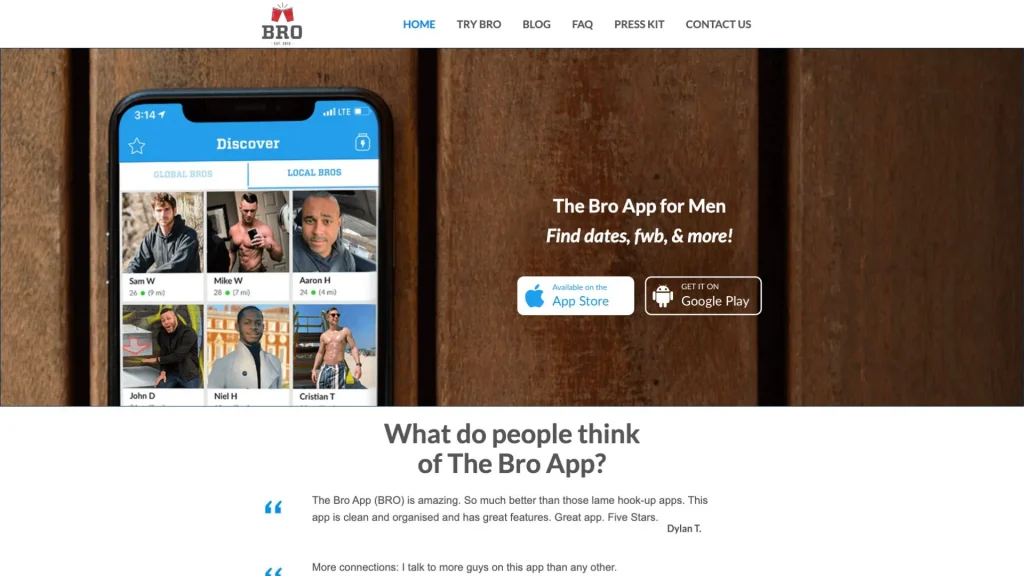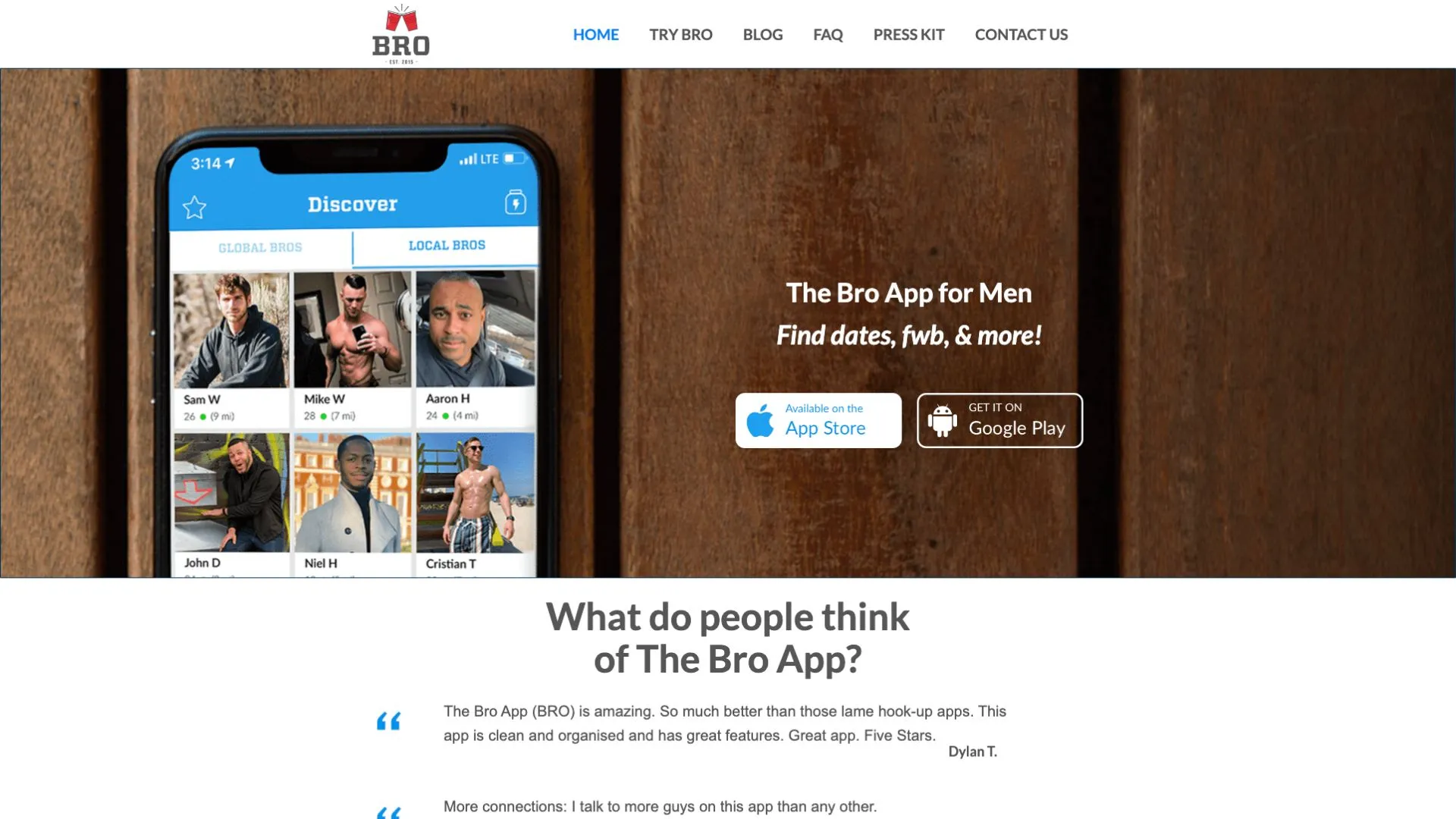 Bro, are you tired of swiping left on those generic dating apps just to find the same old faces? Look no further, because The Bro App (BRO) has arrived, and it's shaking up the world of online dating. BRO is designed specifically for bi, gay, and open-minded men, and it's all about connecting you with like-minded gay bros.
With over a million Bros worldwide, you're bound to find someone who catches your eye. BRO's unique authentication process, which uses social networks, face pics, and/or phone verification, means that you're only matched with real people. And with filters to narrow your search, you can easily find the type of Bro you're looking for. Whether it's a new friend, a date, or a long-term bromance, BRO has got you covered.
But BRO is more than just a dating app. It's a social platform, designed to help you connect with Bros all over the world. With Travel Mode, you can see Bros in any location, so you can plan your next adventure with a new Bro by your side. And with the ability to message Local Bros, you can easily make new friends or plan a date in your own hometown. With its colorful and fresh design, the app invites you to join a friendly and open-minded community that's all about embracing diversity.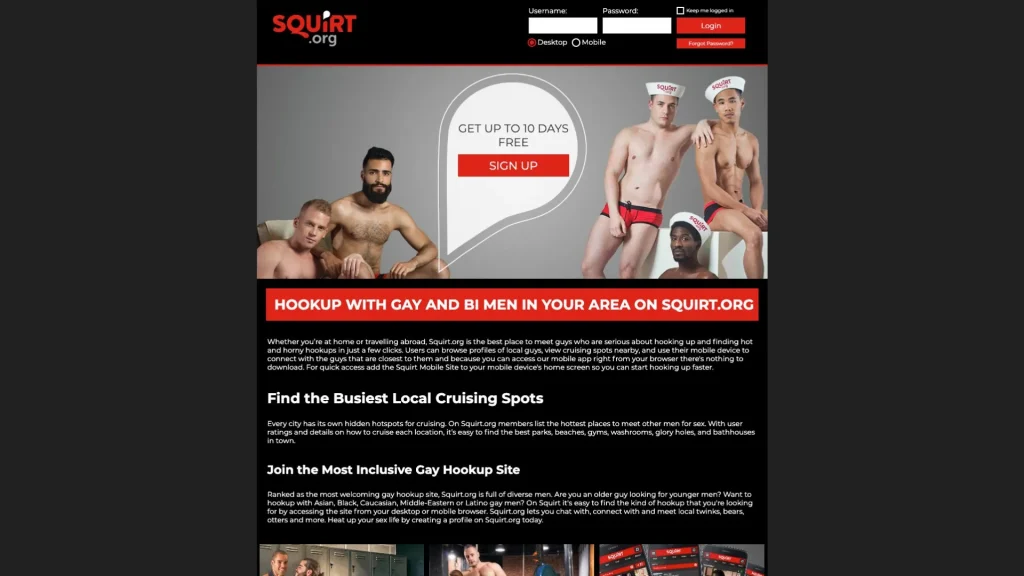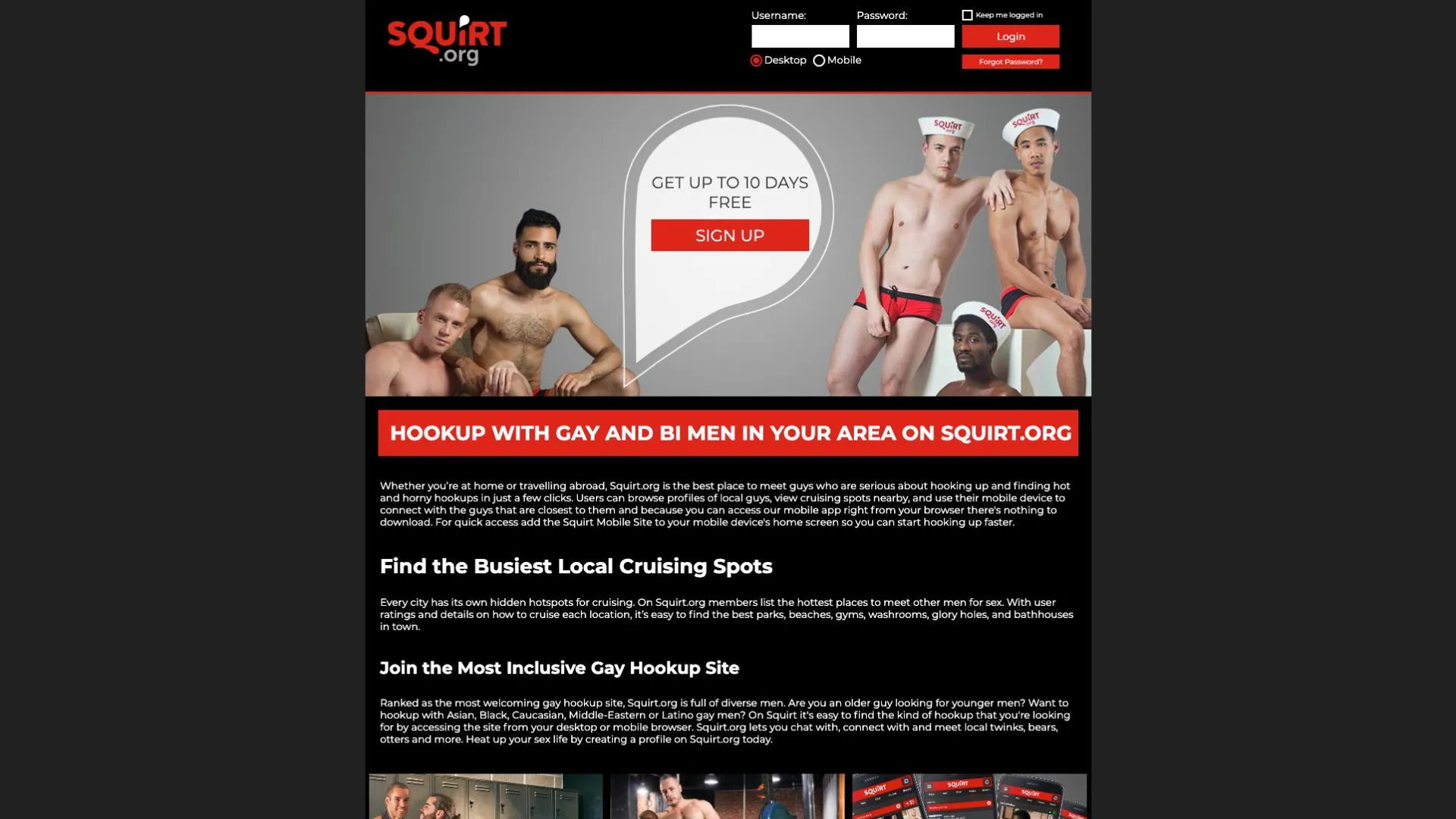 If you're looking for a platform to have some naughty fun, meet guys who are serious about hooking up, and discover new cruising spots in your area, Squirt.org is your ultimate destination! This is the best place to find hot and horny hookups in just a few clicks, and you can access it from your mobile device without any downloads.
Every city has its own hidden cruising gem, and Squirt.org makes it simple to find them. You can look through members' profiles, find out where the most popular cruising spots are, and use your mobile device to connect with the guys closest to you. You'll be able to find the best parks, beaches, gyms, washrooms, glory holes, and bathhouses in town thanks to user ratings and information on how to cruise each location.
Squirt.org takes pride in being one of the most welcoming gay hookup sites, with men from all walks of life. Squirt.org makes it simple to meet Asian, Black, Caucasian, Middle-Eastern, or Latino gay men, whether you're an older man looking for younger men or a younger man looking for older men. You can chat with, connect with, and meet local twinks, bears, otters, and more.
Create a profile on Squirt.org to spice up your sex life and explore your sexuality with like-minded people. This platform makes it easy to find the type of hookup you want, and you can use it from your desktop or mobile browser. 
If you're looking for a place to explore and indulge in your fetish, look no further than Redcon! This is the world's largest dating app for gay, bi, and curious men into fetish, and it's not just an app – it's a full online profile accessible on recon.com. Redcon allows you to connect with like-minded men from all over the world and find the ideal match for your fetish desires. 
Redcon makes it simple to find men you're interested in, with thousands of men online every day. Use the member list filters to sort by age, interests, and more, and message or picture message the men you're into. The Cruise function lets you let a guy know you're into him, and the Visitors section shows who's checked out your profile. Mark guys as a favorite and get updates on their latest activities in the Home feed.
Redcon has a special "Recon Men" interest category for those finding their feet. You can select your top five interests from a variety of categories and be inspired by content on the Home feed. Keep up with the latest gay fetish events and gear, and be presented in the Home feed with a strong profile that represents your fetish tastes.
Redcon also allows you to showcase all the different sides of you and your fetish with ten customizable galleries. Show guys where you're heading to with the Travel Plans option, and create a strong profile that represents you and your fetish tastes. You get access to all public galleries, advanced filtering options, and no banner ads on the app with a premium membership.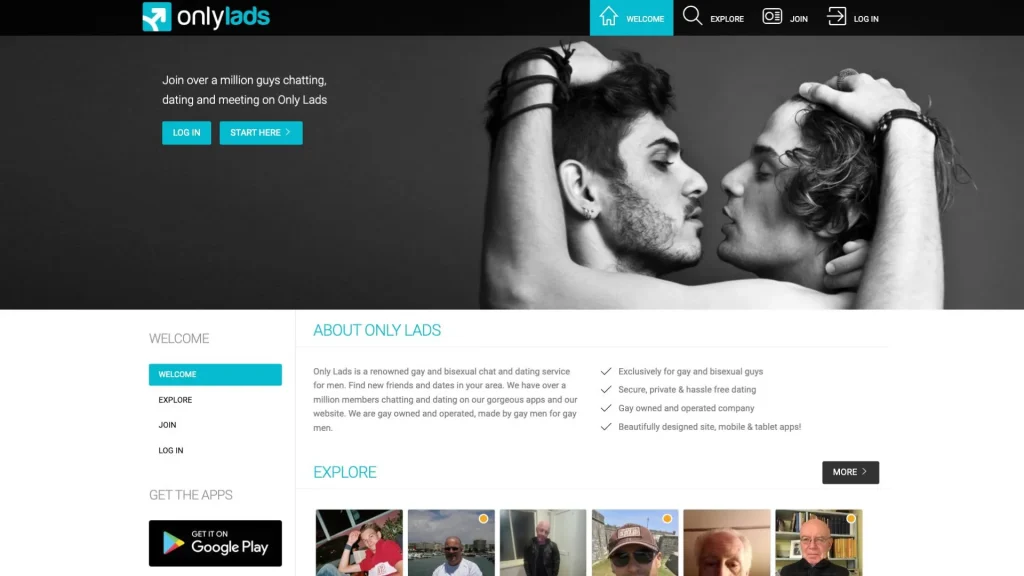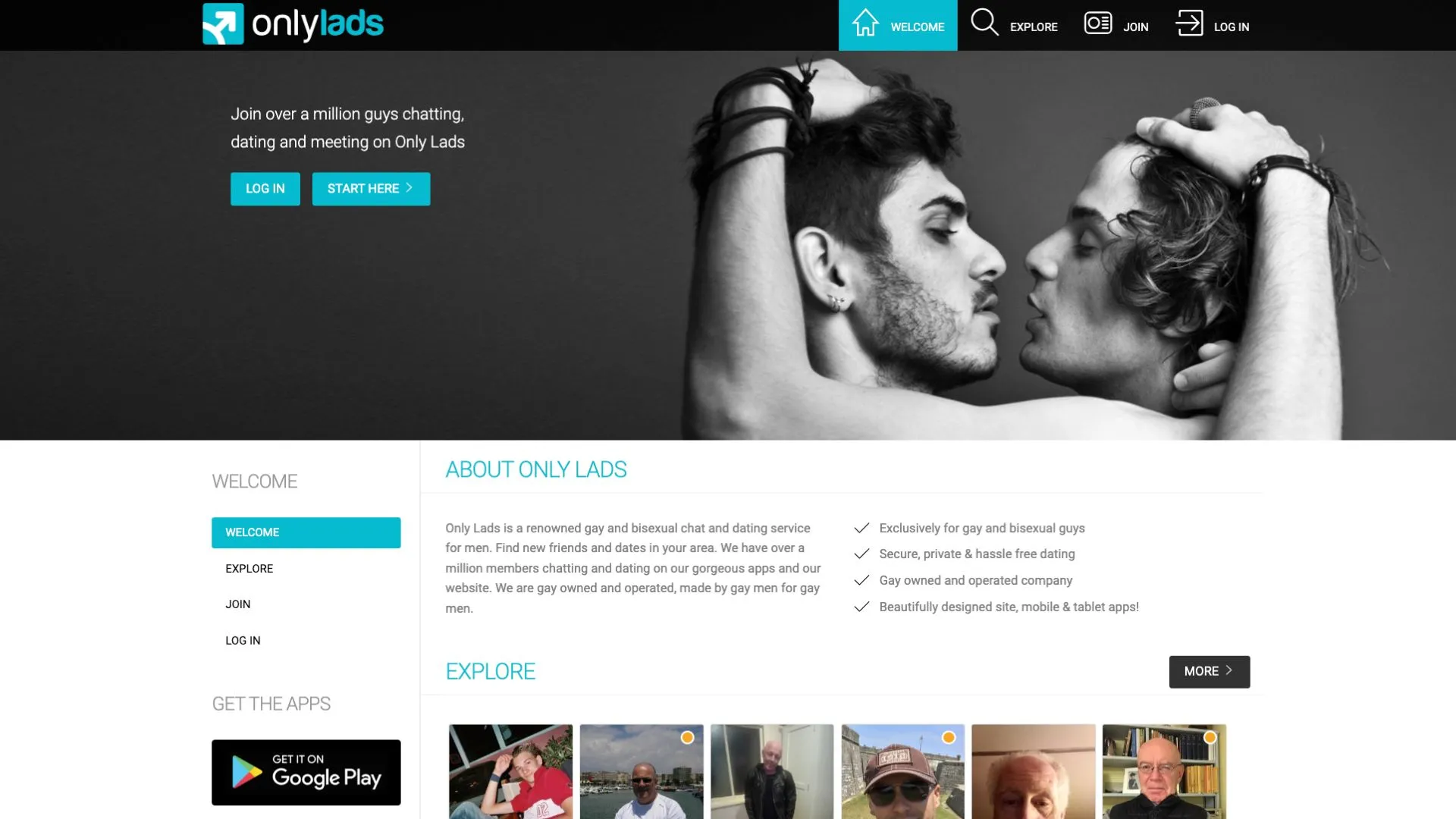 Only Lads is basically the gay version of Match.com, where gay men can find love, quick dates, and, of course, some fun. Their sign-up process is quick and easy, giving you the option to create a profile with all the details that matter to you. You can also quickly sign up using your Facebook account so you can start chatting with over two million gay men from around the globe.
Only Lads also has a mobile app available for iOS and Android devices, so you can take your chats on the go, allowing you to have fun and flirty conversations with strangers no matter where you are. It has sleek search functions that allow you to filter profiles based on location, and you can keep track of your favorite profiles, friends, and icebreakers for future reference.  They even have an Only Women for all you ladies out there. 
And if you're really looking to up your game, you can upgrade to a premium membership for just $9.99 a month. With premium membership, you'll have access to even more features and control over your dating experience. Only Lads is an independent gay-owned and operated company, making it one of the few apps that are built by gay men, for gay men.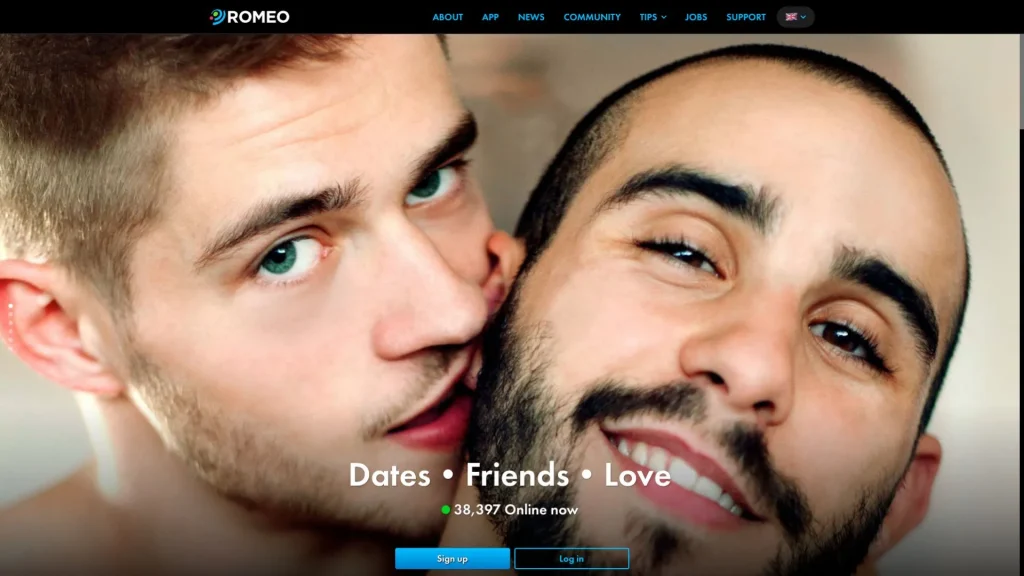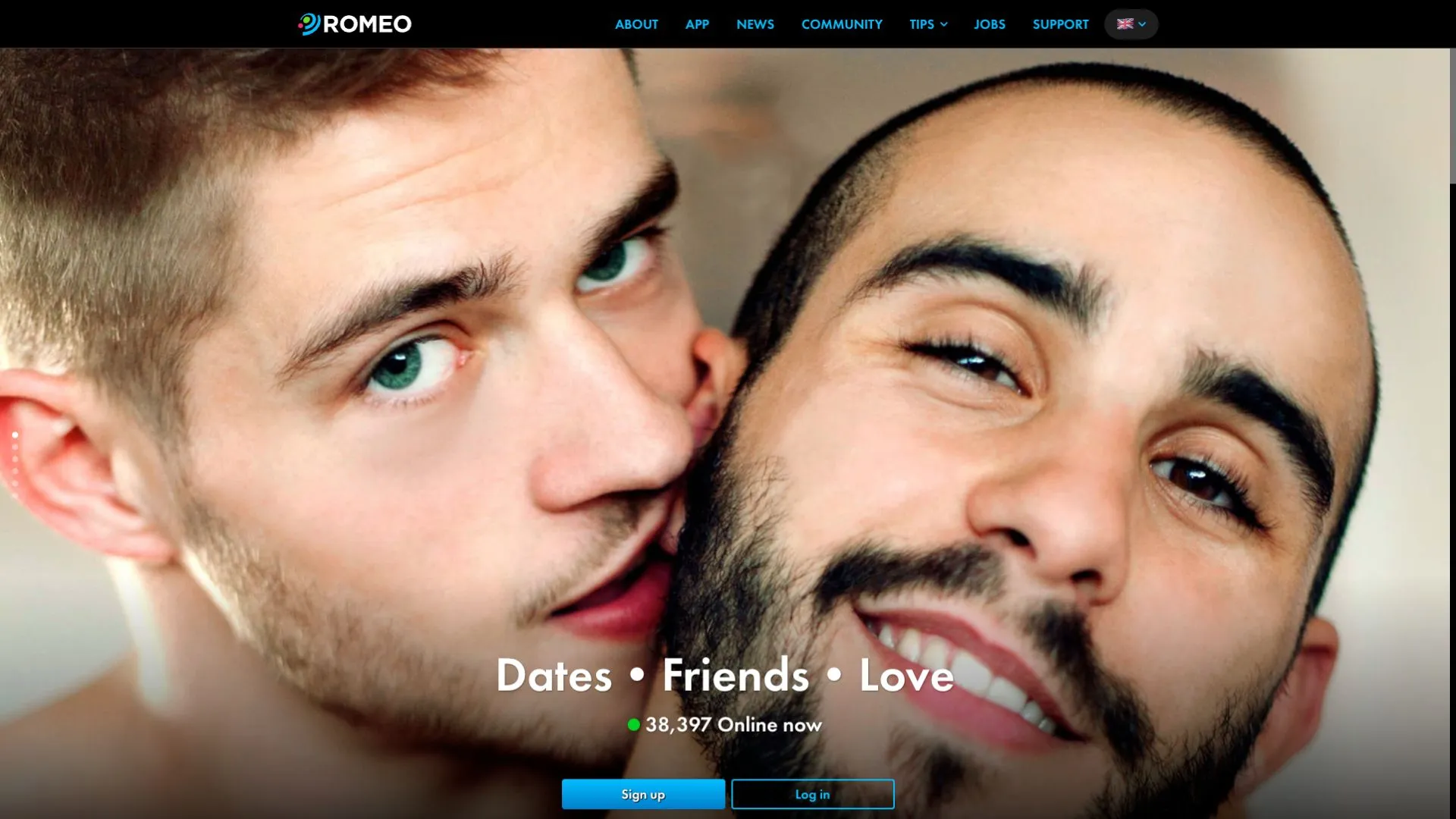 Say hello to Romeo – the perfect platform for gay men seeking love, fun, and everything in between. With its sleek design and user-friendly interface, this website has everything you need for a fantastic online dating experience. And the best part? It's completely free! All you need to do is enter your email, date of birth, and username, or simply sign up using Facebook for a quicker process.
From useful tips and tricks to frequently asked questions, Planet Romeo's extensive blog has got you covered. If you have any concerns or questions, you can simply use the contact form to reach out to the team. With over 2 million members worldwide, the chances of finding your dream man are pretty high! And the results of their poll suggest that many members are looking for something more serious, with 62% wanting to tie the knot someday.
So get ready to blast off into the world of online dating with Planet Romeo. Just be careful, don't be too quick to reveal too much about yourself, and always make sure you feel comfortable with who you're talking to.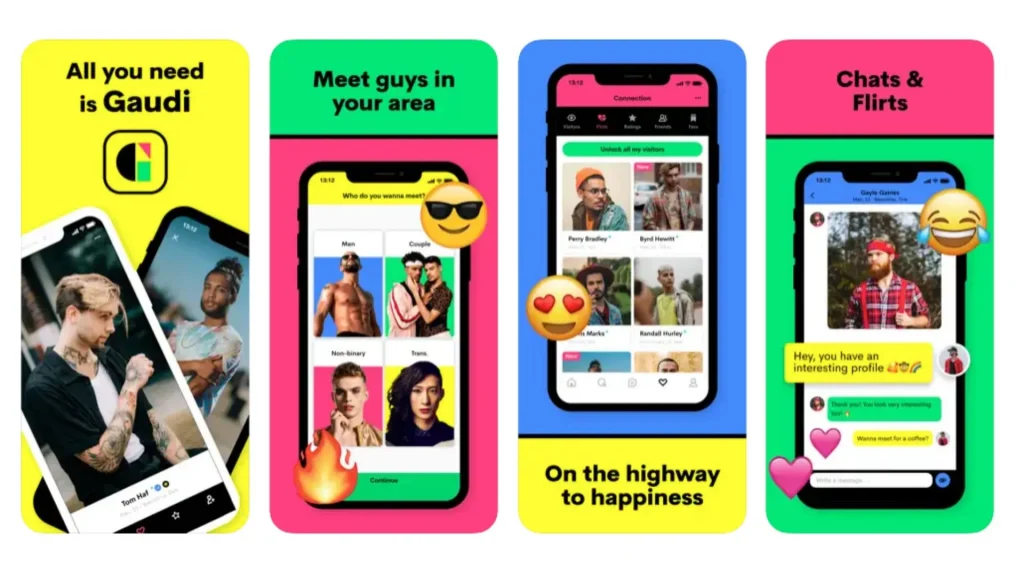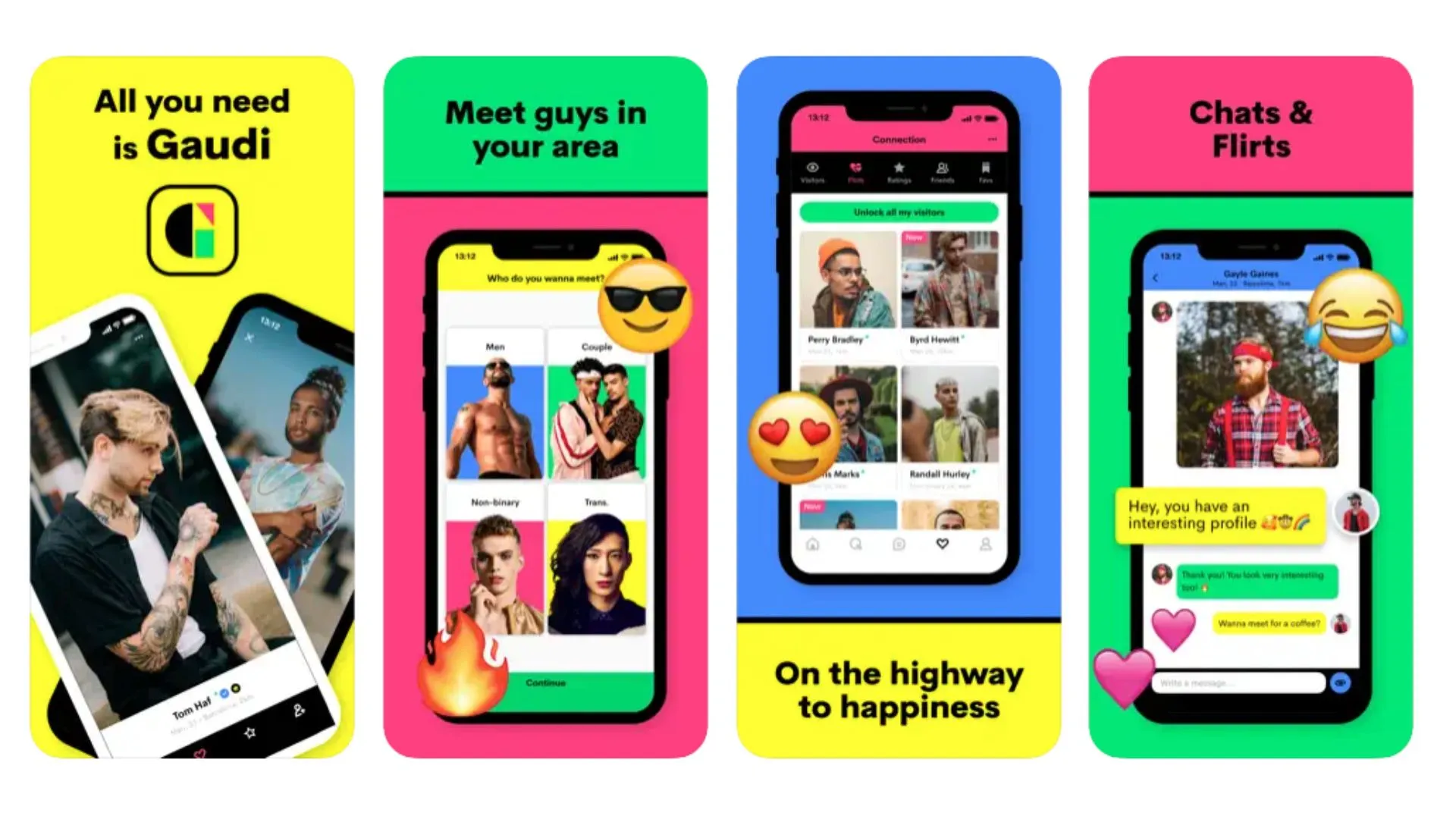 Gaudi is a popular new gay dating app that manages to break through the saturated marketplace thanks to its innovative approach to connecting gay, bi & queer men. The Gaudi app Gaudihas a colorful and fresh design that comes off as welcoming and friendly. The app is all about embracing diversity, and who doesn't like that?
Gaudi offers a unique experience that blends gay chat and dating with entertainment, making meeting new guys and making friends an enjoyable experience. On Gaudi, you can connect with gay men from all over the world, whether you're looking for local gay men in your area or chatting with someone across the globe.  app has a smart search feature, so you can quickly browse through profiles and use the "Be Matched" function, which matches you with local gay men.
Gaudi has just recently launched a new video chat feature that allows you to connect with gay and bisexual guys in your area or around the world. So, start the swiping and start chatting with the hottest gay men in real-time, honey!
Gaudi is not just a dating app, it's a vibrant community where you can share your ideas, experiences, and join in interactive events. Whether you're looking for a romantic connection or just want to chat with like-minded individuals, Gaudi is the perfect place to be.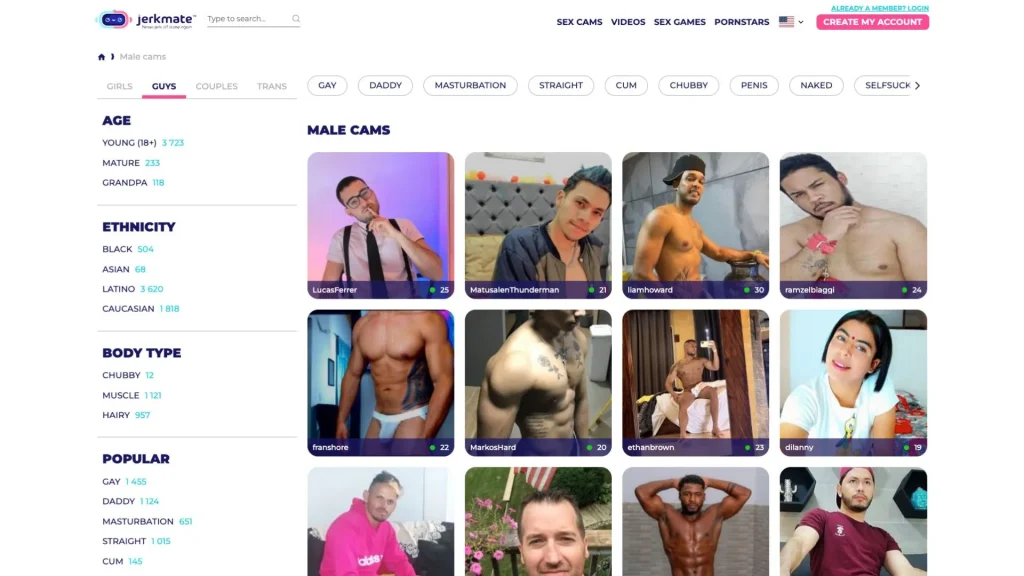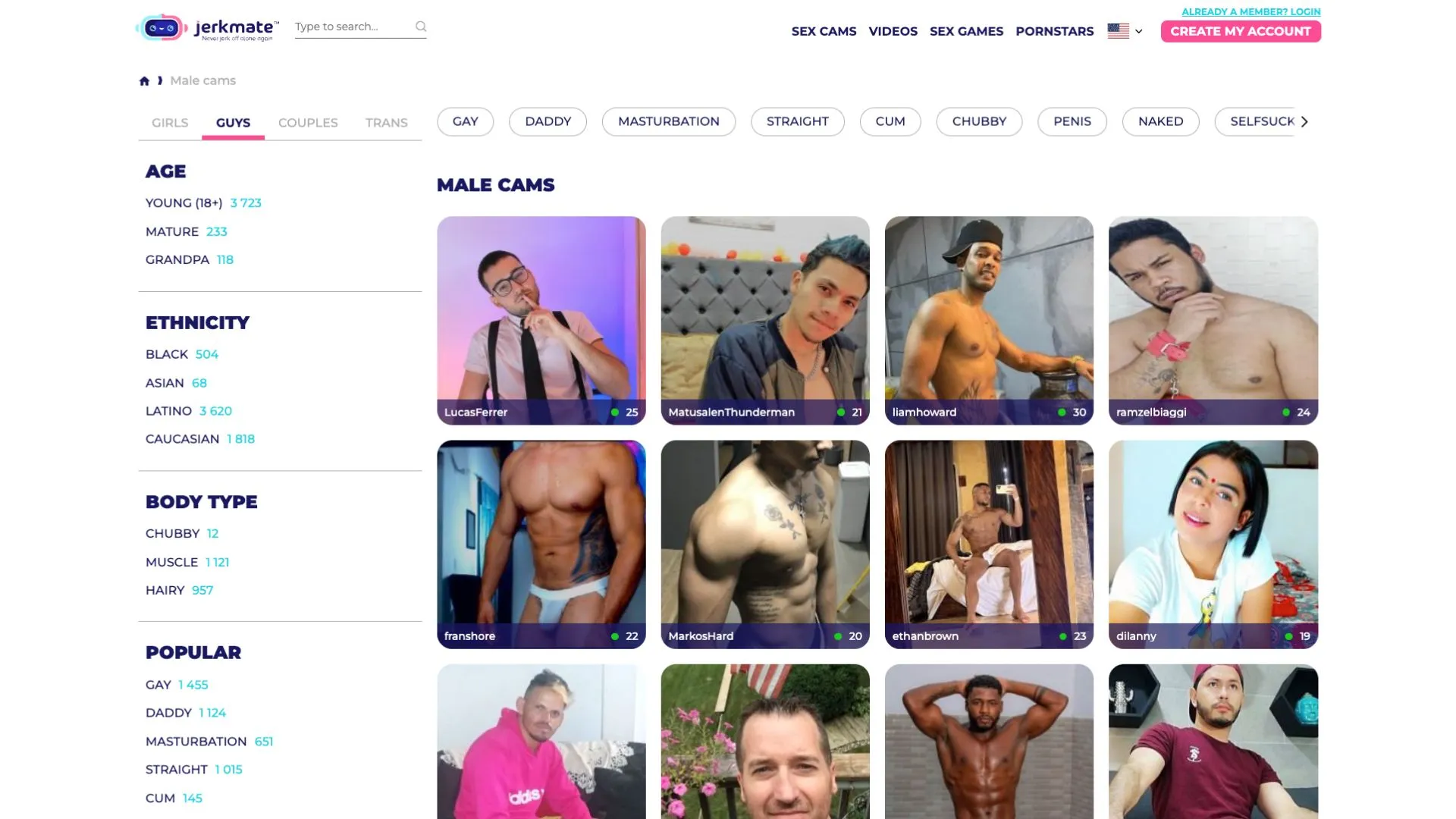 Jerkmate (formerly known as JerkingMen) is a sex chat website that offers a wide selection of gay cam models. Signing up for an account is a quick and easy process; all you have to do is simply enter your email address, username, and password. Once you're in, the fun begins!
Jerkmate is packed with a plethora of categories to cater to your every desire. From "daddy" to "masturbation," "straight" to "chubby," the possibilities are endless. With each live cam, you get a thumbnail image of the profile picture, the cammer's username, and their age – all displayed on a clean and user-friendly interface.
You can take your conversations on the go since Jerkmate is available across multiple devices, including iOS, Android, and Windows. It also has all the standard features you'd expect from a top-notch sex chat site, like sharing your cam, going private, sending 1-on-1 messages, and more.
If you're looking for a fun and sexy gay chat experience, Jerkmate is definitely worth checking out. With its user-friendly interface and large Latin American presence (for all you Bean-Kweens), you're guaranteed to have a steamy good time.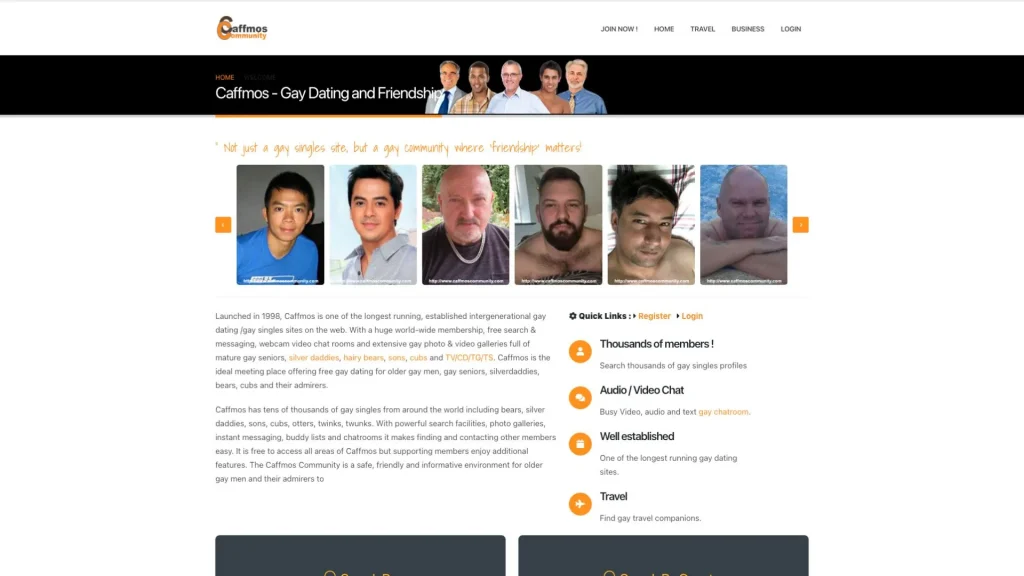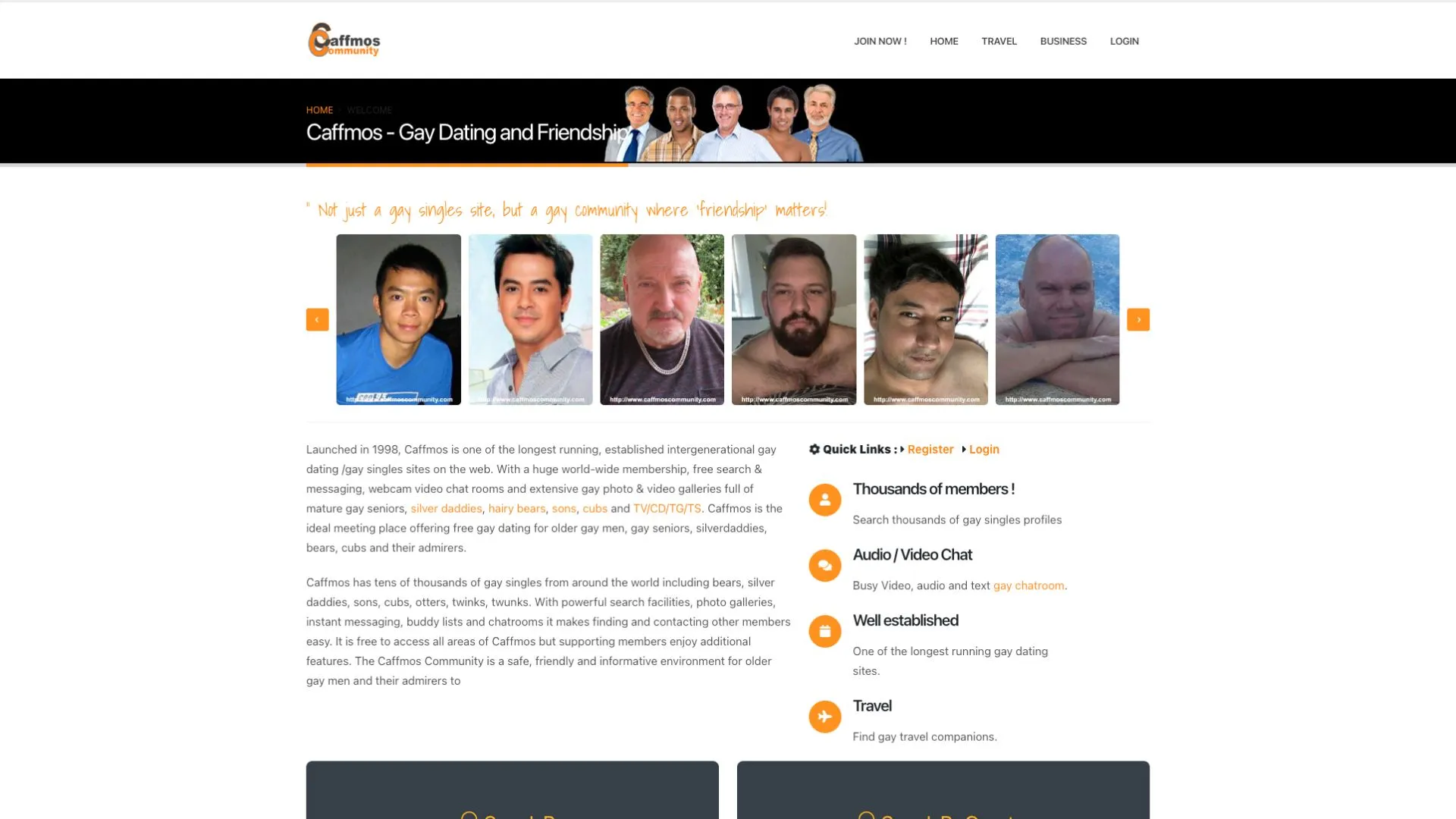 Caffmos Community is a gay dating site that has been around for over two decades. The site is geared towards mature gay seniors, silver daddies, and everything in between. It has a vast membership base from all around the world, the site offers a diverse range of profiles, from silver daddies to twunks and everything in between. Caffmos Community boasts robust search tools, photo galleries, and chat rooms, making it relatively easy for members to connect with one another.
While Caffmos Community is free to access, supporting members get to enjoy extra perks. Caffmos Community claims to provide a safe and friendly environment for gay men and their admirers to connect and socialize. 
So, what sets Caffmos apart from the rest? Well, it's certainly been around the block a few times, since 1998 to be exact, which could be seen as a positive or negative, depending on your perspective. But hey, at least it knows its way around.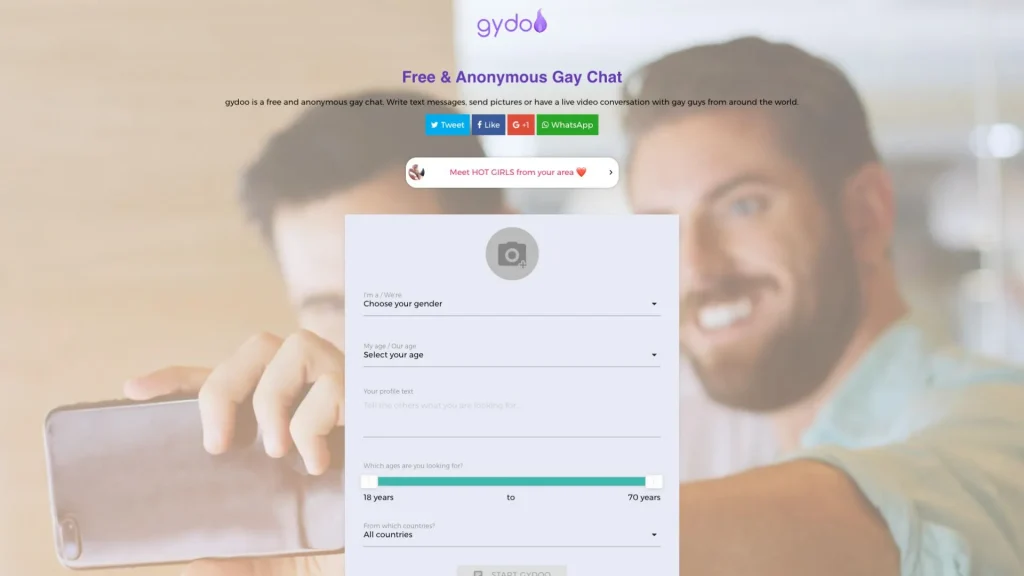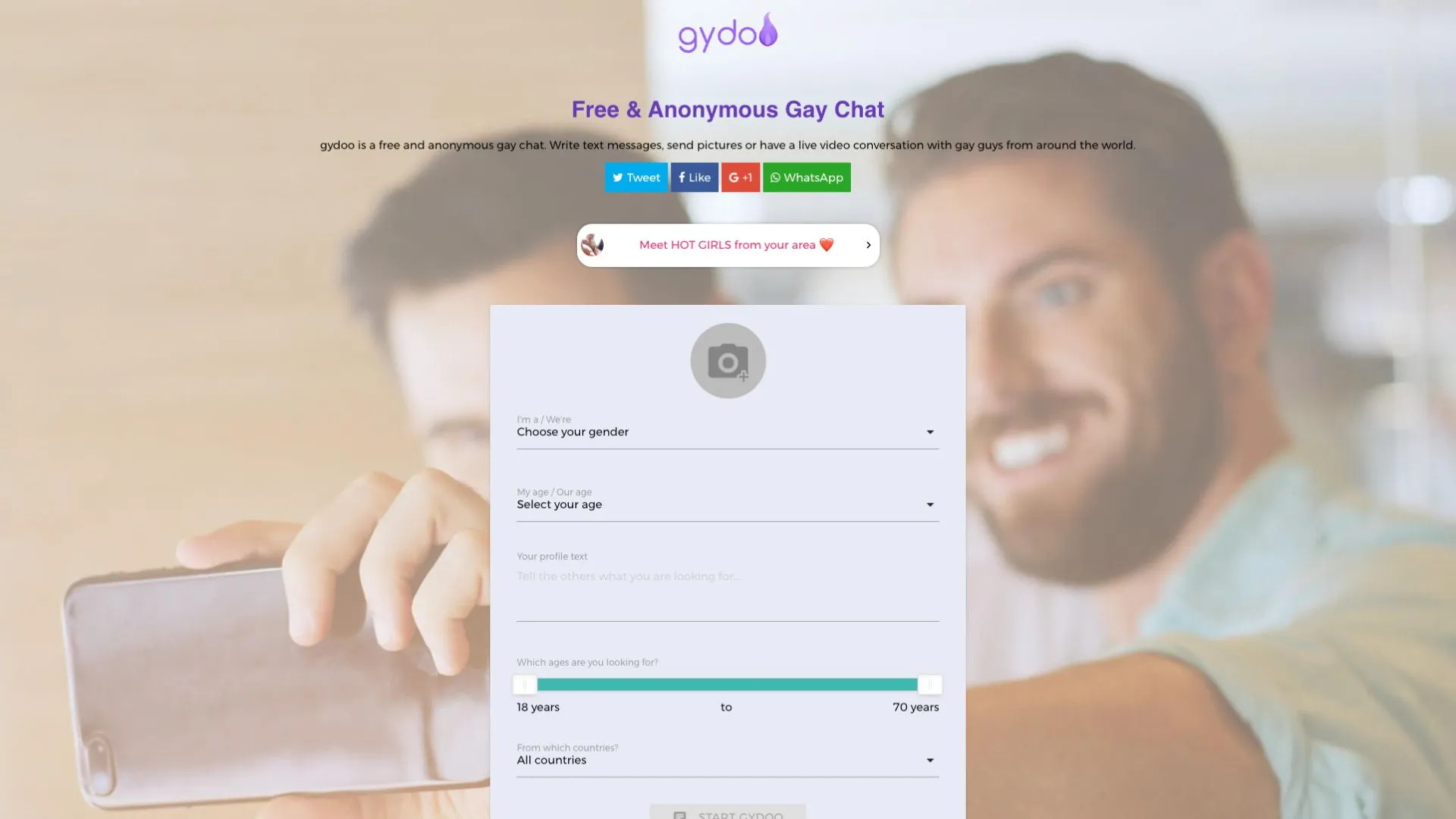 Gydoo is an online gay chat platform with an incredibly simple sign-in process. Simply enter your gender, age, and what you're looking for, and you're done! You're ready to chat with other gay men from all over the world, ranging in age from 14 to 70. You can chat with men from Indonesia to Germany and everywhere in between thanks to a diverse range of cultures.
While Gydoo allows you to chat with people from all over the world, the minimum age requirement of 14 years old raises some concerns. It is unclear whether any safeguards are in place to protect the younger audience. Another downside is the multiple pop-ups trying to entice you to visit external sites, which can be annoying and potentially harmful to your device.
The ability to take your chats on the go via your mobile browser is a huge benefit of using Gydoo. Despite the lack of a dedicated mobile app, it is a step in the right direction.
So, is there the potential to find true love on Gydoo? It's unlikely, but there is a limitless amount of fun you can have chatting with fellow gay men from all over the world.
GayXChange is the perfect blend of adventure and romance. Their homepage showcases a tantalizing display of ripped muscles and barely-clad men from all over the world, and who doesn't like that? The site allows you to filter down your search results with precision, starting with the country, then the county, and finally the town. This way, you can easily pick and choose among the available gay profiles that are active on the site.
But GayXChange is not just about casual flings. The attention to detail on some of the profiles speaks volumes about the members' desire for meaningful connections. With the increasing number of couples who have found love online, GayXChange is your perfect chance to find your forever partner.
And don't worry about restrictions – GayXChange has got you covered. The site offers a mobile app that's available on both iOS and Android devices, letting you take your flirty chats wherever you go. This means that you're free to explore your passions up close and personal, whenever and wherever you want.
GayXChange takes the safety of its members very seriously, and this is reflected in their "Date Safe" page. This page provides an array of tips and guidance to make sure you have a great time on the site while staying protected from harm.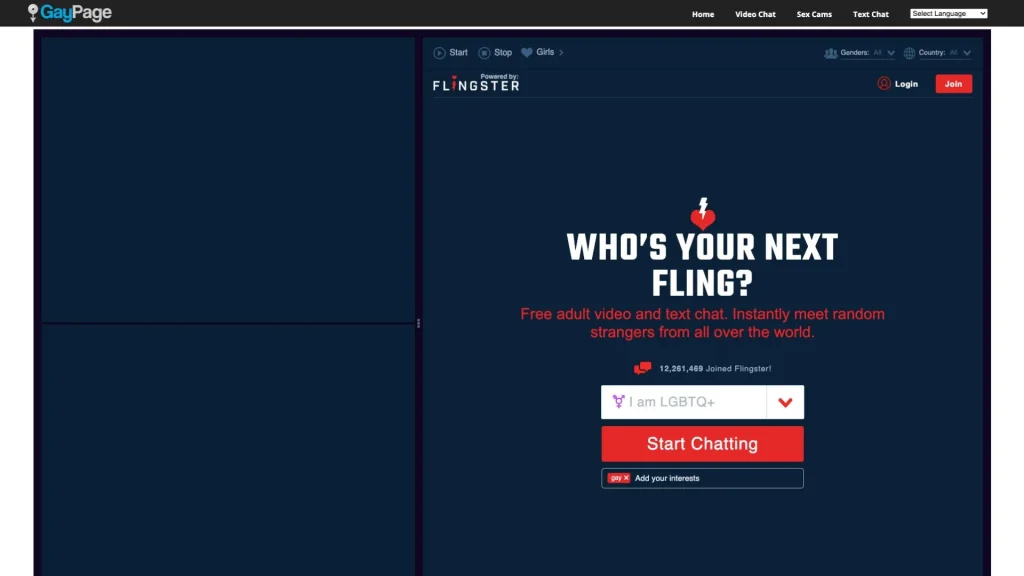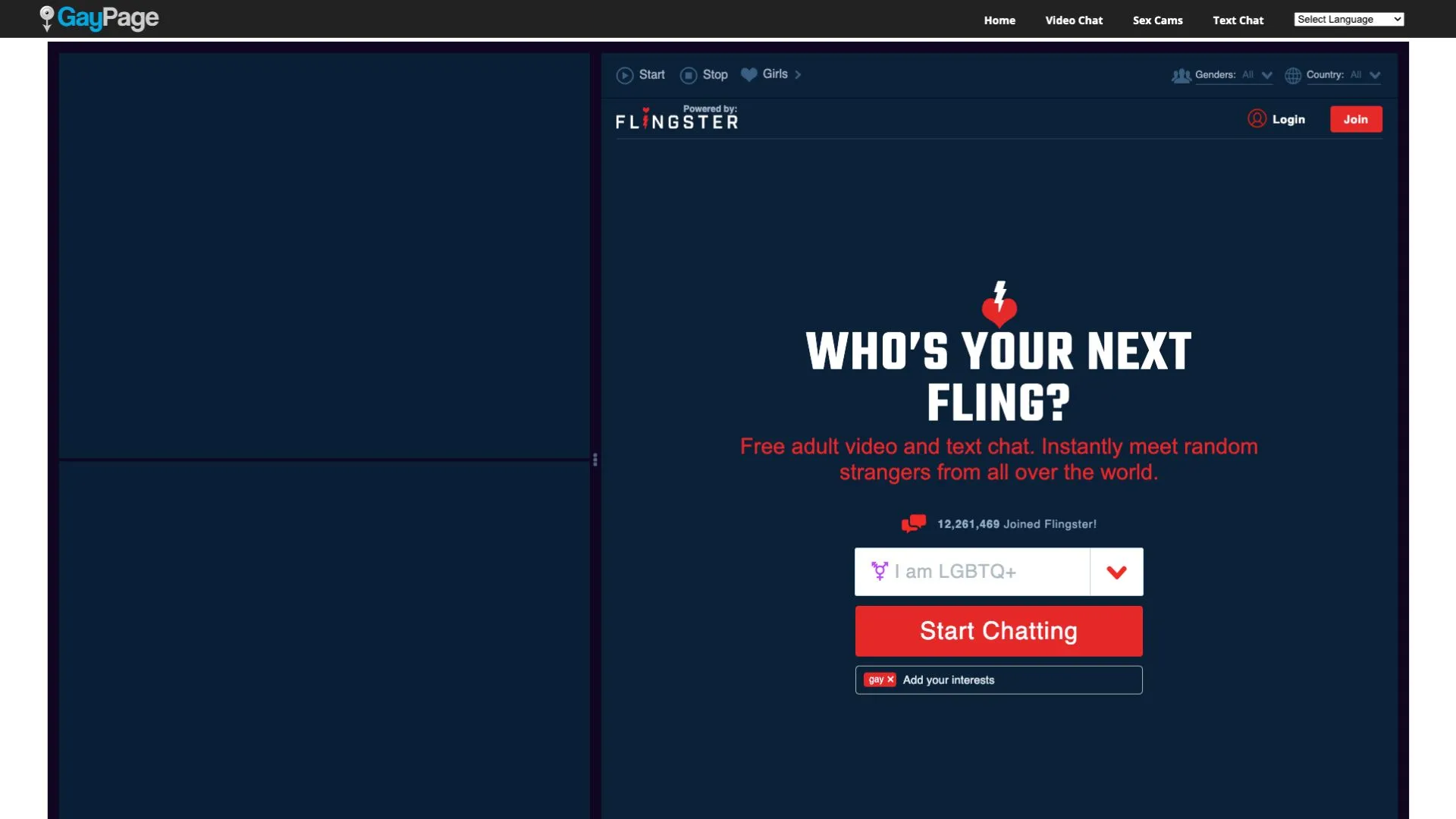 GayPage is a gay chat site that offers a no-frills approach to connecting with gay men from around the world. GayPage has you covered whether you're looking for a quick text chat or an up-close-and-personal video chat session. The best part? It's all free! No need to fill out any registration forms or make an account, simply choose your preferred mode of communication and hit the "Chat" button.
Think of GayPage as a gay chat roulette where you can be paired up with any man from any corner of the world, from America to Indonesia and New Zealand to Canada. With a crisp, user-friendly design, you'll find yourself chatting and flirting with random gay men in no time. The video chat quality is surprisingly good and worth mentioning, making the most of your chat experience.
While love may not be on the horizon with GayPage, it's an excellent choice for those seeking a quick fix or a naughty rendezvous. The site encourages members to report any illegal activity, and moderators respond quickly to any issues that are reported. But let's be real, that's not why you're here. You're here to get on cam and get your groove on with like-minded men. It's wild, it's filthy, and it's everything you've been searching for.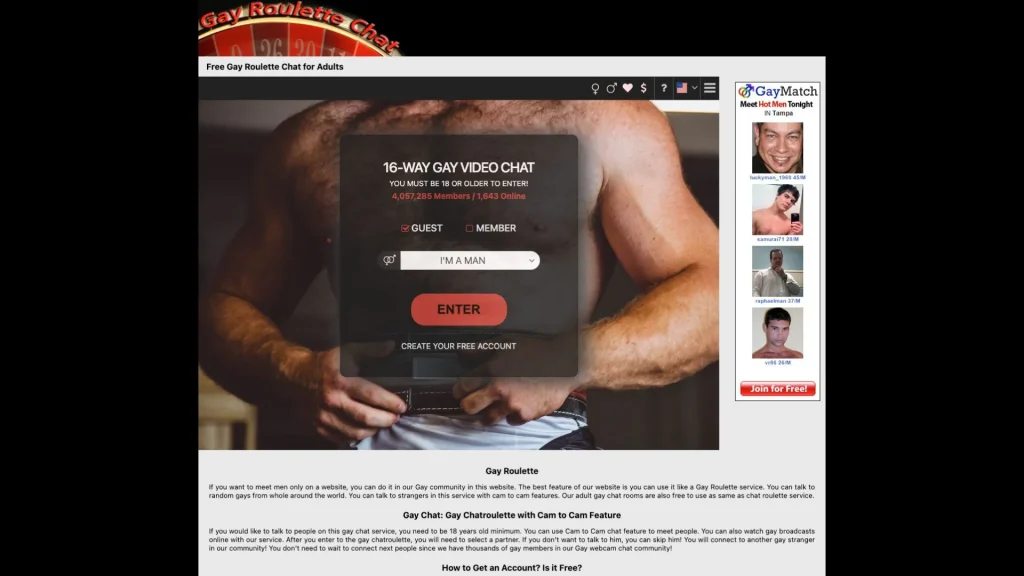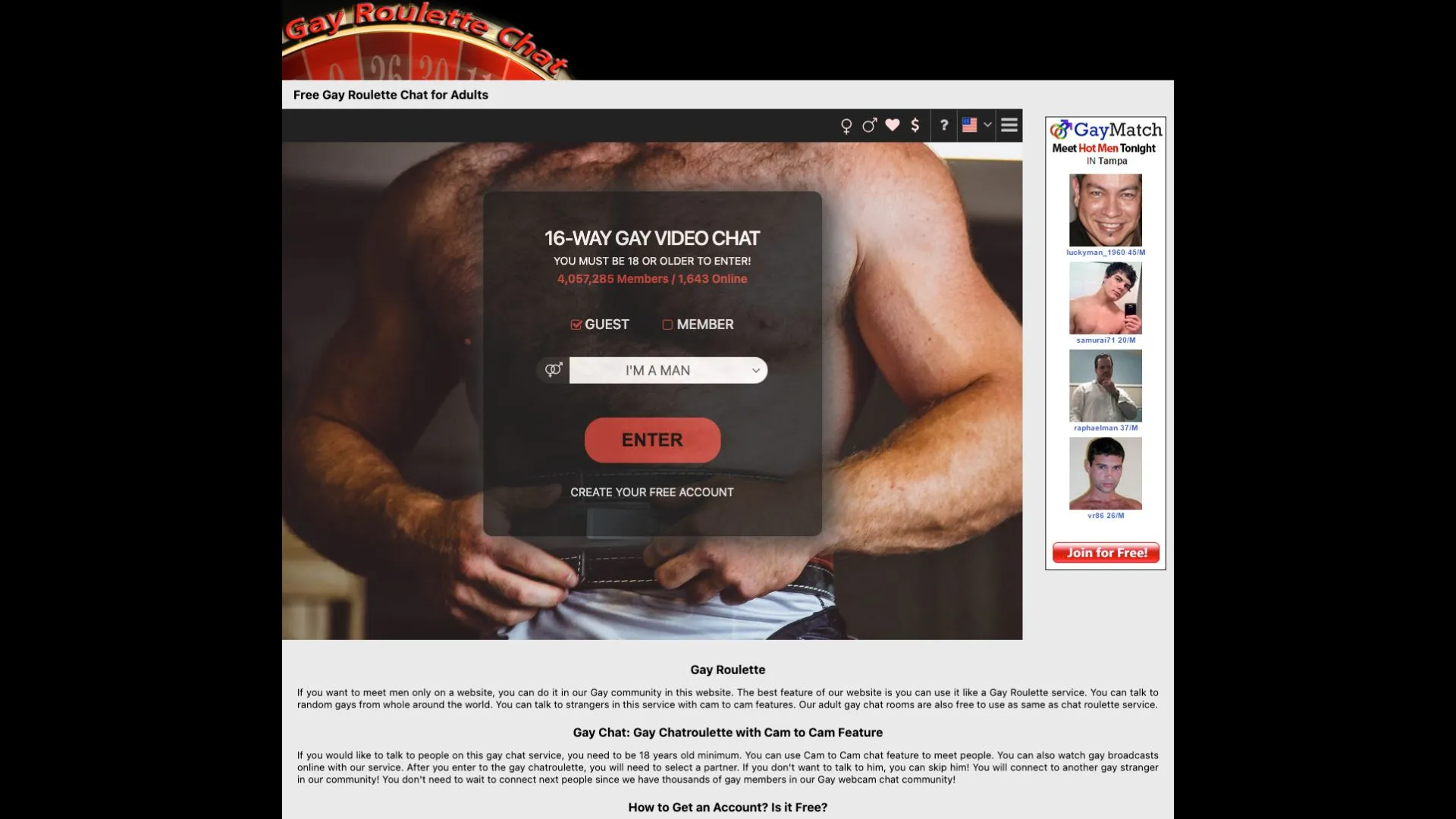 Gay ChatRoulette is a basic but popular gay video chat website for gay men looking for a quick online fling. Users must be willing to use their microphone and webcam in order to start chatting because of Gay ChatRoulette's minimalist design, which literally places the chat window in the spotlight. This may not be the best option for men who prefer to remain anonymous, but Gay ChatRoulette is really the place to be if you want to put on a good show.
The user count may not be as high as on other websites, so if you're looking to play the field, expect to see a few repeated connections. This could, however, be due to the time of day, as peak hours vary. Regardless, Gay ChatRoulette offers a simple and straightforward experience for those seeking a quick bit of fun with another gay man.
While the website may lack depth, it offers what it promises – a hub for quick and anonymous gay chats. The experience may wear off quickly if you're looking for something more meaningful, but for those who want to enjoy the novelty, Gay ChatRoulette is worth checking out. It's quick, it's simple, and it's all about having a little fun.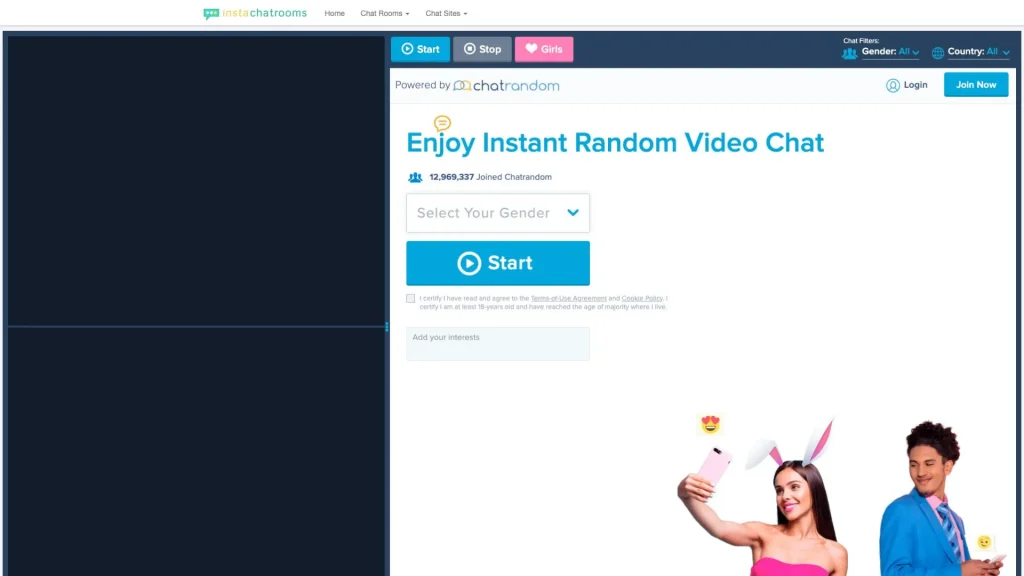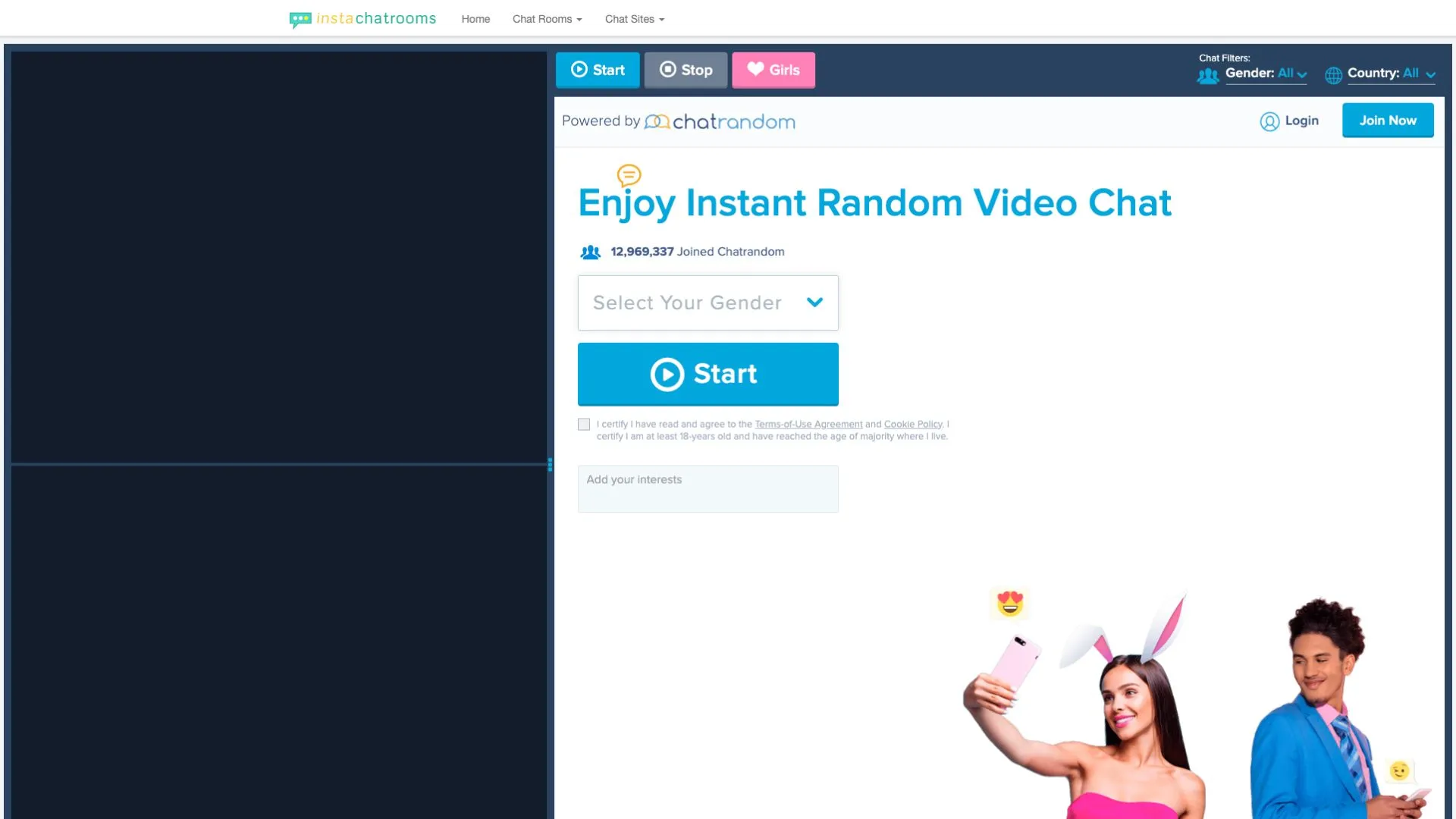 If you're in the mood for a casual conversation with a total stranger who might share your interests and lifestyle, Instachatrooms might be your new go to gay chat site. The gay men you meet on Instachatrooms can be anywhere in the world, and the conversations you have with them can range from lighthearted to passionate. Creating an account is simple; just select your preferred gender and an area of interest. Meeting new people is as simple as clicking on that link!
There are so many topics to choose from on Instachatrooms, which makes it easy to find someone who likes the same things you do. Instachatrooms's easy-to-use interface makes it easy to strike up a conversation, and the fact that it cares about user safety means you can chat without worry.The site has a safety page with tips and advice to help you stay safe while you look around and talk to new people.
Even though Instachatrooms might not be the best place to find your Prince frog, it's certainly a great place to meet gay men from all over the world who share your interests – men.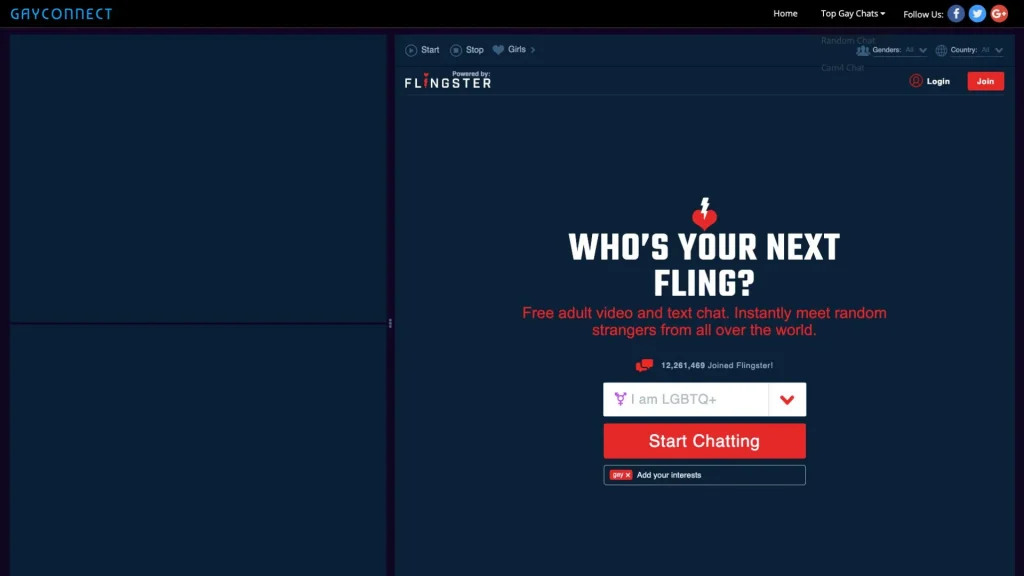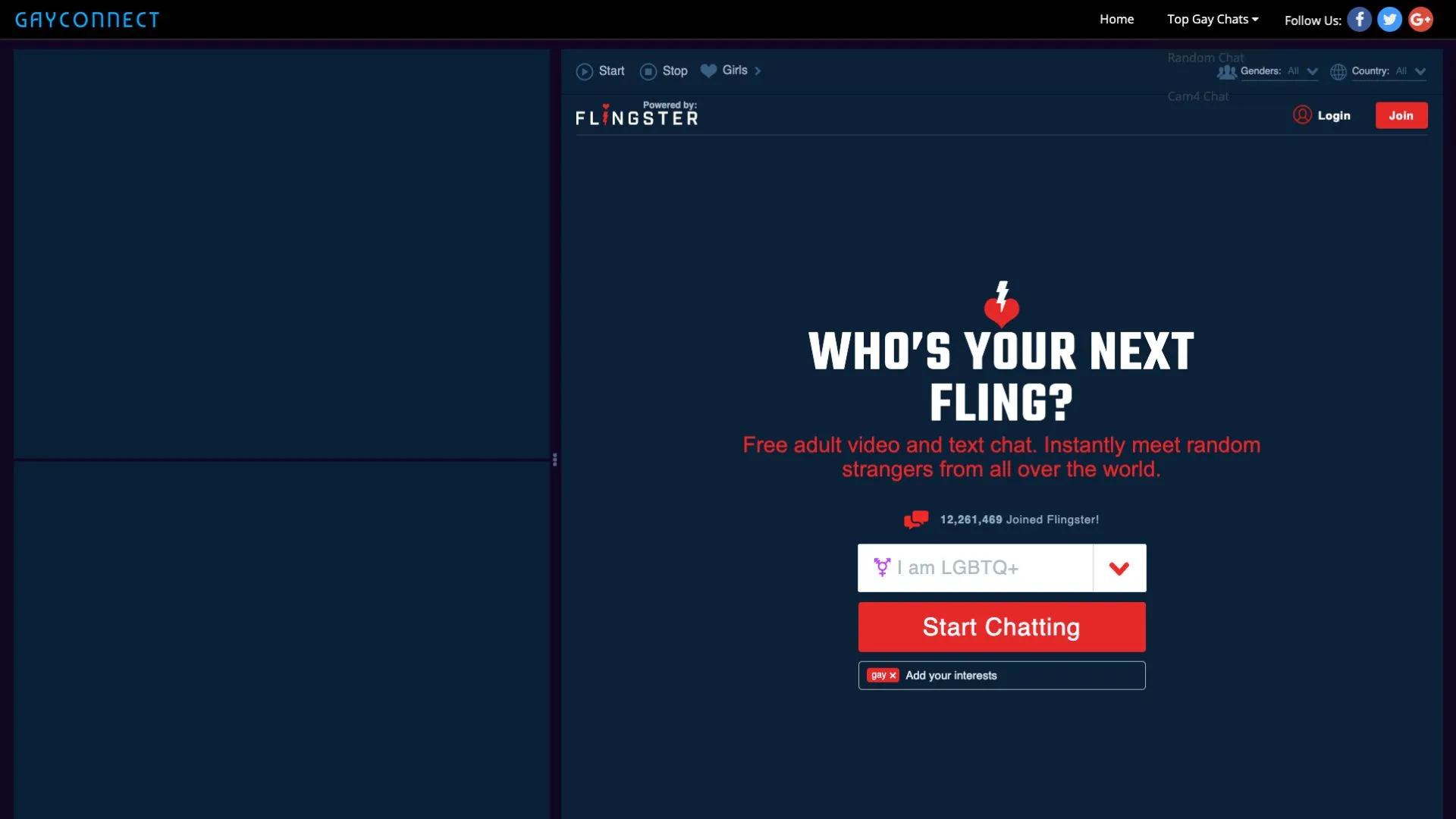 GayConnect is the perfect platform for those who want to keep their online presence minimal, with no sign-up process required, and want to get their freak on. Just hit the "Chat" button, and you're good to go. You have the option to use your webcam if you're feeling comfortable doing so or stick to text-only communication.
The platform is clean, sleek, and doesn't enforce any cumbersome rules. However, there is a catch – the lack of a proper customer support system. This can be a drawback for some users, as it's always nice to have someone to turn to in case of technical difficulties. But you can follow their social media pages to keep in touch.
GayConnect offers a gay dating section that pairs you with local gay men. This can be a great opportunity to connect with someone new and perhaps even find love. If love isn't what you're looking for and you're just looking for some naughty fun, the potential is definitely there. GayConnect is a great place to meet like-minded gay men from all over the world because of its welcoming community and user-friendly interface.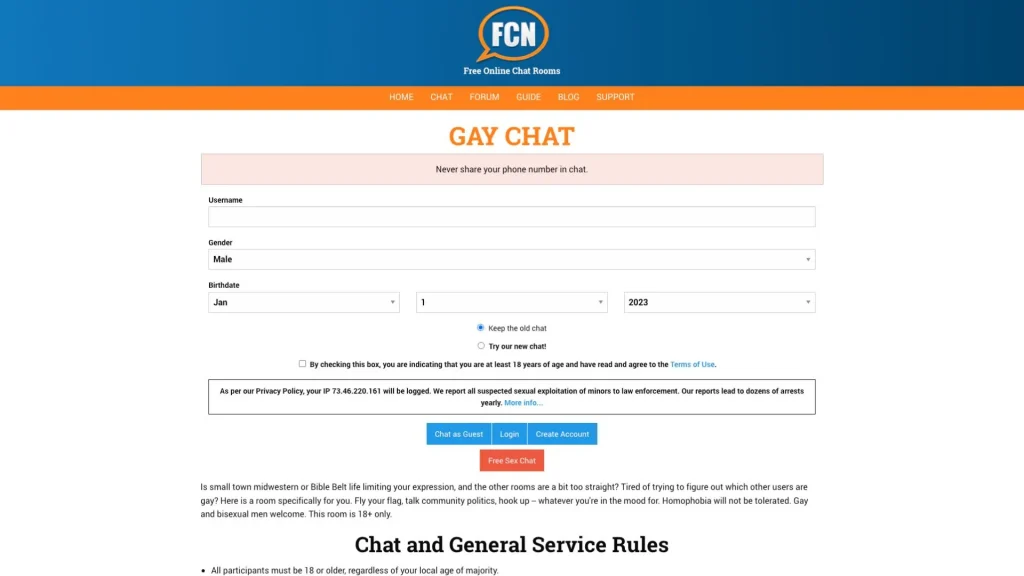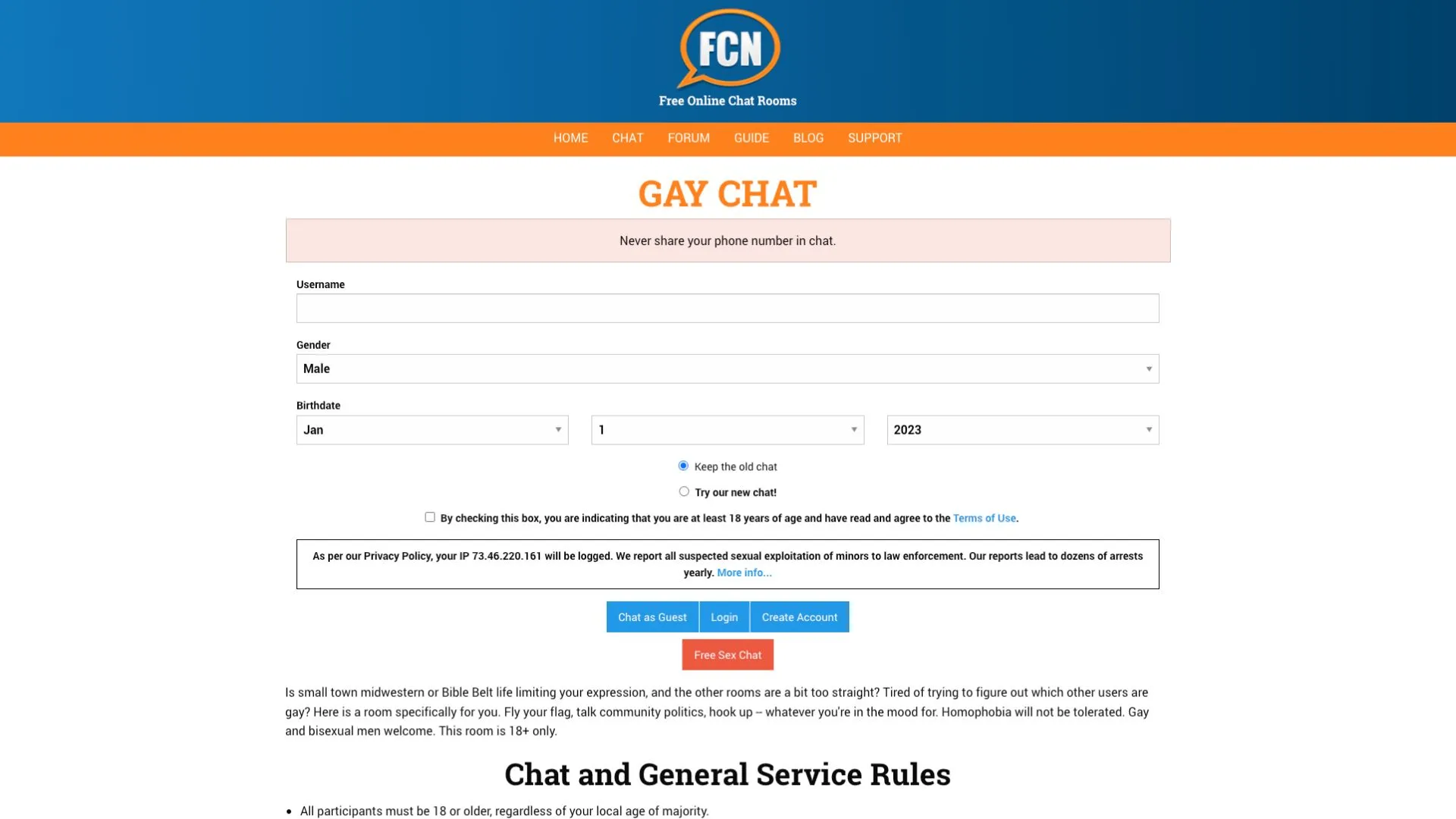 Free Chat Now is a gay chatting site that offers exactly what it promises – free chatting! You have the option to keep your identity private or create a full profile with a simple username and gender selection. You can also add profile pictures if you're feeling saucy.
Despite not having a mobile app, Free Chat Now is just as easily accessible through your mobile browser, so you can take your sexy conversations with you on the go. Whether you're stuck in the office, on a train to nowhere, or at a family gathering, gay men from around the world are at your fingertips.
So go ahead and get yo'freak on and get ready to engage in steamy banter with all the gay men out there. Free Chat Now offers a safe and anonymous platform for you to connect with like-minded individuals, a.k.a. gay men!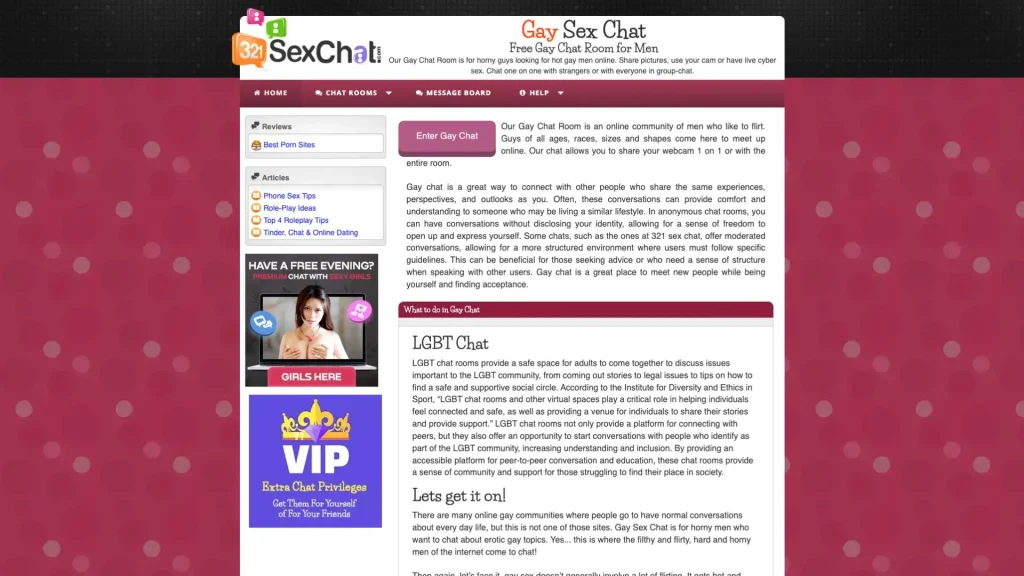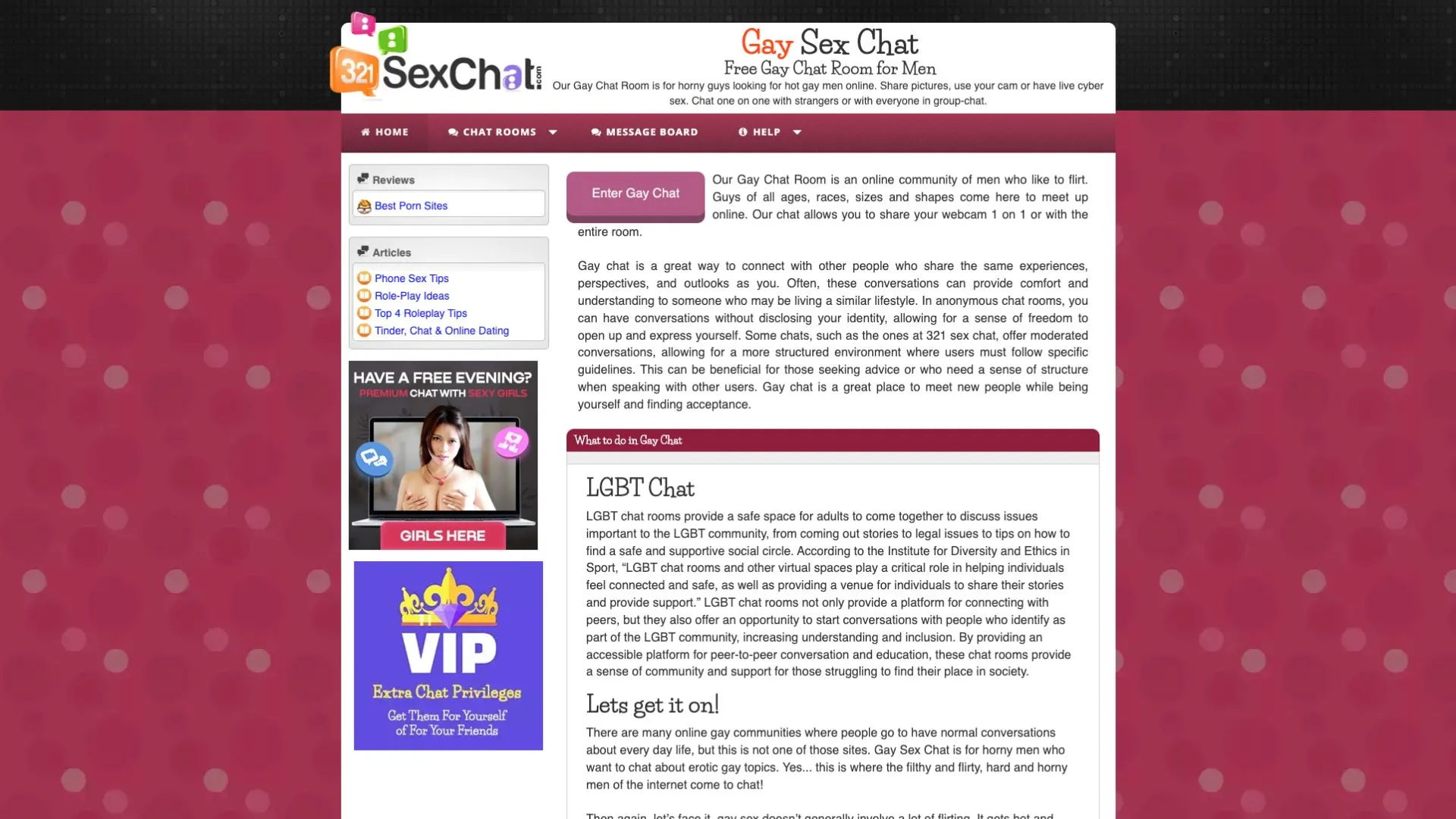 Ready to dive into the naughty world of gay chat? 321 SexChat is here just for that! It has a straightforward, no-fuss approach to signing up – just pick a username and you're ready to get started. 
321 SexChat is geared toward the gay community, with a single chat room dedicated to everything gay. And if that's not enough, you can explore other rooms dedicated to roleplay, BDSM, and whatever that floats your boat. It has a clean, simple layout, so you'll never get lost on this site. It's also pretty fast on your desktop and phone, making it readily available wherever you are.
321 SexChat also gives you the ability to send X-rated images and files to other members. Get chatty in the group chat or take things to a more intimate level with private messaging. And don't forget to customize your profile so you can let your winning personality shine through.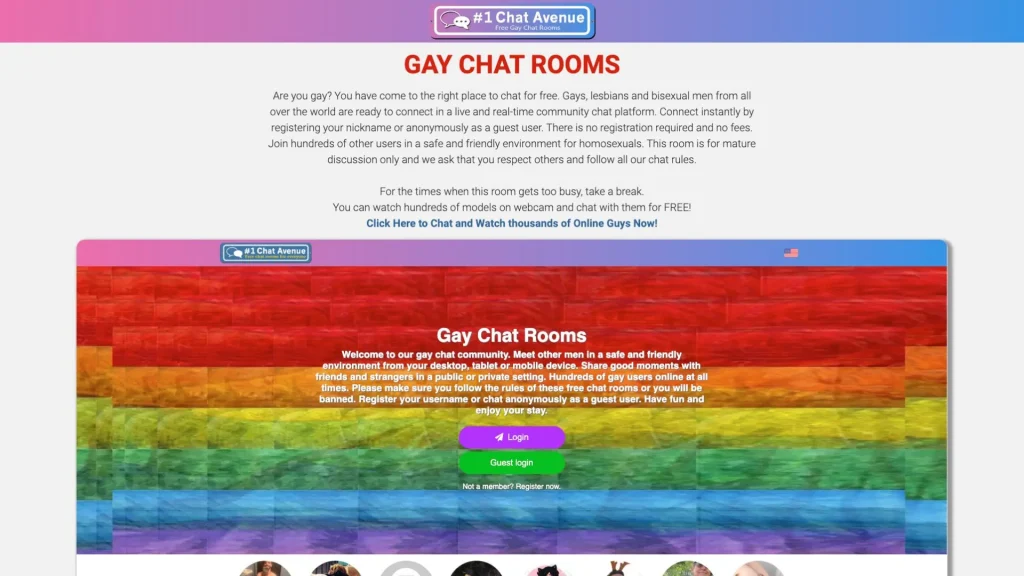 Tired of filling out long registration forms just to chat with gay men? Well, good news! Chat Avenue has got your back. All you have to do is pick a username and enter one of the many gay-only chat rooms. No fuss, no muss. Your personal information is kept safe and secure, so you can chat without worrying about prying eyes.
Chat Avenue is not just about convenience but also safety. The gay chat site has moderators who monitor the chat rooms, so you can be sure that any sketchy or illicit activity is caught and dealt with promptly. One potential downside is that the minimum age to join is only 13, so you have to be sure you're talking to someone of age!
Chat Avenue may not have a dedicated mobile app, but you can still join in on the fun by using your mobile browser, although the site is mainly a desktop chat platform. But keep in mind that your chats don't save, so once you end a conversation, it's gone forever.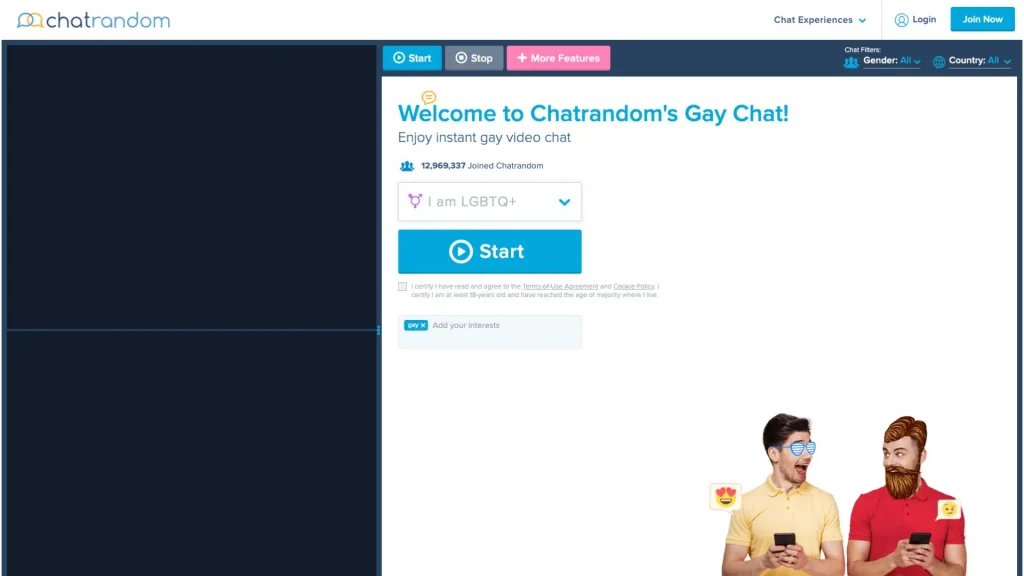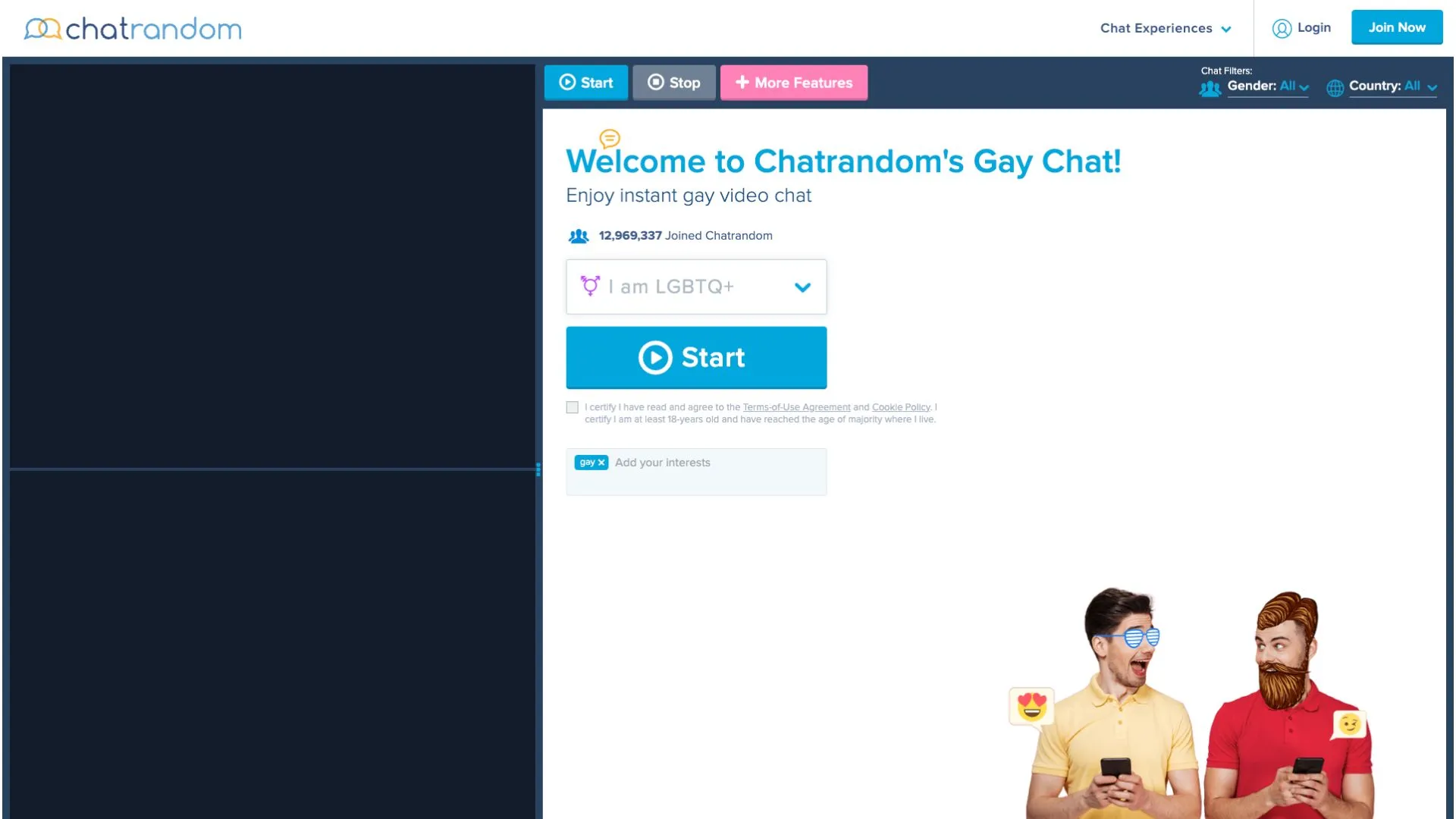 Chat Random, oh baby! Let's talk about the thrill of random connections. Get ready to play a game of chance as you step into the world of random cam-based gay chat. With a click of a button, you'll never know who you'll connect with next. The excitement is palpable, and the thrill of the unknown is what makes Chat Random a must-try for all gay chat enthusiasts.
Forget about registering your personal details, just select your gender, and you're ready to roll. The beauty of Chat Random is that you can dive into a steamy chat with a complete stranger and see where the night takes you. But as with all online interactions, caution is advised. Your chats can't be saved, so if you hit it off with someone, it's time to take it to the next level.
And what's even better, you can take Chat Random with you on-the-go! The dedicated app allows you to indulge in a secret verbal flirt session, whether you're in the kitchen or on the train.